---
This firm started out, in 1806, as a general iron foundry and plate rollers. They started to specialise in armour plate and probably saw that as a good basis on which to move in to safe making but the date at which they did so is not known.

They do not seem to have made their own locks and keys, which would have been readily obtainable locally.

This company is said to have made the safes aboard RMS Titanic.

This advert (undated but probably about 1900) is in the Willenhall Lock Museum.
This Thomas Perry safe was bought (by Terry, who also supplied the photos) in North America.

In recent decades safes have been exported to Canada and the USA as antiques. But, despite what must have been their enormous weight, they were exported around the world, including to North America, where there was a large security industry.
| | |
| --- | --- |
| | This fine, brass maker's plate is on the safe shown above. |
The advertising folder shown below is undated but appears to be from the turn of the 19th and 20th centuries. Presumably B. Farringdon of Brighton was not their only agent; any agent's name would have been printed into the space.
A Thomas Perry safe found in 2016 in a farmyard in Deerness, Orkney.

It is rather the worse for wear.

Courtesy of Steve Henderson.
The brass safe plates below come from the collections of Reg Aston and Frank Sharman:

This safe plate (below) indicates that either the firm moved to West Bromwich or they were taken over by someone in West Bromwich.
It is recorded that in 1925 the firm decided to make mill rolls exclusively, so it may be it was at that juncture that they sold off the safe making side of the business to a firm in West Bromwich. How long these "successors" operated is not known.
This Thomas Perry Safe is in Dow's Pharmacy in Chiltern, Victoria, Australia. It is a wonderful pharmacy built in 1859 at 42 Conness Street, Chiltern 3683 VIC. The pharmacy is owned and run as a museum by the Australian National Trust.

Chiltern was a gold rush town, the gold being discovered in 1859.

I have to thank Doug Moncur of the Australian National Trust for this photo and the one below.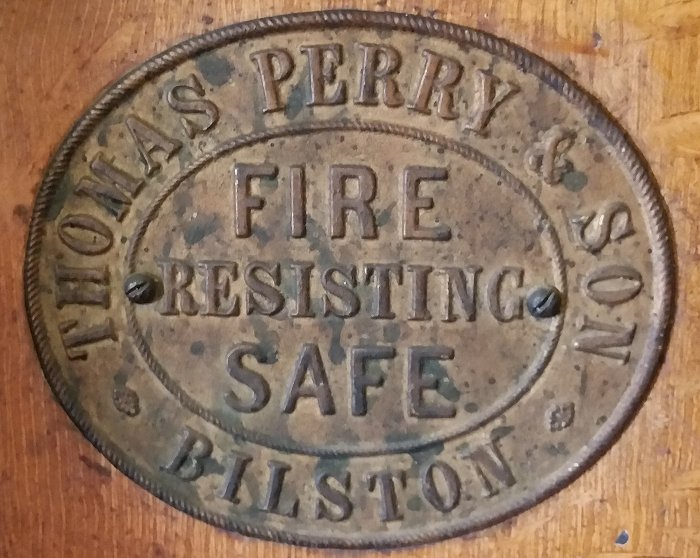 The safe plate on the safe in the previous photo. Courtesy of Doug Moncur.
---