| | | |
| --- | --- | --- |
| | | |
---
| | |
| --- | --- |
| The factories that stood alongside the BCN on the stretch from Cable Street to Bilston Road, Wolverhampton. | |
John Brotherton Limited

Whilst still quite a young man, John Brotherton settled in Wolverhampton and founded his company, which became one of the largest tube manufacturers in South Staffordshire, and was known throughout the world for its high quality products.

An advert from 1902.

The company was founded in 1861 at Imperial Tube Works, Bilston Road, Wolverhampton. They produced all kinds of tubes and fittings for water, gas and steam. The company later acquired another factory on the corner of Commercial Road and Walsall Street.

John Brotherton was born in Walsall Street, Wednesbury on 20th September, 1829. His parents were Richard Brotherton, a file cutter, and Mary. Unfortunately Richard Brotherton died at an early age, leaving his widow to bring-up their large family.

John started an apprenticeship at his uncle Cornelius Whitehouse's gas and water tube works, first working in Wednesbury, and later at his uncle's Monmore Green Tube Works in Wolverhampton. Mr. Whitehouse greatly improved the manufacture of tubes, and invented many new techniques.
John moved to Wolverhampton, and in 1861 established the Imperial Tube Works in Bilston Road, Wolverhampton in partnership with Wordsworth Harrison, and John Kelly. The firm produced a wide range of products including hot water tubes, lap-welded boiler tubes, artesian and petroleum well tubes, refrigeration tubes, sealed oven tubes, steel and iron tubes for gas, water, and steam, fittings for gas water and steam, tuyere, anvil, and other coils, and railway signal and points rods.

In 1869 John Kelly left the business, as was reported in the October 1st 1869 edition of the London Gazette:

Notice is hereby given that the partnership for some time past carried on by Messrs. Wordsworth Harrison, John Kelly, and John Brotherton, as Gas Tube Manufacturers, under the firm of John Brotherton and Company, at Monmore Green Works, Wolverhampton, in the county of Stafford, was this day dissolved by mutual consent, so far as regards the said John Kelly, by his retiring from the said partnership concern, and the business will from henceforth be carried on by the said Wordsworth Harrison and John Brotherton alone, under the firm of John Brotherton and Company, who will receive and discharge all claims due and owing from or to the said partnership concern. Dated this 23rd day of September, 1869.

Wordsworth Harrison.
John Brotherton.
John Kelly.

By 1871 the firm employed around 100 men and 80 boys. In about 1850 John married Mary Anne. The 1871 census lists their first seven children: John aged 18, Elizabeth aged 17, Mary Anne aged 14, Harriett aged 10, James aged 9, Annie aged 7, and Thomas aged 5. At that time they lived at 116 Dudley Road, Wolverhampton.
In the 1881 census they are listed as living in Penn Road House, Wolverhampton. The family had now grown to include: William aged 11, Alfred aged 10, Albert aged 8, Horace aged 6, and Harold aged 3.

In1886 Imperial Tube Works became a limited company which was known as John Brotherton Limited.

For many years John served on Wolverhampton Council. He was elected to the council in 1873 as one of the representatives of St. George's Ward.

He was a member of the town's Waterworks Committee, who significantly improved the local water supply, and in 1883 became mayor. He greatly contributed to the town's Fine Arts and Industrial Exhibition of 1884.


John Brotherton in his mayoral robes.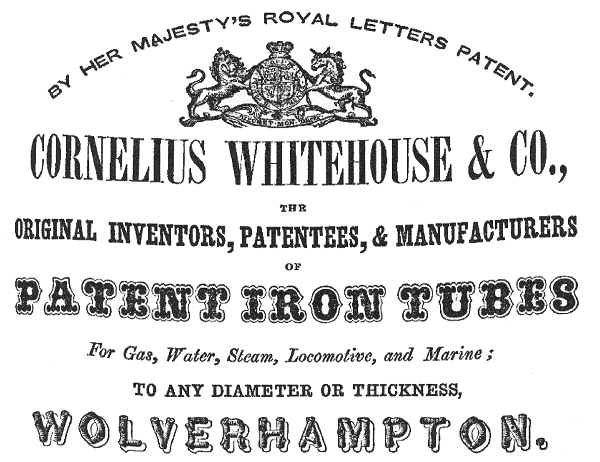 An advert from 1851.

An advert from 1892.

An advert from 1896.

By 1891 the Brotherton family lived at The Woodlands on Penn Road, a large house with an estate covering ten and a half acres.

On 27th May, 1895, William Frederick Brotherton who worked in his father's business as an agent, married Nellie Florence Gosnell.

In 1897 the New Brotherton Tube Company Limited was formed, and on 26th October of that year the firm acquired a second factory.

It was purchased from The Electric Construction Corporation, and stood on the corner of Commercial Road and Walsall Street. By 1914 the firm employed around 400 people.
In 1896, the Brotherton family left The Woodlands, which was purchased by Neville Mander. The old house was demolished and replaced with the house that is there today. In the 1911 census John and Mary Anne are listed at 30 Chandos Road, Cricklewood, Willesden, the home of their son William and his wife Nellie.

John and Mary Anne's last home together was in Goldthorn Terrace off Goldthorn Road.

Sadly, Mary Anne died in December 1915, and was buried at Merridale Cemetery on 21st of that month. Almost two years to the day later, John died. He was buried in the same grave on 15th December, 1917. In 1922 the business was sold-off.

On 18th June, 1923 the factory at Monmore Green was sold to E. P. Jenks for £7,012 0s 9d.


An advert from 1898.

E.P. Jenks Limited, Bilston Road, Wolverhampton.

E. P. Jenks Limited

The company was established in 1873 under the name of Hyde & Sons, and were based in Jenner Street.

They made washers and carried out small press work.

In 1918 the company was taken over by E. P. Jenks and it took his name.
The Brotherton Tube Company's site in Bilston Road was taken over by E. P. Jenks in June 1923.

The firm became a large producer of water fittings made from hot brass stampings to give a greater density of metal and exclude any possibility of porosity. Also produced were brass rods and sections in the extrusion department, which were sold at home and abroad.

It became a public limited company in 1935.

In 1950 the company purchased a copper tube plant in Birmingham and brought it to their Wolverhampton works so as to add copper tubes to their range of products. A plant for making copper billets was also installed. Other products included water fittings such as taps and valves, and brass wire.

The business closed sometime in the late 1960s


An advert from 1953.

An advert from 1958.
A map showing the location
of E. P. Jenks Limited.
Eagle Works

We have little information about John Parsons or his business. In the advert opposite, the list of products includes spades, shovels, plantation hoes, light and heavy edge tools, carpenter's tools, saddler's tools, shoe maker's tools, heavy steel toys, augers, hammers, hatchets, cutlasses, and all types of bright tools.

They also refined all kinds of steel.


An advert from 1830.

An advert from 1851 for William Wildsmith & Company, at Eagle Works.

Another advert, also from 1851.
The British Oil Works

By the end of the First World War, Gaunt & Hickman's British Oil Works had moved from Colliery Road, onto part of the derelict Eagle Works site. More information about the company can be found in Part 4.
---