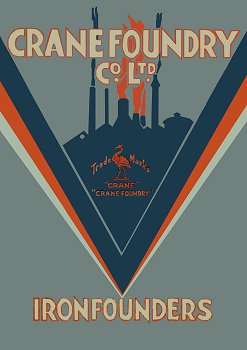 The front cover of the 1928 catalogue.
A look at the company's 1928 catalogue reveals over 300 products, including all kinds of weights, sad irons, pots and pans, ventilators, mole traps, door furniture, hinges, nails, camp ovens, and castors.
At this time most of the company's products were for the general metalware market and still carried the Crane name or trade mark.
The product range was expanding to include specialised engineering castings for the electrical and mechanical engineering industry. These would have included parts for electric motors, generators, vehicles, locks, and machinery and would not have carried the Crane name or trade mark.
Eventually the company would solely concentrate on this section of the market and the production of Crane metalware would end.