| | | |
| --- | --- | --- |
| | | |
---
The 'Ceekar' was built in 1983 by Derek Matthews, who ran Ark Racing from his workshop in Croft Street, Willenhall. He began building and preparing racing cars in 1968, after working as a mechanic on some of the leading formula 2 cars.
He left the Merchant Navy in 1964 and worked on the Formula 2 Lolas of Richard Attwood, Frank Gardener and John Surtees, for the Midland Racing Partnership. He left after two years and continued to prepare cars for British races on a part time basis. In 1966 Derek joined Roy Hill at the Ark Service Station in Clarke's Lane, Willenhall where he worked on a number of Roy's cars.
In 1968, Derek founded Ark Racing in Croft Street, Willenhall, naming it after the Ark Service Station, which in turn took its name from the Noah's Ark pub, across the road. The Croft Street site had previously been part of Perks' foundry.
At Ark Racing, Derek built a number of cars including a space frame 'Sprite', known as the 'Arksprite Twin Cam', and a car for Lester Ray, later called the 'Vogue'. In 1972 he built a Lotus Elan for John Evans that was raced in the British Modsports Class under the Ark Racing banner. Another was built in 1977 and raced by Max Payne.
From the experience gained on the last two cars, Derek built another Elan to Group 5 specification using an aluminium backbone chassis and a lightweight fibre glass body. The car, powered by a Ford two-litre fuel injection engine and a Hewland gearbox, made its first appearance in 1981 at Brands Hatch.
Max Payne, an executive with a Birmingham bacon importing company, started racing Elans in 1969 and successfully raced them for 14 years, until the car was outlawed from the World Endurance Championship, with the introduction of the new Group 'C' Class.

Derek Matthews at work on the Ceekar. Courtesy of David Beere.

In 1983 the FIA added the C2 Class to the World Endurance Championship and Derek and Max decided to build a new car to compete in this class.

The new car, called the Ceekar was built to Derek's design and had a monocoque chassis, constructed from an aluminium sandwich material. It was powered by a two-litre Cosworth Ford BDX engine and Hewland gearbox.

All of the construction took place in Derek's workshop, the engine being prepared by Nicholson-McLaren Engines Limited.

The project was sponsored by Arthur Hough & Sons Limited of Willenhall, and General Provisions Limited of Birmingham.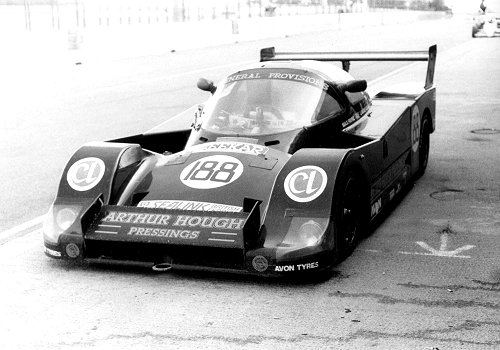 The Ceekar.
Construction work gets under way on the unique car.

Courtesy of David Beere.
The front of the chassis nears completion.

Courtesy of David Beere.
Another view of the front of the chassis.

Courtesy of David Beere.
It begins to look like a car. Courtesy of
David Beere.
The instrument panel.

Courtesy of David Beere.
Derek working at the back of the car.

Courtesy of David Beere.
Derek being interviewed by the late Jim Evans of Arthur Hough & Sons Limited, one of the sponsors.

They are stood in Derek's workshop talking about the car. Jim was a keen racing enthusiast.

Courtesy of David Beere.
After completion in November 1983, and during the 1984 season it competed at Silverstone, Brands Hatch, the Nurburgring and Spa. In 1985 it came in third place, in the World C2 Team Championship and competed in eight out of the ten World Endurance Championship races, retiring only once. During this time they suffered from two mechanical failures, but were gaining a lot of experience in the process.
In 1986 it was hoped that the previous years' success could be bettered. On 5th May, at Silverstone, things went very wrong when cracks were found in the engine cylinder block. Unfortunately that particular engine had been discontinued and so a different type had to be found.
In an attempt to make the car more competitive, and to reduce the likelihood of expensive engine failures, a three-litre Cosworth Ford DFV engine, a popular choice for Formula 1 cars, was fitted. This resulted in a major rebuild at the back of the car.
The car enters the pits at Brands Hatch on 29th July, 1984.

Courtesy of David Beere.
Work on the car gets underway in the pits.

Courtesy of David Beere.
A close-up view as work progresses.

Courtesy of David Beere.
Another view as work nears completion.

Courtesy of David Beere.
The car leaving the pits.

Courtesy of David Beere.
Out on the track at Brands Hatch.

Courtesy of David Beere.

The Ceekar at speed, fitted with it's original engine, a

Cosworth Ford BDX. Courtesy of David Beere.

The Ceekar with its later engine, a Cosworth Ford DFV. Courtesy of David Beere.
The 'Ceekar' returned to racing in 1987 and after problems at Brands Hatch and the Nurburgring, was entered in the C2 Class race at Spa, where it finished in 7th place. There were high hopes for the 1988 season, but sadly things went very wrong. The car, driven by Max Payne was involved in an accident during testing for the first round of the World Sports Prototype Championship, at Jerez in Spain, which resulted in the car being written off. Unfortunately Max Payne sustained several injuries and took a long time to recover.
After the accident Derek continued to rebuild a number of historic racing and sports cars, and started supplying starter motors with custom made fittings, for all types of engines.
Ark Racing is still in existence today and is a leading supplier of starter systems. The business is now run by Nick Beere, ably assisted by his father David. After several years in Penkridge it is now back in Croft Street, Willenhall, across the road from where it all began. They specialise in starter motors, flywheels, and all kinds of parts that are associated with a racing car power train. They also offer a bespoke casting service, specialised machining, and gear cutting, for racing car parts.
Ceekar Specification
| | |
| --- | --- |
| Manufacturer | Ark Racing, Croft Street, Willenhall |
| Designer | Derek Matthews |
| Chassis | 3 main longitudinal structures of aluminium composite forming backbones to take major loads. |
| Front Suspension | Long top and bottom fabricated wishbones to 'Ark Racing' uprights with pull rod operated inboard Koni shock absorbers – spring combination. |
| Rear Suspension | Fabricated top wishbones and bottom 'A' frame to 'Ark Racing' uprights with pull rod operated inboard Koni shock absorbers – spring combination. |
| Brakes | AP calipers and 12.4" diameter ventilated discs with Mintex brake pads. |
| Wheels and Tyres | 'Compomotive' split rims fitted with 'Avon' tyres. |
| Original Engine | Rear mounted Cosworth Ford BDX. 2,000c.c. capacity, 270b.h.p. |
| Replacement Engine | Rear mounted 90 degree V8 Cosworth Ford DFV. 85.6mm bore x 64.8mm stroke. 2993c.c. capacity, 425b.h.p. Fitted with Lucas fuel injection and ignition. |
| Fuel System | 'Marston Palmer' fuel cell, 80 litres capacity. |
| Transmission | Twin plate 'Borg and Beck' clutch with concentric operating mechanism. 'Hewland' FGA gearbox with 5 speeds and reverse. |
| Cooling | Side mounted twin water and oil radiator. |
| Body | Modular closed body made of GRP and carbon fibre. Separate front and rear wings. |
| Interior | 2 seats fitted with 'Willans' safety harness. Digital instrument read out for oil and water. |
| Weight | 730Kg. |
---
I would like to thank David Beere for his kind assistance in producing the Ceekar history.

---