| | | | |
| --- | --- | --- | --- |
| | | | |
---

Louis Hervé Coatalen.

1909 was a landmark year for the company because they appointed Louis Hervé Coatalen as chief engineer, and thanks to him Sunbeam would go from strength to strength. He was a greatly experienced French-trained engineer who was born at Concarneau, Department Finisterre, in 1880. He trained as an engineer at the "Gadzarts"; the Ecole des Arts et Metiers, on a three year, seven days a week course. He only had two week's holiday each year and during that time he still had plenty of preparation work to do. The course gave him an excellent grounding in engineering theory and mathematics and practical experience would soon follow.

After completing the course he worked in the drawing offices of Panhard, Clement, and De Dion-Bouton, which gave him invaluable experience in automobile design, engineering and building, with three of the leading French motorcar manufacturers.
In 1901 he came to Coventry after obtaining a post with the Humber Car Company and designed the 10/12hp. Coventry Humber car, which sold in large numbers and secured the future of the company. He married Annie Davies in 1902 and they were divorced four years later. He soon joined Mr. Hillman and they formed
the Hillman-Coatalen Motor Car Company in 1906. The company produced the
Hillman-Coatalen car, which so impressed Thomas Cureton that he offered Coatalen the job of Chief Engineer at Sunbeam. In February 1909 Coatalen
sold his shares back to Hillman and moved to Wolverhampton.
Although destined for greater things, it seems that Sunbeam got off to a rather slow start. The cutting below, dated 2nd December, 1909 is from The Wolverhampton Journal:
Until now Sunbeam had brought-in many of their parts, but under Coatalen most were now made in-house. His first car, the 14/20hp. was a modified Shaw design using a 3.4litre, 4 cylinder engine. Nearly 200 were built. Coatalen greatly enjoyed motor racing and competed in the sport himself. He decided to raise Sunbeam's profile by involving the company in motor racing and set up a competition department. His slogan was 'Racing improves the breed'. Sunbeam had numerous racing successes which resulted in many improvements being made to their designs.

He entered a 14/20hp. car in the RAC "Ten Pound Note" Trial which consisted of a 100 mile road section followed by a race on the Brooklands track. The trial was a great success for Coatalen as he achieved a fuel consumption of 21.3m.p.g on the road section, an excellent performance at the time, and an average speed of 56.65m.p.h. at Brooklands. He was so thrilled with the race at Brooklands that he decided to build a streamlined racing car for competition work and publicity. Such a car could well capture the public's imagination and promote the Sunbeam name. The new car, called "Nautilus", appeared at Brooklands in March 1910.


Louis Hervé Coatalen.
It had a cigar-shaped streamlined body built from wooden slats mounted on hoops. The nose and tail consisted of polished brass cones.

The 4.2 litre, 4 cylinder engine had 16 overhead valves, operated by push-rods and rockers, from two camshafts, one on either side of the crank case.


Louis Coatalen and the "Nautilus".
Unfortunately the car suffered from overheating problems, because the radiator in the water-cooled engine was fed with air from a small hole in the nose, which proved to be insufficient. In practice the rear half of the body was removed when racing, to try and overcome the problem. Unfortunately this didn't work and even after several modifications the car was still unreliable. Undaunted however, Coatalen was learning from his mistakes and much improved designs would soon follow.
| | |
| --- | --- |
| A 12/16hp. 2-seater car. | His next car, the 12/16hp. was well received by press and public alike. Coatalen had a great dislike of chain drives and so this car became the first Sunbeam to have a shaft drive. The first 12/16 appeared in 1910 and many improvements were made during its four-year production life. The 2.4litre, 4 cylinder engine, initially consisted of cylinders that were cast in two blocks of two. |
By 1911 Louis had married for a second time. His new wife was Olive Bath, daughter of Sunbeam director, James Henry Bath. They lived at Waverley House in Goldthorn Road, Wolverhampton, next to the Royal Orphanage, which later became the Royal School.
From 1912 onwards a monobloc engine replaced the earlier design, and the petrol tank, originally mounted below the front seats, was now mounted between the rear springs. The car has a cone leather clutch, a 4speed and reverse gear box, and a drive shaft onto the live rear axle. In 1914 a generator and electric lights were added. The car was economically priced for a Sunbeam and available in several versions: a 5-seater Tourer - £360 to £396, a Landaulette - £500 to £550, and a running chassis - £330 to £350. Just under 5,000 were built and from 1913 onwards, sporting models would also be produced. Due to the car's success, immediate expansion was required at Moorfield Works, and so in 1910 more buildings were added.
The other new 1910 models were the 16/20hp. and the 25/30hp. The 16/20 featured a 3.8litre, 4 cylinder engine and is otherwise very similar to the 12/16. The car remained in production until 1914 and just under 1,000 were built. The following versions were available:

5-seater Tourer - £475 to £540, Landaulette - £615 to £640, Running chassis - £445 to £475.


A chain drive 16/20hp. car with Coatalen at the wheel. Only three were built with chain drive, the others had a live axle.
The 25/30 was similar to the 16/20 and initially came with a 4.67litre, 4 cylinder engine. From 1912 until production ended in 1914, a 6.1litre, 6 cylinder engine was fitted. Just under 500 were made and the following versions were available:
5 seater Tourer - £550 to £635, Landaulette - £690 to £760, Running chassis - £520 to £600.
The 18/22hp. model appeared in 1911, but less than 60 were made. It had a 6 cylinder, 3,619c.c. engine and as usual was available in the following versions:
5 seater Tourer - £525, Landaulette - £665, Running chassis - £495.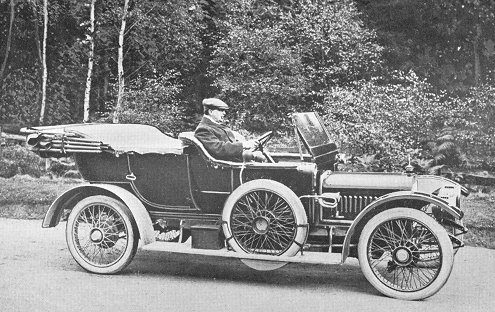 Thomas Cureton driving a 16/20hp.

Coatalen and "Toodles II".

Undaunted by the unsuccessful "Nautilus", Coatalen designed a successful replacement called "Toodles II", after his pet name for Olive, his wife.

The car featured a new 3.2litre, 4 cylinder engine that had a chain-driven overhead camshaft and developed 63b.hp. at 2,600r.p.m.

The car, driven by Coatalen himself, won 22 prizes during the 1911 season and bought much welcomed publicity for both himself and Sunbeam.
The car first appeared during the Easter event at Brooklands and achieved 83m.p.h. when it beat C.A. Bird's 60hp. Napier in a match race between the two cars. The following day, also at Brooklands, Coatalen set a new 16hp. record of 86m.p.h. in the Flying Half Mile. Later in the season, again at Brooklands he set a new long record for 10 laps at an average speed of 79.29m.p.h.

An advert from 1911.
After these wonderful achievements both Coatalen and Sunbeam were becoming well known in the British racing world. In the same year the company first competed in European road racing by entering a car in the Coupe de L'Auto at Boulogne on 25th June. The car, driven by T. H. Richards was basically a standard 12/16. Unfortunately the car was forced to retire whilst in 7th place, due to a broken steering connection after a bump with the kerb. Sunbeam however would go on to greater things and much effort was made for the following year.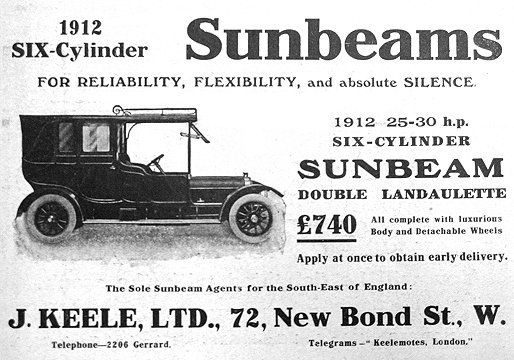 An advert from 1912.
In January 1912 Coatalen was appointed to a seat on the Board of Directors, in recognition of his valuable work at Sunbeam.
The company engaged some of the best continental drivers including Dario Resta, Emile Medinger, and Victor Rigal. Four 12/16s were entered in the Coupe de L'Auto, held over a 47 mile circuit at Dieppe. The cars were basically standard machines with small modifications to the engine and special tuning. Only cars of up to 3litres could enter the race, which was run at the same time and on the same course as the French Grand Prix, in which there were no restrictions on size.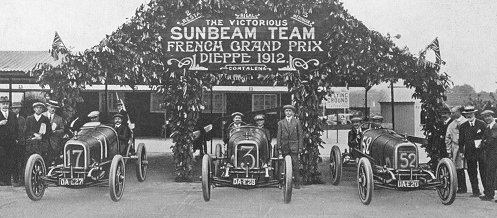 The 1912 team. Left car: Dario Resta and Tommy Harrison, middle car: Victor Rigal and Jean Chassagne, right car: Emile Medinger and Isaac Strothers.
The Sunbeams performed extremely well with Rigal finishing in first place, Resta second, and Medinger third. Due to their astonishing speed they were also placed in third, fourth, and fifth places in the Grand Prix itself, beating many, much more powerful machines.
Rigal averaged 65.35m.p.h. over the 956 miles, only 3m.p.h. less than Boillot in his 7.6litre Peugeot.

Coatalen and the team; Dario Resta, Emile Medinger, Victor Rigal, Georges Caillois and their mechanics were invited to a celebration banquet by the RAC committee on 11th July.


Victor Rigal during the race.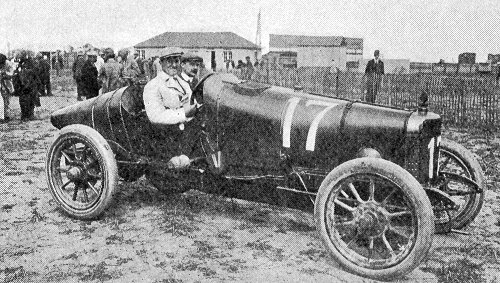 Dario Resta and Tommy Harrison.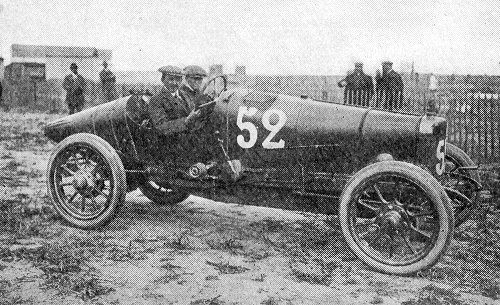 Emile Medinger and Isaac Strothers.
During the proceedings Louis Coatalen was presented with a beautiful silver cup to commemorate the victory, gold medals were presented to the three winning drivers, and bronze medals to the mechanics.
To celebrate and capitalise on their success in 1912, Sunbeam produced what was possibly the world's first sports car, the Coupe de L'Auto Replica. The cars were produced in 1913 and 1914 and were available as a 2 seater from £425, or a 4 seater from £440.

An advert from 1913.
Coatalen decided to take part himself in the 1913 French Grand Prix at Amiens, clearly spurred on by the victory in 1912. Four special cars were built for the race, each powered by a 4.5litre, 6 cylinder engine. Jean Chassagne, driving one of the Sunbeams finished in 3rd place at an average speed of 70.3m.p.h. over the 579 miles. Later that year, one of the cars, fitted with a single seater body, broke many existing records during a meeting at Brooklands. The car, driven by Jean Chassagne, Dario Resta, and Kenelm Lee Guinness ran for 12 hours during which it succeeded in breaking all of the world's records from 2 to 12 hours and from 200 to 1,000 miles. The average speed over the 1,000 miles was 90m.p.h. and for the 2 hours, the car averaged 97.5m.p.h. A great success indeed.


One of the 1913 French Grand Prix cars.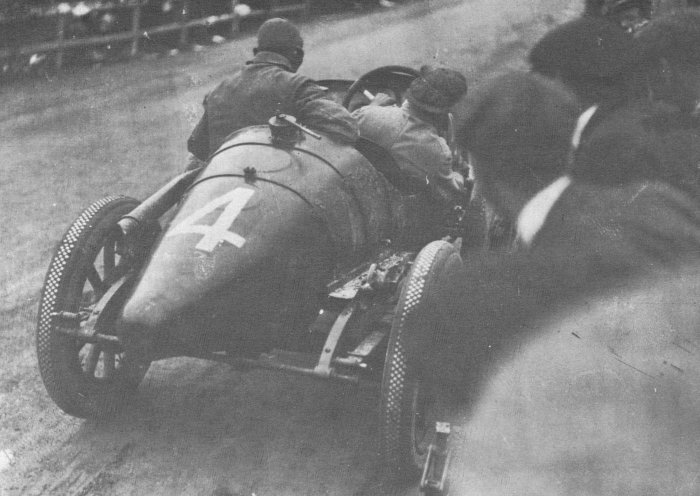 Jean Chassagne leaving the pits.
In 1913, the Coupe de L'Auto was held as a separate event and Sunbeam set out to defend their previous victory with three similar cars to the ones used in 1912. They were driven by Jean Chassagne, Dario Resta, and Kenelm Lee Guinness, on a more difficult course near Boulogne. Unfortunately the team didn't manage their previous year's sweeping success. Both Chassagne and Resta were forced to retire with broken rear axles, but luckily Guinness, the only team member to finish the race, saved the day by coming in 3rd, nine minutes behind the winner at an average speed of 61.45m.p.h.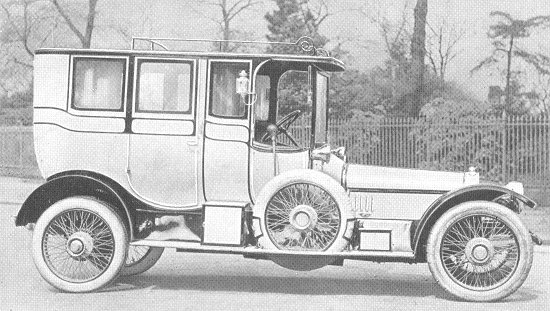 A 1913 Sunbeam with special coach work.
By this time Sunbeam were already producing aircraft engines and had a 'Crusader' 6litre, 150hp. 'V8' engine flying in a Henry Farman biplane. Coatalen had one of these fitted into a 24hp. chassis and tried it out with some success at Shelsley Walsh in June, 1913. By August, a new racing car called 'Toodles V', the fifth of its line, and the first racing car to be powered by an aero engine, was ready for action. It consisted of a 'V12' airship engine fitted into a 25/30hp. chassis. The car achieved some success in 1913 and 1914 and would go on to be raced in America during the First World War, when racing was banned in Europe.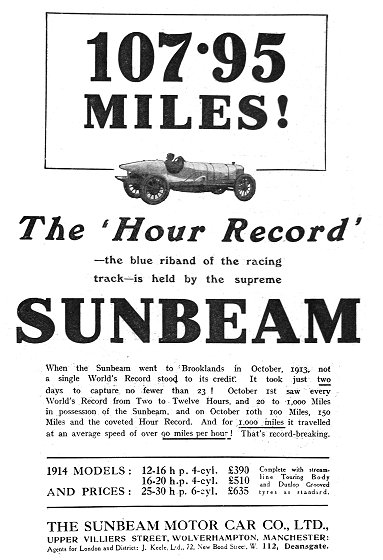 An advert from February 1914.
In 1914 the RAC decided to revive the Isle of Man Tourist Trophy as an event for cars, and Coatalen rose to the occasion by designing a new car, powered by a 3.3litre, 4 cylinder, 16 valve engine, which wasn't quite as it seemed.
The first and second places in the 1913 Coupe de L'Auto had been taken by Peugeot. Their cars, designed by Ernest Henry, were far more powerful than the Sunbeams, and Coatalen realised that his existing cars stood no chance against Peugeot's more powerful twin overhead camshaft engines. He decided to get his hands on a 1913, 3-litre Coupe de L'Auto Peugeot, examine it in detail, and design a new car based upon it. It has been suggested that he purchased one of the cars and brought it to Wolverhampton with this in mind, but it seems that the real story is a little more dramatic.
His good friend, and Sunbeam racing car driver, Dario Resta, had been given the job of driving the 1913 Coupe de L'Auto winning car to all of Peugeot's French agents as part of a publicity exercise. Coatalen arranged for Jean Chassagne to collect the car, and drive it to Waverley House, Goldthorn Road, Wolverhampton, where Louis and Olive Coatalen lived. Once there, the car was closely examined, and stripped down. Detailed drawings were made of all the parts by two of Sunbeam's draughtsmen, Hugh Rose and Ted Hatlands.
When the car was re-assembled, it was driven to Moorfield Works so that the engine could be bench tested, before returning it to France. The whole operation was carried out in great secrecy, so that Sunbeam could claim full responsibility for the design of the 1914 car. The T.T. Sunbeam had an identical engine with an enlarged bore and stroke, and was capable of producing 100 bhp.
3 Sunbeam cars were entered for the 600 mile race that was to be run over two days, with 8 laps, each of 37.5 miles being completed on each day.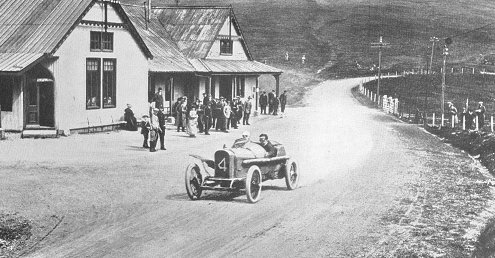 Kenelm Lee Guinness in action during the 1914 Isle of Man T.T.
The race took place on the 10th and 11th of June. The Sunbeam drivers were Dario Resta, Kenelm Lee Guinness and his elder brother Algernon. Unfortunately Resta had to retire during the first day due to a broken big end nut, but on the second day K.L.G. and Algernon were in first and second places respectively. All continued to go well until Algernon started to have problems with the lubrication of a universal joint. Unfortunately the joint seized and he had to retire. Kenelm however, went on to finish the race in first place, at an average speed of 56.44m.p.h. For his achievement he was awarded the Henry Edmunds Trophy.
In 1914 Thomas Cureton retired from the position of Managing Director and was replaced by William Markley Iliff and Louis Coatalen, who were appointed as Joint Managing Directors.


The original founders, and the company directors in 1919.
Even after the outbreak of war, when Sunbeam were involved in war work, several cars were produced. The 16hp. appeared in 1915 and continued in production into 1916. The car, a development of the 12/16hp. model, was powered by a 3litre, 4 cylinder engine and looked quite modern with its upright radiator. The following versions were available:
Running chassis - £350, 5-seater Tourer - £440, 2-seater - £417.10s., Coupe - £525, Sporting Model - £470.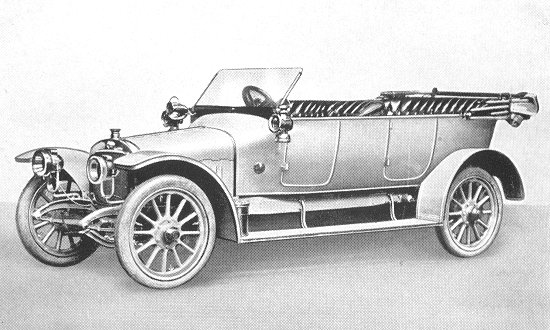 A Sunbeam 16hp. tourer.
Just over 1,600 were made. A larger version, the 20hp. was also produced and just over 100 were built. During 1915 and 1916 a 30hp. model was also produced, featuring a 6.1litre, 6 cylinder engine, but only 15 were built. The cars could also be supplied with a Sunbeam Air Compressor Self-Starter, for an extra £40.


A 16-20hp. Sunbeam staff car.
A 16-20hp. Sunbeam ambulance
In 1916, the Coatalens moved to Bromley House, Penn Road, Penn, where they lived until 1919. The house was sold at auction on 18th March, 1919.
At this point car production ended at Wolverhampton for several years because the Ministry of Munitions ordered the company to concentrate solely on war work involving aircraft and aircraft engines. There was still a demand for the 16hp. Sunbeam car for such use as staff cars and ambulances and so a licence was given to Rover to produce them. The Rover versions carried the Rover name and it has been suggested that the crafty Coatalen tinkered a little with drawings before they were passed on to Rover because the Rover versions were not as powerful as the Wolverhampton built equivalents.
The demand for the company's aircraft and aero engines was so great during the war, that Moorfield works had to be vastly expanded to cover several acres.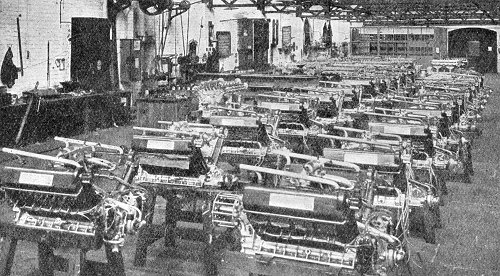 Aero engine production at the works.
---