| | | | |
| --- | --- | --- | --- |
| | | | |
---
Racing Mechanics, the men who kept the wheels turning

Bill Perkins

Bill Perkins in 1927, at Daytona, with the 1,000 hp. Sunbeam car.

Bill Perkins was one of Sunbeam's leading mechanics in the Experimental Department. He worked on many of the company's racing cars, and accompanied them to race meetings far and wide.

He was also a racing mechanic, riding in the car with the driver, and a driver in his own right, participating in several events. He also used to drive the cars from Wolverhampton to race meetings in the UK, and back again afterwards.

William Robert Perkins, known as Bill, was born in Wolverhampton in 1889. In 1891 the Perkins family were living in Cartwright Street.

His parents were James Perkins, a bookmaker, and Amelia K. Perkins. In 1901 they had five children; Albert H. Perkins, age 15; Bill Perkins, age 12; Beatrice A. Perkins, age 11; Maude E. Perkins, age 5; and Gladys M. Perkins, age 3. At this time, Bill worked as a grocer's boy.

In 1911 he was working as a chauffeur to the owner of a steam trawler in Lincolnshire, and living in Cleethorpes.
By 1920 he had moved back to Wolverhampton, after becoming one of the mechanics in Sunbeam's Experimental Department. He is first seen on Sunbeam photographs assisting in the building of the 350 hp. aero-engined racing car, which became the first car, powered by an aircraft engine, to set a new world land speed record. From that time, he frequently travelled to racing and sporting events, overseeing the Sunbeam cars. He appears on a photograph from October 1920 with the 350 hp. car, when it was driven by Rene Thomas, and set a new record at the Gaillon hill climb.

In his element. Bill with the 350 hp. car at Brooklands.
Bill became Kenelm Lee Guinness's regular racing mechanic, and rode with him in many events, including the 1921, 1922, and 1923 Grand Prix races, and the 1924 European Grand Prix at Lyon. Racing mechanics were unsung heroes, who were exposed to many dangers, and injuries, which could be fatal.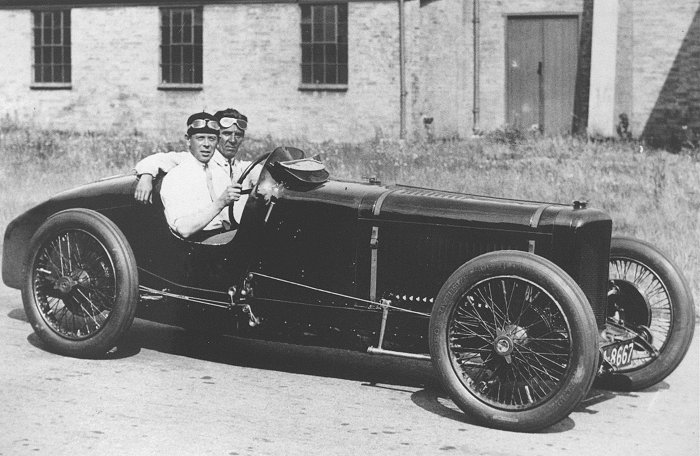 Bill with Kenelm Lee Guinness in one of the 1924 G.P. 2 litre cars. This is the car that they used in the 1924 Grand Prix at Lyon. It is also the car that crashed in the 1924 Spanish Grand Prix, killing Tom Barrett, and badly injuring Guinness. Courtesy of Jan Jeavons.

Bill as he would often be seen, at work on one of the racing engines.
In the 1923 French Grand Prix at Tours, Bill and his driver Kenelm Lee Guinness were injured, when the spare magneto came loose and was sliding around the floor, close to their feet. This resulted in them both receiving leg injuries. Later in the race the clutch started to slip, and so the ever resourceful Bill Perkins crouched down, and tied a length of rope around the clutch pedal, and started to pull on it to engage the clutch. This was quite an achievement as the car was still travelling at great speed, and he was constantly buffeted around. When the rope began to cut into his hand and wrist, he used his tie to help. After several laps he became exhausted and collapsed. Such was his dedication. Guinness had to stop the car, and replace him with Jack Smith. Thanks to Bill's extraordinary efforts, the car managed to finish in fourth place.
The race was a great success for Sunbeam. Henry Segrave won the race, and was closely followed by Albert Divo, who finished in second place. This was the first time a British car had won the race, and so the RAC organised a victory lunch. The three drivers were each presented with a gold medal, and the three mechanics each received a silver medal.
Bill was an excellent mechanic, who assisted in the building and the overhaul of Sunbeam's racing fleet. His speciality was tuning carburettors, which he always got just right.

Although he was a good driver, he rarely got the opportunity to compete behind the wheel.

On 29th September, 1923, he drove one of the 1921, 3 litre, 8-cylinder, Grand Prix cars in the Essex Motor Club's Brooklands Senior Short Handicap. He finished in first place, covering the 5¾ mile course at an average speed of 92.5 mph. This was quite a feat, considering that a loose fire extinguisher had jammed itself under the pedals.


Bill and Alec Broome.
1924 was to be an unforgettable year, both for Bill and the whole racing team. After riding with Kenelm Lee Guinness in the European Grand Prix at Lyon on 3rd August, he joined Dario Resta at Brooklands, for a record attempt in the International Class E (2 litre) short distance records. After a successful day on 2nd September, they must have been very optimistic about their chances the next day, in the longer distance records.
On the next day, they set off, and things went well until the 4th lap, when the car reached Railway Straight. It seems that a security bolt made of duralumin was broken, possibly after hitting a rut in the track. The bolt must have hit, then punctured the offside rear tyre, which left the rim. At the time the car was travelling at over 100 mph. Resta initially held the car straight, but it skidded sideways, before turning around and running into the corrugated iron fence, tail first. Resta was instantly killed, decapitated as the car collided with the fence. The petrol tank was ripped open, and burst into flames. Bill Perkins was badly injured, and suffering from burns. He was lucky to have survived, and must have been thrown clear of the car. He was found on the track, and sent off to hospital.


Bill and Dario Resta in DA 8666, the 2 litre G.P. car in which Resta was killed.
Bill should have joined Kenelm Lee Guinness for the Spanish Grand Prix, later that month. This was impossible because he was still in hospital, and so Tom Barrett took his place. Sadly this also ended in tragedy. Guinness lost control of the car on a slippery surface, and it crashed, leaving him with serious injuries, and sadly killing poor Tom Barrett. As a result of this accident, the rules were changed, and racing mechanics no longer sat in the car with the driver.
Bill was very supportive of Tom Barrett's widow and her family. He did what he could to help, and in later years still visited Tom's son and his family, recalling his many adventures with the cars.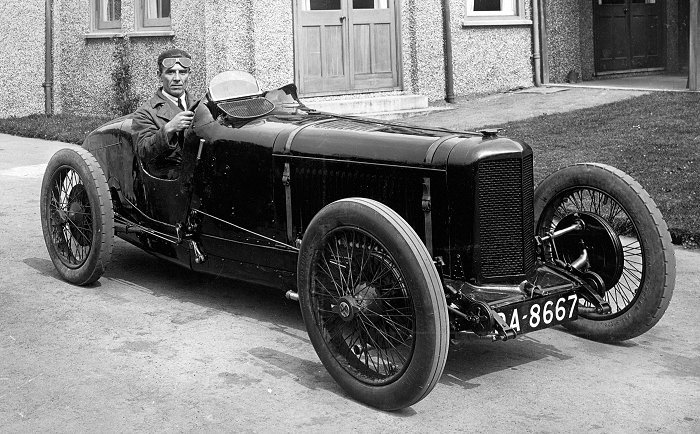 Bill in DA 8667, the car that crashed in the 1924 Spanish Grand Prix.
Bill continued to test the racing cars, and to drive the 2 litre and the 4 litre cars from Wolverhampton to Brooklands before race meetings, and back again afterwards. He still kept a close eye on them at events, and was always at hand to solve mechanical problems, even in later years when the cars were in private ownership.
He was very involved in the building of the 1,000 hp. Sunbeam car, which broke the world land speed record at Daytona Beach, Florida on 29th March, 1927, and was one of the team of mechanics who travelled to Daytona with the car.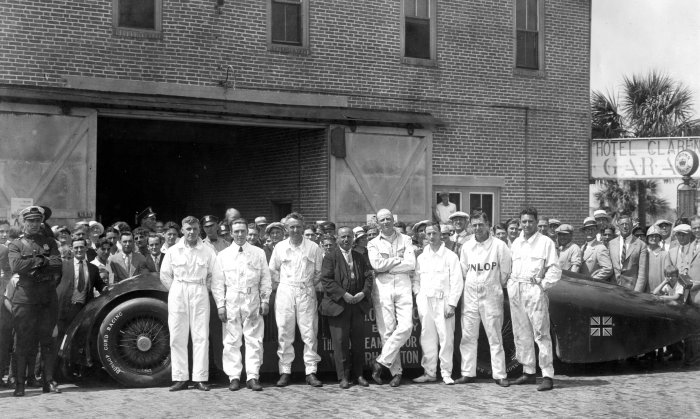 The Sunbeam team, standing in front of the 1,000hp. record breaking car at Daytona. Left to right: Alec Broome, Bill Perkins, Jack Ridley, Tommy Harrison, Sir Henry Segrave, Dick Slater, Steve Macdonald (Dunlop Mac), and Ernie Lavender.
His unfulfilled ambition was to be a full-time racing driver for Sunbeam, but this was not to be, even though he was a very skilled driver. On 24th September, 1927, on one of the wettest days of the year, he went with three Sunbeam cars to a hill climb at Shelsley Walsh. Although the conditions were awful, because of the wet weather, he drove one of the 2 litre supercharged Grand Prix cars, DA 8420, and finished in second place in the 2 litre class, climbing the hill in 57.2 seconds. On the same day, driving a 4 litre, 12 cylinder car, he finished in first place in the 3 litre sports class, ascending the hill in 55 seconds. He also finished in 3rd place, in the 3 litre sports class, driving a 3 litre, 6-cylinder car.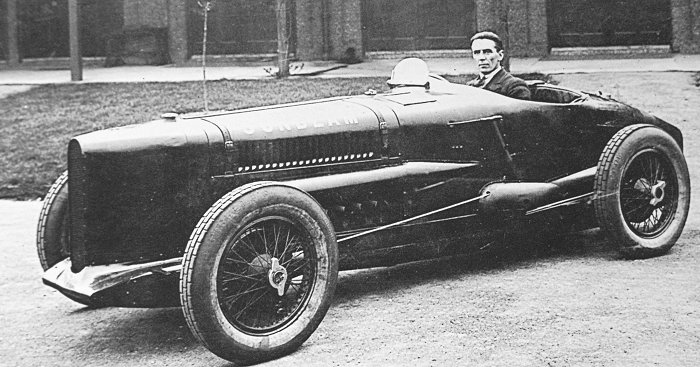 Bill with the 1926, 4 litre, 12-cylinder car that achieved a world record speed of 152.336 mph. at Southport, when driven by Henry Segrave.
In 1930 Bill married Marjorie Beatrice Yates, from Wolverhampton, and they moved to 'Hermione', Lloyd Hill, Penn, Wolverhampton. They soon had a son, William K. J. Perkins.

Marjorie was a registered midwife, and after the closure of the Sunbeam Motor Car Company in 1935, Bill became a self-employed auto engine mechanic.

There were long gardens behind the houses that backed onto a small alleyway. Bill had a garage at the bottom of his garden, from where he worked.

He was a sociable man, always ready to talk about his days at Sunbeam, and would visit Conway Garage in Wolverhampton Road East, which was run by his ex-Sunbeam colleague Alec Broome, and his wife Gwen. When there, Bill would reminisce about the Sunbeam days, and recall some of his many racing adventures.


Marjorie Perkins, Bill's wife, is on the right. Her daughter-in-law Marion is on the left. Courtesy of Jenni Redman.

Bill in one of his cars. Courtesy of Jenni Redman.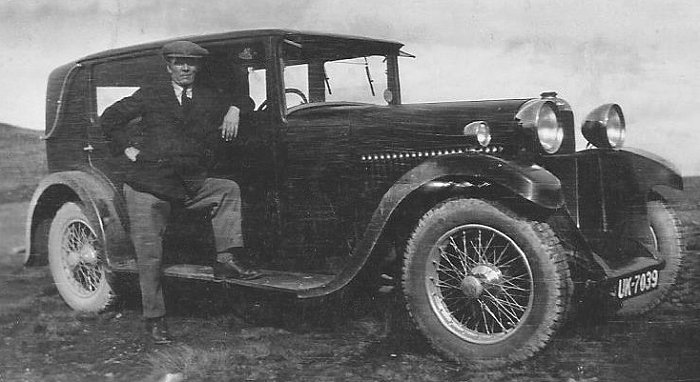 Bill stands proudly beside another of his cars. Courtesy of Jenni Redman.
Another view of Marjorie Perkins, who is on the left, sitting with a colleague.

Courtesy of Jane Peck.

Bill, on the right, in 1958, describing some of the mechanical details of his 16 hp. Sunbeam Saloon. A cutting from an unknown newspaper.
In his later years he would visit S.T.D. rallies and proudly display his 1932 Sunbeam 16 hp. Saloon car.

Bill died in New Cross Hospital, Wolverhampton, on 29th April, 1959.

To commemorate his achievements, the S.T.D. Register introduced the Bill Perkins Trophy at their rallies, for 'the most meritorious progress in restoration'.

In her later years, Marjorie Perkins moved to 77 Pinfold Lane, Penn. She died in 1986.
Alexander W. Broome, known as Alec, was born in Poplar Street, off Dudley Road, Wolverhampton.

After leaving school in 1919, he became an apprentice at the Sunbeam Motor Car Company, where he would have studied mechanical engineering at the company's training school, and gained experience in various departments in the factory.

He must have been a good apprentice, because he ended up working in the Experimental Department, where the company's racing cars were built and maintained. He became one of the company's leading mechanics.

Like Bill Perkins, he took great interest in the cars, and accompanied many of them to race meetings, where he was on hand to sort out mechanical problems, and to ensure that the cars were correctly prepared.


Alec Broome in 1927 with the 1,000 hp. car at Daytona.
| | |
| --- | --- |
| | A young looking Jack Ridley, and Alec Broome, in the Experimental Department at Sunbeam. |
In 1923 and 1924 he was at the French and Spanish Grand Prix races, and later accompanied the 1,000 hp. car, and then the Silver Bullet to Daytona, for the attempts on the land speed record. Because he had been involved in constructing the company's racing cars, he would have had an intimate knowledge of them. Due to his great skill, Sunbeam loaned him to Sir Malcolm Campbell, when he purchased the two 4 litre, 12-cylinder Sunbeam cars.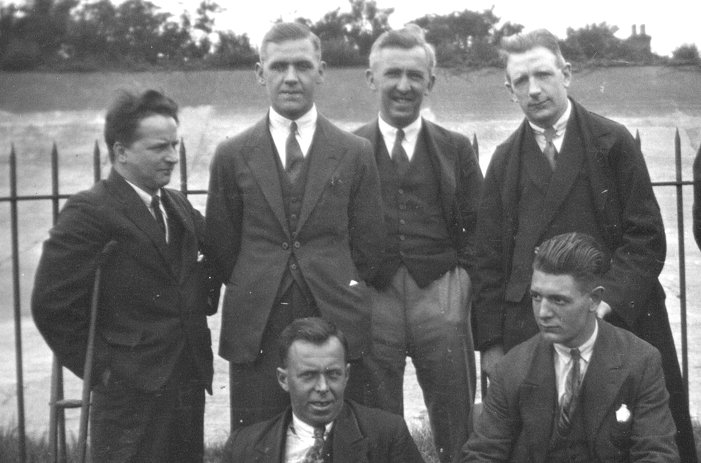 Back row, left to right: Frank Bill, Alec Broom, Jack Ridley, and G. Taylor. Front row: unknown.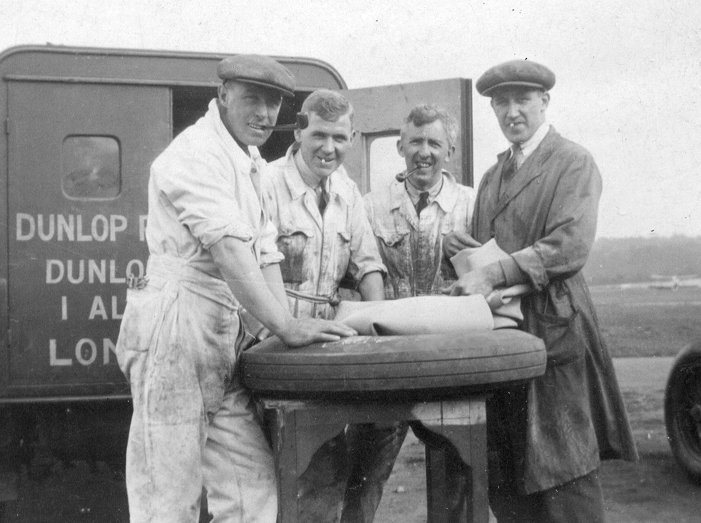 Repairing a puncture at Brooklands. Left to right: Steve Macdonald, Alec Broome, Jack Ridley, and ? As usual Alec was smoking the inevitable cigarette.
After the closure of the Sunbeam Motor Car Company in 1935, Alec, like some of his colleagues, continued as a motor mechanic. Alec married Gwendoline Homer. Alec and Gwen, decided to open a garage on a piece of land in Wolverhampton Road East, about five hundred yards south of the 'Fighting Cocks'. The large timber and asbestos building was erected on spare land in front of the bungalow where they lived. It cost them £350, which would be over £13,000 today. They called it 'Conway Garage', after the couple's favourite place in Wales, where they occasionally would go on weekends, after work on a Friday. The garage opened in 1936.
Alec and Gwen worked long hours every day. The garage would be open from early morning until around 9 o'clock at night. Alec carried out repairs, changed tyres, and mended punctures, while Gwen concentrated on selling petrol. She brightened the front of the garage by adding a few plants. There was no time for gardening. More often than not, she would go into the bungalow to cook a meal, and after she had eaten, she would relieve Alec in the garage so that he could have his tea. When the garage closed, Alec would return to the bungalow to do the day's paperwork, by which time Gwen was often asleep.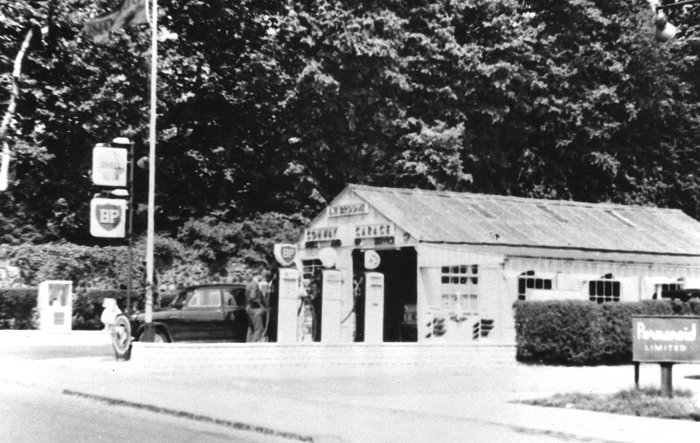 Conway Garage. Courtesy of Ray Jones.
Most weeks, Gwen would put on her Sunday best, and have an afternoon in Birmingham (Birningum as she called it) looking around the shops, and for a treat, one evening each week, the couple would go out in one of Alec's Sunbeam cars.
Gwen died in 1987, and Alec carried on as best he could at the garage, even though his eyesight was failing. Only a few privileged visitors knew of Alec's interesting past, but when one of his friends arrived, he would happily reminisce. The garage closed in 1989, just before Alec died. He died in September 1989.

A page from the receipt book. Courtesy of Ray Jones.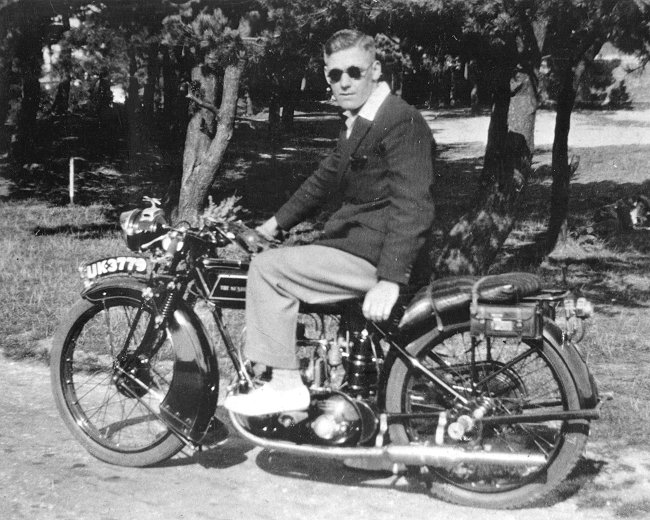 Alec and his Sunbeam motorcycle, which is now at the Black Country Living Museum.

Tom Barrett.

Tom Barrett had joined the team of mechanics in the Experimental Department by 1923, after working on the Sunbeam aero engines.

Little is known about his time in the Experimental Department. He went to the French Grand Prix in 1923 along with the team of Sunbeam mechanics, and sadly lost his life in 1924, whilst performing his duties as a racing mechanic in one of the Grand Prix cars.
John Vernon Ridley, known as Jack, is a familiar figure on Sunbeam photographs, often standing in a prominent position.

He was born in 1884, and in the 1920s he lived at 108 Bruford Road in Penn Fields.

By the 1940s he had moved to 5 Linton Road, Penn, where he repaired vehicles in a large garage in his garden.
| | |
| --- | --- |
| Dick Slater was one of the mechanics who travelled with the 1,000 hp. car to Daytona in 1927. At the time he was 38 years old. | |
| | |
| --- | --- |
| | Ernie was also one of the mechanics who travelled with the 1,000 hp. car to Daytona in 1927. |
I would like to thank Jan Jeavons and Ray Jones for their help with this section.
---