Chell Lightweight Marketed
Illustrated here is the latest lightweight to come upon the market, the Chell, manufactured by the Chell Motor Company Limited, Moorfield Road, Wolverhampton. Price is £25.10s. fully equipped.
Into a loop frame is fitted the 125c.c. Villiers engine-gear unit, or, as an alternative without affecting the cost, the 98c.c. unit. Twin exhaust pipes are led away forward and terminate in tubular silencers. The system is quite neatly disposed. Pressed-steel front forks are employed, and the saddle tank holds two gallons of petroil mixture. Domed mudguards appear ample in section over 2.75in. by 19in. Dunlop tyres, and a useful auxiliary is a pressed-steel carrier.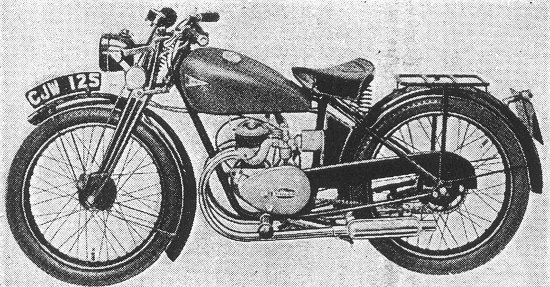 The Chell lightweight, fitted with a 125 or 98c.c. Villiers unit. Sells at £25.10s.
Lighting is 18 watt. An air cleaner is fitted to the carburettor. Other equipment included horn, number plates, central stand, licence holder, tyre inflator and tools, the last named being carried in a box below the spring seat saddle.
For an extra 35s. a Smith's lightweight speedometer, with external front hub drive, can be fitted to the machine.