---
Into Production

During the war the suspension kits sold in relatively small numbers, but when the war came to an end, the conversion kits became popular with enthusiasts. Demand grew, and it became necessary to find capital to expand the business and increase production. Leslie joined forces with local businessman Harold Nock, who ran Metal Profiles Limited at Valley Road Works, Sedgley. Harold was keen to get involved in the motorcycle business and had gained a lot of experience in that area. In 1926 he worked for Howard Davies at H.R.D. and then moved to Sunbeam. After a spell with A.J.S., he went into partnership with Walter Ford, who had been one of the partners who formed Diamond Motorcycles in Sedgley Street.

At DMW, production was stepped-up and large numbers of suspension systems were produced. Harold proposed building a lightweight two stroke road machine, which would sell in much larger numbers than grass-track racing machines. Leslie on the other hand felt that DMW needed to produce Sportster, or racer look-a-like machines, and develop the product line, and advertise through racing achievements. He believed that the way ahead was to produce powerful multi-cylinder engines and develop the North American market. He also believed that the days of the British motorcycle were numbered unless companies could adapt to modern times. Unfortunately Leslie did not have the interpersonal or business communication skills that were necessary to raise venture capital for the new company. He left the company in 1948 and emigrated to Canada, where he worked for the Avro Company on the infamous Arrow jet fighter project. The Canadian Government cancelled the project in 1959, and a year later, a frustrated Leslie, and his family (minus eldest son, Barry, who had joined the Royal Canadian Mounted Police), came home to Merseyside.

The front entrance and offices in Valley Road. Courtesy of Jo Skidmore.

The factory entrance in Valley Road. Courtesy of Jo Skidmore.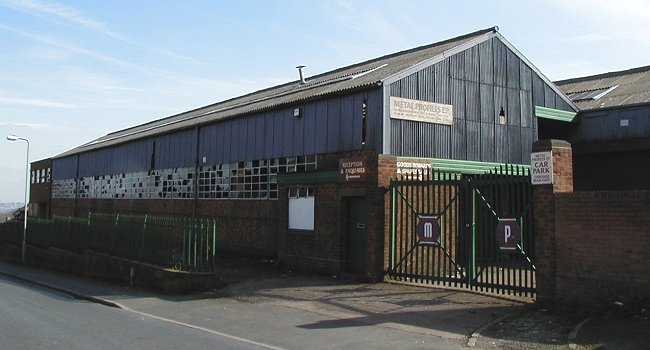 Valley Road works before demolition.

Another view of the derelict factory.


Back in England, Leslie hoped to start a new motorcycle company, but this was not to be, as venture capital for a new British based motorcycle manufacturing company was just not available.

He died in Ellesmere Port on 6th January 1989.

Leslie made a number of significant contributions to motorcycle deign. Some of his inventions can be seen in his following patents:

1. The swinging arm Suspension, U.K. Patent 519,291 - 14th October 1939. To this day this is still fitted to the rear of all motorcycles.

2. Telematic Forks, U.K. Patent 572,548 - 6th May 1943.

3. Dual front wheel brakes, U.K. patent 587,838 - 20th January 1945. This concept eliminates the dangerous twisting forces, exerted by the single sided brakes, historically fitted to motorcycles.

When Leslie left DMW, he sold his share of the company to Harold Nock and allowed the company to continue using his patents on the understanding that they would not be allowed to lapse, and enter the public domain. For some reason they did lapse, and both Leslie and DMW potentially lost millions of pounds in patent licensing fees for the swinging arm suspension, which was universally adopted by motorcycle manufactures throughout the world.
After Leslie's departure, Mike Riley, an ex B.S.A. Development Engineer was employed as a designer, to work on the many new products.

Mike was also an experienced trials rider and won the under 200c.c. award in the 1948 Scottish Trial, riding a DMW machine.

Production moved to the Metal Profiles factory in Valley Road, Sedgley, because the Wolverhampton premises was too small.


The derelict company offices, a few weeks before demolition.

The eastern end of the factory.

The lightweight road machine was soon developed. It was powered by a 122c.c. Villiers 10D engine.

The engine, introduced in 1949, had a bore of 50mm and a 62mm stroke. There was also a built-in foot operated close ratio gearbox. It was the beginning of a long association with Villiers and its engines, which would last for over 40 years.

The new machine came into production in 1950 and the company was soon producing 50 machines a week.
The machines included a number of novel features. The 1951 models were fitted with a frame made from square section tubing, and included Villiers engines, and Metal Profiles front and rear suspension.

There was a 122c.c. De Luxe version, which sold for £107.12s.0d and a 197c.c. De Luxe, which sold for £116. Standard versions were available for about £10 less.


The southern side of the Valley Road site.

The western end of the factory.

Metal Profiles telescopic forks sold well and were supplied to many manufacturers, including Ambassador, Dot, OEC and Sun.

Experienced competition riders Arthur Frost and Ernie Smith joined the staff, and the new machines were entered in many competitions and racing events, in which they performed extremely well.
DMW appeared at the Earls Court Motor Cycle Show for the first time in 1952. There were six machines displayed, three road machines and three racing machines. At the 1953 show, two new machines were added to the line-up. One of which used the new Villiers 225c.c. 1H engine, which had just been launched. It had a bore of 63mm and a stroke of 72mm, with a compression ratio of 7.5:1. The engine also had an integral foot-operated, close ratio four speed gearbox.
---