---

Howard Raymond Davies.

The company was founded by Howard Raymond Davies, who used his initials for the name 'H.R.D.'

He was a former tester, and competition rider for Sunbeam, a former competition rider for A.J.S., and a well known, and successful motorcycle racer.

His successes in the Isle of Man T.T. included a win in the 1921 Senior, and second place in the 1921 Junior, both on A.J.S. machines, and second place in 1914 Senior, on a Sunbeam.
| | |
| --- | --- |
| | Read about Howard Davies |
| | |
Howard began to think about producing his own motorcycles, around the time he was demobilised, after the First World War. In the early 1920s he gained a lot of riding experience at A.J.S., and became well known after his success in the 1921 T.T. The 1922 and 1923 T.T.'s were a disappointment because of the unreliability of the A.J.S. engines. On both occasions Howard only managed a few laps, after which his machine broke down. He had a similar experience in the 1924 T.T. when riding an O.E.C., and so must have decided that the only way to regain success was to produce a reliable machine himself. Howard joined forces with E. J. Massey to form H.R.D.
Massey was an artist and ex-motorcycle manufacturer, whose first venture in the industry had been to design the Massey-Aran machines that were built in Birmingham. Massey later joined forces with the F. J. Cooper Sidecar Company of Belgrave Road, Birmingham, to produce the Massey motorcycle.

By May 1924 Massey had already produced a set
of drawings for a proposed machine. Howard showed them to friends in the trade, and asked for their opinion of the design. Their opinions were favourable, and so he decided to form the new company.


The original location of H.R.D. at Heath Town.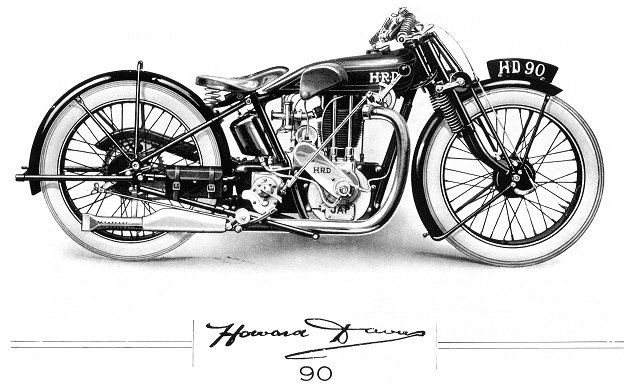 One of Massey's illustrations from the first H.R.D. catalogue.
The new company, H.R.D. Motors Limited, was registered in September 1924, with a nominal capital of £3,000. Howard Davies was Managing Director. Premises were acquired in Heath Street, Heath Town, but the old building was in a poor state, particularly the ground floor. It had previously been occupied by a locksmith, and before that by Tomes & Beard who made the 'Original Universal' bicycle.

The plan was to build a comparatively small number of high class motorcycles, at competitive prices, that were designed to appeal to the connoisseur. The best materials would be used, along with the highest standards of workmanship. As the company was in no position to manufacture any of the major components, the best available would be brought-in.
The first task was to ensure that the company had some machines to go on display at the forthcoming Olympia show. It was essential for H.R.D. to have a presence there, in order to gain much-needed publicity, and for the machines to be seen by the trade and public alike.

The exhibition opened on 3rd November, and so the difficult task of meeting the deadline began in earnest. The first machine had been designed on paper in May, but a lot of work was required to make it a reality. Obtaining the various components from manufacturers, and getting other parts made in time was a nightmare. Howard quickly assembled a small experienced team to build the machines, including his old friend Albert Clark, whose grandfather was Henry Clarke of Cogent Cycles.

Four models were produced for the show, top of the range being the HD90, which included a special JAP 500c.c. racing engine, and had a guaranteed top speed of 90m.p.h. The machine sold for 90 guineas. Next was the HD80, powered by a special 350c.c., overhead valve, double port, JAP engine. It had a top speed of 80m.p.h., and sold for 80 guineas.
Another model, the HD70 included a special 350c.c., overhead valve, JAP engine. It had a top speed of 70m.p.h. and sold for 70 guineas.

Last but not least was the HD70/S, which was available as a solo, or sidecar machine.

It had a 500c.c., sports, side valve JAP engine, fitted with an aluminium piston and racing cams. The solo version sold for 66 guineas and the combination sold for 83 guineas.

The machines were the first motorcycles to be fitted with a saddle petrol tank, and included a lot of new features such as a compact loop frame, low riding position and good accessibility of the controls.


From the 1925 catalogue.

From the 1925 catalogue.

The machines had good ground clearance, straight torque rods, massive steering head, underslung handlebars and 'D' section mudguards. The rear mudguard was hinged to allow the rear wheel to be removed.

The major components included JAP engines, Burman close ratio gear boxes, Druid or Webb forks incorporating shock dampers, enclosed Renold or Coventry chains, Binks two lever carburettors, M.L. magnetos, exceptionally large internal expanding brakes, and 'Pilgrim' mechanical lubrication pumps.

The four machines were completed just in time for the show. The major problem had been getting outside manufacturers to produce the parts on time.
The machines were finished in black and lined in gold. The new models showed a very promising start, receiving a lot of interest and good publicity.

After the show it took some time for the first production models to appear. Machinery had to be purchased, and the workshop organised.

Billy Price was head-hunted from A.J.S. to oversee production. The problem of obtaining parts on time was still there, particularly with the special sports JAP engines. J. A. Prestwich only made these in limited numbers.

E. J. Massey's practical abilities were very limited and this led to several problems when setting up the machinery. In January he left for pastures new.


From the 1925 catalogue.
1925 was destined to be a good year for the company. Many of the early machines were sold for competition use, and were very successful. Excellent road test reports appeared in the press, and by May about 60 machines had been built.

Howard Davies cornering at Craig-ny-baa in the 1925 Isle of Man T.T.

H.R.D. now got ready for the forthcoming Isle on Man T.T., with Howard Davies in the senior and Harry Harris in both the Junior and the Senior. Five motorbikes were prepared for the T.T., three 350c.c. machines and two 500c.c. machines.

They were standard production models with minor differences. They had larger capacity petrol tanks, extra engine supports and larger ribbed brake drums.
On arrival at the island, Howard took over J. W. Shaw's Junior entry and so would race in both the Junior and Senior. Practising started on 1st June and the machines performed extremely well. This was to be a very successful outing for the company, as Howard came second in the Junior race, just behind W. L. Handley on his Rex Acme. Harry Harris came in fifth. The Senior was a repeat of Howard's 1921 success. He won the race in 3hours 25minutes 35secs, just ahead of F. A. Longman on his A.J.S. Howard's average speed was 66.13m.p.h.

Unfortunately Harry Harris was forced to retire from the race because of a broken chain. He was lying in 7th place at the time. On their return to Wolverhampton, a big celebration followed in the Half Way House on the Tettenhall Road. A Union Jack was raised in front of a large enthusiastic crowd, and the trophy was displayed.
Howard Davies and guests at the T.T. celebration at the Half Way House.

From the July 1925 edition of Butler's magazine.
From Butler's magazine, July 1925:
The New Inn, Finchfield Road/Castlecroft Road, Finchfield
Presentation to the Winner of the Senior T.T. Race
On Saturday evening, July 4th, a convivial evening was arranged to present Mr. Howard Davies, Winner of the Trophy, with a small souvenir. Mr. Bradford occupied the chair and introduced Mr. Alderman Jeffs, who had kindly come to make the presentation. Alderman Jeffs, in asking Mr. Davies' acceptance of a pipe and pouch from a few friends, said his performance was a wonderful achievement in a splendid race and great credit was due to him. Mr. Davies responding said he heartily appreciated the gift not only for its intrinsic value, but because it came from friends. He appreciated the very kind things Mr. Bradford and Alderman Jeff s had said about him, but declared that his success was largely due to the splendid loyalty and co-operation of his staff, especially Messrs. Harris and Lawrence, and concluded by wishing Mr. Harris success next time as he thoroughly deserved a win.
Messrs. Tonks and Bennett were responsible for the pianoforte solos which were well rendered and appreciated.
A vote of thanks was passed to Mr. Bradford for presiding, to Mr. Alderman Jeffs for kindly making the presentation, and to Mr. Roberts for the arrangements of a very enjoyable evening.
During the evening the following lines, written by himself, were read by Mr. J. B. Beckett:
To Mr. Howard R. Davies
Gentlemen, we have with us a man of great fame,
May he live long with the rest who have made their name,
He won that great race with a thousand thrills,
Down the deep vales and over the hills,
The course he went over without a mishap,
Keeping good time on every lap
And on to the finish, and over the line
These words were uttered "You've beat record time."
Then to old England he made his way,
What a welcome he had on that glorious day,
People who knew him shook him by the hand,
"Good luck to you Howard, you won the race grand,"
And now that we have him amongst us to-night,
May his life in future be full of delight,
And now to conclude these few words I say
Good luck to you and your business from day to day.

---