---

Frank Parkyn

Frank Parkyn started producing Olympic bicycles in Green Lane in the early 1880s, and moved to Granville Street in 1896. He became the Liberal member of the Town Council for St. George's Ward in 1897, and lived at 10 Rectory Terrace, Wolverhampton.

At the factory he introduced the latest machinery and manufacturing techniques, and started building Olympic motorcycles in 1902. The early Olympic machines were powered by M.M.C. engines, but very few were made. Production ended in 1905. One of the company's machines was displayed at the November 1902 National Cycle and Motor Show held at Crystal Palace. In the programme it was described as follows:

Harry Parkyn, Ltd., Wolverhampton, are the makers of the Olympic cycles, and they have adopted the latest pattern Minerva motor to their design of frame, which has been strengthened so as to take the extra strains brought to bear upon it.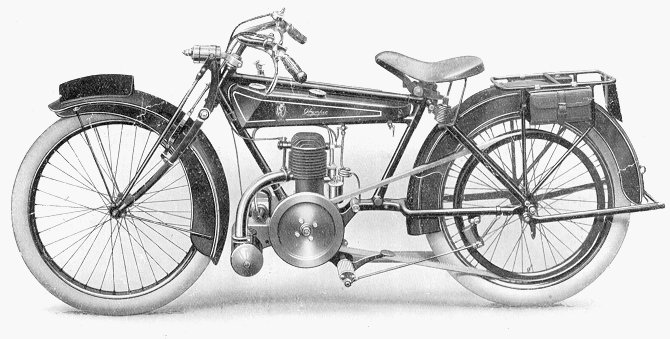 The 1920 Olympic motorcycle.
Production started again in 1919, after the First World War. The initial machine was powered by a Verus 268c.c., 2-stroke engine, with a two speed gearbox, and a belt drive. It sold for £80.

The 1920 Olympic was powered by a 2.86hp. 261.5c.c., 2-stroke engine, and had an A.M.A.C. carburettor, Gosport spring forks, and was finished in black enamel with gold lining.

The single speed version sold for £65 and the two speed version was priced at £77. A two speed machine with kick start was available for £84 and a three speed version with kick start cost £90.


An advert for the 1920 Olympic motorcycle.

The specification for the 1920 machine.

An advert from October 1921.
The 1922 Olympic was offered with engines made by Villiers, Blackburn, or J.A.P. Prices ranged from £58 to £75. Cheaper machines were also made under the resurrected 'New Courier' name. Sales were initially quite good, but soon began to decline. Production ended in 1923.

A more detailed description of Frank Parkyn can be found on the Olympic bicycles page on this website.
---