---
Pen Nib Motorcycles

Herbert William "Bill" Boulton, the father of the well-known transport historian, Jim Boulton, opened a garage in 1919 on the corner of Penn Road and Church Hill, near the Rose and Crown. The building had previously been occupied by the local blacksmith, and was known as 'the old smithy'. He also had a piece of land on the opposite side of Church Hill next to the Rose and Crown.

The garage building in the 1950s, then a corner shop. Courtesy of Lawson Cartwright.
He made several motorcycles, which he called Pen Nibs because they had a petrol tank that was tapered at the front like a pen nib. He built two and four stroke versions, all with an H.B. frame, a Royal Ruby engine, and an Albion gearbox.

A 1921, two-stroke Pen Nib, photographed outside the garage.

Bill sold petrol and specialised in repair work, also becoming an agent for H.B. motorcycles. He purchased second hand cars and motorcycles for resale after a thorough overhaul. He stored the vehicles on his piece of land next to the Rose and Crown.

Within a few years Bill moved to larger premises on Lloyd Hill, Penn, which included a bungalow, where the family lived.

Penn Garage was one of the few garages in this part of town and Bill had a contract with Ford to fuel model 'T's on route from the works to the customer.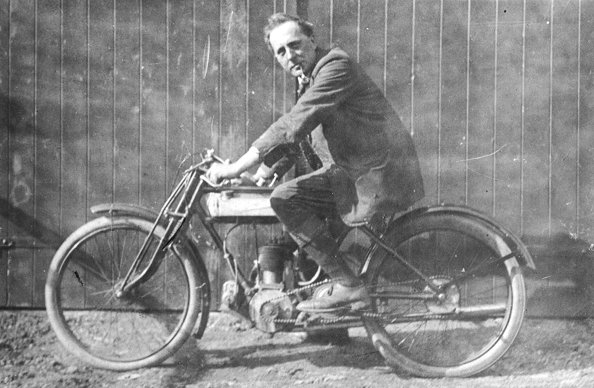 'Bill' Boulton on a four-stroke Pen Nib, from about 1924.
| | |
| --- | --- |
| Another view of a four-stroke Pen Nib. | |

The piece of land opposite the garage, at the junction of Penn Road and Church Hill, next to the Rose and Crown. It shows some of the old cars that Bill purchased for overhaul and resale.
The garage was on a route used by the A.J.S. and Sunbeam testers, who used to meet there for coffee.

Bill arranged a number of motorcycle road racing events which started and ended at the garage.

The route was from the Lloyd Hill garage, along the Penn Road towards town, up Church Hill to Upper Penn, down Vicarage Road, and back along Penn Road.

Bill outside the garage on Lloyd Hill.
At the time there were no ambulances in Swindon or Wombourne and Bill used to be called out in his Sunbeam 25-30 double Landaulette to provide transport in an emergency.

He also ran a taxi service.

Bill worked long hours. The garage opened daily at 8a.m. and closed at 9p.m.


Another view of the garage. Bill's interest in vehicles seems to have extended to aircraft because the sign above the garage was made from an old aircraft tailplane.
| | |
| --- | --- |
| | Bill's Sunbeam 25-30 double Landaulette. |
In November 1925 Bill sold the garage and its contents. The contents were sold by auction on 13th November. The auction was conducted by Walker, Lloyd & Hill of Wolverhampton.

The items for sale included the following:

Motorcycle and car parts
Drilling machines and tools
Bill's Sunbeam Landaulette
Ford Landaulette
Morris Cowley car
BSA touring car
Sun Vittese motorcycle
Orbit 2.5h.p. motorcycle
Gents Sunbeam cycle
Ladies Sunbeam cycle
Gents cycle

The sale raised £175.19s.0d. including a mere £25 for Bill's Landaulette.
After the sale of the garage Bill got a job with A.J.S. as a tester. This was in many ways an ideal occupation for someone who loved motorcycles, and had an in-depth mechanical knowledge. Unfortunately it only lasted for a few years. Shortly before A.J.S. went into liquidation in 1931, Bill was out testing a machine on the Hermitage at Bridgnorth when he took a fall and hurt his arm and hand. This put an end to his testing career.

He acquired a poultry and fruit farm at Kemberton near Shifnal, where Bill and his family lived for several years. They later moved to Wombourne, where Bill had a large garden, and sold the produce in local markets.
---