---
Rockson motorcycles were made in the centre of the Black Country's chain making capital; Cradley.
J. S. Rock & Sons Limited was founded in 1886 by Joseph Rock, a blacksmith, to make chains and other forge-work at his hearth in Beecher Road, Cradley. By 1901 he had been joined by his two sons, Albert and William who assisted him at the forge, at a time when the business produced chains, copper soldering irons and small items such as cotter pins and rag bolts. The factory soon expanded and included a chain shop with 7 chain hearths and olivers, a second shop with more hearths, and cropping shears, a machine shop with lathes and drills powered by a Tangye gas engine, and a pickling and galvanising bay.
After the First World War the company acquired a second site at Banner's Lane in Cradley for use as a store for war surplus items. It was later developed into a steel and non ferrous stockholding site.
Arthur Rock on a 1921 Rockson fitted with wheel disks. From the collection of the late Jim Boulton.

The four younger Rock brothers, Harry, Sim, Cliff, and Arthur became interested in motorcycles and decided to build a prototype machine as the basis for a production model.

Much of the engineering design was carried out by the eldest brother, Harry, and the first machines appeared on the market in 1920.
Three models were produced as follows:
Model 'A' - single speed, without a clutch, kick start or footboards. Selling price £56.14s.0d.
Model 'B' - two speed, with a Burman gearbox. Selling price around £65.
Model 'C' - two speed, with a Burman gearbox, hand operated clutch, and kick start. Selling price £73.10s.0d.
Specification
All production models were powered by a 250c.c. 2¾hp. Villiers engine, and all demonstration models were fitted with 250c.c. Blackburn engine. AMAC, Brown, or Barlow carburettors were used on all machines, and models 'B' and 'C' came complete with a 2 speed Burman gearbox. The transmission was by a ¾inch Dunlop or Pedleys belt, and Dunlop, Palmer, or Hutchinson tyres were fitted to the standard 26inch wheels.
Best weldless steel tube supplied by Accles and Pollock was used for the frames which were fabricated on site by a welder from Birmingham. The tank had a capacity of 1¼ gallons of petrol and a ¼ gallon of oil. Brookes or Lycetts saddles were used and the machines were finished in black enamel, with red panels on the tank, lined in gold.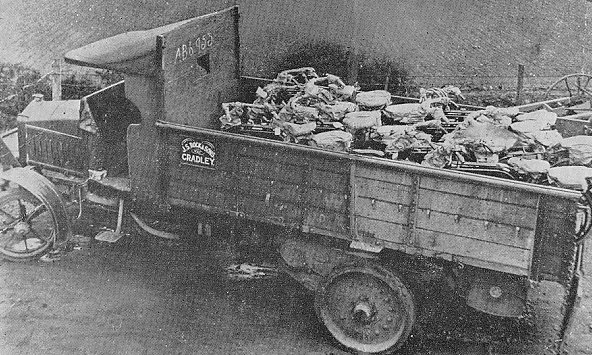 The company's lorry, about to leave the works, complete with 8 new motorcycles.
The machines were assembled in three sheds at Beecher Road which were separate from the factory.

Sim Rock oversaw the production and brother Cliff and Arthur acted as salesmen.

Sim also road tested every production machine and rode Rockson motorcycles in reliability trials and competitive events.


The front page of the Rockson catalogue.
The demonstration model 'C' Rockson on display at the Black Country Living Museum.

Peter Barnsley wrote an article for the Blackcountryman magazine, in which he retold Harry Rock's recollections of one of Sim's competition successes whilst riding a demonstration Rockson machine.

The 1921 road reliability trial included several steep climbs over the Clent Hills. Sim beat the competition and finished in first place to win a gold medal.
Around 400 Rockson machines were produced, about half of which went to India, to fulfil an order which is believed to have come from the British Army.

Each of the four brothers owned a demonstration machine, and several others may have been built.

Sales suffered due to a slump in the early 1920s, and by 1925 production had ended.


Unveiling the Rockson at the Black Country Living Museum during the presentation ceremony on 19th July, 2007. On the right is the Museum's Director & Chief Executive Ian Walden.

Another photograph taken at the presentation ceremony.

It is believed that only one complete machine survives. This is a demonstration model 'C' that possibly belonged to one of the four brothers.

It can be seen at the Black Country Living Museum, Tipton Road, Dudley.
When motorcycle production ended, the four brothers returned to the family chain-making business. A few years later Cliff opened a motorcycle shop on Windmill Hill, Cradley. The shop opened in the early 1930s and closed around the outbreak of war in 1939. In the early 1950s Cliff and his son John founded John Rock Motorcycles in Hagley Road, Stourbridge and continued in business until the mid 1960s. John became a successful motorcycle scrambling rider and later designed and built ocean-going sailing boats.
Joseph Rock died in 1944 and J. S. Rock and Sons Limited closed in 1964.
---