---
Rudge Cycles
We have to thank Derek Beddows for the following article about Dan Rudge.

Daniel Rudge 1841 - 1880

Daniel Rudge was born in January 1841. The Wolverhampton Census for 1841 lists Daniel Rudge as living with his family at Wharf Street, Wolverhampton. After serving with the 38th Regiment of Foot he returned to Wolverhampton and opened a public house called the Tiger Inn in Church Street near to St John's Church. At the same time an army colleague Henry Clarke started a wheel building business called the Temple Street Wheel Works.

Dan Rudge. Photo courtesy of Peter Hällström.
In 1865 Daniel married Mary Ann Clift at Darlington Street Methodist Church. They were to have three children, Miriam, Harry George and Frederick.

Rudge a skilled engineer became interested in bicycles through his friend Walter Phillips who rode bicycles and Henry Clarke who in 1868 began the Cogent Cycle Company.

In 1869 Walter Phillips and George Price became interested in the new cycle industry. Price was primarily interested in the business end of cycle manufacture, whereas Phillips was interested in the actual making of cycles. The two realised that to successfully manufacture cycles they would need a skilled engineer to design and sort out any mechanical problems.
Daniel Rudge was approached about manufacturing a velocipede designed by Phillips. A deal was struck and Rudge was soon producing cycles in a small workshop located at the rear of the Tiger Inn, with Henry Clarke supplying the wheels.

By the end of 1874 Daniel Rudge had manufactured a small number of high bicycles. His first machines were nothing out of the ordinary as they ran on regular plain bearings.

Around this time a Frenchman who had met Henry Clarke during his army service called on him riding a French velocipede. Both Daniel Rudge and Henry Clarke were taken on how the French velocipede ran with ease. They determined to find out the mechanical advantage of the French machine. It is said that that they got the Frenchman drunk. Then dismantled his machine to find that it ran on ball bearings instead of the more traditional plain bearings common on the cycles of the day.
By 1878 Rudge had established as a manufacturer of High quality bicycles. Never satisfied with other makers' designs and construction Rudge invented numerous innovations. In 1878 Rudge took out British Patent No 526 for his adjustable ball bearings. These bearings were fitted to his high bicycles and improved their efficiency. Rudge cycles soon gained a reputation for fast starts and thus became extremely popular. Rudge machines were often handicapped 20 or 30yards behind other racers. Because of this publicity the demand for Rudge cycles increased.

Daniel Rudge visited the famous French cyclist Terront in his London hotel while on a visit to England. Rudge proceeded to demonstrate to Terront a set of his patent adjustable ball bearings. Terront was impressed enough to purchase a racing machine built by Rudge.


The only surviving example of a Daniel Rudge ordinary. It can be found in the First Penny Farthing Museum, rear of 92 King Street, Knutsford. This photo is by courtesy of the curator, Glynn Stockdale (who sponsored the plaque to Daniel Rudge on the Telecom Building in Church Street).

This advert is from the programme for the 1884 Wolverhampton Art and Industry Exhibition. At this time manufacture had moved to Coventry. The illustrations give an idea of how the original Rudge cycles must have looked.
Daniel Rudge also travelled to Paris and Lyons to observe the French cycling scene and to take part in some of the races.

The added company responsibility, the company now based in nearby Bishop Street employed 100 employees by 1878 and various other cycle activities had a detrimental effect on Rudge's health

In the early summer of 1880 Daniel Rudge fell ill for the last time. He died at a hospital for the terminally ill at 1 Cumberland Terrace, Ealing, London on 26th June 1880 of cancer at the age of 39.

The sales of Rudge cycles remained excellent for several months after his death, but with nobody to run the company the company seemed doomed. Rudge's widow Mary with the assistance of Walter Phillips arranged the sale of the Rudge cycle concern to George Woodcock of Coventry. The sale arrangement included a cash sum plus a regular pension for Mary Rudge. In exchange Woodcock acquired the famous adjustable ball bearing patent 526 and the services of some of Rudge's former employees.
Woodcock took the cycle company and merged it with The Tangent & Coventry Tricycle Company and formed D. Rudge & Co based in Coventry.

D.W. Beddows
---
For a short while in the late 1870's Dan was producing Humber bicycles. Humber went into partnership with Marriott and Cooper in 1877. The partnership soon ended, and Marriott and Cooper left Humber and started to manufacture and sell Humber bicycles. The bicycles were made by Dan Rudge and sold using the Humber name. The Humber company itself started to sell its machines as 'Genuine Humbers' to distinguish them from the other variety.
Dan exhibited a machine at the 1878 London Cycle Show, the first that was organised by the Stanley Bicycle Club. The machine was so well received that he won a gold medal for its excellence. The machine featured his patented Rudge bearings and ball pedals, which he invented. He also became well known because Charles Terront, a famous rider, used Rudge axles. Dan's eldest son Harry later joined forces with a Mr. Wedge to form the cycle making company Rudge Wedge with premises in Pelham Street and later Mander Street.

The following brief article on Dan Rudge was kindly supplied by Ray Miller of the Veteran-Cycle Club:
"Daniel Rudge had been the landlord of the 'Tiger's Head' public house in Wolverhampton. His close friend was Henry Clarke, who started a wagon wheel building business and then ran the Cogent Cycle Co. Daniel was interested in racing, and with Henry's help he began to build his own racing machines at 19 Church Street, Wolverhampton, which included an improved form of wheel bearing. Many people wanted his bicycles, and in 1870 he started building and selling racing machines. He made many improvements to his bicycles and they soon became the best racing machines that were available at the time.
He started to take part in the races that were held in the grounds of the Molineux Hotel, Wolverhampton. He won the very first cycle race to be held there in 1869, and was very successful. He started producing high wheelers in 1874 and, for a short while in the late 1870's, Dan was producing Humber bicycles for Marriott and Cooper after they had parted company with Humber, although they had the use of the name. In 1878 he was awarded a gold medal for his exhibit at the London Cycle Show. Dan Rudge died on 26 June 1880, having formed the Rudge business, and his widow continued to run it until November 1880 when it was sold to George Woodcock and amalgamated with the bankrupt business of Haynes & Jefferis to form the Tangent and Coventry Tricycle Company.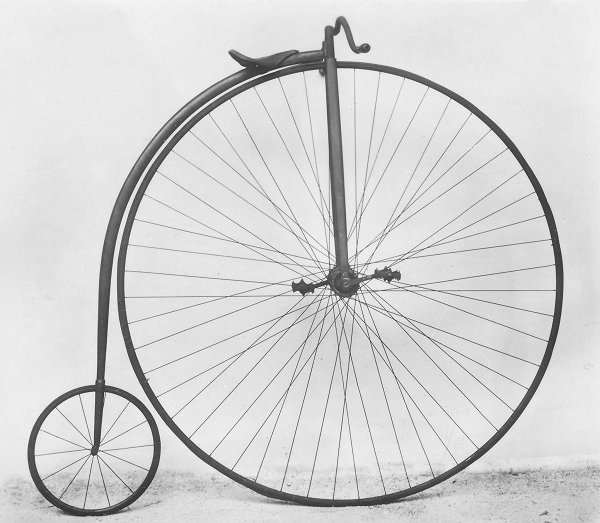 A Rudge ordinary from an old postcard.
Woodcock had also purchased the assets of the collapsed Haynes & Jefferis firm in 1879 and relocated the combined business to Ariel Works, Trafalgar Street, Coventry in 1880 having taken over the business of the Tangent and Coventry Tricycle Company. In 1885 the business was transferred into a private limited company called D. Rudge & Co. Ltd. It became the Rudge Cycle
Co Ltd, Coventry, on 21 October, 1887, a public company with capital of £200,000. Walter Philips was the renowned works manager and Lawson, H. J., the sales manager. Stoddard & Lovering of Boston, Mass. were the US agents.
Maker of the 'Ariel', 'Emperor', 'Mechanic's', 'Rudge' 'Swiftsure' and 'Tangent' high wheelers. The 'No.2 Ordinary' was one of the best known competitive machines of its era which pioneered adjustable ball races on wheels and pedals. Other competitive features pioneered by the company were hollow backbones and lighter tangentially spoked wheels.
Although Rudge took over manufacture of the 'Coventry Rotary' from Starley & Sutton from 1885, the name 'Coventry Rotary' was retained through to 1892 in Rudge catalogues, when production ceased. The 'Triplet Tandem Quadricycle Direct Steering Roadster' was produced from 1888.
The 'Royal Crescent' tricycle was made for about three years from 1886. It was introduced in Roadster, Ladies and Racer forms. Also the 'Royal Crescent' tandem tricycle. A 'Parcels Carrier' and 'Parcels Express' were made before 1892 as well as the 'Roadsculler' and 'Triplet'. The Rudge cross-frame safety was patented in 1887 and sold as the 'Rocket'. By 1889 the company was making safety bicycles with diamond pattern frames but with halved tubes for lightness named the 'Bicyclette'. The company produced the 'Déesse' brand for sale in France. In 1894 it built the 'Giraffe' safety, along with Starley, J. K. & Co., under licence from Humber & Co. Ltd.
In May 1891 George Woodcock died. This coincided with a reduction in trade. The company was rescued by the Whitworth Cycle Co. in 1894 to form Rudge Whitworth Ltd."
Ray Miller
---