---
Guy Motors was founded by Sydney Slater Guy, a clever and ambitious young man, who had the determination to succeed. He was born in 1885, and grew up in King's Heath, Birmingham.

At the age of 16 he joined the Bellis and Morcom steam engineering Company, at Ladywood, Birmingham, after being offered a job in the factory. His employers were clearly delighted with their new member of staff because they soon offered him an apprenticeship. He attended evening classes at the local technical school, which stood him in good stead for the future. In 1906 he obtained the post of service manager for Humber at Coventry.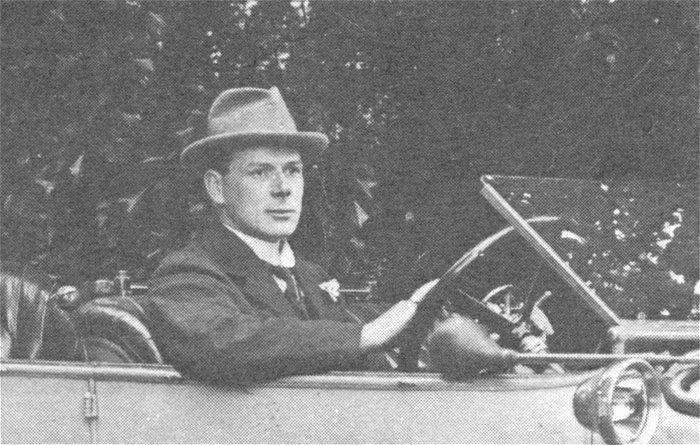 Sydney Guy.
In June 1909 he joined the up and coming Sunbeam Motor Car Company Limited, in Upper Villiers Street, Wolverhampton, as works manager. The company soon became well known thanks to Sunbeam's flamboyant chief engineer, Louis Coatalen, who had joined Sunbeam in February of that year.
During Sydney's first 4 years at Sunbeam, production greatly increased, and profits soared, so he naturally wanted some reward for his efforts. At the time he had an annual salary of £250, and the use of a company car. In 1913 he asked the directors for an increase in salary, which was refused. This possibly led to him leaving Sunbeam the following year.
Sydney Guy had clearly been thinking about, and planning his own manufacturing business whilst still at Sunbeam. The design for a 30 cwt. lorry was produced in a small drawing office in Wolverhampton, in late 1913, and plans were made for the factory which would be built the following year, in Park Lane, Fallings Park, Wolverhampton. Guy Motors Limited was registered on the same day that he left Sunbeam, Saturday, 30th May, 1914, and building work on the new Guy factory rapidly got underway.
At the time, a great deal of new industrial development was taking place in the Fallings Park area. Previously factories had been sited closer to the town centre and to the canal and railway network. But by this time there was less reliance on these modes of transport, particularly in the motor industry, and in any event, no space would have been available nearer the centre, especially for new factories which required greater floor space. Guy's new factory was in production by September 1914, nearly one month after the outbreak of the First World War.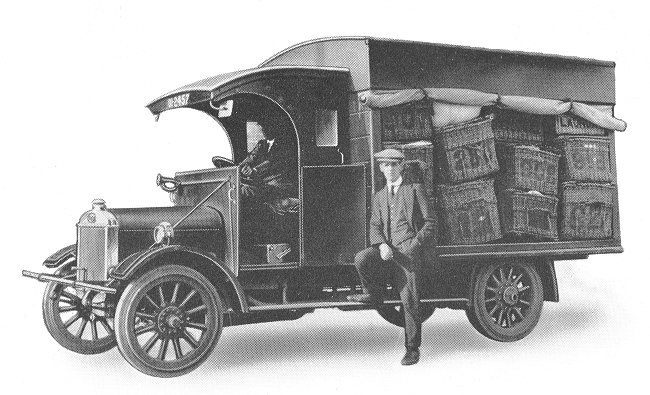 A 30 cwt. Guy lorry.

The horizontal sub-frame can just be seen below the radiator.

The company's first product, a 30 cwt. lorry, included several new and innovative design features.

It was powered by a White and Poppe 4-cylinder, side-valve petrol engine, with a cone clutch and gearbox, mounted on a sub-frame suspended at 3 points.

This arrangement prevented any distortion of the chassis, when traversing uneven ground, being transmitted to the engine or gearbox.

The gearbox had a direct drive in 3rd gear for use when fully laden, and an indirect 4th gear for use when travelling 'light', a facility that later became known as 'overdrive'.

Another innovation was a governor, which only acted on 4th gear to limit the top speed to 30 mph.
| | | |
| --- | --- | --- |
| An advert from December 1917. | | An advert from July 1918. |
The lorry had a lightweight pressed steel chassis, instead of the conventional heavy rolled steel chassis that was used by many manufacturers at the time. A 30 cwt. running chassis was priced at £435. There were also 50 cwt. and 2 ton versions.

Guy's second product, a passenger carrying vehicle, built on the same 30 cwt. chassis soon appeared. The 14-seater post bus, with a mail compartment, was built for use in Scotland between Achnasheen railway station, east of Kinlochewe, and Aultbea, on the west coast, north of Loch Maree.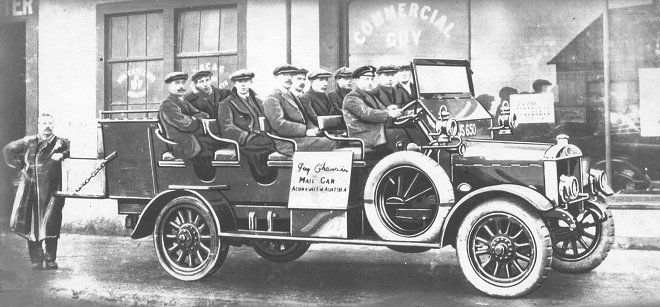 The 14-seater post bus.
In 1915 the factory came under the control of the Ministry of Munitions, and concentrated on war work.

30 cwt.lorries continued in production and were supplied to the Russian army.

Other products included engines for tanks, aero engines, and depth charge firing mechanisms.

Guy became the largest manufacturer of depth charge firing mechanisms in the country.

In 1917 the company was asked to produce A.B.C. 'Wasp' 7 cylinder, air cooled, radial aero engines.


The A.B.C. 'Wasp' 7 cylinder, air cooled, radial aero engine.

The A.B.C. 'Dragonfly' radial aero engine.

The project was clearly a success because during the following year Guy built the prototype A.B.C. 'Dragonfly' 9 cylinder, 350 hp. radial aero engine.

The prototype was built and tested in just 24 days, following the receipt of the order.

The government was delighted, and Guy received the following telegram from Sir William Weir, Secretary of State for Air:

Reference to your telegram of yesterday regarding dragonfly engine. I heartily congratulate you on your magnificent performance, the result of which it is hoped will mark a new milestone in progress.
| | |
| --- | --- |
| Sir William Weir's telegram. | |
A 'Dragonfly' engine mounted on a test rig at the works.

Presumably the original prototype.
| | |
| --- | --- |
| | A group of officials examining the prototype 'Dragonfly' outside the Guy factory. |
| | |
| --- | --- |
| | Another view of an A.B.C. 'Dragonfly' 350 hp. radial aero engine. |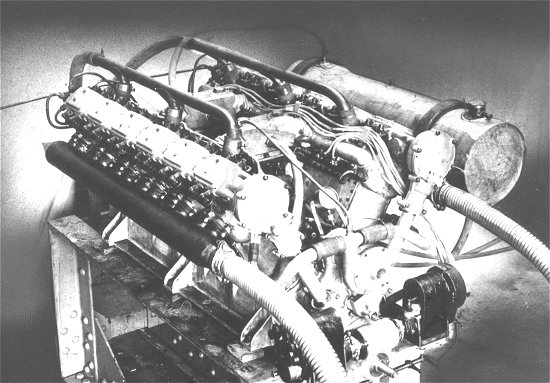 Guy also designed and produced a 12-cylinder aero engine.
Thanks to the many ministry orders, Guy prospered during the war. The company became an established name, and the factory greatly increased in size. By the end of the war it was well equipped with some of the latest plant and machinery.
---