---
BEACON TOOL COMPANY, LICHFIELD ROAD, NEW INVENTION
A company set up by Jack Dunkey Junior to make mortice locks, in a wooden building owned by Mr Howells in the Lichfield Road New Invention. (The building had been used by Mr Howells as a warehouse/shop from where he sold furniture. Previously he had run a keymaking business from premises behind his house next but one to the current New Invention Methodist Church. The wooden building was later used as a ladies' hairdresser). Supplied with keys by A Hough in Oct 1945, which is probably when they started, and were still being supplied in June 1948. (According to Harold Fletcher they only ran for about two years.) Jack Dunkey then moved to Cross Street, Wolverhampton, and started a press working company.
DAVID BEARDS AND SONS LTD. ANCHOR WORKS, CEMETERY ROAD, WILLENHALL.

An advert from 1954.


Advert from The Ironmonger Guide 1950.


Established 1868. Manufacturers of "ANCHOR" brand lock latches and iron door bolts.

In the census of 1881 David Beards, age 30, was running the business. He would almost certainly be the son of the founder.

Taken over by Joseph Tipper c1956. At that time they were making cabinet locks. In 1972 were solely manufacturing hardware goods.
Specialities included all kinds of rim locks, mortice locks, rim latches, and all types of iron door bolts.
| | |
| --- | --- |
| In this 1955 advert (right) (kindly supplied by Trevor Dowson) they say they have agents in Ireland, Scotland and Southern England as well as export agents (Lyall Willis & Co Ltd of London). | |

An advert from 1958.

W. BEARD AND SON, HEATH TOWN, WOLVERHAMPTON

An advert from 1920.

The business was established in 1860.


It is listed in Whitaker's 1914 Red Book of Commerce as a manufacturer of trunk, portmanteau and suitcase locks, and fittings.
BEDDOWS AND STURMEY LTD. CROWN WORKS, CLEMSON STREET, WILLENHALL (AND HEENAN, BEDDOW AND STURMEY LTD.)
Manufactured all types of locks. In Robson's Directory of 1837 John Sturmey of Little London is listed as lock maker, rim and brass case. Kelly's directory of 1863 lists Silas Beddow, Clempson Street, Willenhall, manufacturer of all kinds of brass locks for ships use, and palace action rim and brass case locks. S. Beddow, Lower Lichfield Street, Willenhall and T Sturmey, Little London, Willenhall as being lockmakers.
Silas Beddow (born 1835) married Sarah Sturmey (born c1840) after 1861 and is later listed as being in partnership with William Sturmey. In the 1881 census they lived at 96 New Road. Willenhall. Living with them was Hannah Sturmey, age 36, a sister in law. So it would appear that, possibly through marriage, the Beddow and Sturmey businesses were combined to form Beddow and Sturmey, the first reference to the company being in 1880.

The advert, left, is from 1884.
Silas Beddow lost his life through drowning on the 28th January, 1903; he was highly respected in the town.
An article in the "Ironmonger" of the 7th March, 1903 says: "Mr. Thomas W. Dugmore now takes almost the entire management of the company where he started work at the age of 10 in 1870. He was one of the founders of the Lock Manufacturers Association. Mr. Dugmore's practical knowledge of the trade has been of great service to him in perfecting patents taken out by his firm. Personally he had taken out three such, the most successful of which is a burglarproof rim lock. Mr. Dugmore has for 20 years acted as the London traveller for his firm."
He retired in 1936, and died in 1943, age 84, at 27 Clemson Street, Willenhall.
In 1916 Mr C. H. Pinson (born Cannon Street, 1875, died, 1934) of C. H. Pinson Ltd. (q.v.) acquired an interest in the company Beddow and Sturmey, and it became a limited company, Beddow & Sturmey (1929) Ltd., registered 5th January, 1929.
These two invoice heads (by courtesy of Trevor Beddows) are dated 1936 (left) and 1939 (right).

An advert from 1938.

An advert from 1954.

Heenan Beddow and Sturmey Ltd were formed to acquire the undertakings of Heenan Construction Co. Ltd. of Newton Heath, Manchester and of Beddows and Sturmey and of C. H. Pinson. Registered 16th January 1937.

In existence in 1948 (AH records); not existing in 1960. The premises, and possibly the business, eventually taken over by Yale and Towne.

Beddow and Sturmey had a fine display of old locks in their entrance. These were eventually displayed in the entrance hall to Yale's Wood Street offices. The advert (left) from 1954 shows an exhibition display case which probably contains these old locks.

In the 1950s the firm's products included coin-freed automatic locks to suit any coin, mortice, rim, dead, cabinet locks, and padlocks of every kind, including a cylinder version. A speciality was locks for shipbuilders.
Locks were made in all materials and finishes, including iron, brass, gunmetal, nickel, and silver. Finishes included dull-black, japanned, chromium plate, and silver oxide.
J. G. BEDDOWS, SYSTEMS HOUSE, 11 GREAT HAMPTON STREET, BIRMINGHAM (1879-1976)
Established in 1879. Manufactures of locks, clips, fasteners and general presswork. In the 1960s they made a bag lock for fitting to leather bags used by government officials.
On 20 December 1976 acquired by Samuel Wilkes and Sons Ltd., (q.v.) for its plant, which was immediately transferred to the parent company. It did not trade after being acquired.
BELFRY
"Belfry" was the trade name used by Henry Harrison (qv)
HENRY BELLAMY

An advert from 1861.

JOSEPH BENTON, 31 DOCTORS PIECE, WILLENHALL
Joseph (born 1846) and his brother, Thomas, went to America where they worked in the coal mines. They made some money and returned to Willenhall where they both set up as lock makers, Joseph in premises at 31 Doctors Piece. In the 1881 census Joseph is listed as a mortice lock maker living with his wife, Mary, and 9 children at 11 Stringers Lane. (At this time eldest child Emma was age 15, so Joseph must have returned from America about 1895 at the latest). The business was in existence in 1888 and 1953.
THOMAS BENTON, VICTORIA WORKS, VICTORIA STREET, WILLENHALL
Thomas Benton (born 1835) and his brother Joseph (born 1846) went to America to work in the coal mines. With the money they made they returned to Willenhall where they set up as lock makers, Thomas in premises in Newhall Street.

In the 1881 census Thomas was aged 46, married with four children. The family are listed as living at 5 Victoria Road Willenhall. He employed at the time 5 men and 2 boys.
It is said that Thomas married twice, having eight children by his first wife. When she died he married her sister and they had a further eight children. In 1881 the eldest child living at home was John Wormington Benton, age16. Thomas's wife, Sarah Jane, was aged 31. She could have been his second wife, as she would only have been 15 when John was born.
In about 1900 Thomas purchased a piece of land in Victoria Street where he built a family house with workshops at the back. This still constitutes the works today.
John Wormington Benton (b 1865) took over the running of the business from his father and in 1936 the business became a limited company, as Thomas Benton and Sons Ltd. By that time they employed about 100 people and were about the third largest employer in the Willenhall lock trade.
Over the year the company have made many specialised locks, including many ships locks, and their products were fitted to the Titanic, the Queen Elisabeth, the Queen Mary and later the QE2. (Information from John Benton)
The business passed down the generations to Thomas's great grandson John.
In 1976 the company merged with another family lock making business that, of JAMES H SMITH LOCKS LTD. (q.v.) of Wolverhampton, who can trace their roots back to 1890, to form BENTON SMITH (LOCKS) LTD, still based on the Victoria Street site in Willenhall. They continue to make locks and serve the better quality end of the lock industry. Its products are used wherever good quality locks are required and many high profile customers such as law courts, banks and building societies owe their security to Benton Smith Locks. In 1994 the company employed about 35 people.
In July 1994 John Benton retired, ending the Benton line and leaving Phillip David Smith, the MD, and Mrs Joan K. Smith as directors to run the company. They employed between 21-50 people. They had a turnover in 1997 of £1.16 million and £1.53 Million in 1999.
BENTON SMITH (LOCKS) LTD. VICTORIA WORKS, 16 VICTORIA STREET WILLENHALL (1885-1976)
See Thomas Benton and James H Smith.

ALFRED BIRCH, MALTHOUSE LANE, WILLENHALL

An advert from 1851.
GEORGE BIRCH AND CO. 48 RUSSELL STREET, WILLENHALL
Lock maker. Not existing in 1914 or 1970. Existing 1936-1953. Nothing else known.
S. BISSELL & SONS LTD., 41 UNION STREET AND HORSELEY FIELDS
J . T. & W. BOOTH, CANNON STREET, WILLENHALL (c1949-1975)
William "Bill" Booth (1908-1997) was a toolmaker at Rubery Owen who set up on his own making press tools, jigs and fixtures. He was joined part time by his brother Jack. A partnership was formed between William, Jack and Ivor Worrall, each putting in £100. (Ivor Worrall was also a director of John Worrall and Sons Ltd; he put up £100 but was never involved in running the company).
They built a factory on the corner of King Street and Cannon Street, having purchased the land from a Mr J Hayward on the 4th March 1933. This piece of land had been the site of the first Willenhall Primitive Methodist Church that had been built in 1837. The building and land was sold to a Mr Elijah Hayward on the 2 August 1876. It would appear that little use was made of the buildings as, when they were sold in 1933 to W and J Booth, the site consisted of rubble and dilapidated buildings. (The Story of A Hundred Years of Russell Street Methodist Church 1850-1950).
Although Jack was involved with the company he could not leave his job at Paces, the spring makers, till after the war. They were then making locks under the name of W Booth and Co. Their logo was BWB (Booth Worrall Booth).
Between 1939 and 1945 they had to go into making parts for the war effort. This enabled them to obtain new machinery that would stand them in good stead when they returned to making locks after the war.
In 1949 Willenhall Trade Directory listed as Wm. Booth.
In 1950 Bill and Jack brought out Ivor Worrall and changed the name to J. T. and W. Booth Limited. The company was run by brothers J. T. (Jack) and William (Bill) Booth, manufacturing all kinds of rim locks, mortice, iron cabinet and night latches and padlocks. After many years in the trade the brothers decided to retire and on the 9th November 1973 they sold out to Atlas Architectural Fittings Limited. They carried on the name, with directors R. W. Parkes and D. L. Ward? The company only survived for a short time before being closed down (in existence in April 1975), most of the tooling being sold to Goodman (qv) from Bloxwich who only made one of the locks and that for only a short period. (Information from John Booth son of William 19/7/98 and 9/12/98)
BRACHER & GRIPPER, 11 CANNON STREET WEST, & VULCAN SAFE WORKS, SKIN YARD, BANKSIDE, SOUTHWARK
Manufacturers of wrought-iron fireproof and thief-proof safes, doors, strong rooms, deed boxes, and other fireproof articles, including their patented double security detector locks for banks and treasure rooms. Customers included the Houses of Parliament, Her Majesty's Honourable Board of Ordnance and the National Debt Office. The firm displayed products at the Great Exhibition of 1851 and the International Exhibition of 1862.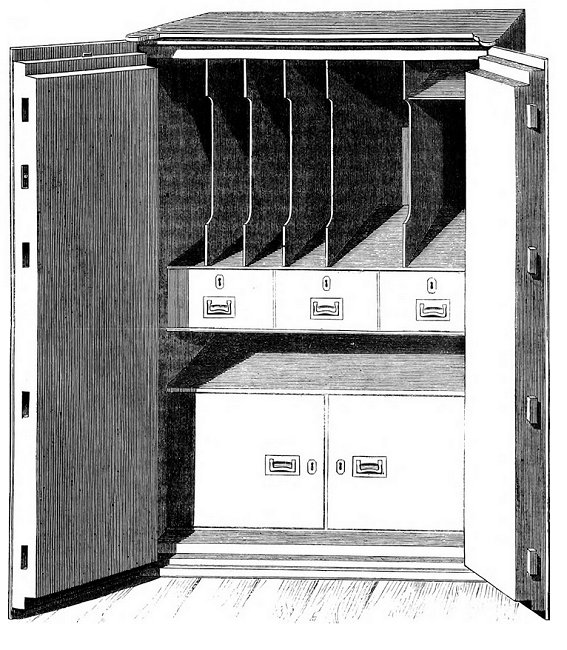 A Bracher and Gripper fireproof safe exhibited at the International Exhibition of 1862.
In September 1862 the partnership between John Bracher and Henry Gripper was dissolved, as can be seen in the following notice from the London Gazette: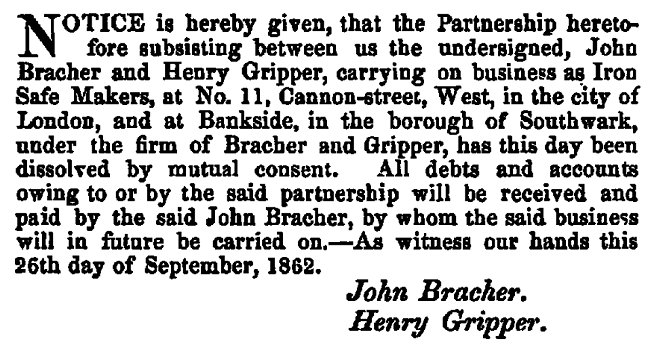 John Bracher's name appears again in the London Gazette in April 1869 for non-payment of Stamp Duty for the following patent, which was declared void.

From the following notice in the London Gazette in July 1870 it seems that in the late 1860s, John Bracher was trading under the name of William Marr and Son, either as an employee or partner.
BRAMAH SECURITY EQUIPMENT LTD. 31 OLDBURY PLACE, LONDON W1 (1784-1999)
Joseph Bramah was granted a patent for his lock on the 21st August, 1784 and set up the Bramah Lock Company at Denmark Street, St Giles, London, quickly moving to premises at 124 Piccadilly London. On the 2nd June, 1798 the patent was extended for a further 14 years.
The 1784 catalogue included water closets, and in 1793 the firm supplied water closets to the Anson family (later Viscount Lichfield).
Joseph Bramah developed many tools to improve his manufacturing processes, and relied on the expertise of Henry Maudslay, who he employed from the age of 18. He also employed Joseph Clement who improved the design of lathes. Henry Maudslay left in 1798 to set up his own business, Henry Maudslay and Company.
In 1790 Bramah's displayed their "Challenge Lock" in the window of their London shop. It was mounted on a board carrying the following inscription: "The artist who can make an instrument that will pick or open this lock shall receive 200 guineas the moment it is produced." The lock withstood attempts to open it for over 60 years. It is now in the Science Museum.
In 1813 his eldest son, Timothy, joined the business as a partner and the company became J. Bramah and Son. Sadly Joseph Bramah died at his home in Pimlico on 9th December, 1814.
Between 1821 and 1836 two other sons, Francis and Edward, became partners and the company again changed its name to Bramah and Sons.
In 1830 the partnership between Timothy Bramah and his brothers was dissolved, so presumably Timothy left the company.
In 1837 Charles Robinson joined the business as partner, and so Bramah and Robinson was established. In the same year, Francis Bramah wrote a paper on experiments on the strength of cast iron girders. In the following year, Timothy Bramah died. His will was dated 27th November, 1838. His brother Francis Bramah died in 1840 at the age of 56.
In 1841 the lock business was separated from the engineering business. The former became known as Bramah and Company, and the latter as Bramah, Prestige and Ball.
In 1843 the factory at Belgrave Place, Pimlico was destroyed by fire. The factory was 180 feet long.
Around this time John Joseph Bramah of Ashwood House, Kingswinford, took over the business, and in 1845 purchased Horseley Ironworks at Tipton. On 13th September, 1846 he died.

The "Challenge Lock" was finally opened in 1851 at the Great Exhibition, by Alfred Charles Hobbs, from America. Although there was controversy over the way the lock was opened, he was awarded the prize. It had taken him 45 hours, spread over 16 days to open it.


From 1927.
From 1874 the company was owned by J. T. Need and Company, and held Royal Warrants from Queen Victoria and King Edward VII. The factory was moved to Deering Street, and the shop moved from Piccadilly to 100 New Bond Street.
In 1901 the Whitfield Safe and Lock Company bought the company. In 1910 the name was changed back to Bramah & Company. King George V granted a Royal Warrant. The engineering works was moved to Oldbury Place.
In 1926 the company took over premises at 2 Nottingham Street, and in 1934 became incorporated as the Bramah Manufacturing Company Limited, and the name was changed to Bramah's Limited.
In 1936 they moved from Nottingham Street to 11 Old Bond Street. In 1939 all locks were being made at Oldbury Place.

Between 1939 and 1963 it is said that the company was owned by the Burmah Oil Company (Richard Phillips/Paul Prescott).
In 1963 Len Young, purchased the company, and within 3 months, designed and launched the current low volume high security range of products.
In 1986 Bramah's Limited was purchased by Jeremy R. Bramah and Company Limited, and renamed Bramah Security Equipment Limited, manufacturers of Bramah locks, window and door security bolts.
In 1987 assembly moved from 31,Oldbury Place to Hornchurch in Essex, where a complete manufacturing
plant was set up. In 1991 Bramah launched its Swiss style profile locks, and in 1998 produced a narrow stile cabinet lock. From 2002 until May 2003 all Bramah deadlock forends and coinbow keys were marked with the Queens Golden Jubilee mark.
The company has now moved to 7 Goodge Place, Fitzrovia, London, and manufacturing is carried out at Romford, Essex.

HENRY BRINDLEY, 58 SNOW HILL & BELL STREET, WOLVERHAMPTON
The advert is from the catalogue of the Wolverhampton Exhibition of 1884.

Nothing else is known of this firm.
BRISTOW BROS., ECLIPSE WORKS, WELLINGTON PLACE, WILLENHALL
Makers of mortice rim and Stevens barrel mortice locks and penny in the slot locks.
Not in existence in 1914. Existing in 1936. In 1976 partners were A. Bristow and J. B. Bristow, making specialised mortice locks. In 1996 John Bristow and J.R. Bristow were still running the Company. In June 1999 the business closed down due to lack of work caused by cheap imports and the premises put up for sale and sold.
BRISTOWS, 111 BLOXWICH ROAD, WILLENHALL
Key makers. Not existing in 1914. Run by the brothers Bill, Ernie and Ken Bristow, possibly into the 1970s. Nothing else known. (Derek Haldren 20/1/1999)
WILLIAM BRISTOW AND SONS, CHARLES STREET, WEDNESFIELD
Key maker, not in existence in 1914, nothing else known. There was a William Bristow, key maker at 44 Bloxwich Road, South Willenhall in 1974.
ALFRED BROWN & COMPANY, 81 SMALLBROOK STREET, BIRMINGHAM
| | |
| --- | --- |
| | This is an advert from Peck's 1896 trade directory. Nothing else is known about the company. |
R. BROWN, 11 FROYSELL STREET, WILLENHALL
Richard Brown was a skilled lock maker who produced specialised locks to customer's requirements. In 1960 he worked from premises behind the Lodge Tavern, High Road, Lane Head, which was run by his brother. When his brother left the pub Richard moved into premises belonging to Hargrove Fox (qv) in Froysell Street, Willenhall. In 1966 Hargrove Fox closed and Richard then built a concrete garage in the garden of this home at the back of 82 St Ann's Road, Willenhall. He needed to build a garage as he never drove a car; he always cycled to make deliveries and fetch supplies. He worked in St Anns Road until he retired in 1973.
ARTHUR JAMES BROOME, 30a TEMPLE BAR, WILLENHALL
Makers of iron cabinet locks. Not in existence in 1921 or 1970. Existing in 1953. Nothing else known.
BUCKNALL & NEVILL LTD. REGENT WORKS, WILLENHALL
| | |
| --- | --- |
| | The advert is from 1920. Nothing else known but the company may have a family connection with Thomas Herbert (qv). |

SAMUEL BUCKNELL, STRINGER'S LANE, WILLENHALL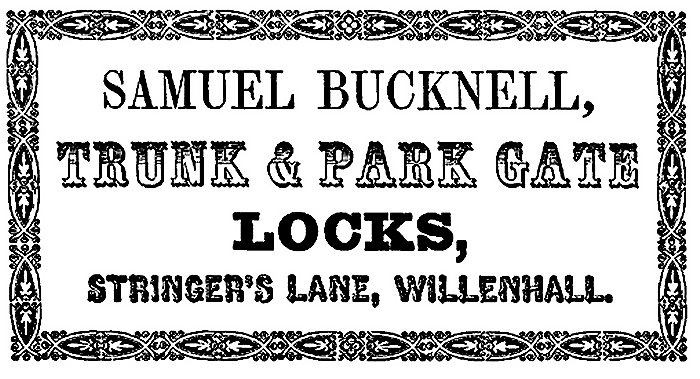 This advert is from Melville & Company's 1851 Directory of Wolverhampton. Nothing else is known about the business. Stringer's Lane is now called Stringes Lane.

C. H. BUGGINS, WEDNESFIELD ROAD, WILLENHALL

Daniel Buggins (b1822) started in business making padlocks at 5 Clothier Street Willenhall, and is listed as a pad lock maker in a trade directory of 1864. He had 12 children of which William (b1862) (whose son William (b 1896) later ran J C Burns & Co Wednesfield Road, Corn merchants, in Willenhall), Thomas (b1868) (who would later become a barber in Little London) and Charles Henry (b 1866) joined him in the business. In 1888 the eldest son Benjamin Buggins (b 1854) is listed at 9 Clothier Street as a keymaker.
Between the two wars Charles Henry (1866) commenced business on his own at 3 Wednesfield Road, one of three houses he had built. He lived in Number 1 and let out the other two. He had two sons, Charles Henry (b1896) and Thomas (b c1900). Over the years the business passed onto son Charles Henry (1896) and he was joined by his sons, Henry Leslie [Les] (b 1920), Charles Fredrick [Fred] (b1923) and Dennis (b 1926) when he was not at school. They ran the company as Buggins and Sons, Clothier Street, up to the war in 1939 when the business was closed down.
The original business was still carried on in Clothier Street by William (1862) and Thomas (1868). In 1921 D Buggins, padlock makers, were at 175 Clothier Street. After they died the business was run by Thomas's son Thomas (c1910); there was a T Buggins listed in a trade directory at 175 Clothier Street in 1936/1940. He worked alone until the early 1970s.He died on 1989.
At the outbreak of World War 2, father Charles (1896) and sons Fred and Dennis worked for Banks and Rushton, (qv) and Les became a toolmaker. As they became old enough Fred and Dennis served in the forces. After the war Dennis joined his father at Banks and Rushton. After a short time Charles (1896) decided to branch out on his own again and, joined by his sons Dennis and Fred, they started to make brass cabinet and safe locks, as C H Buggins, in the same premises they had used before the war. One of their biggest customers being Stephen Cox and Sons Ltd, safe makers of Sedgley. (Stephen Cox was established in 1890 and made fire-resistant cabinets, strong room doors, floor and wall safes. In 1972 they were at Pensnett Trading Estate Brierley Hill. They went into receivership in 1982.) The safe locks were made in brass with 6, 7, 8 and even 9 lever mechanisms, and in sizes 3" x 3", 4" x 5", and 4" x 6". Some locks were made with double throw bolts and one or two orders with treble throw. The safe locks became the most profitable side of the business and from c1957 work on cabinet locks declined and they concentrated on the safe locks. In 1970 Fred left the business and went to work for Thomas Benton and Sons Ltd. (qv) Charles (1896) died in 1976 and Dennis ran the business by himself until he sold out to his then biggest customer, Thomas Withers Phoenix Safe Works, Sandwell Road North, West Bromwich. (Safe maker).
A new company C.H.Buggins & Sons (Locks) Ltd was registered on the 9th August 1978. The directors were Charles Robin Greenwood and John Peter Hewitt (who were also directors of Churchill Lock and Safe Co., Dreadnought Safe Co., and Thomas Withers and Sons Ltd) and Dennis Buggins. All the shares were held by Thomas Withers Ltd. They set Dennis up in a lock-making department that was a replica of his shop in Willenhall, and Dennis worked for them, still producing the locks he had always made. In 1982 Thomas Withers Ltd got into financial difficulties and went into liquidation. (They were struck off the company register and dissolved in February 1984.) Dennis started up again in the original Wednesfield Road premises, making safe locks, which he did until he suffered a stroke in 1983 forcing him to retire. He died on the 5 September 1999 age 73.
B. BURGESS AND SONS LTD. 39/41 TEMPLE , WILLENHALL

An advert from 1954.

Although they listed themselves as lock manufacturers it is doubtful if they ever made any locks, as they were really hardware merchants.

There were a number of such people in the area, who liked people to think they made locks but in fact were only merchants. In existence in 1921 but not 1914.

Taken over by H. Davenport and Sons by 1975.
| | |
| --- | --- |
| | The advert on the left is from the Ironmongers' Diary, 1961; and the advert above is from 1929, provided by Trevor Dowson). |

An advert from 1958.

E. BURNS AND SONS, GRANVILLE STREET, WILLENHALL
Key makers, not existing in 1921.
Started by Enoch Burns (brother of the Willenhall seed merchants). He was followed by his eldest son, John, who was succeeded by youngest son Enoch, who was running the business when Joe Davies worked there from 1938 until he left to join the Royal Navy from 1943 to 1947. He came back to work there after the war for about 18 months before leaving to join Arthur Hough and Sons. At that time Enoch Burns had taken over a small keymaking business from Gus Walsh, who worked from a shed in Granville Street. The premises were later turned, for a short period, into a plating firm.
In 1947/8 A Hough supplied keys to an E Burns at 95 New Road Willenhall.
The business closed in the 1960s.
JAMES BUTLER AND CO. 14a GREAT BRICKKILN STREET, WOLVERHAMPTON
Manufacturers of brass lever cabinet and till locks etc. Founded in 1868, but had gone by 1970.


A James Butler & Company lock from 1917.
---