---

CARPENTER AND TILDESLEY, SUMMERFORD WORKS, WILLENHALL
Curator's note: The Tildesleys have long been associated with Willenhall and members of the family have, from time to time, been connected with a variety of businesses. Much time and effort has been spent in trying to sort out the history of these inter-connected companies. What follows is Jim Evans' account of this one firm, which started out as James Carpenter and became Carpenter and Tildesley, under which name they continued until about 1919 when trading under that name seems to have come to an end.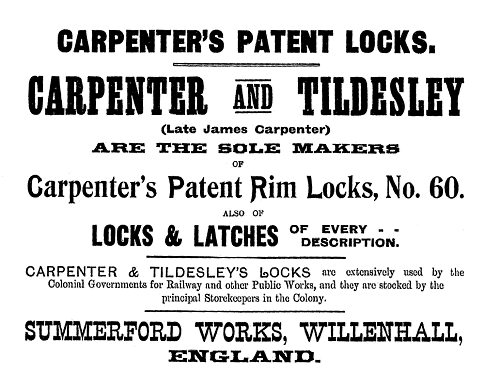 An advert from the 1897 edition of the
James Carpenter, although not a native of Willenhall, eventually became one of its worthies. He was born in 1775 and come to the town in his early life; in 1795 he started to make ironmongery. In 1815 he invented a new type of curry comb for horses and patented it (no. 3956. In 1830, jointly with John Young of Wolverhampton, he took out patent no, 5880, an improved design of latch bolt and lock. The two agreed to divide the patent into rim lock use and mortice lock use, James Carpenter going on to construct rim locks while John Young had the right to make mortice locks. Carpenter named his rim lock "Number 60". It became known as "Carpenters lift up lock". It was his invention to make the latch perpendicular instead of horizontal, which renewed the vitality of the town's staple industry. As his business grew he erected a large factory in New Road, known as Summerford Works. James Carpenter died in 1844, aged 68, and a memorial was erected outside the Wesleyan Methodist Church, Union Street, Willenhall where he was a member.

John Carpenter and James Tildesley, a local locksmith who had married James's daughter Harriet, inherited the company. The name of the company was changed from Carpenter and Co. to Carpenter and Tildesley, in 1851.


An advert from Peck's 1896 trade directory.
Trevor Dowson has found this advert in the Birmingham Directory for 1845.

It shows that the name Carpenter & Tildesley was adopted earlier than Jim Evans thought.
They made an ornamental lock that was exhibited at the Great Exhibition. In 1852 James Tildesley disposed of his various business interests and dissolved his partnership with John Carpenter (died 1857), and became the sole owner of Carpenter and Tildesley. He developed a large business exporting his locks to Australia. In 1870 James Tildesley patented number 2440, a new type of rim lock. The main feature was that it was double handed, which means it could be used on a right or left hand door. The lock was called the J25. James died in 1876 and the control of Carpenter and Tildesley passed to his sons, James C. and Clement. They took out a patent, Number 14917, a new process for plating door handles.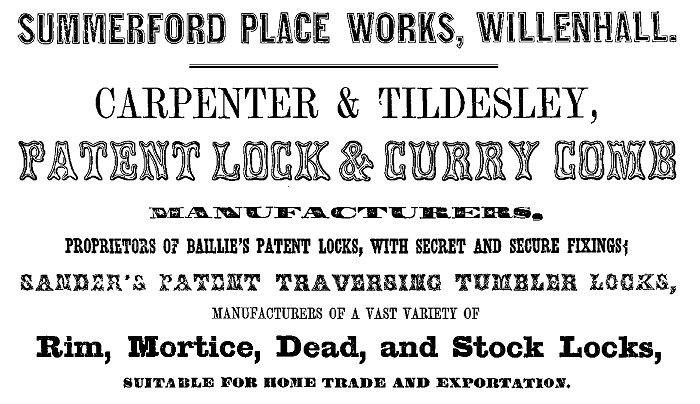 From Melville & Company's 1851 Wolverhampton Directory.

From Melville & Company's 1851 Wolverhampton Directory.
By 1888 they were experiencing problems with other manufacturers copying their locks. Their entry in Kelly's Directory contained the following statement: "Sole manufacturers of Carpenter No. 60 lock, and all kinds of door locks. To avoid spurious imitations fraudulently marked and numbered, buyers should in all cases specify 'Carpenter and Tildesley' make."

James was invalided in 1904 and died three years later in 1907 age 67.

In 1915 Clement signed a lease with G. R. Smithson and Co., drop forgers, for the lease of Summerford House, originally the home of James Carpenter and then the Tildesleys.

Clement died in 1919 age 75. By this time many Willenhall companies were making the No. 60 lock and it appears that Carpenter and Tildesley ceased manufacture. And any reference to Smithsons was at their Cannock Road, Wolverhampton address. See article by David Hunt.


An advert from 1861.
CENTURY LOCKS LTD, CENTURY WORKS, MOAT STREET, WILLENHALL (1814-1990)
When it is realised that this company was founded in the year Napoleon abdicated, and that Wellington was created a Duke, the mind begins to appreciate its great age.

In 1814 - the year before the Battle of Waterloo - Humphrey and John Fox joined forces to set up in business as locksmiths at Number 11 John Street, Willenhall. (Kelly's 1888)

The original premises comprised two houses with a small workshop at the rear. One of the houses served as a store room and office.
It was adequate for the small amount of administrative and office work necessary in those days, as hard, long hours at the bench were the recipe for success then. Working hours were from 6am till 8pm and lighting was by paraffin lamp and candles. When orders on hand demanded it, often it became necessary to work on till 11pm, with only a short break for quick refreshment at the "Ring O' Bells" opposite. However, the business prospered. A two-storey workshop was erected and the horse-drawn vehicles of the day were regularly delivering products to the whole of the Birmingham area.
The business was already "old-established" - in fact 40 years old - when the Crimean War occurred in 1854. This fact makes one realise how many vicissitudes of war and peace it has survived to become the source of livelihood of so many Willenhall people. The year 1880 saw the beginning of a new era when Humphrey Fox II joined the business. As the last decade of the nineteenth century approached the business was growing to such an extent that more commodious premises had become an urgent need. Thus, in the year 1890, the business was moved from the old John Street premises to a site that was formally an old moat, to form Moat Street Works.
| | |
| --- | --- |
| With the Boer War come and long gone, 1906 witnessed the arrival of a founder's grandson into the business - Humphrey Fox III. Eight years later, the 100th birthday of the firm coincided with the outbreak of World War I in 1914. Young Humphrey Fox joined up the same year but in 1917 he received severe leg wounds and was invalided out of the army. His father died in that year. | |
In 1920, two years after the war ended, Charles Morgan, who was an uncle of Humphrey Fox III, entered the business and became the first representative of the Morgan family to be actively concerned with the running and the development of the Company.
Only a year later, in 1921, Charles Morgan's son Norman started work with the company at the age of fifteen.

By this time they had started to manufacture cylinder pin tumbler locks, and were founder members of the British Cylinder Night Latch Association when it was set up in 1928.


Trade catalogue entry for a swing pattern locking bar. By courtesy of Trevor Dowson.
Norman Morgan recalled the ancient machinery and archaic methods of those days - how lock cases were black-japanned hand-painted and dried in coal-fired stoves taking ¾ hour to dry.

By 1964, with more modern plant, components were sprayed and conveyed to an infra-red drying oven taking only 10 minutes continuous oven time. It's a wonder how the company ever managed in those days.

An expansion programme initiated in 1936 saw the erection of modern factory workshops. The policy of modernisation was continued so that employees were housed in open, light airy workshops.
In 1929 Reg Morgan, Charles younger son, joined the company and inaugurated a new side to the business when he formed R H Morgan to manufacture tools and produce pressings for the motor trade and to do die-sinking and make drop forging. Under Reg's control development went ahead. In 1940 a site of 9 ½ acres was purchased at Ashmore Lake.
This purchase was originally made with the intention of moving the parent company, as Moat Street was getting somewhat congested.

In 1955 the neighbouring company of Samuel Baker & Co., who made galvanised and brass padlocks, was purchased to provide additional space and the two factories were joined together to form a larger Century Works. So the lock making company was never moved off the Moat Street site.

Reg Morgan passed away in 1961 and in the following year Humphrey Fox III died, aged 81; and then, on the 1st February 1963, Charles Morgan died in his 83rd year. Thus in a short span of three years the company had lost three directors.
The board was reformed with the addition of Barrie Morgan, the son of Reg, together with a number of non-family members. Between 1968 and 1978 the two companies split and the lockmakers changed their name from Humphrey and J Fox to Century Locks.
Although only a relatively small lock and latch manufacturer, they had built a high reputation for quality. In October 1987 the Chairman and Managing Director, Norman Morgan, decided to retire at the age of 82 and sell the business. It was sold to Mr Barrie Bernstein (MD of kitchen makers Home Charm) and Gordon Fernley (former MD of Polycell). At the time they pledged to expand the company and to increase its then 120 work force. Keith Whitehouse, the son in law of Mr Morgan, remained as a director.
Less that three years later, in August 1990, the company was purchased by Yale and by November 1990 the Moat Street works had closed and production moved to Yale works in Wood Street.
(Ref.- A century and a half of progress 1814 -1964 published by the company)

CHATWOOD SAFE COMPANY, 56 GRACECHURCH STREET, LONDON

They are listed in Whitaker's 1914 Red Book of Commerce as manufacturers of fireproof and burglar proof safes, specialising in safes, strong rooms for banks etc., strong room doors and fittings, locks, cash and deed boxes.

Mr. Herbert S. Bruckshaw was appointed as a director of the company in 1922.

In 1939 the firm were suppliers to the aircraft industry.



An advert from 1944.

C. W. CHENEY AND SON LTD. FACTORY ROAD, HOCKLEY, BIRMINGHAM
A manufacturer of locks and hinges for travel goods, founded about 1920.
| | |
| --- | --- |
| | In 1990s the company was purchased by a German Company, Franzen, who then sold out to a venture capital company in 2000. On the 1st June 2000 they acquired Liston Products (Bridgetown) Ltd (q.v.) and all production was moved to Birmingham. |
In January 2001 (Sunday Mercury) Official Receivers were put into close the company down. There had been some irregularity over the administration of the pension fund and possibly £3,000,000 had gone missing. The firm was acquired by F.H.Tomkins Buckle Company Ltd. of Brockhurst Crescent, Walsall on the 31st January 2001. Manufacture continued at Factory Road for a short time but then transferred Walsall. The Receivers settled all the liabilities relating to previous trading by Cheney prior to the changeover. (FHT letter 14/2/2001)
GEORGE CHEADLE, WOLVERHAMPTON

Very little is known about George Cheadle. He appears to have stopped making locks in about 1888, then continued in business selling hardware.


A listing from J. G. Harrod & Company's Postal and Commercial Directory of Derbyshire, Leicestershire, Rutland, & Staffordshire for 1870. This is possibly the same George Cheadle who manufactured locks.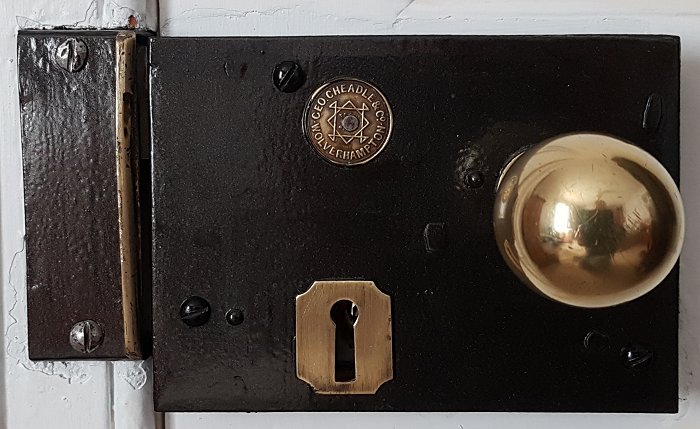 A fine example of a George Cheadle door lock. Courtesy of Richard Cranmore.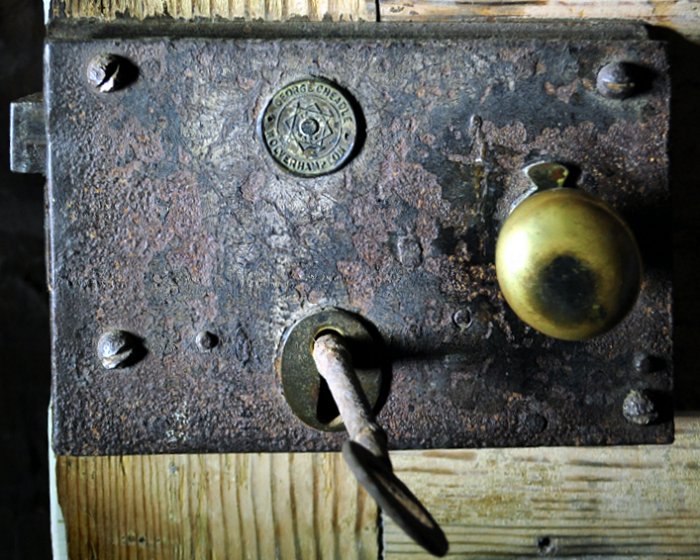 A very old George Cheadle door lock, possibly from the 1880s. It is in an old house in Weobley, Herefordshire. Courtesy of Duncan James.
I have to thank Duncan James for the information above.
GEORGE CHEADLE LTD. 142 HORSELEY FIELDS, WOLVERHAMPTON
Existing in 1936 and 1974 but nothing else known.
WILLIAM H CLARK LTD. POPLAR WORKS, WEDNESFIELD ROAD, WILLENHALL
Lever pad lock maker, established in 1905. In 1914 were at 55 Gower Street, Willenhall. In 1921 were at Wednesfield Road. Taken over by George Anslow (q.v.) in 1965.
CLIFFORD BROTHERS, VILLIERS WORKS, VILLIERS STREET, WILLENHALL.
Established in 1868 as brass founders. Went on to produce padlocks, and wood and cast lock furniture. Directors in the 1930s were Charles, Alfred and John Clifford.

An advert from 1954.

Jim Evans originally wrote here: "Existing 1970 but by 1990 were not making locks."

In the advert (left) from 1955 they refer to themselves primarily as brass founders producing builder's hardware but, amongst the door furniture, there is a padlock and a hook and hasp. This seems to be another case of a foundry which, for a while, made locks and the adapted to the market, and gave them up again.

| | |
| --- | --- |
| An advert from 1955, supplied by Trevor Dowson. | |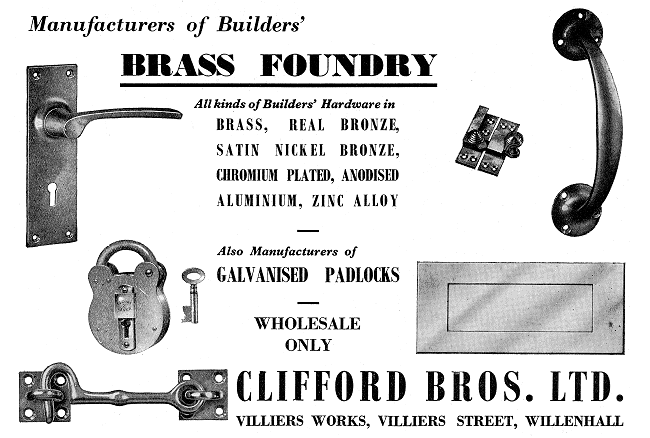 An advert from 1958.

JOHN CLULEY AND SON, ARGOSY WORKS, WOOD STREET, WILLENHALL
Established in 1854. Trunk, suitcase, attaché case and cabinet lock makers.

In 1881 John Cluley, aged 24, was trading as a lockmaker, employing 19 men and 2 boys at 79 Wood Street.
Advert from 1920.

Existing in 1953, not in existence in 1970.
COLLEDGE AND BRIDGEN LTD. 78 CHURCH LANE, WOLVERHAMPTON
Lock makers of every description, they also dealt in high-class builders' ironmongery and general hardware. The company was founded by Charles Colledge in 1870. In 1876 Harvey Bridgen joined the firm.

They are listed in Whitaker's 1914 Red Book of Commerce as lock manufacturers and hardware merchants, specialising in high-class locks and builders' hardware, door springs etc. They were still manufacturing locks in 1937, but were not in existence in 1970.
The photo opposite, kindly sent by Keith Pescott shows his recently purchased brass and copper drinking water tap.

The full inscription on it is 'Birmingham City Council / Perfect Patent / Colledge & Bridgen / Wolverhampton 1928 / drinking water'."

The firm is also listed in the 1928 Wolverhampton Red Book. They were then in Powlett Street.

F. N. COOKSON & CO. GUARDIAN WORKS, WOLVERHAMPTON
The advert is from the catalogue of the 1884 Wolverhampton Exhibition.

Nothing else known, other than a padlock which shows a connection between Cooksons and the great lock maker, Charles Aubin (qv).
RICHARD COOPER AND SON (WOLVERHAMPTON) LTD. CHURCH LANE, WOLVERHAMPTON
T. & C. COOPER, MERRIDALE STREET, WOLVERHAMPTON

From Melville & Company's 1851 Wolverhampton Directory.
THOMAS COOPER, JUNIOR, ABLOW STREET, WOLVERHAMPTON

An advert from 1861.
COTSWOLD ARCHITECTURAL PRODUCTS LTD. MANOR PARK INDUSTRIAL ESTATE, MANOR ROAD, CHELTENHAM, GLOS.
Incorporated as a limited company, 14th February 1974. Manufacturers of locking handles and fittings for window industry.
Directors in 1998 were Stuart Hewitt, Iain Morgan, Yurek Wronski and Lesley McDonough. Employing 130. Also owners of Regent Lock Co Ltd. Chippenham. (q.v.)
EDWIN COTTERILL AND CO. CLIMAX WORKS, LUDGATE HILL, BIRMINGHAM
Established in 1840, by Edwin Cotterill, as manufacturers of rim mortice, dead ,chest, till, cupboard locks and safes.
On the 25th March 1846 Edwin Cotterill obtained a patent, Number 11,152 for "Certain improvements in articles applied to windows, doors and shutters".

This was a wide ranging patent and covered several latches. Some had the latchbolt sliding in the deadbolt. This lock became known as "E Cotterill Climax Detector Lock".

It was derived from the Bramah lock (whose patent had long expired) although the sliders moved radially with respect to the key.
In 1870 E Cotterill and Co were at Climax Works, Vittoria Street. In 1886 the address was 93 Great Charles Street, Biringham.

In 1890 they took over F E Wilson and Co and made a lock to Peter Wilson's patent, number 3257 of 1869. They were sold as the Cotterill-Wilson Lock.

In 1920 the address was Climax Works Ludgate Hill Birmingham.


Courtesy of Trevor Dowson.

Courtesy of Trevor Dowson.

Which of these addresses was the works is not known but, as Ludgate Hill is a road off Great Charles Street, it is possible that these two addresses were for the same building, which could have been offices.

The company was almost certainly engaged in war work during the Great War and afterwards diversified into pressings for the motor industry.

They then almost certainly became victims of the depression as no records can be found after 1930. (Locks and Keys Nov 1997)
STEPHEN COX & SON, DUDLEY ROAD SAFE WORKS, SEDGLEY
Stephen Cox was established in 1890 and made fire-resistant cabinets, strong room doors, floor and wall safes. Their lock were mostly made by C. H. Buggins (qv). In 1972 they were at Pensnett Trading Estate Brierley Hill. They went into receivership in 1982.
| | |
| --- | --- |
| The Cox safe that can be seen in Hall 1, in the Rolfe Street Baths building, at the Black Country Living Museum, in Dudley. The lower plate reads "Fire resisting safe". | |
| | |
| --- | --- |
| | The safe plate that is on the safe in the previous photo. |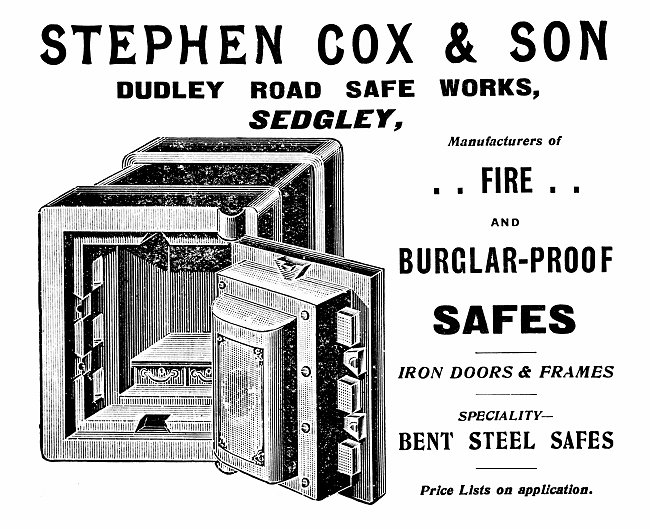 An advert from 1913.
| | |
| --- | --- |
| Invoice heading, dated 1929. From Trevor Dowson. | Safe plate. From Trevor Dowson. |

CRANE FOUNDRY, HORSELEY FIELDS, WOLVERHAMPTON
The Crane Foundry was founded in the early 1820s and for many years owned by the Crane family. The foundry produced a vast range of cast iron and brass products. In 1917 William Cyril Parkes of lockmakers Josiah Parkes & Sons Limited, Willenhall became a majority shareholder. As a result the foundry's production of lock cases greatly increased.

A Crane Money Chest. Courtesy of Marlena Fairbourne.

One of the company's lock-related products from the late 1920s is shown opposite. It is a cast iron Crane Money Chest. In places you can still see the original green paint.

On 25th June, 1945, Josiah Parkes & Sons sold the foundry to Qualcast for £9,200, and in 1949 the foundry was officially called Qualcast (Wolverhampton) Limited.

The Crane trade mark was still retained and the factory continued to be known as the Crane Foundry. The company also owned the nearby Swan Gardens Iron Works, off Swan Street.

The company eventually became known as Crane Cast, and survived until January 2006.
THOMAS CROMPTON AND SONS LTD. ASHTON-IN-MAKERFIELD, NEAR WIGAN
Rim, dead and mortice lock makers. Thomas Crompton founded the company in 1866 when he purchased the bankrupt hinge and builders' hardware company from James Billings. He had worked there as a salesman. In the early days there was no factory as such. All work was subcontracted to local blacksmiths and locksmiths, who manufactured various products in their own homes in Ashton. Later a factory was opened making hinges, hardware and stock locks by hand methods. In 1899 Thomas started making butt hinges by machinery methods. He died in 1910 and his son Thomas took over the business. The firm continued to expand as improved hinge making machines were added to the factory. In 1933 Thomas died at the age of 69 and the firm passed to his son John, who continued the expansion until they employed over 1200 workers.
During the Second World War the company manufactured ammunition box fittings, ammunition belt clips, Army vehicle fittings and components for aircraft.
On the 12th April 1957 a new, modern factory was opened at Haydock, where most of the hinge making was carried out along with modern Electro plating. John Crompton sold the company in 1963 to Guest Keen and Nettlefold, who already had a hinge making plant of their own, Nettlefold Stenman Hinges Ltd. Cardiff, (Stenman being the name of the Swedish lock maker whose trademark was ASSA, which at that time was owned by GKN).

Soon after the take over the Crompton family left the business. Thomas Crompton and Sons Ltd merged with Nettlefold Stenman Hinges to form a new company called Crompton Nettlefold Stenman Ltd. The Cardiff factory was closed and it was probably at this time that they ceased to make locks.
They built a new £1 million factory on the Gerard Street site in 1976, which brought all the Crompton activities under one roof. Because the Stenman part of the association became more detached, it was finally decided in 1980 to change the name to GKN Crompton Ltd. During its history GKN Crompton was the largest employer in Ashton in Makerfield.
Taken over by J E Reynolds in 1995, they have a works at Haydock employing 130, and specialising in ironmongery.
---