---
JOSEPH KAYE LTD. 84 SOUTH ACCOMMODATION ROAD, LEEDS
The company was established in 1864. They made pad and mortice locks and special locks for the railway, particularly the South African Railways.

A feature of their mortice keys was a flat shank. They also made fine quality oilcans identified by a large letter K on the side.
In 1960 were owned by the Gloucester Carriage and Wagon Co. In 1962 they were bought by Associated Fire Alarms who closed them down shortly after. But they were reopened between 1970 and 1976 and became Pickersgill Kaye Ltd. In 1997 they had stopped making mortice locks and were concentrating on electronic locks.
(Information from Maurice Hartland)
R & F KEATS, WEDNESFIELD ROAD, WILLENHALL
Run by two brothers, making mortice locks. Not Listed in 1914 Kelly Directory. Listed in 1921 Kelly's Directory. Closed c1960. Premises later taken over by Guardian Lock c1985.
ARCHIBALD KENRICK AND SONS LTD. WEST BROMWICH
| | |
| --- | --- |
| | The company was founded in 1786 and gradually expanded, from its modest start in buckle making, through successive diversifications dictated by changes in fashion, improved technology and competitive pressures of the times, to the peak of its achievement at the beginning of the twentieth century when it manufactured cast iron hollow-ware consumer goods. |
| | |
| --- | --- |
| An advert (right) from a trade directory of 1924, with a close up of a mortice lock from the advert (above). | |
Their secondary line was builder's hardware and, in August 1903, they spent £5000 fitting out and equipping a shop on their Smethwick site for the production of the new cylinder lock. Shortly afterwards they added an extension. The total cost was £2250 in a year when they made a loss of £900. An American mechanic was employed to supervise the venture. When Kenricks Pressed Steel No 500 Rim night latch was exhibited in 1908, at least one commentator drew a comparison with similar American articles that had long been considered unique. The American mechanic returned to the US shortly afterwards.
In addition to making cylinder locks they also made a brass cylinder padlocks.

In 1922/3 cylinder locks accounted for £5756 of sales out of a total for the company of £167236, equal to 3.4 % of total sales. By 1936/7 sales had dropped to £3932 out of a total of £164106, equal to 2.4 % of total sales.
In 1928 Kenricks were founder members of the CLMA, formed to maintain prices.
Kenricks continued to make cylinder locks up to about 1960.
(Ref: "Kenricks in Hardware" and Alan Fellows, who is writing a history of Kenricks' buildings. 25/8/1999)
THE KENWYN MANUFACTURING CO. LTD. 34 WEDNESFIELD ROAD, WILLENHALL
| | |
| --- | --- |
| | Manufacturers of cupboard and locker locks, especially for pit head baths. Existing in 1969 and 1984. |
Run by Ken Morgan, who had taken over the family business. In this period he had a full time job as a salesman and was only doing repairs to locks and cutting replacement keys using retired locksmiths.
KEY CUTTERS LTD. HALEY STREET LANE HEAD, WILLENHALL.
See Securefast.
KEYS OF STEEL LTD. STRINGERS LANE, WILLENHALL
Keys of Steel Ltd was founded in 1952 by Thomas Marshall Sambrook. A key filer himself, he was aware of the time-consuming hand work involved in producing keys from malleable iron castings. So he looked into the possibility of fabricating key blanks using spot welding machines. His first order came from Lowe and Fletcher, for a pin key to suit their N8 Post Office lock. After a few teething troubles fusing the parts together, he began to produce mortice and rim blanks, in premises in Froysall Street, Willenhall, which Tom Sambrook rented from Lowe and Fletcher. (The building was the old Methodist New Connexion Chapel. The chapel had been built in 1854 by the Wesleyan Reform movement. They held services for two years but then the movement folded and the building was taken over by the New Connexion. The building was sold to Lowe and Fletcher Ltd in November 1950 when the church closed.) After a few years on this site Keys of Steel moved to their site in Stringers Lane.
In 1959 an associate company, Willenhall Locks Ltd. was formed to produce the hand made security locks that were being discontinued by Lowe and Fletcher Ltd, who had decided to concentrate on making car locks. Willenhall Locks soon added a range of mortice locks to their production. The company grew with the acquisition of Thomas Poole and Sons of Coltham Road (Ezekiel Lane), Short Heath, who had been supplying cast iron keys and blanks to padlock and cabinet lock makers since 1860.
In 1991 Willenhall Locks acquired the Lionheart Range range of antique ironwork and window fittings and renamed it Nostalgia. This operated as a separate Hardware Division.
By 1992 the group employed 115 people, with Derek Sambrook, Thomas's son, as Managing Director and two sons-in-law, Richard Hyde (Sales Director) and David Osborne (Works Director) running the company.
In an advertising feature in the Express and Star of the 28th June 1999, to celebrate 40 years of Willenhall Locks, it was stated that the Stringers Lane site was 104,000 sq. ft., with the two sides of the business employing about 50 people each.
KIBB LOCK CO. THE CRESCENT LOCK WORKS, WILLENHALL
A company set up in 2000 by Mr Kibble and John Worrall and Sons Ltd. in the premises of John Worrall, to manufacture a range of High Security KIBB locks designed by Mr Kibble. John Worrall and Sons Ltd made the locks. The special feature of the locks is having an interlocking strike and faceplate, effectively 'padlocking' door and frame together.
CYRIL KIEFT & CO. LTD. BRIDGEND, GLAMORGAN
Cyril Kieft, a successful industrialist, was born in Swansea in September 1911. He followed his father into the steel industry, and by 1935 was joint manager of the giant steelworks at Scunthorpe. At the end of 1935 he left Scunthorpe and with his father Alfred purchased two steelworks in Wolverhampton, and two in Shropshire. They were the Wolverhampton Steel and Iron Company at Osier Bed Works, Horseley Fields; Monmore Green Rolling Mills Limited, Cable Street; Haybridge Steel, Wellington, Shropshire, and the Shropshire Iron and Steel Company Limited. In 1946 the four companies were combined under the name of the Wolverhampton Iron & Steel Company (1946) limited, with Cyril as Managing Director. Before the end of the year he sold his interest in the company, fearing that he would become a civil servant when the industry was nationalised.
In 1939 he purchased W. H. Birkinshaw & Company Limited, drop forgers and edge tool makers at Reliance Works in Derry Street, Wolverhampton. The company name was changed to Cyril Kieft & Company Limited and products continued to be produced using Birkinshaw's "Pamax" brand name. At the works Cyril produced forgings, including adzes, axles, bars, forks, hammers, hatchets, hoes, mauls, picks, spades, tongs, wedges and drop forgings for the Ford Motor Company. The new business was the country's largest manufacturer of picks for coalmines.
In 1941 Cyril purchased Sellamn & Hill Limited of Stewart Street, Wolverhampton, manufacturers of the "Crescent" brand of aluminium holloware. During the Second World War he trained as a bomb disposal officer in the Home Guard.
After the sale of the Wolverhampton Iron & Steel Company (1946) limited, Cyril purchased an ex M.O.D. munitions factory at Bridgend, South Wales and closed the Stewart Street works, moving production of the holloware to Bridgend.

Advert, from the 'Ironmonger Buyer's Guide', 1947.

At Bridgend he undertook general presswork, and added thermostats, electric kettles, jelly moulds, Tilley lamps, hooks, components for the motor industry, and locks of his own design to the product range. The venture was very successful, employing about 450 people. Cyril also purchased Orton and Smith Limited of Stringes Lane, Willenhall, who specialised in the manufacture of meat cleavers.

His locks were known as the "K" type, which differed from the normal design in that the pins were in an almost straight line, end on to the face of the cylinder. Another feature of the lock was that the plug could be locked in two positions, which was used to deadlock the latch.

It was manufactured in the early 1950s and initially it sold well, but some problems were experienced, and the troublesome lock disappeared from the market.

Cyril found a new outlet in motor racing and went on to build 500cc Formula 3 cars that were driven by a young Stirling Moss.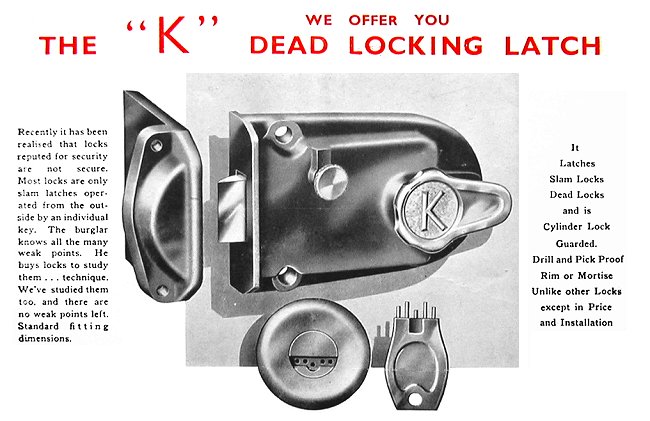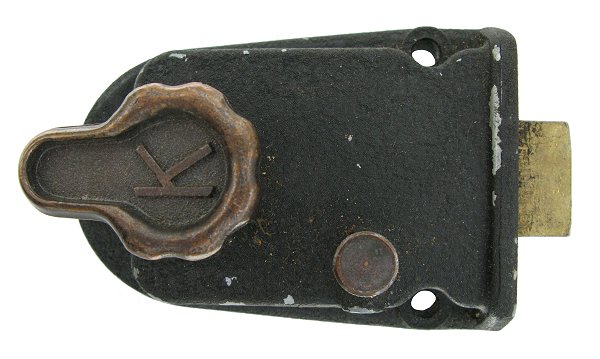 A Kieft 'K' type lock. Courtesy of Brian Shaw.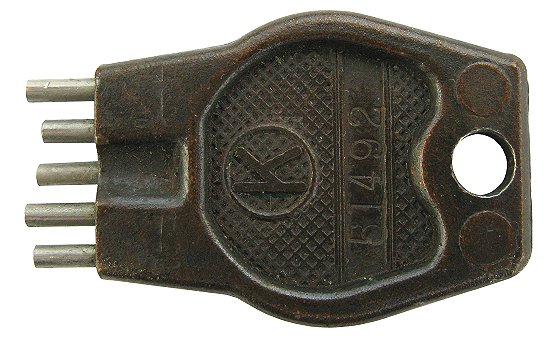 The key for the lock above. Courtesy of Brian Shaw.
| | |
| --- | --- |
| | A close-up view of a 'K' type key. Courtesy of Brian Shaw. |
| | |
| --- | --- |
| A front view of the cylinder. Courtesy of Brian Shaw. | |


A close-up view of the pins on the key. Courtesy of Brian Shaw.
The 'K' type instruction booklet. Courtesy of Brian Shaw.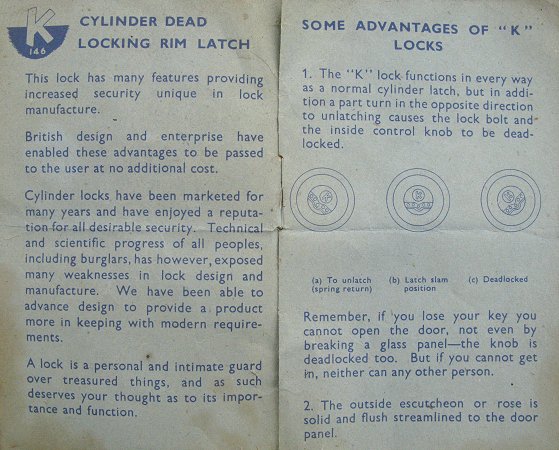 The first two pages of the instruction booklet. Courtesy of Brian Shaw.

The next two pages of the instruction booklet. Courtesy of Brian Shaw.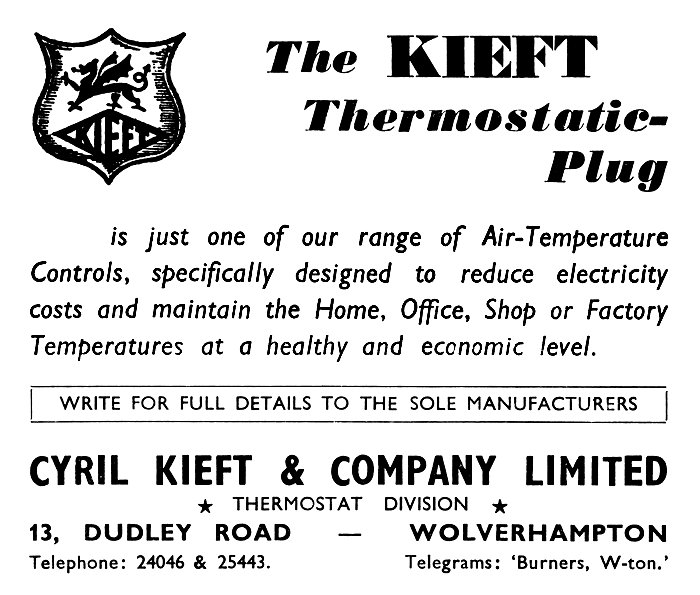 Another Kieft product. An advert from 1958.
---