---
JOHN WAINE AND SONS (WILLENHALL) LTD. BRITANNIA WORKS, LOWER LICHFIELD STREET, WILLENHALL

| | |
| --- | --- |
| | Founded in 1845. An advert in the Directory of Staffordshire 1880 lists them as manufacturers of every description of tumbler, barron's patent and levered iron padlocks, also in brass. |
They were also manufacturers of screw connecting shackles and split connecting links, swivel links etc for shipping purposes; and they were also general galvanisers.

In 1931 they were selling the Britannia Cylinder Night Latch, which was made for them by George Spencer Limited.

Run by two brothers (names?). Existing in 1974. Nothing else known.


An advert from 1954.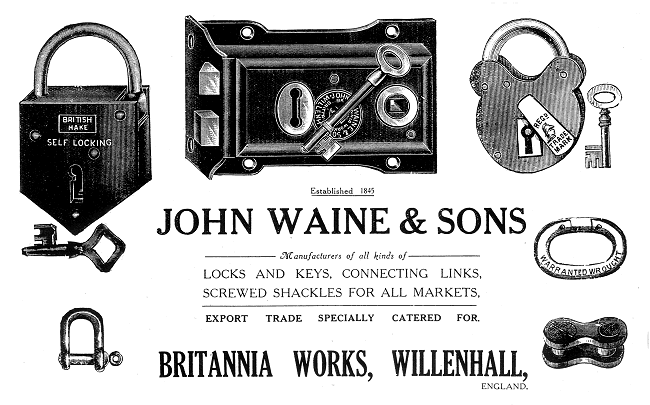 An advert from 1920.
| | |
| --- | --- |
| Courtesy of Trevor Dowson. | The image (left) is of a letterhead dated 1931 but the telephone number, "64 Willenhall" suggest an earlier printing. |
The advert (left) is from the Ironmongers Guide, 1950, trade marks section.

Presumably the head is that of Britannia and was being used as their trade mark.

A letterhead from the late 1930s.
JOSEPH WAINE & CO. LTD. IMPERIAL WORKS, WOOD STREET, WILLENHALL
Joseph Waine & Co. Ltd, were general lock, latch & bolt makers, and brass and iron founders at Imperial Works, Wood Street, Willenhall. Joseph had three sons, John Vincent Waine, G. A. Waine and Horace Theo Waine.
John Vincent Waine, and his brother G. A. Waine, started the Vulcan Manufacturing Company at Blackheath, Birmingham, in about 1910. The company manufactured Heel Tips, Toe Plates and had the most up to date machinery in the world. The factory turned out 288,000 pairs of heels per week, under their Vulcan brand name.

The company specialised in a number of products including No. 0 and 1 York heels, 21B heels, mule & horse shoes for the Indian, Turkish, African and South American markets, and japanned and galvanised door bolts. A large number of other products were produced including the following:

Brass, chromium-plated and special finishes, stainless steel, garage bolts, cabinet bolts, shelf brackets, aluminium door and gate latches, casement stays and fasteners, hasps and staples, hinges, brass and steel gate and tee, gutter brackets, swivel ties, tinned angle brackets, rim, dead and mortice locks, latches, padlocks, stamped brassware and household soldering sets.


Courtesy of Trevor Dowson.
The factory covered over an acre. Extensive trade was done with the War Office, the Army and in various parts of Europe. Horace T. Waine was also involved in the business, and due to his international travels the products were also sold in Japan, Burma and Egypt. The company also had an establishment in the Potteries.

In 1913 the Directors decided to move the three factories to one site to improve the company's efficiency. In June a large disused works was purchased in Colliery Road, Wolverhampton and the three factories were combined under one roof, and called the New Griffin Works.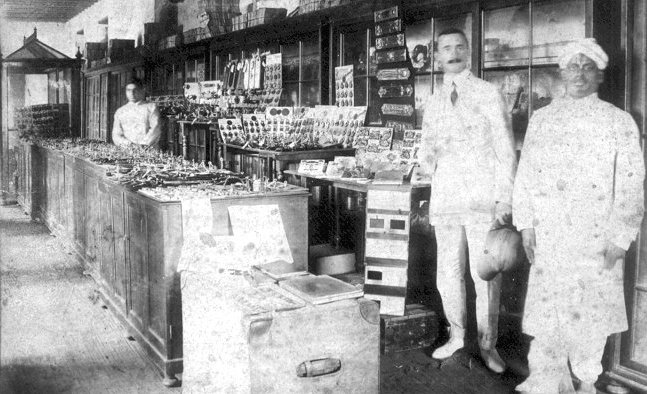 Theo Waine on a lock selling trip to India.

In 1928, Theo Waine and his brother Mr. G. A.Waine, took over the Wearwell Cycle Company Limited from the liquidators of the Wulfruna Engineering Company Limited. Their sons, H. V. Waine and T. A. Waine were issued with one ordinary share each, and were appointed directors at the first shareholders meeting, which took place at the New Griffin Works. The new company was registered as the Wearwell Cycle Company (1928) Limited.

Lock manufacture continued for some time, but eventually the firm concentrated on the production of bicycles and motorcycles.
SAMUEL WAKELAM AND CO, WATERLOO PLACE, STRINGERS LANE, WILLENHALL
Trunk, cash box and cabinet lock makers. Existing in 1914 and 1953 but not 1970. Nothing else known.
WALSALL LOCKS AND CARTGEAR LTD, NEALE STREET, WALSALL

An advert from 1958.

The company was set up in 1873 as a result of an industrial dispute between the workers and their employers. A demand for higher wages resulted in a lock-out with no wages earned at all. A benefit fund was collected from donations so that the out of work people might get some assistance while the dispute continued.

£150 was raised and distributed. Mr. G. Harrison reported to the Walsall Trades council that the £150 paid out seemed futile, for the men were still out of work and still not earning.

Why was not the money raised used to set the workers up in their own workshops and become self employed? And so Walsall Lock and Cart Gear was formed.

Known as the Walsall Padlock Society in 1879, it adopted many titles over the years: "The Walsall Lock and Keysmiths Society Ltd"; later "The Co-operative Walsall padlock Company."; in 1887 the company was trading in the name of Walsall Industrial Co-operative Lock and Hardware Manufacturing Society Limited".
In 1888 the members faced the responsibility of using so much co-operative and trade language in their business and, in the interest of economy of speech and writing and ink, adopted the name of "Co-operative Padlock Society Limited." They later became Walsall Lock and Cart Gear as their range of products widened. (Further information "The History of Walsall Locks and Cartgear Ltd 1873-1923" by R. Halstead )
| | |
| --- | --- |
| This sign board is in the Locksmith's House at Willenhall. | |
| | |
| --- | --- |
| | This notice, from the Ironmonger Guide 1950 trade marks section, shows a dragon trade mark. |
The Dreadnought padlock, patented 1895, when the company was going under the name Walsall Locks & Cart Gear Ltd..

The key on this remarkable lock fitted over the bars on the front of the lock and was then moved sideways to open the lock.

Courtesy of the Locksmith's House.
| | |
| --- | --- |
| | A 1929 letterhead. Courtesy of Trevor Dowson. |
They built premises in Neale Street, Walsall and later expanded to having branches at Walsall Road, Willenhall (used until the 1960s) and Newhall Street, Willenhall. (In 1936 they were at Newhall Street, only closed earlier).
| | |
| --- | --- |
| | In the 1920s they expanded their range to include a cylinder pin tumbler night latch, which was sold under the ZENI brand name. They also used the ACE brand. |
A Walsall Locks & Cart Gear padlock.

Courtesy of Nigel.
In 1975 they changed their name to Walsall Locks Ltd, as they were then only making a few items for the equestrian trade. They went into liquidation in 1985, when employing 85 people. A dividend of 46 pence in the pound was paid to creditors. The lock making part was taken over by Len Bates (who was the "B" in ABT Hardware) and Paul Preece, who formed Walsall Lock and Hardware Ltd and moved into new premises at Leamore Close, Leamore Industrial Estate, Walsall, on the 10 February 1986. They continued to make a small part of the original range of padlocks.

On the 1st April 1997 they changed the name to Walsall Locks Limited. This was felt to describe the activities of the company and reflect the identity that they had built up within the industry. They manufactured ZENI and ACE padlocks, while importing mortice and safe locks for resale. (LMNL No 28)


An advert from 1955. Courtesy of Trevor Dowson.
A Walsall Locks Limited brass padlock.

Courtesy of Nigel.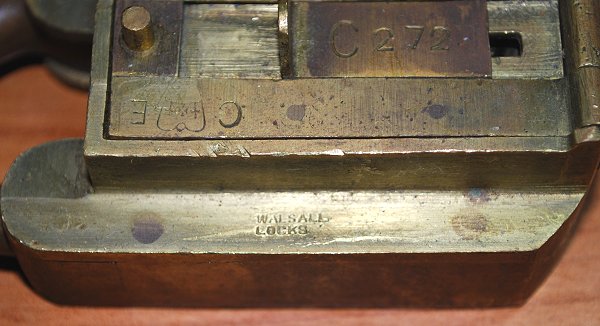 A close-up view of the above padlock. Courtesy of Nigel.

BENJAMIN WALTERS AND CO. LTD. 24 NORTH STREET, WOLVERHAMPTON.
Listed as general lock makers, of all kinds of rim and mortice locks and latches, combination and night latches, and every description of brass and iron cabinet locks. Also Bales & Walters improved patent locks and latches. They made their own cabinet locks and Bales latches but acted as wholesale factors for many other types.
They were situated upstairs at 24 North Street, opposite the Molineux Hotel. Closed when the premises were required for the building of the Wolverhampton ring road.
Existing in 1914 (catalogue) 1974. Nothing else known.

B. & P. WALTERS, 100 NORTH STREET, WOLVERHAMPTON.
| | |
| --- | --- |
| An advert from 1851. | |
Tony Beck has kindly provided the following photos of a lock marked "B & P Walters". It is not known whether there is a link to Benjamin Walters (above). And nothing else is known about them - except that they seem to have made fine locks.
| | |
| --- | --- |
| | A safe lock with "detecter", from the Victorian period, by B & P Walters (from Tony Beck's collection". |
| | |
| --- | --- |
| A close-up view of the brass plate from the safe lock above. | |
| | |
| --- | --- |
| | The interior of the safe lock above. |
W.B.S. SAFE LOCKS LTD. HART ROAD, WEDNESFIELD
W.B.S. Safe Locks was founded by William Bernard Sidbotham during 1946.

He rented a small workshop in Vale Place, Merridale Street, Wolverhampton. The

rent was eight shillings per week (40p in today's currency). At this time he had one employee and went on to employ another three later, including his son.
His first order was for a trial for a small quantity of locks from the safe makers, Samuel Withers & Co. Ltd. (q.v.) for whom he became the main supplier of locks for their safes.
During the early 1950s he bought premises at 38 Hart Road, Wednesfield, nr. Wolverhampton where he formed a limited company and became W.B.S. Safe Locks Ltd.
After being demobbed from the army in January 1948 his son, K.W. Sidbotham, went to learn the art of making locks, the old way by hand, under his father's teaching. They specialised in the making of locks for safes and many other types of securities, of which bank work was their speciality.
K.W. Sidbotham ran the firm when his father left and under him the firm expanded considerably. In particular they went on to repair and install safes and strong room doors, working for banks, police forces, prisons and other places using safes and high security doors. During 1960 the firm became involved in the making of rackbolt locks, which turned out to be a vital string to his bow when Bob Sidbotham moved to the Guild Cottage, Radmore Lane, Newport Salop, from where he ran his business and worked his trade for twenty five years. The rackbolt lock was made for a London company of locksmiths for a refurbishment programme, service work included, for one of the leading High Street banks.
This order lasted about thirty years after which Mr. K.W. Sidbotham retired from lock making, due to poor health. His cousin, Mr. K. Rooker, of Regent Safe & Cabinet Locks, Willenhall, (q.v.) helped out and they worked together very well.
We are obliged to Mr. K. W. Sidbotham for help with the above entry. A book by him gives further details of the company as well as a picture of the working conditions and practices of a locksmith in the second half of the twentieth century: K. W. "Bob" Sidbotham, Life and Tales of a Locksmith, History into Print, 2005, £9.95.

ENOCH WEBSTER, CHAPEL GREEN WORKS, WILLENHALL

Manufacturers of mortice and rim locks. Established in the second half of the 1800s.

In 1881 Enoch Webster, aged 41, lived at 18 Cannon Street and is listed as a lock manufacturer, employing 1 man and 4 boys.

The inside of all the parts in their locks were marked with a logo: E.W.W. in a triangle
WEISER (UK) LTD. NORTH WEST INDUSTRIAL ESTATE, PETERLEE, COUNTY DURHAM
The UK branch of a USA company who set up in Peterlee to manufacture their range of pin tumbler locks in the UK. They also had a branch in Sint-Niklaas, Belgium. Closed in the early 1990s when demand decreased and production was transferred to Belgium.
WEST ALLOY DIECASTINGS LTD. GARTH ROAD, MORDEN, SURREY
West Alloy Diecastings is a privately owned company founded in 1952. The company began as a trade shop, producing zinc diecastings, and fairly quickly moved into the design and manufacture of locks, enjoying considerable success with a main lock for caravans. Further versions developed and the success of the design can be measured by the fact that three of these assemblies are still in current production. By the 1960s West Alloy was also manufacturing hinges, drawer pulls, catches and folding table legs. When fuel economy became a major issue in the seventies, West Alloy responded by introducing a design of lock predominately manufactured in plastic. Retaining one or two zinc castings, the change to plastic reduced the weight by 60 to 70%. It was this change that opened the door to other market opportunities.
In the early eighties West Alloy identified a market opportunity and set about designing a purpose built lock for tractor cabs, based on locking round a stud rather than on the traditional slam type lock used by the caravan industry, the major market for the company's locks at that time. The resulting design was a much stronger interior lock, produced predominately from steel pressings - a considerable departure from the original core business of zinc diecasting. Introduced in 1984 the tractor cab lock was designed to operate with an existing diecast exterior and incorporated a diecast operating lever to enable the door to be opened from the inside. At the time it wasn't fully appreciated how flexible and successful this design would become and that it would lead to several new generations of products.
West Alloy currently produce a wide range of parts for construction equipment and tractor cabs, caravans, garage doors and office furniture. The majority of products are West Alloy's own design and are manufactured at the company's two factories at Morden and Sutton, Surrey. The company employs a work force of ninety and is equipped with all the necessary equipment for producing diecastings and plastic mouldings. Approximately 65% of the company's products are for the U.K. market, the balance being exported to Europe, Australia, South Africa, Japan and the U.S.A.
In 1998 Mr B Sugden was the Managing Director. The firm had 86 employees. Their turnover was £4 million.
WEST END LOCK CO. NEW ROAD, WILLENHALL
Makers of rim and dead locks, brass and iron padlocks, and gas meter locks.

In existence in 1921 and 1974 but not 1914. Closed in 1970s.
WESTON BODY HARDWARE LTD, 27 WALKER ROAD, REDDITCH
Manufacturers of die cast lock cylinder barrels, budget locks, compartment locks. Set up in the 1970s to manufacture the "Wilmot Breedon" range of locks and latches when Josiah Parkes decided they did not wish to continue to produce the range they had made for Wilmot Breeden for so many years.
---