---
James Gibbons Ltd. from 1939 onwards


An advert from 1953.

In the 1950s lock making was becoming a smaller and smaller proportion of their work. Their catalogue of "Architectural Fittings", dated 1952, is mostly concerned with door and window furniture and also shows balustrades and wrought iron gates.

But it also shows that they were well established in making these sorts of things before the war and received a number of distinguished commissions, which continued to come in after the war.

There is a link to extracts from the catalogue at the foot of this page.
In an advertisement, probably from the 1950s, Gibbons made great use of this picture, said to be of one of their workmen.

They were exploiting the fact that they were very long-established and that they retained the old craft skills as well as using modern production methods.

In fact there always was a place for the hand craftsman not only in locks but also in many of their other products.
As Frank Spittle has related, the firm was converted into a limited company in order to give employees a chance to share in it. This eventually had the result of enabling the company to be taken over, by Radiation, a London based firm.
After a few years Radiation was in turn taken over by the Tube Investment Group who, in 1975, changed the name to T.I. James Gibbons Ltd. The company was then split into two divisions:
TI James Gibbons Windows, specialising in the supply and installation of high performance windows, together with other major products, including the "Slimline" range of aluminium doors, screens and shop fronts; and

TI James Gibbons Ironmongery, specialising in the supply of an extensive range of architectural ironmongery, including the "Format" range of door furniture and accessories.
By this time they had virtually finished making locks; what locks they were selling with their door furniture were being made by Evered Security Products Ltd. In 1978 they sold the sole rights to the manufacture of James Gibbons Locks to Evered Security Products Ltd (formerly Erebus Manufacturing Co. and later Erebus Ltd) (qv). On the 18th April 1988, Erebus Ltd sold on the sole rights to Quality Lock Ltd. (qv)
By the beginning of 2005 the two parts of James Gibbons were both members of the Send Group plc and both had their premises at Vulcan Road, Bilston. James Gibbons Ltd. made roller shutters, remote control garage doors, curtain walling, windows, structural glazing, planar, shop fronts, doors. James Gibbons Format Ltd. produce architectural ironmongery. Contracts included work on the Barbican Centre, the Old Bailey, the Channel Tunnel, Changi Airport and Molineux Stadium.
In May 2005 Col-Secure Facades Ltd, of Old Heath Road, Wolverhampton bought out two divisions - James Gibbons Systems and James Gibbons Windows - which produced much the same products as Col-Secure. In June 2005 it was mistakenly announced in the press that James Gibbons Format Ltd. was ceasing production. The report was, according to the company "utter rubbish". Which is good, as it means this venerable company is still in rude health.
| | | |
| --- | --- | --- |
| | Gibbon's products, such as the brass keyhole plate, left, were often marked only with the company name and location, as on the back of the plate, shown right. | |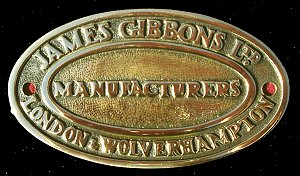 ---