---

JOSIAH PARKES & SONS LTD. UNION WORKS, WILLENHALL
Greatly extended by Bev Parker

The Parkes family were originally from Gornal. The eldest brothers, William (born 1822) and Richard both served apprenticeships as locksmiths in Willenhall. Josiah Parkes (born 1824) was apprenticed to Hickman's Iron Works in Bilston.

It seems that the three brothers set up in the ironmongery trade about 1840 in premises at 28, 29 and 30 Doctor's Piece. It seems that Josiah continued to work at Hickman's, only helping the firm in the evenings.

The trade done in those days was considerable, as iron at the time was the material most commonly used by lock and key makers throughout the land. The business grew in volume and scope and new premises were taken in Union Street. Old catalogues show that merchanting was done in iron and a great variety of general goods, from mole traps to clothes' horses, from ash pans to carpenters' tool baskets .... and locks.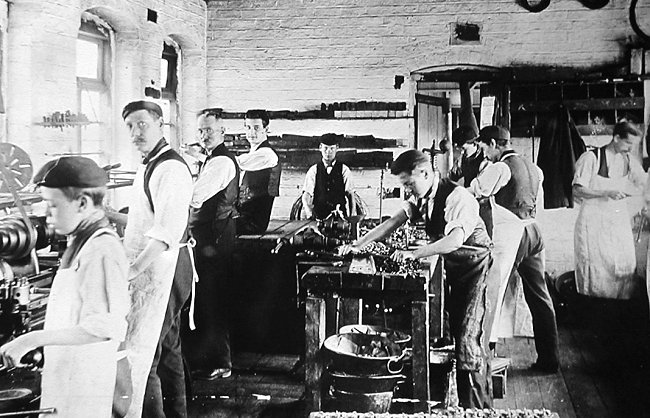 An early photograph inside the factory.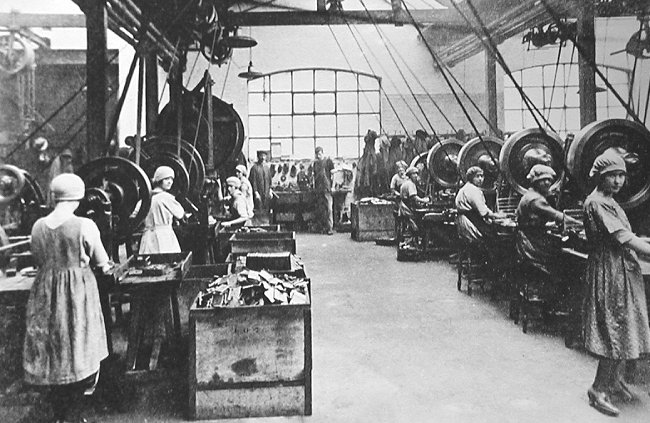 Another early photograph.

Josiah Parkes, 1823 - 1899.

Richard did not stay with the firm but it is not known when he left. William had an ironmongery business at 9 Union Street. About 1850 Josiah and his wife, Catherine, moved to premises at 3, Union Street and Josiah began working full-time with Richard in the ironmongers.

By 1851 William and Josiah were in partnership and were advertising in the local papers and trade journals as William and Josiah Parkes, Iron, Steel and Wire Merchants, Union Street. The partnership made locks and other hardware but they also traded in those goods, acting as factors. They would supply the raw materials to other locksmiths and buy back the finished products from them, selling them on to wholesalers and retailers.

The brothers were obviously successful in this trade and in the 1850s were able to take on three apprentices. More tellingly they acquired new premises in Union Street in 1852 and opposite in Wood Street in 1883.
In the 1860s the Parkes brothers began to concentrate more on manufacturing and merchanting locks. An advertisement in the Wolverhampton Guide of 1864 described them as "general merchants and manufacturers of all kinds of rim, mortice, pad locks, bolts and latches".

In 1861 the brothers were able to move their families to better premises. William and his wife, Elizabeth, and their four children, moved to 78 Union Street. Josiah and his wife and five children moved to 77 Union St. The iron warehouse and shop lay between the two houses.

The original business was dissolved in 1868 when his son, William Edmund, joined Josiah. In 1885 James Harry, another son of Josiah, joined the firm, when it became Josiah Parkes and Sons.


William Edmund Parkes, 1855-1920.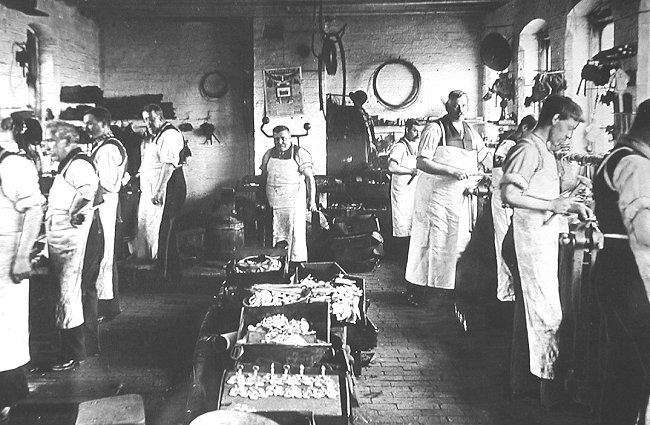 Locksmiths hard at work.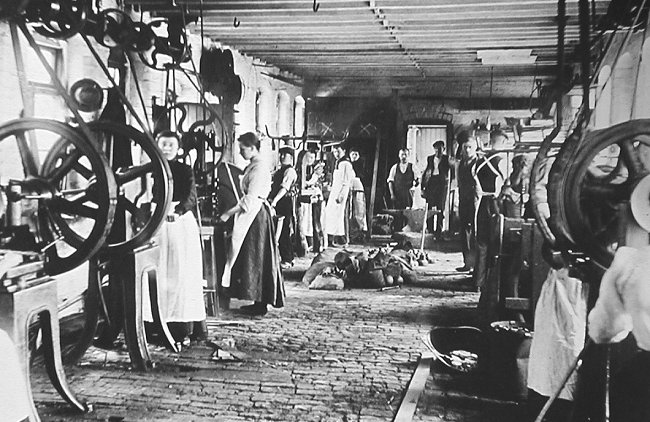 Making the parts.

James Harry Parkes, 1867-1914.

As the business grew the Parkes children came into the Company. William had three sons: Samuel, Josiah and William Fletcher, who all joined as iron merchants clerks. Josiah Parkes had five sons, who were all younger than their cousins. Friction developed between the two families about who was going to control the business. To resolve the problem William and Josiah dissolved the partnership around 1873 and set up two separate businesses. William and his sons became Parkes, Parkes and Company, but soon both Samuel and Josiah started other businesses, Samuel as a hardware merchant in New Road and Josiah as a brass founder in Wood Street.

Josiah set up a company with one of his sons, William Edmund (1855-1920), trading as iron merchants and hardware factors. They moved into 28 Doctor's Piece. William Edmund concentrated on the hardware section and Josiah looked after the iron merchanting. By 1880 business was doing well enough for them to employ three men and expand the premises to 18, 29 & 30 Doctor's Piece.
Advertisements from 1884 refer to Josiah Parkes and Sons as "bolt, nut, screw, hinge, latch and lock furniture manufacturers". Josiah Parkes Junior and John Parkes both joined the firm.

In 1887 Josiah Parkes Senior retired (Josiah died, aged 76, in August 1899 and was buried in the churchyard at Little London Baptist Church) and in January 1888 a new partnership under the same name was established between William Edmund, John and James Harry Parkes. Josiah Parkes Jnr did not join this firm but carried on the iron merchanting business by himself. The youngest son, Ebeneezer Thomas decided to go into a career in banking. In 1889 the other brothers decided to concentrate their firm's attention on the manufacture of locks and gradually ceased trading in iron and other goods. When more factories for lock making appeared, as the lock industry grew in size and importance, Josiah Parkes and his sons recognised the trend, discontinued iron trading in 1896 and took up the manufacture of locks. The enterprise began in quite a small way and gathered pace in later years.


Harry George Parkes, 1896-1946.
| | |
| --- | --- |
| | A letterhead from 1910, showing three trade marks and still claiming to be in builders' hardware. |
On their first products that they manufactured, the company stamped the image of a hose coupling - a product that they also made - and this image became the trade mark of Josiah Parkes even when they stopped hardware trading.

There was a lot of foreign competition in hardware goods and iron products in the 1880s and 1890s. Despite this Josiah Parkes and Sons were successful and they provided goods to shops and businesses all over the country. But the Union Street business of Parkes, Parkes & Co. faded out, as did the Samuel Parkes' business. Josiah Parkes and Sons were able to buy the old Union Street property and sold the Doctor's Piece property in 1890.
The 1910 letterhead above shows three trade marks: the hose coupling; WW in an oval; and EWW in a triangle. The hose coupling was their main mark in their earlier days, reflecting their early trade in hardware.

The entry from a trade mark listing (supplied by Trevor Dowson) also shows two versions of the word "union", which became their usual trade mark.
William Cyril Parkes, elder son of William Edmund Parkes, joined the family business in 1903. In 1911 Harry George Parkes, son of James Henry Parkes, joined the firm, and his younger brother, Arthur Joseph, joined in 1919. James Harry Parkes died in 1914.
In 1906 their employees totalled 35 but by 1913 they had increased to 100. (In 1934 there were 550, the 1948 figure was 900, in 1958 it had reached 1300 and by 1971 it was over 1800, despite increase mechanisation.)
| | |
| --- | --- |
| | An important step was taken in 1911 company began the manufacture of cylinder locks and latches started. At the time comparatively few were being made in this country. |
In 1913 the company was able to expand and build a new lock shop adjoining the original Union Street premises.
Just prior to the First World War the locksmiths union had managed to establish itself and in negotiations with the Lock Manufacturers Association (of which Josiah Parkes were members) had set new wage levels:
Boys aged 16-17 3d per hour
Boys aged 17-18 4d per hour
Boys aged 18-19 5d per hour
Boys aged 19-21 6d per hour
Over 21 7d per hour
At the beginning of the war trade was depressed due to few government contracts and the decrease in exports. But in due course the factory was turned over to the production of a wide range of munitions including grenades, shell fuses, bomb detonators, shrapnel tubes, rifle rods, strombus horns, and turnbuckles.


The front of the order of service.

In 1916 Josiah Parkes & Sons was formed into a limited company with a share capital of £25,000.

The company was incorporated on 13th December, 1916 with William Edmund Parkes as Chairman and Managing Director, and William Cyril Parkes as assistant Managing Director.

In the following year several large bays were added to the factory.

With the death of his father, William Edmund Parkes, in 1920, William Cyril Parkes became Chairman and joint Managing Director with his brother, Arthur Josiah Parkes who had joined the firm twelve months earlier.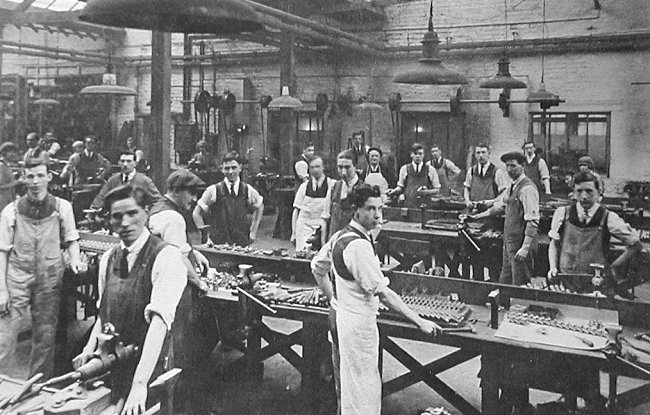 One of the many workshops.
In 1917, William Cyril Parkes became a majority shareholder in the Crane Foundry, Wolverhampton, taking control of the company from the Crane family. The foundry became part of Josiah Parkes & Sons and began to specialise in castings for the engineering industry, and Parkes' lock cases. It remained under the control of Josiah Parkes & Sons until the 25th June, 1945, when the foundry was sold to Qualcast for £9,200.
By 1917 so many men had enlisted that Parkes, like most other manufacturers in the area, had to employ women workers. When the war ended the women did not automatically lose their employment. Conditions were not easy for women employees - they were not allowed to speak at work and had to meet together to walk home at the end of the day, to avoid attracting men's attention. Two members of staff lost their lives whilst serving in the armed forces. They were E. Ashbrooke, and R. Highway.
The Union Engine
The two-stroke engine was developed in 1918 to supply the many motorcycle manufacturers who would cater for the expected surge in demand for motorcycles after the war. An initial version of the engine was patented by Mr. R. S. Whaley. It could deliver 2¾ hp. and had a bore of 69 mm. and a stroke of 78 mm. Further development took place in early 1919, after which it was optimistically claimed that the engine could deliver 5 hp. with a fuel consumption of 125 mpg. The bore was now 70 mm. with a 76 mm. stroke.
It was available with a C.A.V., E.I.C. or Runbaken side-mounted magneto, and an A.M.A.C. or Brown Barlow carburettor. It also had a special lubrication system where oil was fed to the moving parts through pipes on either side of the crank case.
The engine was successfully tested at the Camarthen Hill Climb on 4th August, 1919, and appeared in countless adverts. It was also exhibited at the November 1919 Olympia Motor Cycle Show.
A number of manufacturers purchased the engines, including Autoglider, Baron, Coulson, De Luxe, Macklum, Priory, Romper, and Sirrah. Production continued in Willenhall until about 1926 when the engine and manufacturing rights were acquired by Wiseman's of Glover Street, Birmingham, who built Sirrah motorcycles. Before the year was out, production at Wiseman's ended, so it seems likely that no Union engines were ever made in Birmingham. Engine production at Willenhall probably came to an end because Union engines could not compete with the cheaper and superior Villiers engines with flywheel magneto.
The Union two-stroke engine. The advert on the left is from 1919. The engine on the right is on display at the Black Country Living Museum.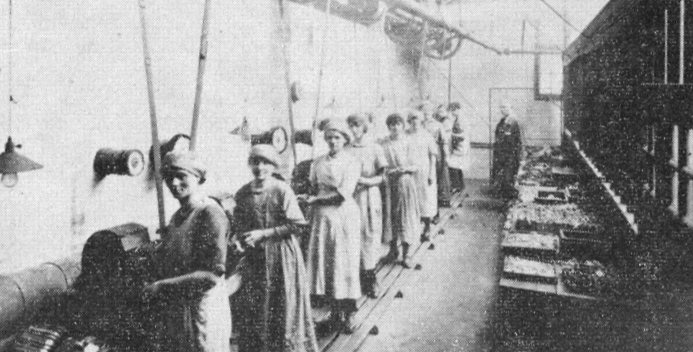 Women workers in the early 1920s.
New Buildings and Another War

In 1921 the firm began to rent fifteen acres of land in Portobello on which to build a sports ground. Two years later the first sports pavilion was erected there. In the 1930's the Union Street premises in Willenhall were modernised and a new office block was completed in 1933. A year later the small houses where the firm started making locks, and later used as offices, were demolished. In 1935 the freehold was acquired for the land at Portobello with a view to building a new factory there.
| | |
| --- | --- |
| An architect's drawing of the proposed new offices in Gower Street, built in 1933. | |
The new offices as built in 1933. The building had a floor area of 16, 056 square feet. It contained a warehouse for finished goods, the wrapping, packing and despatch departments, offices for three of the directors, and for the sales, and accounts staff, the printing office, telephone exchange, the showroom, and a museum.

A pendulum conveyor continuously carried finished products across a bridge over Wood Street, from the factory to the warehouse.
| | |
| --- | --- |
| The Union Works, on the corner of Gower Street and Union Street, built as an extension to the existing works, and in a style matching the new office building. | |
The company was converted into a public company under the name of Josiah Parkes & Sons Ltd, on 28th November, 1936, taking over J. P. and Sons (Holdings) Ltd (formerly Josiah Parkes & Sons Ltd). The directors were C. W. Parkes (Chairman and joint MD), A. J. Parkes (joint MD), W. E. Egar (Secretary) (Stock Exchange Yearbook 1946). The new company had a paid up share capital of £200,000.

In the Second World War (as in the First) the skill and machinery of the company were put to essential munitions manufacture, notably grenades, fuses for shells and landmines, detonators for aero bombs, and bomb release mechanisms etc. as well as locks to secure the spinners of aeroplanes, switches for booby traps, wireless aerials for tanks, and thousands of padlocks to secure kit bags and numerous other purposes. Over five million units and assemblies were produced in the factory for the armed forces. During the war, 152 male employees, and 8 female employees joined the armed forces. Sadly, six of them were killed in action. They were H. Barker, D. Dudley, D. Johnson, L. Ray, T. Rowley, and S. Ward.


Some examples of the company's war work.
| | |
| --- | --- |
| | The Air Raid Precaution Control Room that was in the company's air raid shelters between 1940 and 1945. |
| | |
| --- | --- |
| The Air Raid Precaution Equipment Store, and the Control Officer's sleeping quarters in the air raid shelters. | |
| | |
| --- | --- |
| | The Fire Guard's sleeping cubicle in the company's air raid shelters. |
In 1945 at the end of the war, work started on building a new factory, covering 150,000 square feet, on the company's land at Portobello. A year later the factory opened and began producing lock parts.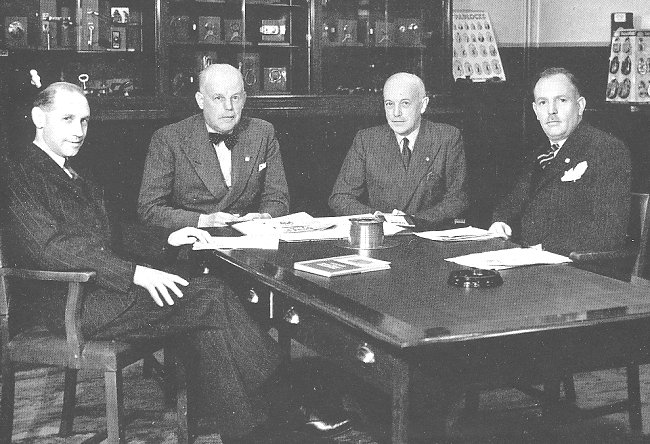 The Board of Directors. Left to right: W. E. Egar, Director and Secretary; C. W. Parkes, J.P., Chairman and Joint Managing Director; A. J. Parkes, Joint Managing Director; and E. C. Fryer, Works Director.
Josiah Parkes & Sons Limited had built up a thriving export business over the years. In 1928 Cyril William had toured Australia, New Zealand and Canada to explore the possibilities of expansion. By the late1940s there were representatives and agents in over 50 countries worldwide.
In the mid 1940s the company described itself as a manufacturer of locks and builders' hardware including lock and door furniture (bolts, knobs, handles, postal knockers, finger plates, and catches), cupboard door fastenings, coat hooks, and gate fittings. In 1946 Harry George Parkes died, Mr. D. S. Maitland joined the firm, and Mr. William Ewart Egar joined the board. In the following year he was joined on the board by Mr. Edward Camden Fryer.

The Capstan Shop.

By the late 1940s locks were produced on a large scale, by a sizeable workforce with a wide range of skills. In addition to skilled locksmiths and keysmiths there were male and female operators of power and hand presses, capstan and automatic lathes, drilling and milling machines, and key-cutting machines.

Other members of staff carried out brass finishing, and electric welding.
The all-important tool room which produced the essential tools for production employed highly skilled people to operate numerous kinds of precision machines, and to precisely fit and harden the tools.

In the factory there were foremen, charge hands, store keepers, routers, progress chasers, and the maintenance staff who looked after the various buildings and the machines. Their team included bricklayers, carpenters, painters, millwrights, and electricians. The warehouse and despatch departments employed cardboard box makers, wrappers and packers. There was also the laboratory, staffed by qualified chemists who regularly tested and analysed the materials and chemicals that were used in production, and carried out trials on new finishes and processes. There was also a test room where the strength, performance, and durability of all the products were checked, and an experimental shop for the development of new products.
| | |
| --- | --- |
| The factory had its own printing department for the production of all office and works stationary, forms, pamphlets, notices, and many of the advertising leaflets. In the office there were calculating machines, and a punch card system that was used to record sales, purchases, payments, wages, and for analysis. | The Laboratory. |
There was also the drawing office where draughtsmen designed the various products and the tooling needed to make them.

Employees worked for 40 hours each week from Monday to Friday, which included a short tea-break each morning and afternoon. The only people who were at work on a Saturday were the maintenance staff who could carry out important work without affecting production.

Left to right: E. J. Foster, North West Coast Representative; T. Dudley, Tool Room Superintendent; and J. Williams, Home Sales Manager.
All employees had one week's paid holiday plus six days leave, with pay each year.

After twenty years service, all employees were given a long service award consisting of a silver badge for men, and a silver brooch for women. After thirty years service a silver gilt badge or brooch was presented, and after forty years service a gold badge or brooch was presented.

When the business was founded in 1840, people worked a fifty-five hour week, which was reduced to fifty hours around 1900, then to forty seven hours after the First World War.
Left to right:
E. F. Ordidge, Development Officer; L. Blakemore, Purchasing Officer;
F. J. Butter, Chief Designer; A. J. Morris, Tool Engineer; D. S. Maitland (seated), Planning Engineer; and
L. Southall, Production Controller.
Left to right:
L. Mable, Plating Shop Superintendent;
K. P. Stanworth, Training and Educational Officer; M. Lloyd, Maintenance Engineer;
F. M. Campbell, Time Study Officer; K. Moran (in front) Electrical Engineer.
The company's welfare department assisted and advised employees on all matters connected with their work, and with personal problems.

The department had a welfare supervisor, and a fully equipped ambulance room and surgery staffed by a qualified nurse, who could treat minor injuries and complaints.

A doctor attended once a week, and sunray treatment was given free of charge providing it had been approved by a doctor.


The Ambulance Room.

The Canteen.

As part of the general welfare scheme, the Union Locks Welfare Society was formed. All staff were eligible for membership, which included access to the Benevolent Fund to financially help members in cases of illness, or accident.

There was also a Sick and Dividend Club that provided its members with sick pay and funeral benefits.
A contributory pension scheme was introduced in 1943 for the benefit of all the permanent staff. It provided a pension that was payable on retirement age. In 1949 it was extended to provide pensions for hourly-paid workers. The company ran an apprenticeship scheme that included training by skilled instructors in the various departments in the factory, and attendance at a technical college during working hours and one or two evenings a week.
The firm's Sports Club oversaw the sporting activities of the various football, tennis, cricket, and bowling clubs, and the sports club refreshment rooms, and any entertainment that took place in the canteen, or the sports pavilion. The canteen could seat around 300 people and served hot lunches, tea, and refreshments that were provided by a firm of professional caterers. There was also a company safety officer who made sure that all the safety equipment required by the Ministry of Labour was provided and that regulations were observed. The firm had a trained works fire brigade, and fire appliances which were provided at various points in the factory.

A group of long service employees in 1946.
The non-ferrous foundry at Portobello opened in 1948, by which time the main products were still locks, latches, and keys, which were produced in numerous sizes and qualities. At this time the firm described itself as a manufacturer of locks and builder's hardware, so other products included lock and door furniture, such as knobs, handles, postal knockers, catches, fastenings of all kinds, and hat and coat hooks. For a time the company also made door bolts, window fasteners, stays, openers, drawer handles, finger plates, gate fittings, hinges, and kicking plates. The policy was to make articles that were in the greatest demand, so locks were also produced for ships, motor cars, filing cabinets, and clothes lockers. The firm produced a considerable percentage of the twenty million or so locks and latches were produced annually in the UK in the late 1940s. The general range of products was distributed through builders' merchants and ironmongers, and the specialised products were supplied directly to manufacturers.

In 1948 Josiah Parkes & Sons (South Africa) Limited was formed with W. F. Boustred as Chairman, for the purpose of manufacturing Union locks and architectural furniture in South Africa. It had a starting capital of £50,000, and was based at Fordsburg, Johannesburg. The manager was Mr. F. G. W. Sutton from Union Works. In the 1960s Josiah Parkes & Sons Rhodesia Ltd. and Josiah Parkes & Sons Nigeria Ltd. were formed. Two further factories were established in Singapore and Kenya to manufacture and assemble Union products in their respective countries.

The company had agents in Buenos Aires, Melbourne, Sydney, Brussels, La Paz, Nairobi, Barbados, Trinidad, Demarara, Rangoon, Winnipeg, Montreal, Las Palmas, Colombo, Santiago, Punta Arenas, San Jose, Havana, Copenhagen, Guayaquil, Cairo, Dublin, Asmara, Addis Ababa, Helsinki, Djibouti, Athens, Guatemala City, Port Au Prince, Amsterdam, Tegucigalpa, Bombay, Karachi, Madras, Baghdad, Kingston, Beirut, Madeira, Valletta, Mexico, Casablanca, Managua, Oslo, Tel Aviv, Peru, Lisbon, East Africa, Rhodesia, San Salvador, Saudi Arabia, Cape Town, Johannesburg, Khartoum, Istanbul, Montevideo, Caracas, and Lagos.
In 1956, the old established business of Edwin Showell & Sons of Stirchley, Birmingham, was acquired.

Showells was founded around 1830 and manufactured door springs and architectural brass ware. The principal object of the amalgamation was to enable Parkes to offer builders' merchants, the architects, and the building trade, a comprehensive range of builders' hardware.


The company's stand at the 1948 British Industries Fair.
Left to right:
E. R. York, Home Sales Executive; R. J. Jesson, Director and General Manager of Josiah Parkes & Sons (South Africa) Limited; J. H. Adcock, London Manager; W. J. T. Baker, Warehouse Manager; and
R. G. McKay, Export Sales Manager.
Left to right:
F. V. Murtagh, Midland and
West Country Representative;
D. J. Fowler, Southern Counties Representative; H. W. Pritchards, East Coast Representative; and
E. Hewitt, Northern Representative.
Left to right, seated:
F. Nicklin, Chief Inspector;
E. W. Morgan, Works Manager; A. R. Corbett, Departmental Superintendent; and F. Smith, Machine Shop Superintendent.

Left to right, standing:
B. E. Cooke, Portobello Factory Superintendent; and J. Robb, Assembly Department Superintendent.
During the ten years, 1948 to 1958 the firm's capital increased from £389,876 to £1,300,046 and the firm's annual profits before tax increased from £89,882 to £295,007. During the decade the number of employees had more than doubled to nearly 1,800, more than half of whom were women and girls. In 1958 the company produced its authoritative encyclopaedia of the lock trade, by which time the firm's factories covered around six acres..

In 1964 Cyril Parkes retired as chairman and was succeeded by his brother Arthur, who himself retired in 1967. On Arthur's retirement William Ewart Egar became Chairman, and Mr. D. S. Maitland became Managing Director. Cyril Parkes died in 1966.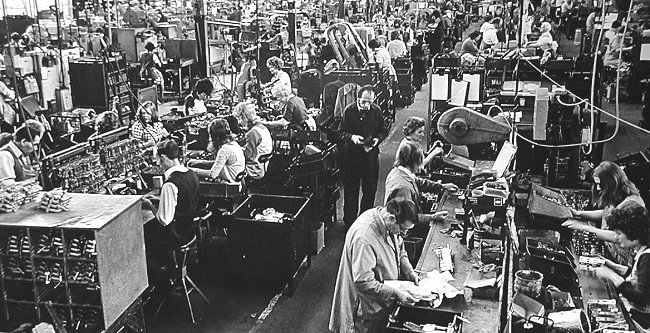 The factory in later days.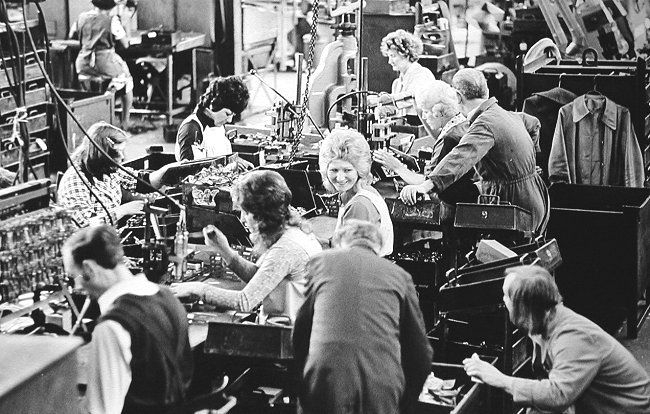 A final view of the assembly area.

An advert from 1958.

The business was acquired by the Chubb Group of security companies in 1965 and became a member of the Racal Group of companies in 1984 on the acquisition of Chubb & Son plc by Racal Electronics plc.

In 1971 the company opened a new metal finishing factory at Portobello, consisting of three buildings. The first, a single storey building, 18ft. high, 150 ft. long, and 100 ft. wide, housed the production department and the plating department. To the west stood the two storey effluent and chemical storage building, measuring 75 ft. by 40 ft. To the east were the polishing department, laboratory, offices, stores, and toilets in a two story building measuring 50 ft. by 115 ft.

The plant included automatic chrome plating machinery, automatic, and hand polishing machinery, barrel burnishing machinery, and machinery for barrel plating in copper, nickel, zinc, brass, and bronze. The factory cost £500,000.

The automatic chrome plating plant was designed to process zinc die castings to B.S.S. 1224 service condition 2. It could handle up to 4480 components per hour.
The automatic polishing plant was of the latest design. The polishing compound was supplied to the machines via high pressure supply lines, and injected into the mops in controlled quantities at regular intervals, resulting in a more economical usage of polishing compound. There were efficient extractors to remove all noxious fumes, which regulated the temperature of the incoming fresh air, and a closed pipe network to carry away all of the waste process liquids to an effluent treatment plant that purified the waste. After treatment the solids were drawn off, and the purified effluent was discharged into the local authority's sewer.
By the late 1970s the company exported locks to eighty four countries, representing 45% of the country's lock exports. Each week around forty tons of locks and hardware were despatched from the firm's factories in Willenhall to various ports for shipment abroad. In 1970 the exports exceeded £1,500,000 in value.
In 1977 the company's excellent record in the export trade was rewarded by their becoming the first lock manufacturer to be honoured by the Queen's Award for Export Achievements.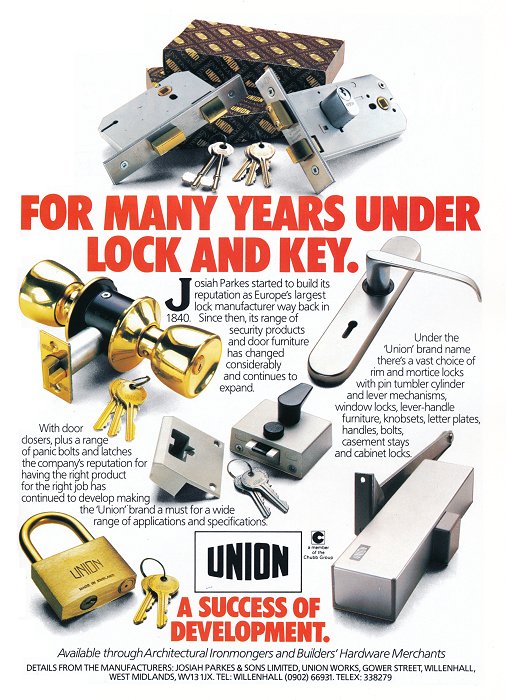 An advert from 1985.
The company was acquired, along with Chubb Locks, by Williams Holdings 1997.

In October 1997 William's Holdings announced changes to the organisation of their Security Products Group. They planned to close the Union factory in Wood Street, the Yale factory in Temple Bar (this was the Yale Die Casting Division on the site of the old Enoch Tonks factory, and had been due for closure before the William's take over). They also closed the Planetary Road Warehouse, which had been used as a warehouse following the move of Chubb Lock making to Portobello; this was the old Albert Marston factory.

The Yale Wood Street site was planned to become the company headquarters and manufacturing unit for all cylinder and padlocks locks. The Parkes Portobello site would concentrate on all mortice production and become the sole distribution site. The proposals would create 240 redundancies over the next 15 months. (Express & Star, 9-10/10/97).


Union locks and door furniture.
The change over to produce all cylinder locks and padlocks at Wood Street took place in May 1998 . The production of the Union Cylinder locks ceased and all locks were made to the Yale design but were marked both Yale and Union. The move to produce all mortice locks at the Portobello site was completed in July 1998, when they ceased to make Yale mortice locks and only made the Union range, although they were sold branded Yale and Ingersoll.
At this point (April 1999) the whole of the Williams Group lockmaking side was reorganised under the name Yale Security Products UK Limited, with offices in Wood Street, Willenhall. All the administration, sales and purchasing etc. took place from there.
Early in 2000 it was announced that Williams were selling this division off to Assa-Abloy, a Swedish lockmaking company. The official take over did not take place until the end of August 2000.
For further information on this company after the Assa Abloy takeover, see the entry for Chubb.

The derelict office building in 2009. It was demolished in 2013.
---
References:
Walsall Archives note on the history of Parkes, prepared by them from reports received from the company in 1994.
Catalogues and brochures issued by the company, and a photo collection, all in the Lock Museum, Willenhall (undated but about 1950s and 1960s).
Union, published in 1949 by Josiah Parkes & Sons Limited.
We are grateful to Yale Security Products for permission to reproduce images which are still in their copyright.
---