MACFARLANE & ROBINSON
stamped steel enamelled hollow-ware and sign plates etc..
Introduction
Macfarlane and Robinson Ltd. were a Scottish company, based at the Roxborough Works, Scotstoun, Glasgow. They also had premises in Southwark Street and Red Cross Street, London. And, of course, they had premises in Wolverhampton, in Lower Stafford Street.
George Peck remembers this company in Stafford Street and says this about them:
Macfarlane and Robinsons, the old enamel and earthenware people, where behind the Elephant & Castle. They made big dishes, big trays, gas plates and things like that. It was a big place, next to what we called the cattle shunt and the big Co op. coal wharf. It caught fire, the biggest fire in Wolverhampton at the time. I remember my dad when he came home from his work at the Grand Theatre. He finished work at 11 o'clock and saw the fire on his way home. He went down the road and my mother was worried because he didn't get in until about 4 o'clock in the morning. They had to eventually take pipes down to the canal on the Cannock Road, which was under the two railway bridges. They had to drain water from the canal, because it was such a large fire that the fire engine couldn't cope. After the fire, Macfarlane and Robinsons moved to where Goodyears are. They built a new place there and in later years it was taken over by Goodyears. A lot of the local girls used to work at Macfarlanes, doing the enamelling, the dressing, the painting. They always used white enamel with blue rims.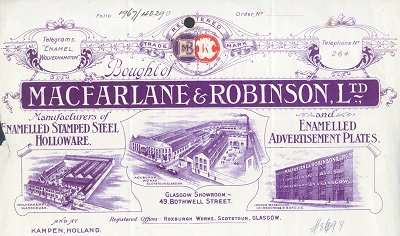 This letterhead, dated 1910, shows three of their factories, and their trade mark.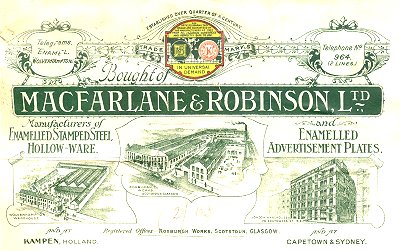 And this one, from 1917, is in a different colour scheme and has a different treatment of the trade marks at the top. Above them there now appears the words "Established over quarter of a century". This suggests that the company was founded not much before 1882.
This advertisement (date unknown) was prepared for the company by the Engraving Co Ltd of Wolverhampton.

Thanks to David Wilsdon for supplying the scan from that company's catalogue.

Presumably all the goods shown - except the "Wright's Eureka Cooker" - were made by Macfarlane and Robinson.
In August 1910 this company issued a large catalogue of their goods. The catalogue was intended for wholesalers and retailers – the trade – not the ultimate consumer. A copy of this catalogue has come into the Curator's possession and what follows is based on it.
The catalogue shows drawings of each of their premises. The one of Wolverhampton (shown above) is titled "Wolverhampton Warehouse". However, it is bigger than the London premises and seems to be about as big as the "Roxborough Works".

The 1902 Ordnance Survey map shows only one possible site for the works – immediately north of the Elephant and Castle – and marks it "Enamel Works".
Although the title page makes no reference to it and there is no picture of it, the catalogue devotes many pages to "Kampen Ware" which is "manufactured in our own Factory in Holland". (Whether this really means that they owned the factory or simply had their good made there, is not clear).
Presumably this was actually in Kampen, a town on the eastern side of the Zuider Zee. All of this suggests that, while the firm probably started by making their own goods in Glasgow, when they expanded they set up a production facility in Wolverhampton, where goods were made as well as distributed. The Kampen factory seems to have produced very heavy, durable pieces. There is no way of telling what was made in Wolverhampton and what was made in Glasgow. The catalogue may even contain items brought in from other companies.
The catalogue, in a notice of the company's terms of business, gives some insights into the trade. Under "Quality and Design" they say: "All Wares bearing our trade mark "MB" or "K" are of standard quality and finish; are guaranteed free from injurious substances, and are perfectly safe to use." As the catalogue contains some pages of wares under the heading "Unbranded Ware" one can only wonder at the standard of those goods, which they were cheerfully selling.

Under the heading of "Damages" they say that all their goods are carefully packed and that "No allowances for trivial defects, from whatever cause, will be recognised, as the trouble of crediting, expense of returning, and difficulty of verifying them is out of all proportion to their value. Customers are respectfully invited to regard a small proportion of petty flaws to be practically inevitable, no matter how carefully the packing is effected, and to consider same as part of the risk of belonging to the trade. Slightly defective articles can invariably be sold without loss". Enough said.
The range of items offered is enormous. The index gives about 300 different items. The great majority are in plain white enamel. But there is also a limited range with pale blue enamel on the outside and white enamel inside. The Kampen ware comes in chocolate/white, brown/grey, grey/grey, dark green/ivory, imitation earthenware/white. But in addition, and not from Kampen, and presumably either from Glasgow or Wolverhampton, there is a range of coloured and decorated holloware.
But like many enamelling companies, they do not confine themselves to holloware. They also sell "hearth plates", in a wide range of colours and designs, which were fixed in front of the fire to catch sparks and cinders; wall plates, in many designs and colours which are in imitation of tiles and could be used for "lavatories, shops, etc."; number plates; and signs of all sorts.
A look through the catalogue gives an idea of the enormous range of products an enamel company might produce; and of how universal enamelled ware was in homes and elsewhere. The purpose of the items and their designs also remind us how different were the ways we used to live.
---