---
A Family at War
The First World War was a time of change. It affected everyone's life, and transformed society forever.
On the home front, work was freely available for everyone, thanks to the wartime contacts that led to investment and expansion in the local factories, which were working flat-out to complete the essential war work. Darlaston was a busy place, but many men had joined-up and gone to war, which led to a shortage of skilled labour. Their previous rolls were taken over by women who carried out all kinds of work, from manufacturing and engineering, to tram and lorry driving. Their new freedom changed the way that women would be perceived in the future and led to their emancipation.
The other side of the war, taking place in Europe, was a very different affair. Large numbers of men lost their lives, leaving grieving relatives and divided families behind. Darlaston War Memorial in Victoria Road carries the names of 268 of them, who sadly never had the chance to return to civilian life.

One of the people named on the war memorial is Joseph Rickhuss who grew up at number 1 Factory Street, and came from a large family.

His parents John and Martha Rickhuss had five sons, John, Joseph, William, Noah, Jerry, and two daughters, Nancy and Laura.

Three of the sons, John, Joseph, and Noah enlisted, and went abroad to fight in the war. Private John Rickhuss enlisted in 1914, soon after hostilities began. He had the misfortune of being on a ship that was torpedoed by the enemy, but luckily was picked-up by a destroyer. He served in Egypt and the British campaign in Salonika.


Mrs Martha Rickhuss and her two daughters, Nancy and Laura.
| | | |
| --- | --- | --- |
| Noah Rickhuss. | | John Rickhuss. |

Joseph Rickhuss.

Noah Rickhuss, who was a nut maker, enlisted on 2nd February, 1915 at the age of nineteen and a half, and served as a driver with the 5th Division, and the 19th Battery of the Royal Field Artillery in France and Belgium.

He received one shilling and two and a half pence pay each day. Before his final return home at the end of hostilities, he got married. His wife Florence lived at number 130 The Green.

Private Joseph Rickhuss enlisted in 1915, possibly in March. Unfortunately he was not as lucky as his two brothers. He served with the 8th Battalion of the Leicester Regiment in France and Belgium, and lost his life on the Somme, at the village of Epehy.

The village was freed from the enemy in April 1917, but retaken in March 1918 after a spirited defence by the Leicester Brigade of the 21st Division and the 2nd Royal Munster Fusiliers. It remained in enemy hands until the Battle of Epehy, which took place on 18th September, 1918.
Joseph Rickhuss lost his life whilst serving with the 21st Division on 21st March, 1918. He is buried at Epehy Wood Farm Cemetery where there are 997 war graves.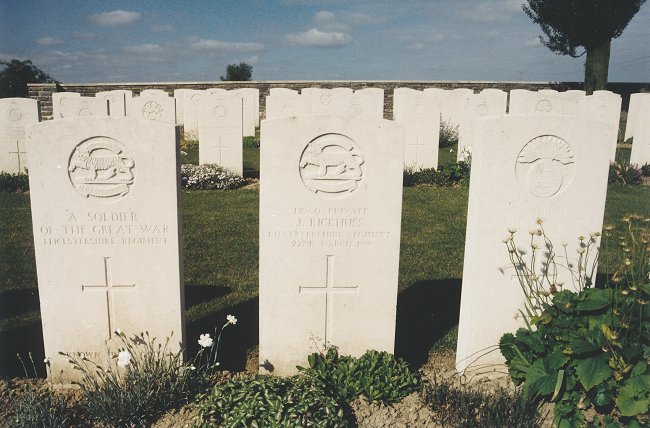 Joseph Rickhuss's grave at Epehy Wood Farm Cemetery.
Private John Henry Whitehouse
Another name on Darlaston's War Memorial is J. H. Whitehouse.

Private 6867 Whitehouse of A Company, 2nd Battalion, Scottish Rifles, was killed in action on 18th January, 1915. His parents were William and Rebecca Whitehouse of Darlaston.

Private Whitehouse, from the 'Picture World' 4th March, 1915. Courtesy of Christine and John Ashmore.
| | | |
| --- | --- | --- |
| | | |
| Private John Henry Whitehouse. He lived at 42 Tilley Street, Darlaston with his wife and children. Courtesy of Christine and John Ashmore. | | John Henry Whitehouse, his wife Mary Jane (né Holder), and their children. Courtesy of Christine and John Ashmore. |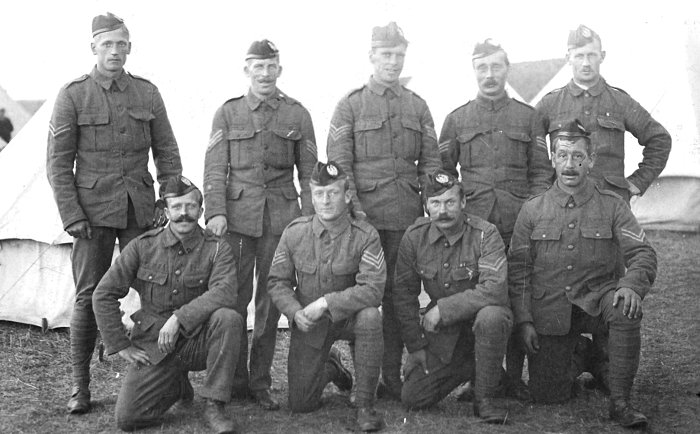 John Henry Whitehouse and some of his comrades. Courtesy of Christine and John Ashmore.
Another casualty, also listed on Darlaston War Memorial is Private Enoch Burns of the South Staffordshire Regiment, who died in France.

Courtesy of Christine and John Ashmore.
Corporal Alfred Wright

Alfred Wright was born in Birmingham in 1894. By 1911 the family had moved to 179 Franchise Street, King's Hill. He was killed in action at Ypres in Belgium on 19th October, 1917.

Because King's Hill was part of Wednesbury until 1966, his name does not appear on Darlaston War Memorial. It appears on Wednesbury War Memorial as A. W. Wright.

I have to thank the Wright family for permission to use the photo.
A cutting from an unknown newspaper, reporting Corporal Wright's death.

Courtesy of the Wright family.
---