---
Life at the Close of the Century

In 1887, Darlaston's first sewage works opened at Bentley, but it still took another 40 years before sewers were laid in all of the streets, so the old fashioned privies, and the night soil men prevailed. At this time Darlaston was a thriving town, with plenty of shops catering for all of the population's needs. King Street had a look of affluence that has now been forgotten. The shops in King Street were listed in Kelly's Directory for Staffordshire in 1885, some of the more interesting ones were:
Street
Number

Proprietor

Type of Business

1
Lucy Corbet
Milliner
2
John Walk
Outfitter
3
George Butler
Boot & Shoe Maker
4
George Cartwright
Fruiterer
5
Thomas Share
Boot Maker
6
William Hitch
Poulterer
8
Elizabeth Hawkes
Tobacconist
9
British & Colonial
Butcher
10
William Kinsey
Clothier
11
William Powell
Grocer
12
George Haynes
Butcher
13
Vincent Wilkes
Florist
14
Philomon Giles
Green Grocer
15
Henry Bayley
Pork Butcher (lived next door at no.16)
17
John Westmorland
Baker
18 & 19
Wm. Clifford Peach
Draper
20 & 21
Mary Butler
Chemist
22
Zachariah Simkin
Boot and Shoe Maker
23 & 24
Alfred Wilkes
Haberdasher
25
Samuel Bridgewater
Provision & Hay Dealer
26
Abraham Kimberley
Ironmonger & Tinsmith
27
Thomas Penrice
Master Butcher
28
Mark Marston
Sweet Shop & Gun-Lock Filer
29 & 30
Dog and Partridge
Public House
31
Anne & Saphina Sansom
Private Girl's School (Poplar House)
32
John Mosley Price
Printer, Bookseller, Newsagent, & Stationer
33
Samuel Dangerfield
Rebecca Dangerfield
Relieving Officer - Darlaston area
Corset Maker
34
Eli Granger
Fishmonger
35
James Harris
Grocer
36
James Watts
White Lion public house
37
John Thomas
Fishmonger
38
Ellen Anne Wright
Post Office
39
Mary Baker
Ironmonger
40
Francis James Mills
Boot Dealer
41
John Wilkes
New Inn public house
43
Mrs. William Small
Dress Maker & Milliner
44
Frederick Warren
Queen's Head public house
47
Edward Teece
Poulterer
50
Samuel Jacques
Boot Repairer
51
Richard Pickerell
General Dealer - Holloware, Toys, Tea etc.
52
Joseph Griffiths
Hosier
53
Star Tea Company
Grocer
54 & 55
William Harrison
Draper
56
William Parker
Druggist and Chemist
57
Richard Cotterell
Waggon & Horses public house
58
Alex MacMillan
Draper
59
Robert Hall
Pawnbroker
60
Samuel Partridge
Doctor and Medical Officer of Health
In those days most things could be purchased here and so there was little need for anyone to shop elsewhere.

Next to the Black Horse pub in Pinfold Street was the shop of William Winn; grocer, wine and spirit merchant. In the early 1890s he purchased an electricity generator, and was one of the first people in the area to have electric lighting. He let it be known when the lights would be switched on, and people flocked from miles around to see them. He was a very successful businessman and did a record trade at this time. He lived at Ilmington in Crescent Road, which was, and still is one of the most splendid houses in Darlaston. He was a member of the council, and made a gift of the trees in Crescent Road to the town.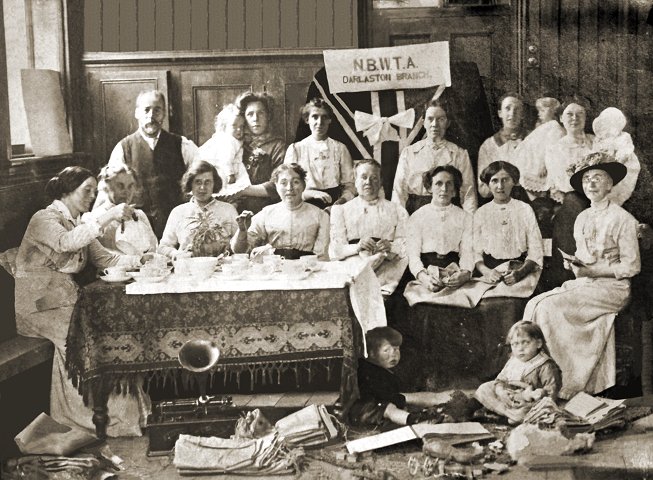 Members of the Darlaston branch of the National British Women's Temperance Association. The association was founded in 1893 as an offshoot of the British Women's Temperance Association, but began to suffer from falling membership around the time of the First World War. In 1926 it became part of the National British Women's Temperance Association Union. From the collection of the late Howard Madeley.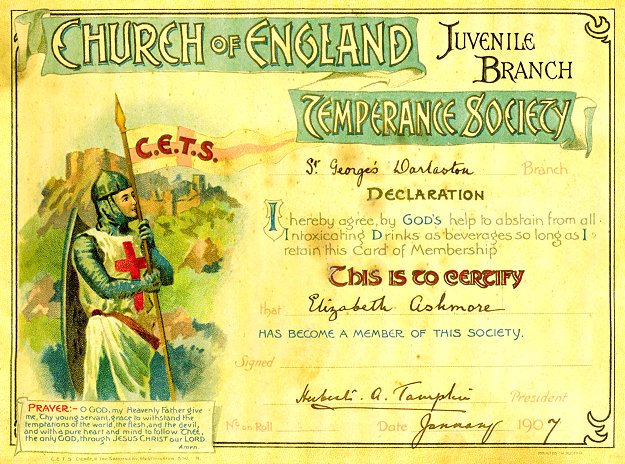 The Church of England also had a temperance society, that met at St. George's Church. Courtesy of John and Christine Ashmore.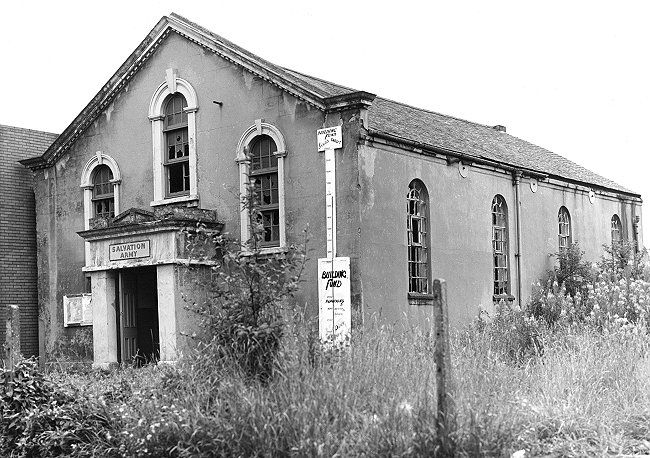 The British Women's Temperance Association met in the Temperance Hall in High Street, which by 1887 had been taken over by the Salvation Army. It is seen here, awaiting demolition in the early 1970s, in readiness for the building of the original ASDA store.

Pinfold Street and the Bull Stake in the late 1950s. The Old Castle Hotel and most of the buildings on the far side of the street disappeared when St Lawrence Way was built in the early 1970s.
| | | |
| --- | --- | --- |
| | | |
| An advert from 1916. | | An advert from 1906. |

An advert from 1916.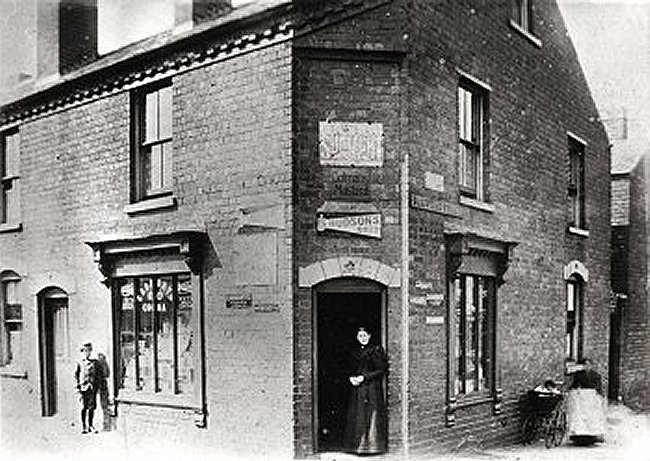 A shop on the corner of Gladstone Street in about 1896. It was run by the Yates family and in the doorway is Elizabeth Yates. Courtesy of Ian Beach.
| | |
| --- | --- |
| | Victoria Road in about 1910. The scene has changed very little since the photograph was taken. In the centre on the left is the Swan Hotel which still has the original windows The one on the far side facing the Town Hall still bears the name of Samuel Canlett who was the landlord in the late 19th and early 20th century. He also ran a pork butcher's business from the pub. |
Rough Hay House, which must have been the oldest house in Rough Hay. It stood on the northern side of Rough Hay Road, about 50 metres west of the junction with Willenhall Street.

From the collection of the late Howard Madeley.
---