---
The Brooke Tool Manufacturing Company Limited
Brooke Tools of Warwick Road, Greet, Birmingham was founded in 1903 to acquire two private companies, the Brooke Tool and Stamping Company, and the Brooke Tool Manufacturing Company.

In 1913 Alfred Owen acquired a controlling interest, and the business went from strength to strength.

Between 1922 and 1939 the turnover increased twelve times, and by 1944 it had increased sixty times.


Trade mark.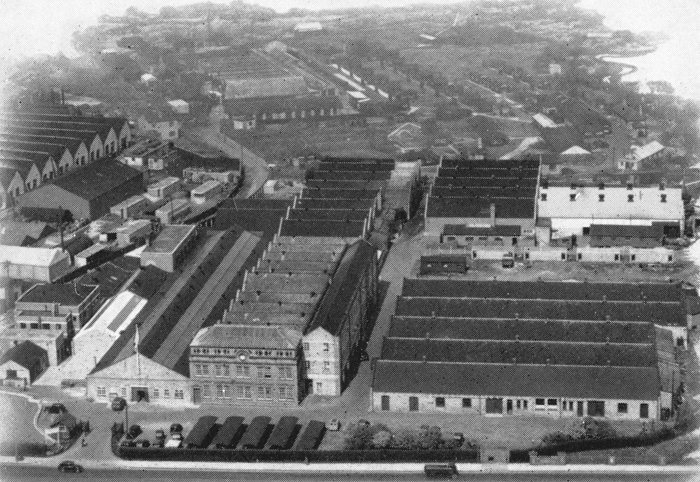 The Warwick Road factory. On the right is the premises of A. G. Sutherland Limited, another Owen Group member.

An advert from 1936.

The firm produced a vast range of engineers' small tools under the 'Cardinal' name.

Products included twist drills, gauges, reamers, milling cutters, counterbores, taps, slot drills, drill chucks, machine vices, jigs, fixtures, suds pumps, machines with multi-heads, metal slitting saws, and all kinds of machine shop equipment.

The firm had a stand at the 1937 British Industries Fair displaying most of the company's range of engineers' small tools, and in 1938 became a public company.

In 1941 Brooke Tools acquired lathe maker T. S. Harrison & Sons Limited of Heckmondwike.

By 1961 the firm had 700 employees, and had developed a range of special tools including non-slip drill chucks, a tapping attachment with a Ferrodo clutch, gear pumps for suds, oils or other fluids, and a cam action vice with a swivel base and quick action jaws.

In February 1966 Rubery Owen increased its shareholding, so as to own most of the company's shares.
The extensive range of 'Cardinal' tools included the following:

'Cardinal bladed cutters in a standard range of diameters of from 4 to 12 inches, with blades of 18% tungsten high speed steel or of cobalt alloy, amalgamated by fusion into a nickel chrome shock-resisting body. Although cheaper, the tools had a longer life than the standard solid cutters. Inserted blade facing heads, in diameters of 4 to 14 inches had blades of 18% high speed steel, or special cutting alloys, held in position by screws and wedges.

'Cardinal' counter bores were useful boxed sets of counter boring tools, complete with pilots which fitted a single holding shank. They had a range of diameters of ½ to 3 inches.

'Cardinal' Mark 1 drill chucks were available in key operated or keyless forms. They were self-tightening and had a range of capacities from three sixteenths to three quarters of an inch. 'Cardinal' Mark 2 drill chucks ¼ to ¾ of an inch.
'Cardinal' rapid slip chucks were strong, reliable tools, made in five sizes with collets giving a range from 0-5 morse tapers. 'Cardinal' tapping attachments, in three sizes, had a range from ⅛ to ¾ of an inch, and had an adjustable friction clutch, depth stop and quick reverse gear.

'Cardinal' gear pumps, although primarily designed to supply coolants to machine tools, were capable of adaption to meet many other pumping requirements. Pressure pumps were also made, capable of pressures up to 500 lbs. per square inch.

'Cardinal' machine vices had either screw or cam action, and fixed or swivel bases.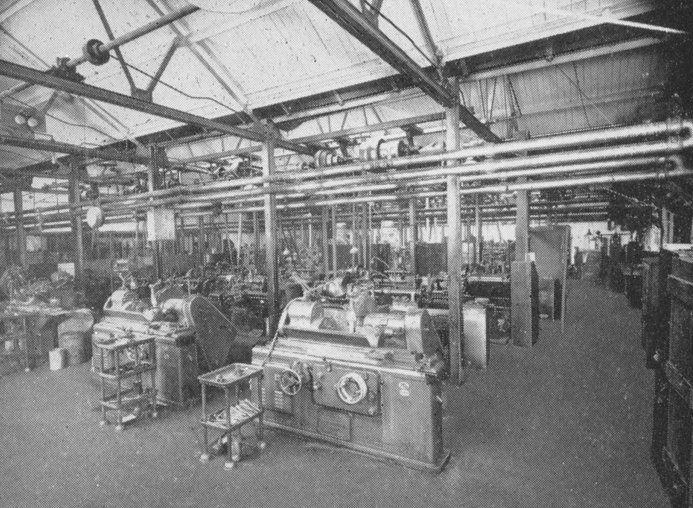 The turning section.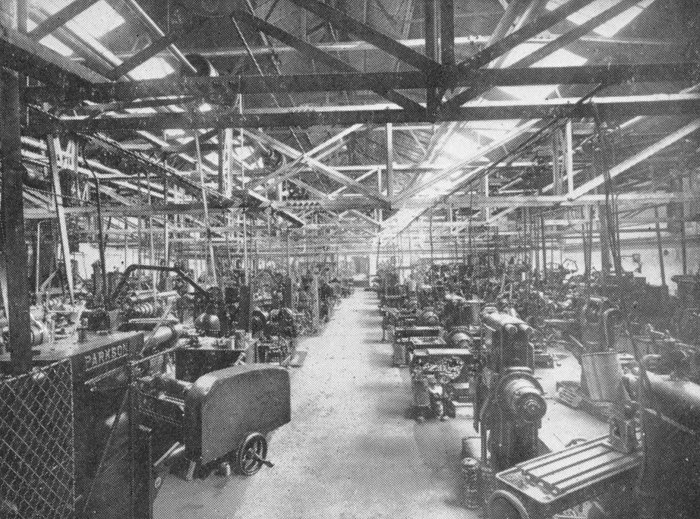 The milling section.

The grinding section.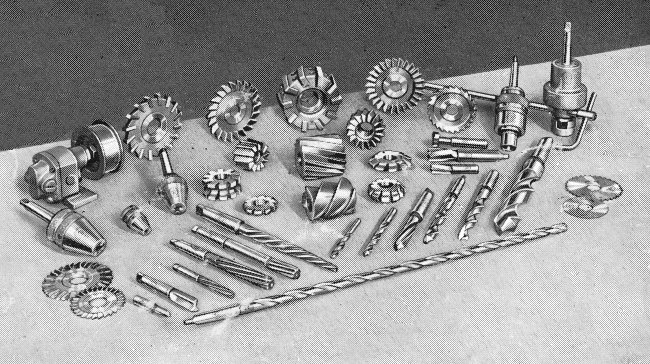 A selection of 'Cardinal' tools. From the summer 1947 edition of the staff magazine "Pyramid".
'Cardinal' 3-jaw drill chucks.

Rapid slip drill chuck.

From the summer 1947 edition of the staff magazine "Pyramid".
Cam action machine vice.
Suds or oil gear pump.
From the summer 1947 edition of the staff magazine "Pyramid".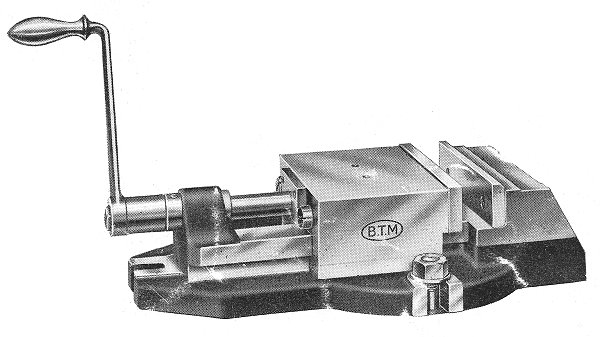 Machine vice. From the summer 1947 edition of the staff magazine "Pyramid".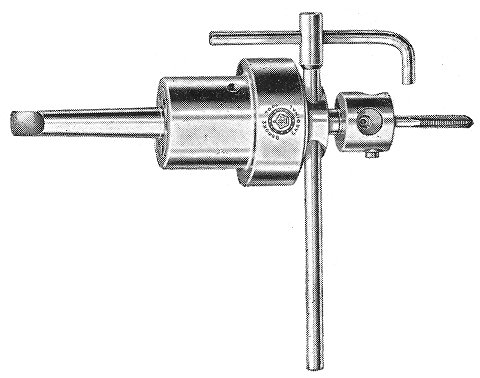 Tapping attachments. From the summer 1947 edition of the staff magazine "Pyramid".
| | |
| --- | --- |
| | Some of the products from the 'Cardinal' range. |
| | |
| --- | --- |
| More products from the 'Cardinal' range. | |
T. S. Harrison & Sons Limited, Heckmondwike
T. S. Harrison & Sons Limited was established in 1898 at Heckmondwike, Yorkshire, midway between Leeds and Huddersfield. The firm began as a pattern-making business, supplying local foundries, but quickly developed into a general engineering business.
The company soon changed direction again, becoming a machine tool manufacturer after the production of the first Harrison centre lathe, in 1900. Initially, single sets of castings and parts were machined and fitted to one lathe at a time, but as production increased, batches of 200 sets of components were precision machined and sent for final assembly. The lathes were sold both at home and abroad. A large percentage of them were exported.
In the 1930s depression, the company extended its product range to cover a wide range of special sizes of centre lathes, brass finishing lathes, grinding machines, drilling machines, boring machines and hydraulic jacks.
In the Second World War the firm concentrated on the production of the Harrison 4½ inch centre lathes, 'Union' double-ended grinding machines, bench drilling machines, testing centres, surface plates, angle plates and machine vices. Large numbers of lathes were supplied to the Admiralty for mobile workshops, training schools, and for use on ships, and in dockyards.
In 1941 the business was taken over by the Brooke Tool Company, and became part of the Owen Organisation. A. G. B. Owen becoming Chairman. Demand for the company's products rapidly grew, and so extra premises were acquired in 1942 and 1944.
After the war, the product range was again extended, and some of the discontinued items were reintroduced, particularly the Union 'Jubilee' woodturning lathe, greatly needed for the re-equipping of schools, and also the Harrison 7 inch centre lathe, which had been a popular pre-war machine. By this time, there was a great demand for Harrison lathes, both at home and abroad. They were exported to 23 different countries.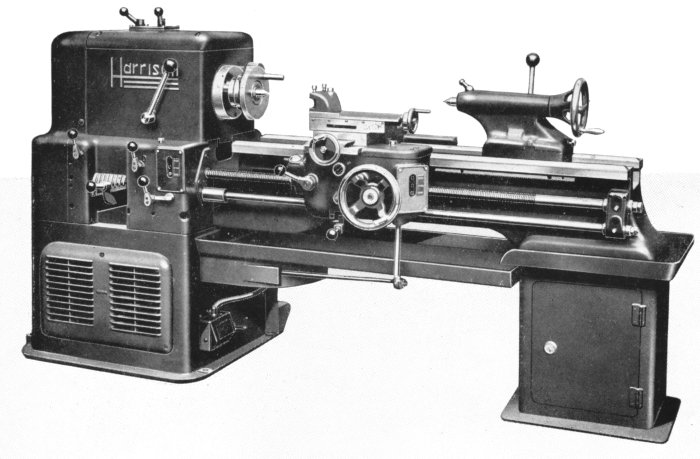 A Harrison 7 inch, all centre, geared head, 12-speed, screw-cutting lathe.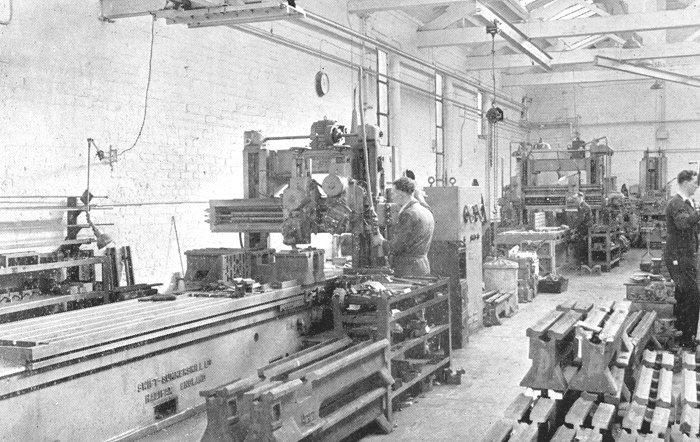 Planing lathe gaps in the machine shop.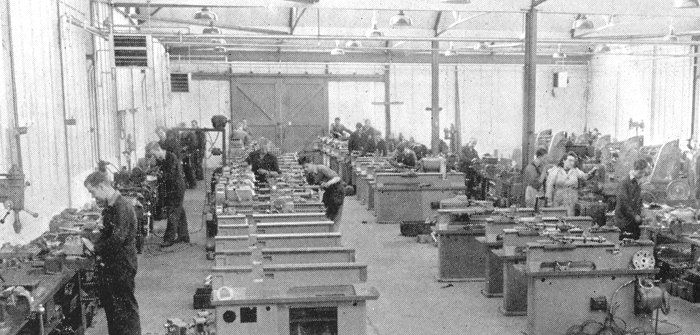 Assembling and fitting lathes.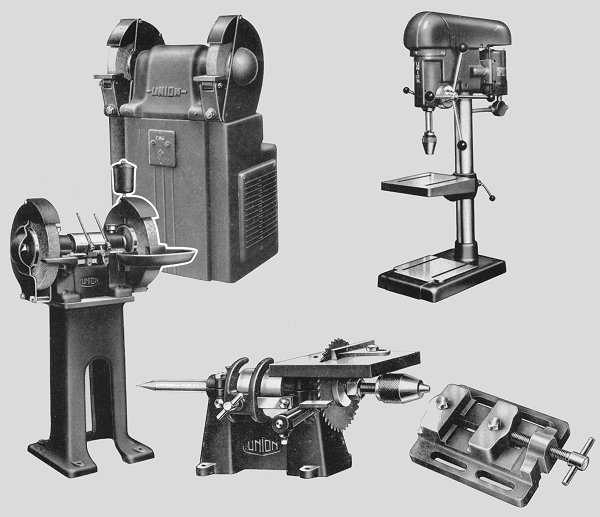 Some of the many tools produced by the company.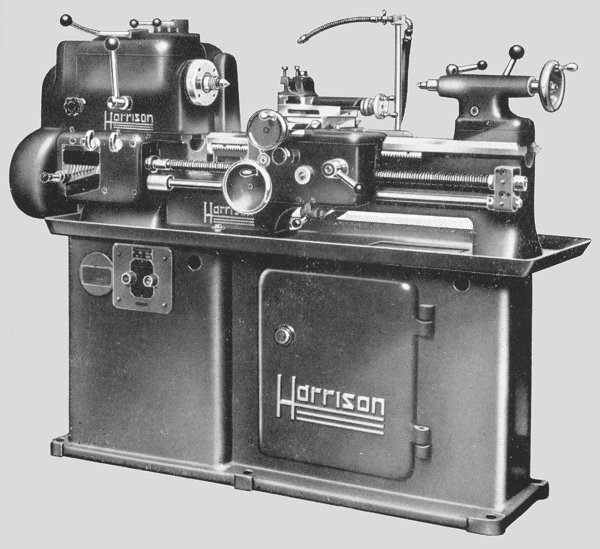 A Harrison 4½ inch centre, all-geared head, 8-speed screw cutting lathe.
---