---
BSR was a household name in the 1960s, 1970s and 1980s when vinyl records were very popular and almost every household possessed a gramophone. Tape recorders also became popular in the 1960s, when many people owned a BSR tape deck.
The business was started by Daniel McDonald who was born in Fort William, where his father ran the successful McDonald Brothers grocery store. After attending Glasgow University, Daniel McDonald got a job at B.T.H. in Rugby, where he was involved in the design of audio amplifiers for cinema projectors. He moved to the West Midlands, when he was transferred to the B.T.H. factory in Cakemore Road, Blackheath. He soon became disillusioned with B.T.H. and left in 1930, determined to start his own business.
In Blackheath he lodged at the home of Ben and Sadie Shephard in Highfield Road and formed a relationship with their daughter, Winifred, who worked in Oldbury Post Office. They were later engaged and married in 1932. The Shephards also had a son, Percy, who started working on small projects with Daniel, such as audio amplifiers.
Daniel rented a small workshop near his home, where bellows for local nail manufacturers had been made. It was a brick building with around 400 feet of floor space and so was ideal for Daniel's needs. He began making audio amplifiers and radios, to order, and soon got the contract to build a 120 watt public address system for Blackburn greyhound stadium. He also manufactured mains transformers and audio output transformers and in January, 1932, began to use the BSR name (Birmingham Sound Reproducers). In May he took-on his first employee, Nancy Rotham who looked after the bookkeeping. In June, Percy Shephard left his job as a toolmaker at Lench's and joined Daniel in the business.
In January 1933 the business moved to part of a joinery yard in Claremont Street, Old Hill, where there was a two storey building with a floor area of 5,000 square feet. The first product made there was the 'Ampligram', a record player into which a microphone could be plugged, so that it could also be used as a public address system. Towards the end of the year, BSR was also producing a five valve radio and loudspeakers. In 1934 the company launched the VS8 radiogram, followed in 1935 by a range of audio amplifiers, turntables, loudspeakers, microphones, mains transformers, audio driver and output transformers and audio signal generators.

An advert from 1949.
Product development continued and more employees were taken on. An audiometer to test people's hearing was launched in 1936 and in 1937 a cardio tachometer was produced to diagnose heart disease. Around this time, Daniel enrolled on a medical course at Birmingham Medical School to increase his medical knowledge.
During the Second World War the company became involved in the design and production of military equipment, including a device to set off acoustic mines, an underwater submarine detector and aerial trimmers for RAF communication equipment. At the same time the production of the BSR audio products continued and the firm took-on a lot of extra staff. Some of the government orders continued until the early 1950s
In 1947, BSR developed a shaded pole motor which would become an essential component in future record and tape decks. The firm also developed a portable disc recording outfit, the DR66, the company's first venture into sound recording. BSR also operated a portable recording studio, built into an Austin van. Other new products at the end of the 1940s included the 'Telemaster' intercom set and a loudspeaker and amplifier for use in police cars.
In 1949 the company began producing turntable units, initially for Decca, but they soon appeared carrying the BSR name. They were extremely successful and because of the high volume of sales, the business had to expand. The Board of Trade declined to let them build a new factory in the West Midlands and so alternative locations were examined. In the end a new factory was built in Blighs Lane, Londonderry.

A BSR Monarch autochanger.
In 1951, a new single storey building was added to the Claremont Street site, to be used for the production of record decks. At this time, BSR developed the 'Monarch' automatic record changer that could handle seven inch, 10 inch, and 12 inch records automatically in any order. One of the most popular makes of portable record players at the time was 'Dansette', many of which used BSR turntables.
By 1953 the existing factories at Old Hill and Londonderry were working close to full capacity, so further expansion was essential in order to keep up with the growing demand. A new factory was opened at Drumaho in Ireland, employing around 150 women and girls. At the same time the Board of Trade gave permission for the building of a new factory in the Black Country and so land was acquired in Powke Lane, Old Hill, where 'Monarch Works' was built. The new factory opened in 1954 and machinery and around 120 members of staff moved there from Claremont Street, along with 150 new employees. In the same year another factory opened in Australia, employing around 120 people.
In 1959 BSR became a public limited company, but all was not well with production. It was discovered that a large number of scrap products were piling up inside the warehouses and so a shake-up of production methods was essential. All of the offending members in the management team were dismissed on the spot, which had a devastating impact on the workforce. Two hundred members of the workforce of around one thousand were made redundant and it took about six months to sort out the scrap products and repair and save as much as possible.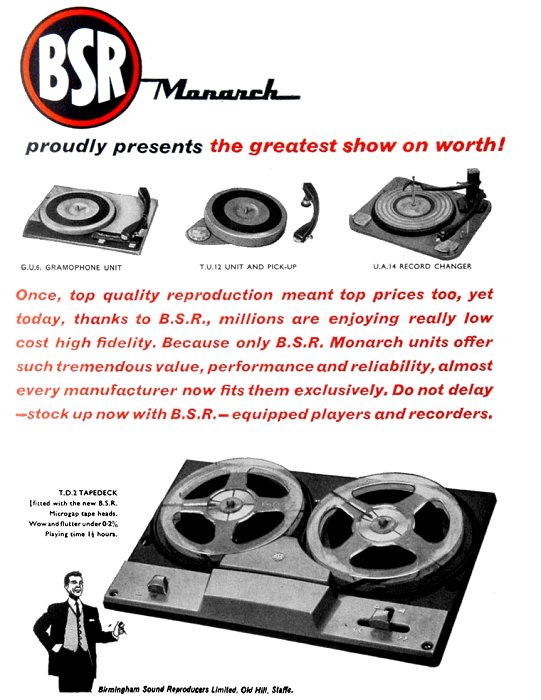 An advert from 1961.
While this was happening, orders still kept arriving, including five tons of record changers for an American buyer. At this time manufacturing centred on the Londonderry factory.
Expansion continued with the purchase of a piece of land at Wollaston, Stourbridge, originally known as Wollaston Mill. A 200,000 square feet factory was built on the site to be used for the manufacture of refrigerators and tape decks. The company had also hoped to produce washing machines, but both the washing machine and refrigerator plans were cancelled.
In 1965 the company launched the UA50 or 'Minichanger' portable record player which was extremely successful. Operations in Londonderry were blighted with stoppages and walkouts by an increasingly militant workforce, leading to a lot of disruption to production. This couldn't be tolerated and so in February 1967 the factory closed, putting the workforce of 2,000 out of a job. Much of the machinery and production was transferred to Old Hill, as were some of the staff. Some production was transferred to a new factory at East Kilbride that had opened on the 1st April, 1964.
Higher quality record players soon followed including the UA70 launched in 1966. In 1969 industrial unrest was causing problems at East Kilbride which escalated into a strike lasting 16 weeks. The McDonald family became disillusioned with such problems and sold their shares, which raised £16.25 million. John N. Ferguson took over as Chairman and sales continued to grow. In 1971 BSR acquired Bulpitts Limited, manufacturers of Swan Brand electric kettles and ran a recruitment drive to attract more employees. The site at Stourbridge was extended in 1972 when 1,000 new jobs were on offer. The firm also launched an 8 track tape player called the TD8S.
New transcription quality turntables were introduced and BSR acquired Goblin Limited, makers of vacuum cleaners. BSR (Housewares) Limited was formed to oversee the electric kettle and vacuum cleaner part of the business. Although Daniel McDonald had left the business, he reappeared when he opened a company in Wollaston called 'Glenburn', that manufactured high quality turntables in direct opposition to BSR. Glenburn was very successful and so BSR had no alternative but to attempt to take over Glenburn. After lengthy discussions a buy-out was agreed, which cost BSR £4 million.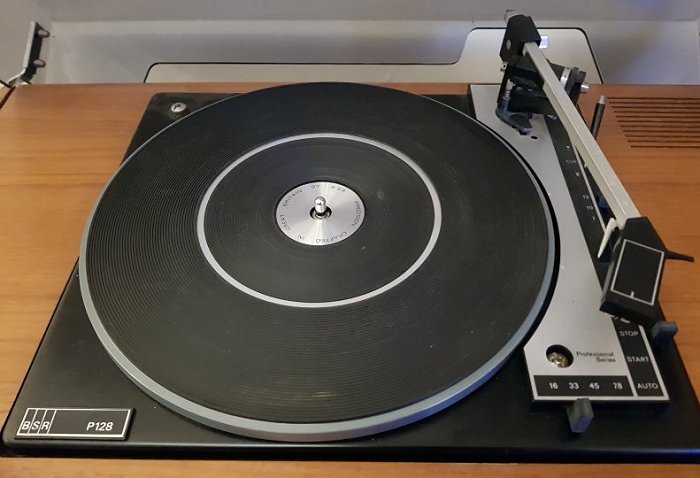 A BSR P128 turntable.
In 1975, work began on a new factory in Garratts Lane, Old Hill, covering 370,000 square feet. In March 1976 the company launched its most innovative turntable, the ADC Accutrac with direct drive and electronic track selection. Expansion continued in 1977 with the acquisition of holloware manufacturer, Judge International.
The last years
There was much industrial unrest in 1978 and far eastern companies began to take a great interest in British manufacturing. The strengthening value of the pound against the dollar had a great impact because America was the company's biggest market, so less money was earned. The sale of electronic goods from the far east had a great impact, particularly on BSR's sales to America, which greatly reduced. As orders fell, short time working was introduced, followed by a four day week, a three day week and voluntary redundancies. In June 1980 the company was forced to announce a further 2,300 redundancies and the closure of the Waterfall Lane site at Cradley Heath.
After loosing £17.8 million, the company attempted to diversify by acquiring Capetronic, a manufacturer of computer peripherals, monitors and modems in Taiwan and Chicago and also Astec International, a Hong Kong based manufacturer of power supplies, mainly for computers.
Problems with industrial unrest continued. On the 3rd June, 1981, one hundred toolroom workers at Stourbridge and Old Hill went on strike, demanding a 5 percent pay rise. Two days later they turned off the power at the local factories and 4,000 workers had to be sent home. A week later the company offered a pay rise of 2 percent, which was rejected and the strike continued. Within a week the company accepted the striker's demands, offering a 5 percent pay rise, back dated to the 1st June, with 2 days extra annual holiday and a promise of no more redundancies until at least October of that year.
By late October the three day working week returned and there were 1,600 redundancies. The future looked bleak and so Astec International took overall control of the business. Things didn't improve and so in February 1983 there were 500 more redundancies and it was announced that the Powke Lane factory would soon close, with a loss of 1,100 jobs. Production was mostly transferred to Stourbridge and office and administration staff moved to Garratts Lane.
There were now less than 1,400 employees. Over the previous five years the firm had lost 10,000 employees and things looked worse than ever. Headquarters was transferred to Hong Kong and the company's name was changed to BSR International plc. Locally 150 jobs were created for the assembly of power supplies, many for BBC computers.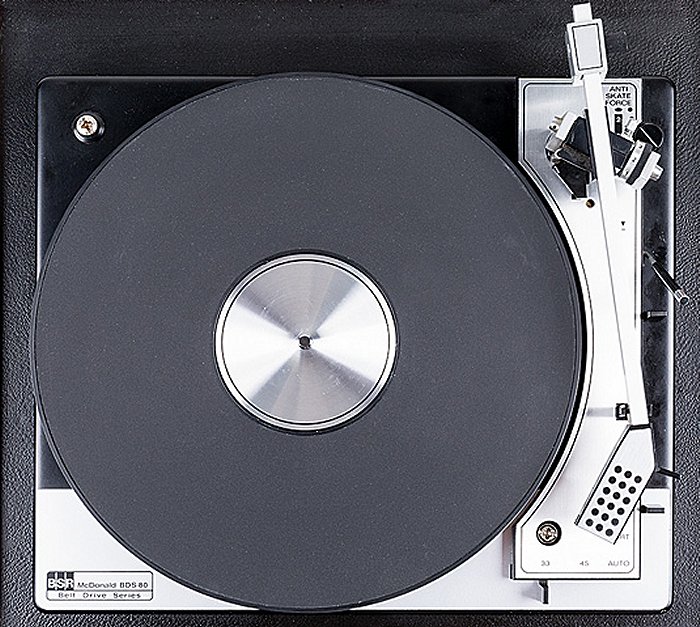 A BSR BDS80 turntable.
The production of turntables ended on the 25th June, 1984, but began again two years later when Schneider in Germany ordered around 60,000 linear turntables. Production however was soon handed to a Chinese company. In June 1989, BSR International plc became Astec (BSR) plc and the BSR name was sold to DAK, a manufacturer based in Los Angeles. The company ceased to trade and the Wollaston site was sold to Sunrise Medical Equipment. It was a sad end to a once successful British Company that had been defeated by cheap imports from the far east.
---