---
Coach Travel
For many years the only form of long distance travel from town to town, for most people, was by the stage and the mail coaches that travelled between coaching inns. Each town on a coach route had at least one coaching inn where horses could be changed and stabled, and refreshments were available, possibly along with overnight accommodation.
In Dudley there was the Dudley Arms, the Old Bush and the Swan. The routes each had a name, which was well known to passengers. There was the Tally-ho and the Royal Mail, both going to London via Birmingham. The Bang-up, the Invincible, the Express and the Lord Dudley travelled to Birmingham. The Emerald, the Everlasting and the Express travelled to Worcester via Stourbridge and Kidderminster.
The Post Office began running experimental mail coaches in 1784. They were much lighter in weight, and carried fewer outside passengers. The horses were changed more frequently, journeys were faster, and time keeping was much improved. The Royal Mail coach travelled to London via Birmingham, from Stourport, Kidderminster and Stourbridge every day and stopped at the Dudley Arms Hotel at 4pm every afternoon. It called on the way back at 9.45am in the morning and picked-up the local mail from the post office in Wolverhampton Street.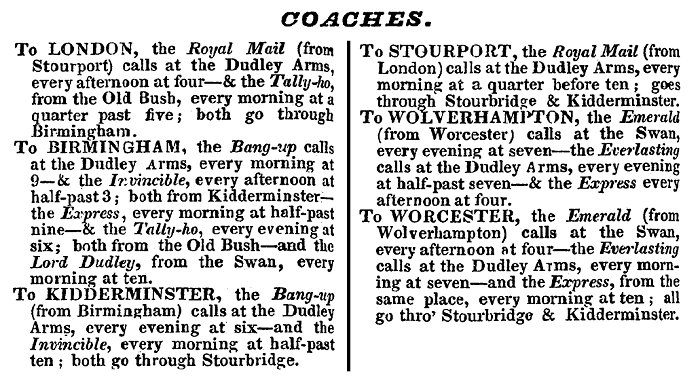 From Pigot & Company's 1828 directory.
This was the age of the highwaymen, so most coaches carried at least one guard for protection. There was a carrier service that carried goods, but also took passengers. It was a cheaper way to travel, but passengers had a rough and uncomfortable open ride. A carrier service, run by Thomas Castle, travelled from King Street to Birmingham on Mondays, Tuesdays, Thursdays and Saturdays. Another service operated by Thomas Wastell, ran from Priory Street, to Wolverhampton on Tuesdays, Walsall on Wednesdays and Stourbridge on Fridays.
When railways appeared, the coaches quickly lost most of their business. By 1851 they had all gone.
---