---
The Black Country was ideally situated for the production of iron, especially from the late 18th century, through to the 20th century. Demand was extremely high in the many manufacturing industries that soon appeared and the raw materials consisting of coal, iron ore, and limestone were all available locally in vast quantities. Thanks to the building of the large canal network, some good roads, and the coming of the railways, transporting heavy iron products was relatively fast and cheap. Many people worked in the ironworks. It was estimated that in Dudley alone, around 500 men and boys worked in iron production in 1852.
The main producers of iron in Dudley
Blowers Green Iron Works was established in 1800 by the Grazebrook family and by 1844 around 177 to 180 tons of iron were produced each week. In 1851 the business was run by Michael and William Grazebrook.
Buffery Furnaces had two ironworks, Old Buffery Furnaces and New Buffery Furnaces. The ironworks were located beside Bumble Hole Road, Netherton and a short branch of the Dudley Canal that ran north westwards from the Bumble Hole. Old Buffery Furnaces was started by Samuel Ferriday who ran Ferriday & Company. The business was declared bankrupt in 1817. It was later run by Richard and Edward Salisbury. By 1855 it had been taken over by Joseph Haden, but had closed by 1865. New Buffery Furnaces had opened by 1817 and were run by Wainwright and Jones. The factory had closed by 1886.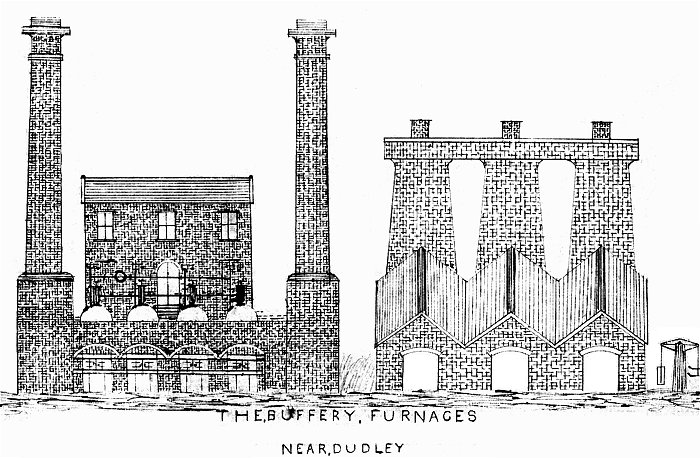 This drawing, made by J. N. Onslow in 1913 was owned by the late David Evans. David was unsure about the accuracy, but they are the only images of the furnaces that are known to exist.
Dixons Green Ironworks was run by William Haden from 1835 until 1867. It had only one furnace and closed down in 1873.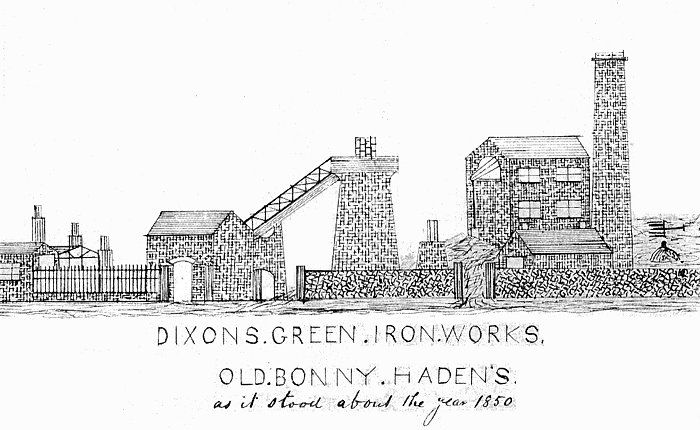 Another drawing, made by J. N. Onslow in 1913 that was owned by the late David Evans.
Hingley & Smiths Ironworks was opened in 1847 by William Jefferies at Harts Hill. In 1848 an iron boiler exploded, killing 40 men and boys. In 1881 it became known as Hingley & Smiths when Noah Hingley & Sons Limited acquired the business.

Old and New Netherton Iron Works. The Old Netherton Iron Works was originally known as The British Iron Company. The Old and New Works later worked in conjunction and in 1844 were producing around 180 to 190 tons of iron each week. In 1845 the business was run by Benjamin Best and by 1851 the agent was George Thompson. The business was later taken over by Noah Hingley. The New Iron Works produced around 18,000 tons of pig-iron per year, which was sent to the Old Works for conversion into the iron that was used at Hingley's factory.

Parkhead Furnaces was run by Parks & Company in 1806. In 1843 the business was taken over by Edward Evers. It was a small scale affair producing just 70 to 75 tons of iron per week, with one furnace that used the hot blast system. The business was still in existence in 1851.

Russell's Hall Ironworks was run by Samuel Holden Blackwell and his father John Kenyon Blackwell in 1827. Russell's Hall Works was known as 'The Dock' and in 1844 was producing around 210 to 220 tons of iron each week. John Kenyon Blackwell retired in 1848 leaving his son Samuel in charge. Samuel had been born in Worcester on the 8th May, 1816 to John Blackwell and his wife Elizabeth. In 1861 Samuel, a widower, was living in Wellington Road, Dudley.

He owned numerous blast furnaces, mills and forges in the Dudley area and collieries in Monmouthshire, along with iron ore mines in the Forest of Dean, Exmoor and elsewhere. He was greatly interested in geology, particularly in the South Staffordshire Coalfield and was a member of the Institution of Mechanical Engineers and one of the Vice-Presidents. In 1852 he read a paper to the Institution about utilising the waste gas from blast furnaces.

He died at Birmingham on the 25th March, 1868, at the age of 51, after a long and painful illness. On his death, Russell's Hall Ironworks closed.

Withymore Iron Works was run by Benjamin Best in 1844 and produced around 180 to 190 tons of iron per week. By 1851 it was being run by Benjamin Best, Barr and Northall. Francis Northall was the furnace manager.

Harts Hill Ironworks opened in 1836 for the manufacture of hurdles and fences, mostly for export to the colonies. Edward Smith ran the ironworks, which by 1851, also produced wrought iron forgings for steam engines. In 1860 the ironworks manufactured many miles of continuous fencing for Queen Victoria's estates. Edward Smith later ran the business with one of his employees under the name of Hill and Smith. The firm then manufactured gates and agricultural implements. By 1883 the firm had around 400 employees.
Moore and Manby, ironmasters, Wolverhampton Street, Dudley.

One of the area's high quality iron makers.

From Griffiths Guide to the Iron Trade of Great Britain.
Moore and Manby, products.

From Griffiths Guide to the Iron Trade of Great Britain.
Woodside Iron Works was started in 1840 by

Alexander Brodie Cochrane and his son. The firm was also known as Alexander Brodie Cochrane and John Joseph Bramah. Alexander Brodie Cochrane senior was born in about 1786 in Eddlestone, Peebles, Scotland. His son of the same name was born in Dudley

on the 10th February, 1813

. Alexander senior moved to Ironbridge from Scotland where he went with

Lord Dundonald who developed the tar works there. In about 1830 Alexander senior became manager of Grazebrook's colliery and furnaces, near Dudley, where his son, Alexander junior also worked and learned about iron production.

In 1838 Alexander Brodie Cochrane junior, went into partnership with John Joseph Bramah and opened a small iron foundry in Bilston.

In 1840 Alexander and his son, founded Woodside Iron Works in partnership with John Joseph Bramah. They leased land at Woodside next to the canal and built the ironworks and a foundry alongside the canal. The partnership was dissolved in 1842 when Alexander Brodie Cochrane senior, retired. By 1844 Cochrane and Bramah were producing around 9,100 tons of iron per year.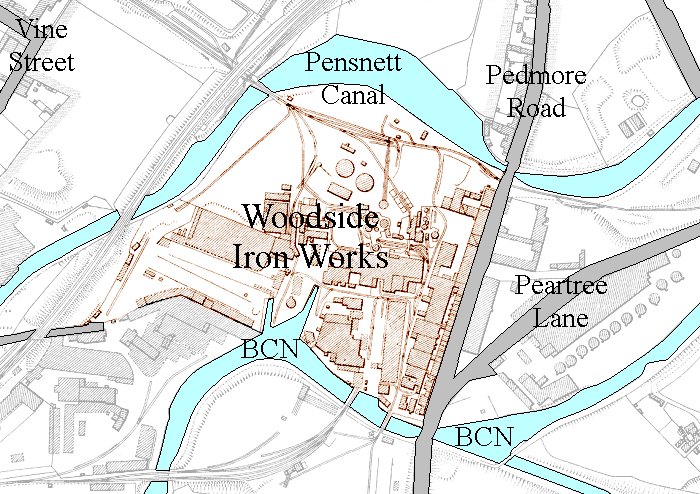 The location of Woodside Iron Works.
In 1846 John Joseph Bramah died and Mr. Charles Geach and Mr. Archibald Slate became partners. The business then became Cochrane and Company.
Woodside Iron Works was a great success, producing large amounts of iron and many products from the foundry. One of the large orders came from Fox Henderson of Smethwick, who subcontracted the work for the manufacture of the huge cast columns for the Crystal Palace in Hyde Park, in readiness for the Great Exhibition of 1851.
In 1851 Alexander Brodie Cochrane junior, lived in Kingswinford, with Esther Cochrane age 40, Mary Cochrane age 12, George Cochrane age 6, Ellen Cochrane age 3, Donald Alice Cochrane age 2 and Alfred Cochrane, age 7 Months.
Alexander Brodie Cochrane senior died on the 8th December, 1853, in Netherton. 1853 had been a time of expansion because the company acquired several collieries in Northumberland and Durham, and established the Ormesby Iron Works at Middlesborough. In 1854 Mr. Charles Geach died and Mr. Archibald Slate left the firm. In the same year an order was received from Australia for 20,000 tons of iron piping for the Melbourne Waterworks.
In 1855, Alexander Cochrane's son, Charles, aged 20, went to work at Ormesby Ironworks and in 1856 became a partner with his father, both at Woodside and Ormesby. Woodside had many large orders including ironwork for several important building projects in London. Including the large caisson and dock gates for the Victoria docks, which opened in 1855, ironwork for the new Westminster Bridge, ironwork for the Charing Cross Railway bridges, ironwork for Cannon Street Railway Bridge and railway station and ironwork for the Holborn Viaduct, which opened in 1869.

The New Westminster Bridge. From the Illustrated London News, 3rd February, 1855.
In 1859 the firm received a large order for the manufacture of the once-familiar

cast iron pillar boxes, where letters were posted.

Sadly, Alexander Brodie Cochrane died on the 23rd June, 1863, at the age of 50, after a long and severe illness, at his residence in Stourbridge. In 1847 he became a member of the Institution of Mechanical Engineers and for some years before his death was one of the Vice Presidents. He was also a member of the Institution of Civil Engineers, which he joined in 1850 and was a magistrate for the counties of Worcester and Stafford.

In his later years at Woodside he experimented with the use of the slack coal for firing ovens and continued to actively manage the company until several years before his death, when he became seriously ill. He was joined by his brother John Cochrane, who devoted much of his time to the engineering side of the establishment. Thanks to his efforts, the firm became well known for the manufacture of cast iron pipes, and supplied nearly all the principal water and gas companies in the country, and also many on the continent in the colonies.

In 1868 the firm produced girders for the Runcorn Bridge over the River Mersey and the Farringdon Street Viaduct in London. There were many other orders including ironwork for the Rochester Road Bridge and Swing Bridge over the River Medway and ironwork for the Clifton Suspension Bridge.

In 1874 Woodside produced a magnificent wrought iron bridge for New Street Railway Station in Birmingham. Charles Cochrane and Joseph Bramah Cochrane took over the business in 1875 after other family members left. It was then called Cochrane and Company. In 1890 it became a limited company.

On the 27th July, 1894, one man was killed and several were injured as a result of a boiler explosion on the Woodside site.

Charles and Joseph ran the business until 1896, when Joseph's son Walter took over. In 1921 the factory closed after a strike and was bought by John Cashmore's Limited and used to manufacture a number of products including street lamps. It closed in 1939.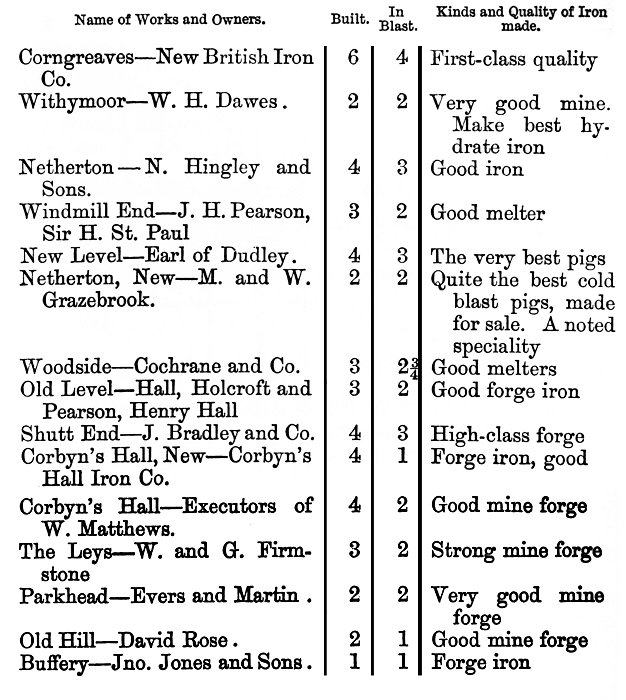 List of blast furnaces in the area in 1872. From Griffiths Guide to the Iron Trade of Great Britain.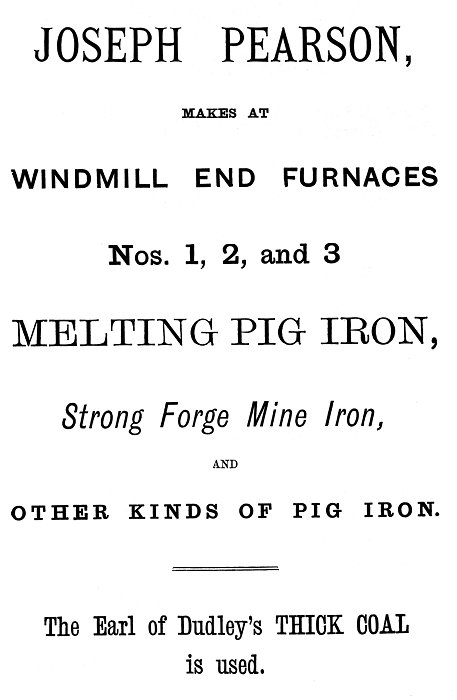 From Griffiths Guide to the Iron Trade of Great Britain.

From Griffiths Guide to the Iron Trade of Great Britain.

Hill and Smith was established in 1824 and became known as Hill's Ironworks. Henry Smith began working for his brother-in-law, Edward Hill, which led to a partnership. Henry Smith died in September 1906 at the age of 82 and was succeeded by his eldest son, Joseph H. Smith, who was killed in a carting accident in 1909 at the of 54. After his death, the firm became Hill and Smith, a private limited company.

Early products included harrows, cultivators, chaff-cutting machines, puddling machines, hurdles, gates and fencing, wrought iron shafts, crank shafts, piston rods and connecting rods. Structural steel was also produced for factories, warehouses, roofs, footbridges and walkways.

The firm also supplied many miles of fencing for Queen Victoria in 1860, Ornamental Gates and parapet railing for the Royal House of Siam, steelwork for the Sydney Harbour Bridge, the Royal Dockyard at Simonstown, South Africa, gates for Hong Kong market and the steelwork for the dome at Birmingham University.

In 1982 the business became Hill and Smith Holdings plc. The firm now designs and manufactures products for the construction and infrastructure industries.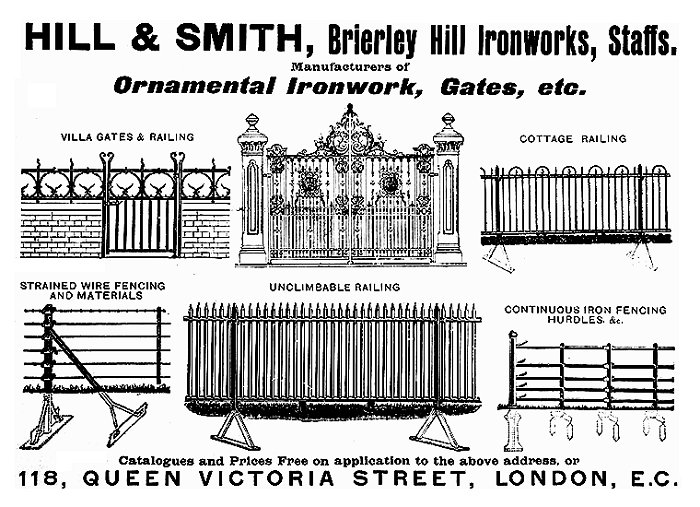 An advert from 1907.
---