---
Coal Mining
The Earls of Dudley made a massive fortune from their mineral rights in Dudley and the surrounding area. At the start of the industrial revolution, coal and iron ore were in great demand. They were in plentiful supply in the area and ready to be exploited. When canals were built, the minerals could be easily and cheaply transported from the mines to factory sites.
When the first canal in the vicinity, the Staffordshire and Worcestershire Canal opened, John, second Viscount Dudley and Ward was largely responsible for linking it to his estates via the Stourbridge and Dudley canals. He was a shareholder in four of the canals and introduced three of the Bills into Parliament that allowed their construction. This included the Dudley Castle Canal Tunnel that linked the Dudley and the Birmingham Canals. After the Act was passed in July 1785, the Dudley Canal Company recorded its thanks to Lord Dudley for his "Unremitted Attention to the Interests of the Company and for his very powerful and successful exertion in Parliament in support of the Extension of the Canal"
Viscount Dudley and Ward's estates in Dudley, Kingswinford, Rowley Regis, Sedgley, and Tipton contained up to nine seams of coal, including the rich thick coal or 30ft seam, along with deposits of iron ore, limestone and clay. The Dudley family became the leading mine owners in the Black Country, who greatly intensified the exploitation of their estates. This resulted in a greatly changed landscape in the area around Dudley and has led to many cases of subsidence, which still occur.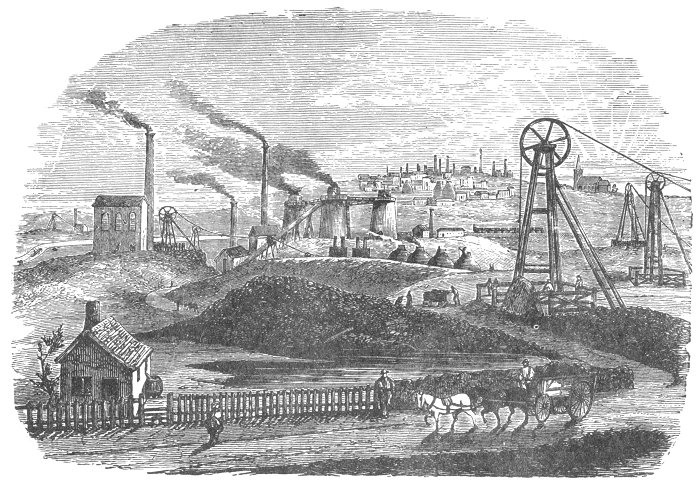 The Earl of Dudley's coalfields. From Griffiths' Guide to the Iron Trade of Great Britain.
Lord Ward initially leased the collieries to charter masters, who employed butty-colliers, who in-turn employed middle men to employ the colliers to mine the coal. In 1797 the system was reorganised when Lord Ward employed Charles Beaumont, who supervised the colliers himself and stipulated how the mines would be run. The colliers were now permanently employed, which didn't happen with the old system. Every fortnight a minimum amount of coal had to be brought to the surface. Beaumont introduced a standard weight for the coal so that the colliers knew beforehand how much they would be paid. The standard rates were based on the types of coal being cut, such as best coal, second best coal, lump coal and slack.
In the 30 foot seam he started a new system in which six foot layers had to be cut, one at a time, to reduce waste. He also instigated the use of one large shaft instead of two smaller ones to carry air into the mine, with a stronger draught. His work resulted in reduced costs and higher profitability for Lord Ward. In 1803 the annual profit was over £3,555 which in today's money is approximately £355,500.
In 1803 Lord Ward employed Francis Downing as Mineral Agent for the Dudley Estate, but by 1826 productivity was falling. So in 1836 he employed Smith and Liddell, mining engineers, to improve matters. They recommended that the business should be put in the hands of a mining engineer and that the mines should be worked to their full capacity, including the removal of the thinner seams of coal and ironstone. They also recommended that the pits should be leased on a 20 percent royalty on sales and that the coal masters and ironmasters should meet all working costs.
Lord Ward appointed Richard Smith as Mine Agent to work alongside Francis Downing. Richard Smith greatly increased the profits from the mines, which by the end of the century were producing a lot of coal for domestic use.
In 1841 over a quarter of the male population of Dudley were occupied in the coal, iron and limestone mines which were run by 17 coal masters. Bentley's Directory of 1840 lists that 1.2 million tons of coal and 150,000 tons of limestone and ironstone were used to produce 24,000 tons of iron in Dudley parish.
The collieries included the Parkhead and Dudley Wood Collieries that served Parkhead Furnaces and Woodside Works, also Shaw's and Badley's at Blowers Green. At Netherton, the rich supply of easily obtainable coal from the 30 foot seam contributed enormously to Dudley's industrial development. It was free from sulphur and with a characteristic long flame that was ideal for the iron industry. Netherton furnaces were well supplied by the New Bufferies and Bumble Hole Collieries. There were large coal and ironstone mines at Coneygre, Russell's Hall, Himley, Knowle Hill and Saltwells. At Kates Hill, coal could be found at the surface.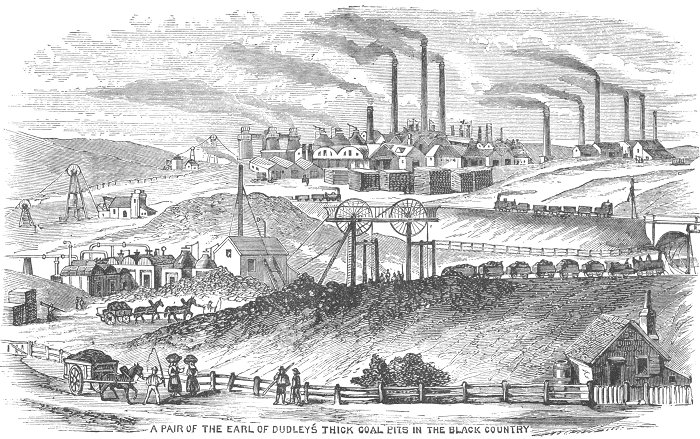 From Griffiths' Guide to the Iron Trade of Great Britain.
Underground work at Saltwells Colliery.

From Griffiths' Guide to the Iron Trade of Great Britain.
Getting Coal at one of the Earl of Dudley's thick coal pits.

From Griffiths' Guide to the Iron Trade of Great Britain.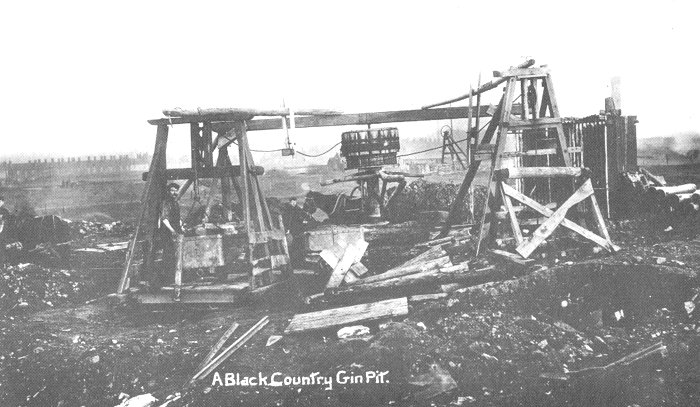 A once common sight in the Dudley area, a horse-driven gin pit. From an old postcard.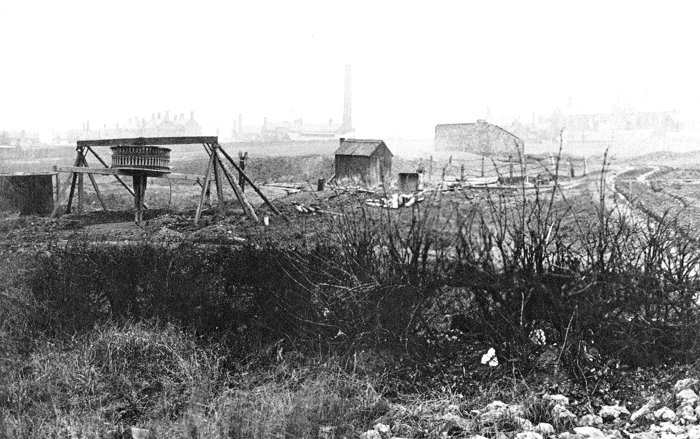 Another typical view of a coal mining area with a gin pit in the foreground. From an old postcard.

A mine with a Newcomen steam engine operating a water pump and the winding gear. From an old postcard.

From an old postcard.

Coal mining was hard and dangerous work. When the demand for coal was high, miners were well paid, but when demand fell, their wages were reduced. In November 1831, many of them joined forces to form a miners' union, so wage reductions sometimes led to strikes and even riots.

In 1878 because of the poverty caused by a wage reduction, a soup kitchen was opened and 2,200 pints of soup were distributed in Dudley, in under two hours. Unfortunately wages continued to fall until the end of the century.

Accidents

There were many accidents including underground explosions. Two men were killed at Saltwells Colliery when the explosive firedamp (usually methane) came up from the sump of the shaft and ignited in 1855.

Firedamp was common in the Dudley pits, accumulating in pockets in the coal. It sometimes collected in the underground workings and could suddenly ignite, killing and maiming miners. Work in a pit would have to be stopped at least three times a day so that the gas could be cleared by firemen who hung a candle from a long rod and slowly raised it until an explosion occurred.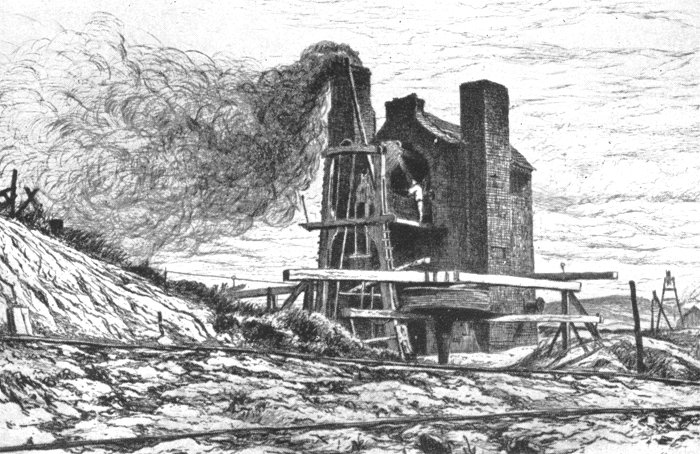 The pumping engine at the Buffery Pit. From Chandler and Hannah's 'Dudley as it was'.
In 1808, James Ryan developed a system to safely ventilate the thick coal at No. 16 Pit, Netherton, in which passages were cut in the upper parts of the workings and connected to air pipes running to the surface. Within a very short time all the firedamp was removed, which allowed the people underground to work longer without having to resort to firemen three times a day. This system was soon used throughout the country.

Coal miners leaving a pit in about 1912. From an old postcard.

An explosion occurred at Homer Hill Colliery, in Cradley, owned by Messrs. Evers and Sons, on the 1st November, 1866. The explosion occurred underground, killing twelve men.

On the 26th April, 1853, eleven men died in an explosion at Old Park Colliery, Dudley, owned by Lord Ward, and another nine men died in September 1857 at an explosion in Gwane Colliery, Rowley Regis, owned by William Mills and Son.

The risk of an explosion could be reduced by the use of a Davy lamp, which was introduced into the Black Country in the early 19th century.

It was not liked in Dudley because the lamps did not give enough light and the gauze which made the lamps safe, would clog-up with coal dust, so that the miners could hardly see what they were doing.

Men also died in accidents while being lowered or raised from the pit. On the 20th June, 1856, eight men fell to their deaths while being lowered down the shaft at number 20 pit, Old Park Colliery, Dudley, when a chain broke.

Dangerous working conditions at the coal face. From an old postcard.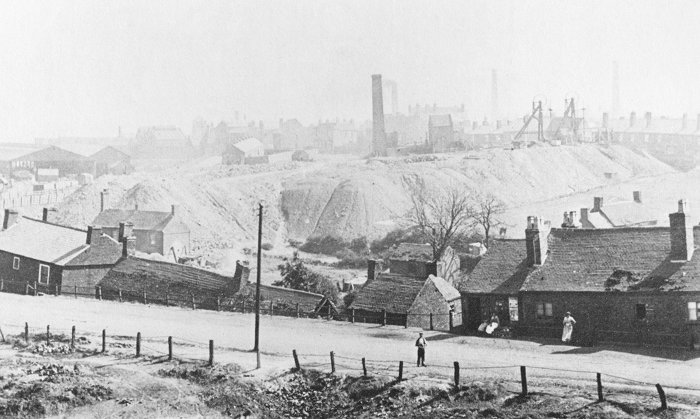 Mining subsidence in Northfield Road, Netherton. From an old postcard.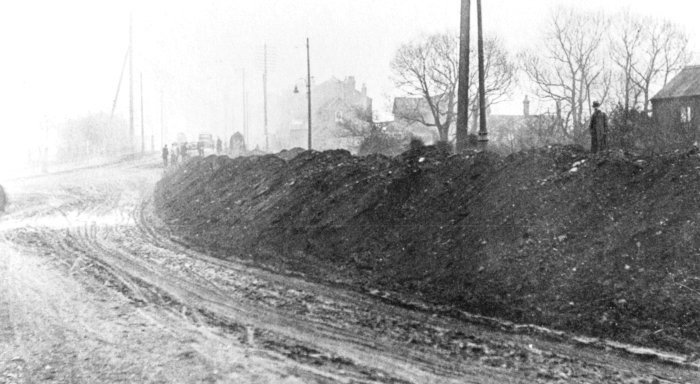 Mining subsidence in Scotts Green Road on 13th November, 1922. From an old postcard.
At Bridge End Colliery in Pensnett, run by Mr. Raybould, six men were killed on the 11th. January, 1864 when a pit horse fell down the shaft onto the men who were being lowered into the mine. At Woodside Colliery in 1893, three men were killed when the winding machine broke while bringing them to the surface.
At number 10 pit, at Saltwells on the 9th. February, 1865, around fifty tons of coal fell around seventeen feet at one of the openings, killing six men. On the 18th. March, 1929 at Coombs Wood Colliery, in Halesowen, managed by Mr. H. J. Newey, eight men died after an underground fire. In another underground fire at the Old Buffery Colliery in 1875, four men died.
Coalmines in Dudley in 1896:

Colliery

Manager

Minerals

People Underground
Surface
Workers

Bournehills, Netherton.

J. Williams

Coal, Ironstone

76
28
Brettell Lane, Brierley Hill.
George King Harrison
Coal, Fireclay
13
3
Bridge End, Brierley Hill.
J. W. Grocott
Coal
51
11
Brickhouse, Rowley Regis.
G. H. Dunn
Coal
37
8
Brockmoor, Brierley Hill.
R. Mills & Company
Coal, Ironstone
44
17
Bromley, Brierley Hill.
J. W. Growcott
Coal, Ironstone
57
20
Bromley Lane, Pensnett.
J. A. Fullwood
Coal
83
17
Coneygre, Rowley Regis.
H. W. Hughes
Coal, Ironstone
301
111
Corbyns Hall, Kingswinford.
Bennett & Bradley
Coal
10
7
Delph, Brierley Hill.
Hickman & Company
Coal, Fireclay
9
4
Fly, Old Hill.
W. B. Keen
Coal
21
6
Granville, Old Hill.
W. B. Collis
Coal
Knowle, Rowley Regis.
R. Mason
Coal, Ironstone
80
25
Merry Hill, Brierley Hill.
Firebrick Works, Stourbridge
Coal
11
3
Oak Farm, Dudley.
J. Walker
Coal, Fireclay
12
4
Old Hill, Old Hill.
Noah Hingley & Sons
Coal, Ironstone
133
51
Pearson, Old Hill,
H. Johnson
Coal
22
14
Saltwell, Cradley.
C. F. E. Griffiths
Coal, Ironstone
167
59
Scotwell, Rowley Regis.
Hawes Hill Colliery Co.
Coal
10
4
Shut End, Kingswinford.
D. Rogers
Coal, Ironstone
113
67
Stour, Cradley Heath.
David Parsons
45
27
Stourbridge Extension, Kingswinford.
Himley Firebrick Company
Coal, Fireclay
15
6
Straits Green, Lower Gornal.
J. W. Newey
Coal, Ironstone
26
7
Thorns, Brierley Hill.
Gilbert Claughton
Coal, Fireclay
18
18
Tiled House, Kingswinford.
R. S. Dodd
Coal
86
32
Timbertree, Cradley Heath.
W. H. Chapman
Coal
40
25
Turners Lane, Brierley Hill.
Harris & Pearson
Coal
15
9
Upper Gornal, Dudley.
A. P. Taft
Coal, Fireclay
32
5

Salop Street No. 2 Fireclay Pit in the London Fields area. From an old postcard.
Fireclay Mines in Dudley in 1896:
Mine
Manager
Minerals
People Underground
Surface
Workers
Brettell Lane, Brierley hill.
Trotter, Haines & Corbett
Fireclay
14
5
Clattershall, Brettell Lane, Stourbridge.
Bowens Limited
Fireclay
15
4
Crown, Amblecote.
E. J. & J. Pearson
Fireclay
15
2
Dibdale, Lower Gornal.
T. E. Jackson
Fireclay, Pyrites
38
15
Freehold, Lye.
William Cox
Fireclay
3
1
Moor Lane, Brierley Hill.
John Hall & Company
Fireclay
17
9
The Dudley family's last pit, Baggeridge Colliery, began life after the first shaft was sunk in 1902 to reach a thick coal seam, 1,800 feet below the surface. Two further pit shafts were sunk in 1910 and full production began in 1912. It was served by a branch of the Earl of Dudley's Pensnett Railway and in its heyday employed 3,000 men who produced around 12,000 tons of coal per week. The pit closed on the 2nd March, 1968 and was the last remaining pit in the Black Country.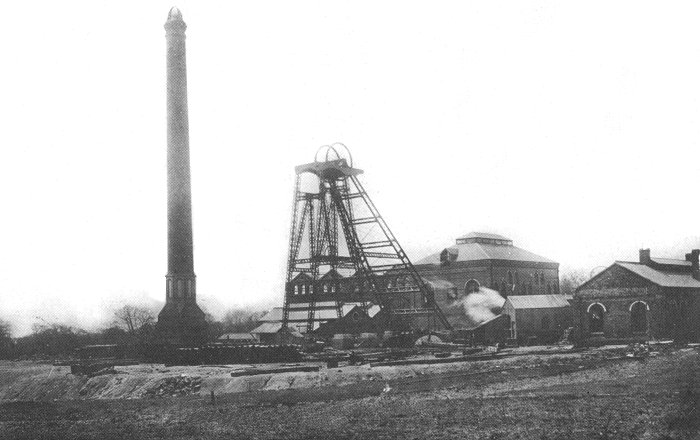 Baggeridge Colliery. From an old postcard.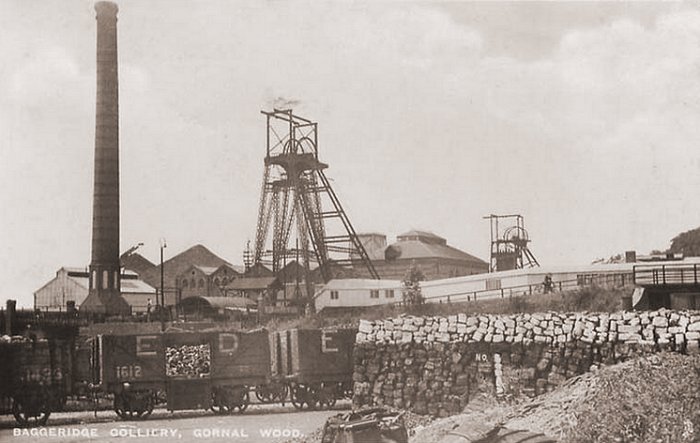 Another view of Baggeridge Colliery. From an old postcard.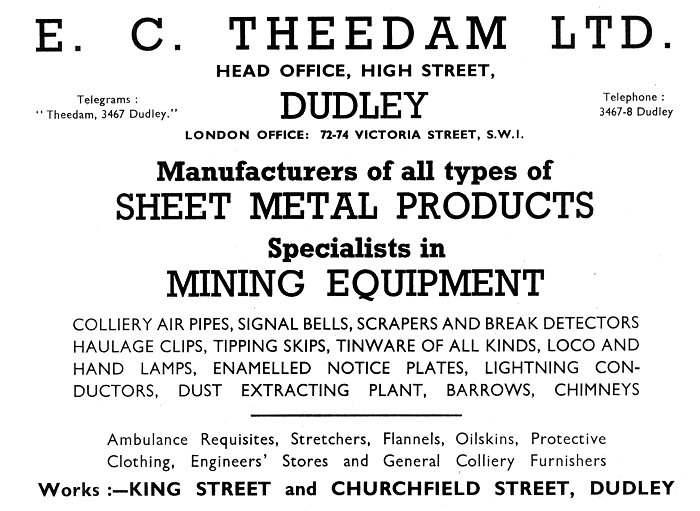 An advert from 1958.
Limestone Mines

From the end of the 18th century, limestone was in great demand due to the opening of many ironworks and the ease of transportation on the newly built canals. It was used as a flux that was essential to iron making. Silurian limestone, outcrops in a series of faults in the Dudley area that form Castle Hill, Wrens Nest Hill and Hurst Hill.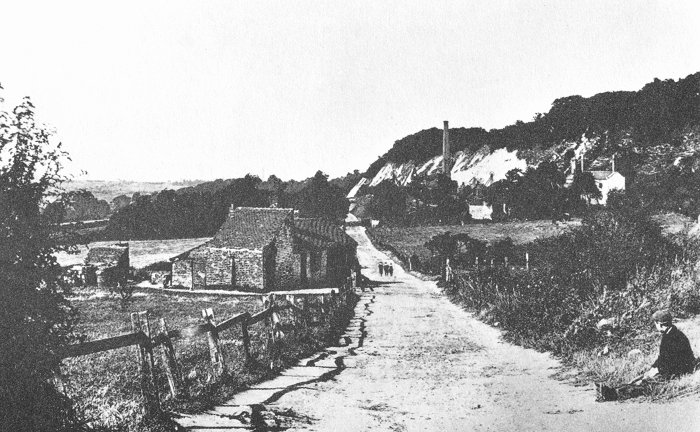 Limepit Lane that ran alongside Wrens Nest Hill, as seen in the 1920s. In the distance is the chimney and pithead gear of one of the limestone mines.
The limestone outcrops were mined for hundreds of years, initially for building stone and mortar, then with the coming of iron making, it was in great demand for use as a flux. During the height of the industrial revolution, up to 20,000 tons of local limestone was quarried annually. It was laid down in a shallow sea and was known for its wide variety of fossils including large numbers of trilobites. Because they were so common, they became known as the 'Dudley Bug'.

Wrens Nest, from where most of the good quality limestone was quarried.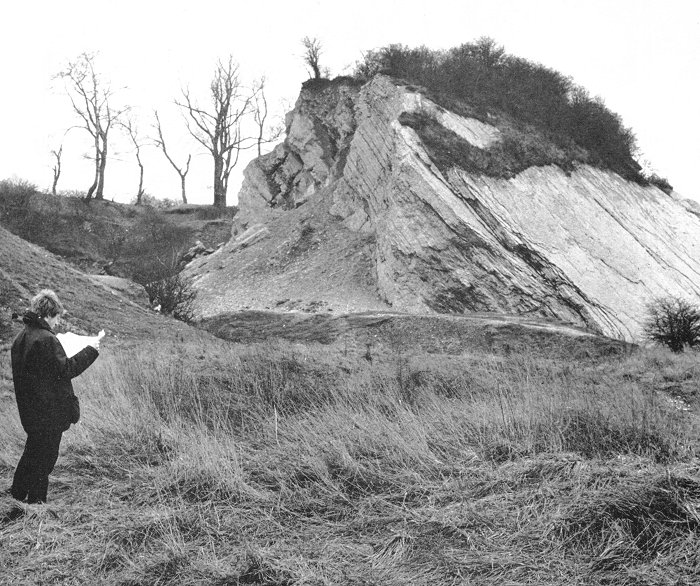 Wrens Nest in the mid 1970s.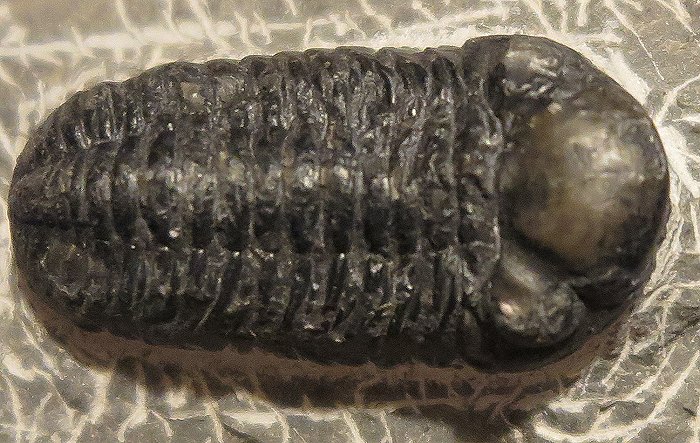 A trilobyte.
The first part of Lord Ward's canal tunnel was built to help transport the limestone that was extracted from the mines inside Castle Hill, through which the tunnel runs.

A branch from the main tunnel that runs to Parkhead, went under Wren's Nest to two underground basins, east basin and west basin, to transport limestone from the underground workings. This is now blocked off.

Wrens Nest was well known for its large surface cavern known as the 'Seven Sisters' which is more than 100 metres long.

Quarrying ended in 1925 and the site was abandoned. In 1956 it became a national nature reserve.

In 2004, Wren's Nest and the nearby Castle Hill were declared Scheduled Ancient Monuments, because they represented the best surviving remains of the limestone industry in the area.

The Seven Sisters Cavern had to be filled in with loose sand after a major roof collapse in 2001.


Seven Sisters Cavern. From an old postcard.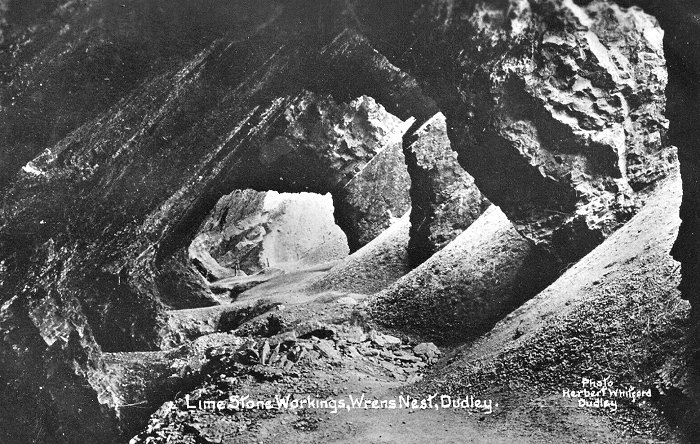 The Seven Sisters Cavern. From an old postcard.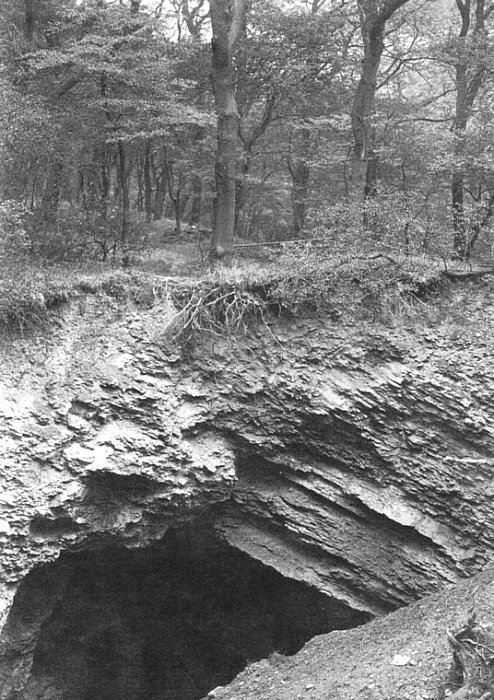 Old limestone workings on Castle Hill. From an old postcard.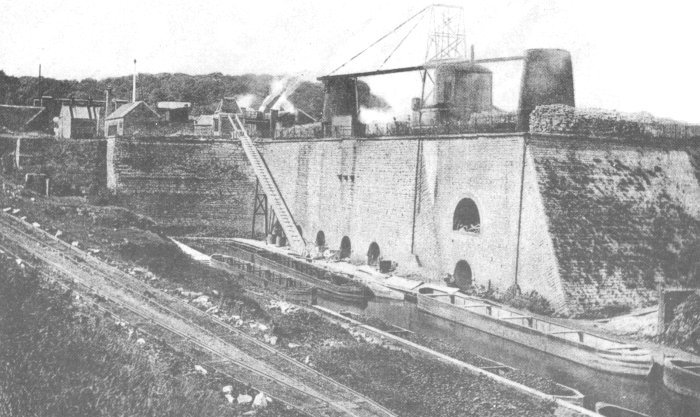 Visitors to the Black Country Living Museum can see the remains of lime kilns beside the canal. A reminder of the once-important limestone industry. From an old postcard.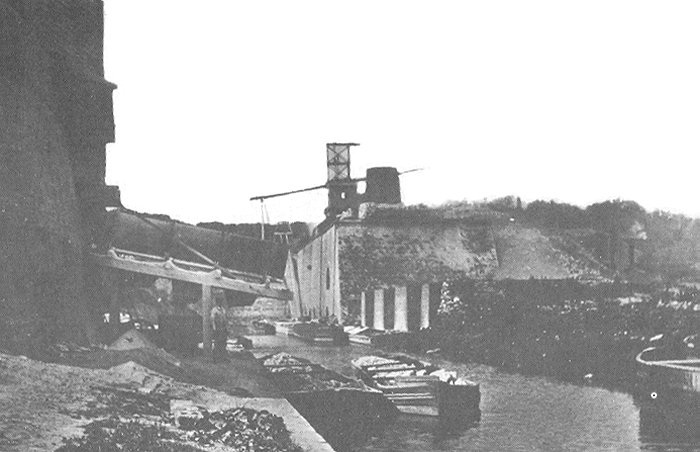 Another view of the lime kilns at the Black Country Living Museum. From an old postcard.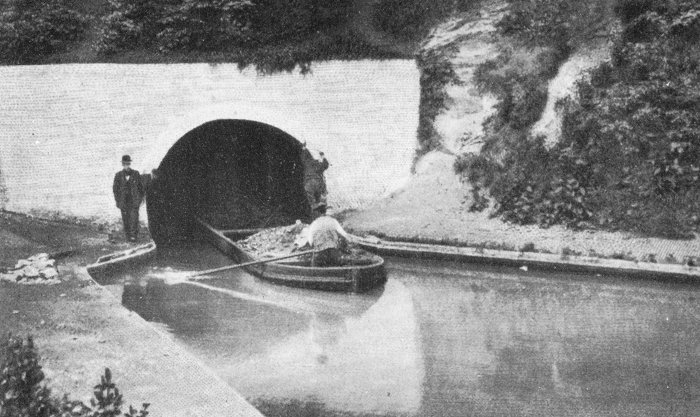 A canal boat leaving the Dudley tunnel. From an old postcard.
Clay has also been extensively mined in the area, for use in brick making and for industrial furnaces. Vast clay deposits have been found all around Dudley, where a large number of fireclay mines and brick and tile works formed part of the local landscape.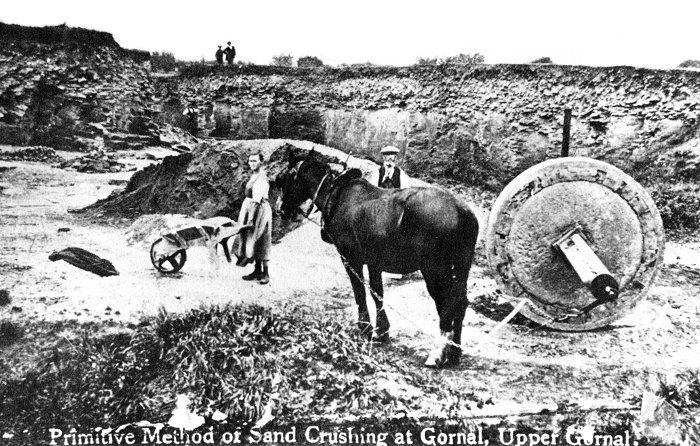 Local sand deposits were well-worked for glass-making. From an old postcard.
---