Pendeford Hall
The Hall itself stood west of Pendeford Hall Lane where the caravan park is presently sited. In 1666 the hall had eight hearths and was rebuilt four years later, using the local sandstone, as a two-storeyed, double depth building in a semi-classical style. It had a south facade of five bays with a pedimented doorway in the middle, and Dutch gables. The date of the rebuilding, 1670, was over the main door.
The estate passed down through the Fowler family, from father to son, for another century and then through various branches of the family for almost four centuries altogether. The family arms were carved over the fireplace in the dining room. A William Fowler was a surveyor and cartographer, making maps, including one of Oxley Farm, in the mid seventeenth century.
Richard Fowler was Sheriff of Staffordshire in 1738 and Thomas Leversage-Fowler was High Sheriff of the County in 1788. After his death in 1815, Thomas was succeeded by his son Thomas who died unmarried.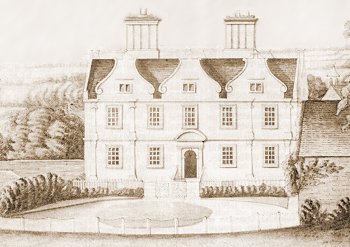 Pendeford Hall in the early 19th century.
The estate passed to his brother Richard, who had assumed the name Butler. Richard Fowler-Butler was a JP for Staffordshire, had served in the Peninsular War and had fought at Waterloo.
Robert Henry Fowler-Butler, who succeeded to the estate in 1865, sold about 160 acres of land lying south and east of Pendeford Farm to Wolverhampton Corporation so that the sewerage farm at Barnhurst could be extended. Robert Henry later became a major-general and his son, Lieutenant Colonel Richard Fowler-Butler, died in 1931 leaving a widow Caroline Anne who sold the rest of the estate to the Corporation in 1935. The Hall was requisitioned during the Second World War. It was partly demolished in 1953 and the demolition completed in 1968. The site is presently occupied by the Pendeford Hall Residential Caravan Site.
Of notable visitors to the hall, the historian Stebbing Shaw noted that it contained an excellent cartulary (collection of records) relating to the manor and the priory of St, Thomas's while William Pitt noted an echo which seemed to reverberate off the front of the house.
A portion of the curving stonework of the entrance gateway survives in Pendeford Hall Lane as do several tall pine trees, visible from many parts of Pendeford.
The Great Western Railway had a locomotive named after the hall. Built at Swindon Works in 1929, no. 4951, Pendeford Hall was one of a class of over 300 2 cylinder 4-6-0s, built with six foot driving wheels for general purpose express duties. It was withdrawn from service in the 1960s.