---
The town stands on the edge of the South Staffordshire coalfield, next to the Wenlock limestone and shale that forms the high ground in Dudley. It quickly falls away and underlies the coal measures which in places are several hundred feet deep. The layers of coal are separated by layers of sandstone and shale that lie on an irregular, undulating surface, so their depth varies considerably. There was also a layer of fire clay and some surface deposits of clay from the last ice age, which were both used for brick making. The coal layers varied in thickness and had several names. There was the Brooch Coal, often about four feet thick; the Thick Coal, up to about 30 feet thick; the Bottom Coal and in places the Heathen Coal, both a few feet thick, and also some ironstone.
The coal mines greatly prospered with the opening of the canal network in the 1770s, which allowed large amounts of coal to be easily and cheaply transported for the first time. The building of local railways in the 1850s also helped the local industry, but to a lesser extent.
In places where the coal was close to the surface, bell pits were dug. They were just an unsupported shaft around 20 to 25 feet deep, which was widened at the bottom to remove as much coal as possible. This continued until the shaft was in danger of collapsing. The pit was then abandoned and a new one dug nearby.

People were lowered into the shaft, and the spoil removed by a bucket that was wound up and down the shaft by a windlass.

The larger mines, the deep mines, often used a horse gin to lower the miners and raise the spoil. They were sometimes several hundred feet deep. Some of them, particularly the deeper ones had a steam engine to raise or lower a cage and to pump out flood water, which was always a problem.


A typical bell pit.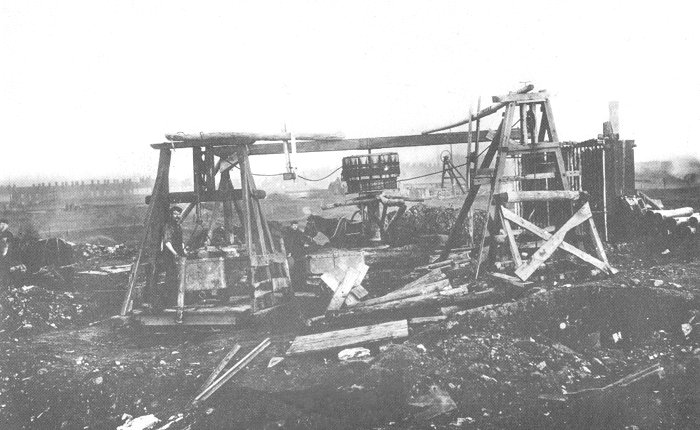 A gin pit, showing the horse and the gin. From an old postcard.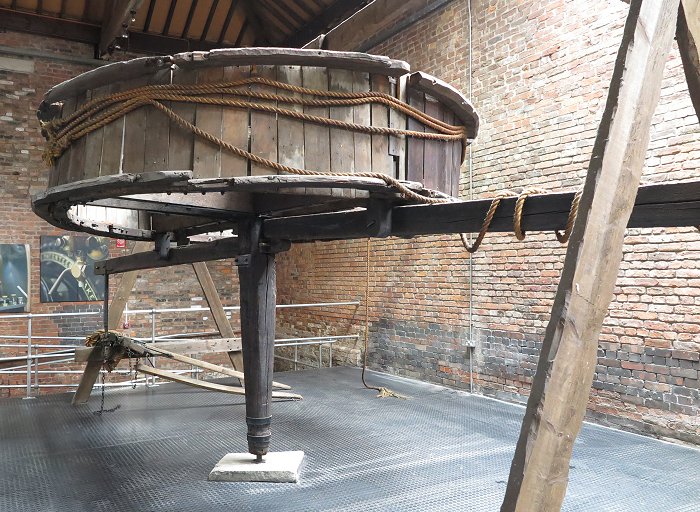 The horse gin that's on display at the Museum of Science and Industry in Manchester.
In 1712 a Newcomen steam pumping engine began to operate at the Coneygree coal mine and the first commercial steam engine built by Boulton and Watt began pumping water from Bentley and Company's Bloomfield Colliery in 1776.
There was a huge demand for coal to fuel the local iron works and so large numbers of coal mines operated in and around Tipton. Some of the blast furnaces consumed 600 tons of coal per week. Mine spoil heaps became a common sight. Thanks to the canals it was a relatively cheap and easy matter to transport coal to countless industries in the Black Country and Birmingham. By 1835 the annual rent for coal mining land was around £1,000 an acre.
In the 1870s things started to go wrong. A depression in the iron trade led to a fall in the price of coal, which in turn led to the closure of many mines. A long strike took place in the coalfield, during which labour was withdrawn. Pumping engines were not operated, and many mines flooded. In 1870 it was estimated that around 150 million tons of coal, and 20 million tons of iron ore were under water in South Staffordshire.
Some mine owners would not use a pumping engine because they were also draining their neighbour's pit at their own expense. Pumping also altered surface drainage, because the water was run into streams, which percolated back into the mines.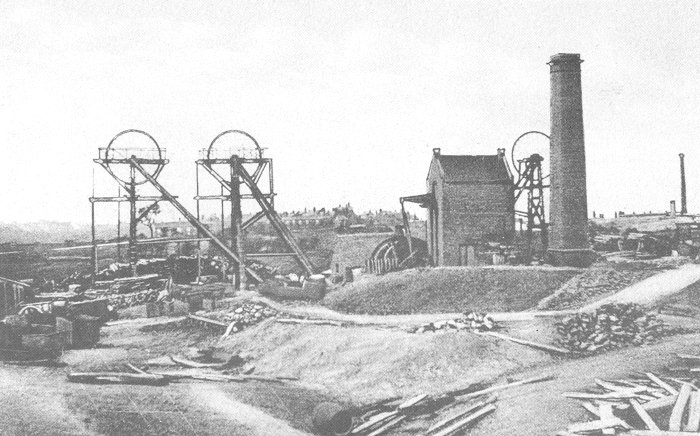 A local pit with a steam-powered hoist and water pump. From an old postcard.
A petition to Parliament led to the South Staffordshire Drainage Act of 1873. Under the terms of the act, a Board of Commissioners was created to raise money to fund pumping operations. A rate of one penny per ton of coal, slack, and fire clay was levied on the mine owners, but initially little progress was made. In 1878 greater powers were granted to the commissioners. During the next 10 years, £100,000 was spent on pumping water out of the deeper mines. In 1886 the levy was raised to nine pence per ton of coal, slack and iron ore, three pence per ton of fire clay, with an addition of one penny per ton for surface drainage. Water courses were straightened, and made watertight by puddling the beds with clay.
The Mines Drainage Commission opened a pumping station off Moat Road, Summer Hill, on part of the Moat Colliery site. It was powered by a large beam engine that could pump water from a depth of 620 feet. The engine operated between 1893 and 1902 and raised over 7.3 billion gallons of water during that time. The operation cost over £2,500 annually, but in spite of all the efforts, the drainage problem was never solved. The Commission was largely ineffective.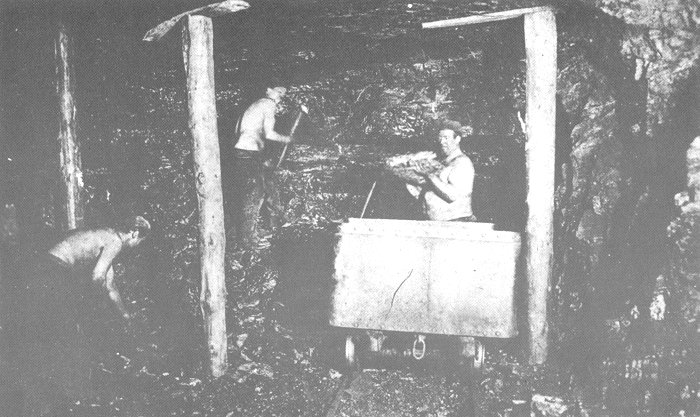 Working at the coal face. From an old postcard.
Coal mines were dangerous places in which to work. There were many accidents, some resulting in fatalities. Underground gases such as methane accumulated in pockets in the coal and adjacent strata. The gases, known as firedamp, were flammable and could easily explode. In 1849, an explosion at Moat Colliery caused around twenty deaths (the exact number is uncertain). There were 62 survivors. When mining fatalities occurred, it was customary for the employer to pay for a coffin and pay burial fees. Injured miners usually received a coal allowance during their time off work. Some of the local mines, including Horseley Colliery, gave gifts of coal to the local hospitals that looked after injured miners.
In 1890 the Mines Drainage Commission wanted to know if it was still worth draining mines in the South Staffordshire Coalfield and so contacted mine owners to ask for an estimate of the quantity of workable coal still in the ground. The results showed that in the Tipton area alone, around 43 million tons of workable coal and ironstone were still in the ground. By that time coal production had fallen to half of what it was in 1874, and around £75,000 would be required to completely drain the deep pits in the area.
In 1896, W. Beattie Scott, H.M. Inspector of mines for the South Staffordshire District, compiled a list of working mines. The mines in Tipton were as follows:
Name

Owner & Address

Manager

Under
Manager

Underground
Workers

Surface
Workers

Minerals
Worked

Bunn's Lane
Joseph Marsh, Dixon's Green, Dudley
6
2

household
coal

Coneygre (part)
Wilkinson & Vaughan, Park Lane, Tipton
9
4
coal and ironstone
Coneygre (part)
J. Kirkham, Coneygre, Tipton
10
4
coal and ironstone
Coneygre (part)
J. and S. Baggott, Sedgley Road, Tipton
5
2
fireclay
Coseley Moor
Wones Brothers, Coseley Moor, Tipton
A. P. Taft
36
7
manufacturing coal
Foxyards (part)
G. G. Wilkinson & Co., Foxyards, Dudley
11
4
coal and fireclay
Foxyards (part)
G. Powell, Foxyards, Dudley
2
2
manufacturing coal
Foxyards (part)
Flavell Brothers, Foxyards, Dudley
3
2
manufacturing coal
Foxyards and Rounds Hill
The Earl of Dudley Priory Offices, Dudley. Gilbert Claughton agent
A. W. Grazebrook
H. Rickward
276
97
cement-stone, coal, ironstone, fireclay
Gospel Oak
Gospel Oak Colliery Co., Dudley
C. A. Clarke
V. A. Wilks
191
36
coal, ironstone, pyrites
Gospel Oak (part)
William Barnbrook, Great Bridge
6
4
household
coal
Groveland
Joseph Marsh & Sons, Kate's Hill, Dudley
9
3
manufacturing coal
Horseley (part)
Thomas Fieldhouse, Horseley, Tipton
T. Roper
T. Fieldhouse
12
4
coal, ironstone, pyrites
Horseley (part)
W. J. Hayward & Co., Horseley, Tipton
C. A. Clarke
Luke Roberts
102
19
coal, ironstone, pyrites
Hurst Lane
Hurst Lane Colliery Co., Tipton
22
5
coal and ironstone
Jubilee
Joseph Marsh, Tividale, Tipton
manufacturing coal
Moat
Mines Drainage Commission, Trindle, Dudley
E. Howl, Agent
pumping
station
Moat
Moat Colliery Co., Tipton Moat, Tipton
Thomas Roper
W. Tudor
54
15
manufacturing coal
Moat
Ben Southan & Son, Tipton Moat, Tipton
12
5
Abandoned
Park Lane (part)
George Wellings, Park Lane, Tipton
6

2

manufacturing coal
Wednesbury Oak
Phillip Williams & Sons, Wednesbury Oak, Tipton
A. Wilks
E. Bowen
284
59
coal and ironstone

Number of workers

1,056
276
By 1896 most of the local collieries had closed, although a few of the larger ones remained, bringing the total mining workforce to 1,332. By this time, most of the easily workable coal had gone, and within 25 years so had the local mining industry.

Some mines, such as the Toll End Colliery Company, run by William and William T. Field, used the local clay deposits to produce bricks. They were producing bricks before 1864. One successful brick maker was Thomas Bayley, whose family ran the Great Bridge Brickworks, at Golds Hill, for at least 80 years. Bricks were still made there in 1932.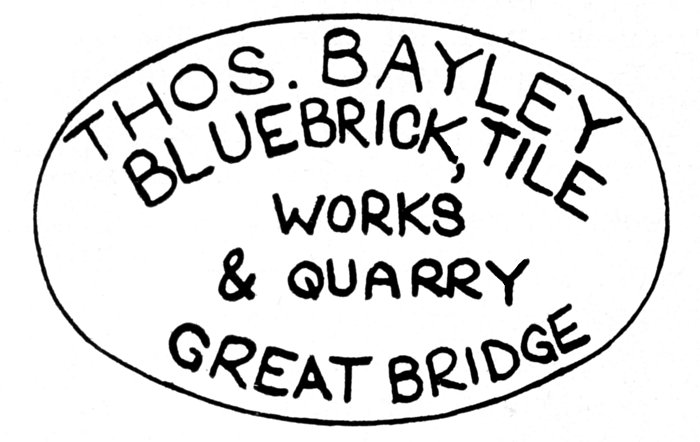 Trade Mark.

Trade Mark.
| | | | | | | |
| --- | --- | --- | --- | --- | --- | --- |
| 1. | | Coneygre Furnaces | 24. | Albion Brick & Tile Works | 47. | Tipton Green Furnaces |
| 2. | | Coneygre Colliery | 25. | Piercy Brick Works | 48. | Summer Hill Works |
| 3. | | Wellington Works | 26. | Vulcan Foundry | 49. | Hope Works |
| 4. | | Denbigh Hall Colliery | 27. | Vulcan Tube Works | 50. | Tibbington Foundry |
| 5. | | Cophall Colliery | 28. | Brush Farm Ironworks | 51. | Gospel Oak Works |
| 6. | | Pumphouse Brick Works | 29. | Nelson Ironworks | 52. | Moat Colliery |
| 7. | | Pumphouse Colliery | 30. | Woodlane Ironworks | 53. | Schoolfield Colliery |
| 8. | | Peartree Pit | 31. | Royal Eagle Tube Works | 54. | Horseley Furnaces |
| 9. | | Victoria Colliery | 32. | Eagle Ironworks | 55. | Hope Colliery |
| 10. | | Hullbridge Colliery | 33. | Staffordshire Works | 56. | Horseley Colliery |
| 11. | | Waterloo Colliery | 34. | Ryders Green Tar Works | 57. | Gas Works |
| 12. | | Groveland Colliery | 35. | Atlas Ironworks | 58. | Horseley Ironworks |
| 13. | | New England Colliery | 36. | Whitehall Colliery | 59. | Great Bridge Iron & Steel Works |
| 14. | | Bradeshall Furnaces | 37. | Dunkirk Foundry | 60. | Eagle Colliery |
| 15. | | Hange Furnaces | 38. | Dunkirk Ironworks | 61. | Golds Hill Ironworks |
| 16. | | Hange Colliery | 39. | Nelson Foundry | 62. | Golds Green Brick Works |
| 17. | | Tividale Sheet Mills | 40. | Ryders Green Tool Works | 63. | Crownmeadow Colliery & Brick Works |
| 18. | | Etna Iron Works | 41. | Crown Bridge Works | 64. | Crown Iron Works |
| 19. | | Union Furnaces | 42. | Sheepwash Ironworks | 65. | Toll End Blue Brick Works |
| 20. | | Union Colliery | 43. | Tipton Hall Works | 66. | Foxyards Fire Brick Works |
| 21. | | Izons Foundry | 44. | Coseley Moor Furnaces | 67. | Bloomfield Brickworks |
| 22. | | Gas Works | 45. | Bloomfield Ironworks | 68. | Tibbington Colliery |
| 23. | | Albion Ironworks | 46. | Roundhill Colliery | 69. | Mines Drainage Pumping Station |
Ironworks and coal mines in the 1880s.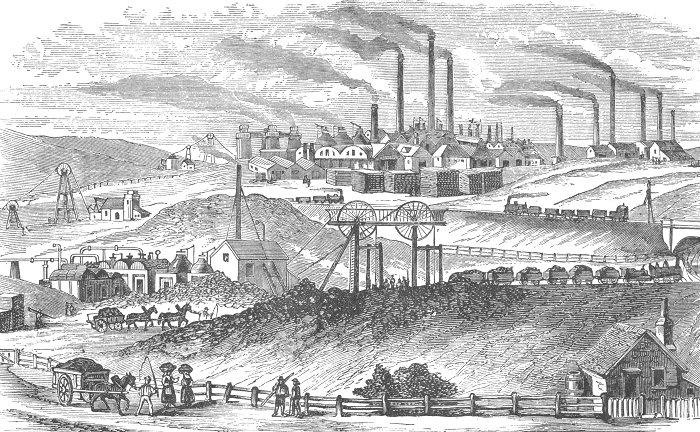 The industrial scene in the middle of the 19th century. A mixture of coal mines and ironworks.
---