---
Neptune Forge, Chain, Anchor, and Engine Works
The business was founded in 1862 by Joseph Wright and Thomas Tinsley, a well known Dudley nail factor. Joseph Wright was born in Dudley on the 7th October, 1826. His father, James Wright, was a blacksmith in Dudley. Joseph began his working life helping his father in his business and as an apprentice at Woodside Iron Works at Dudley. After his apprenticeship he became an erector for Woodside Iron Works and was involved in many projects including the erection of a large factory in India and the erection of Ormesby Iron Works, Middlesbrough.
He then became a partner in the firm of Head, Wrightson and Company at Stockton-on-Tees. During his time there he designed and built several large blast-furnaces, developed a method of making railway chairs cheaply, designed and improved plant for use in foundries, and designed plant for use with blast furnaces. In 1860 Joseph became a member of the Institution of Mechanical Engineers. When the partnership came to an end in 1862, Joseph returned to Dudley and founded the chain and anchor making business at Neptune Works, Tipton, with his future father-in-law, Thomas Tinsley. Neptune Works stood alongside the canal at the southern end of Sedgley Road West. In 1864 he married Thomas's daughter, Grace Elizabeth Tinsley.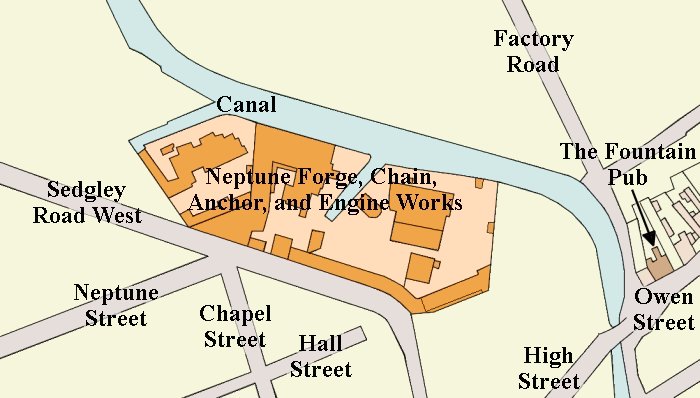 The location of Neptune Works, based on the 1884 Ordnance Survey map.
Neptune Works was a great success, becoming one of the largest chain and anchor works in the country. Its products were sold throughout the UK and abroad, to countries including Germany, Russia, and Turkey, where they were well appreciated. Only the finest iron was used. It came from Bloomfield Iron Works (B.B.H. iron) and from the Earl of Dudley's ironworks. Products included Martin's self-canting anchor, which was patented by Claude Martin, and sold in large quantities.
The firm became Joseph Wright and Company and the order books continued to fill. In 1881 Joseph and Grace were living at 45 Islington Row, Edgbaston, with their four children.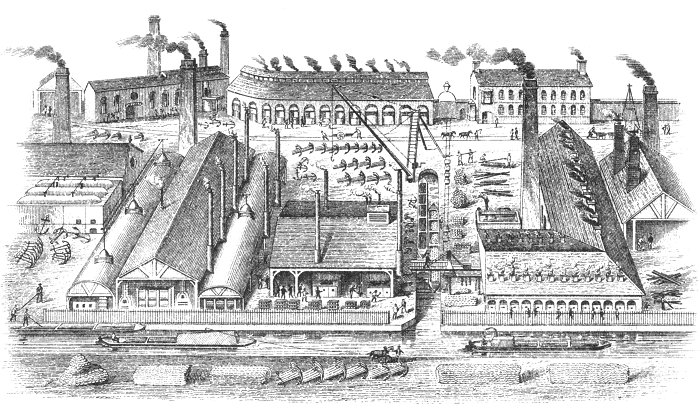 Neptune Forge, Chain, Anchor, and Engine Works.
Samuel Griffiths includes the following description in his Guide to the Iron Trade of Great Britain, published in 1873:
When in the Black Country the other day, we were particular in our enquiries in respect to Wright's chains and cables at the Government testing and proof establishment at Tipton, and were there informed that the testing and proving of the cables and chains turned out at the Neptune Forge completely justified the celebrity for quality which Mr. Wright's chains have in Germany, Russia, the Levant, and other foreign markets.
The anchors made here are well known throughout the world, the Neptune Forge having turned out from time to time the best and largest made. We understand the excellency of the quality of the chains and cables is owing in a great measure to the use of B.B.H. and the Earl of Dudley's bars which are unsparingly consumed at this great factory, although the price paid is £1 per ton to £1.12s.6d. per ton more than any other iron of this class made in Staffordshire. Messrs. Wright & Company are now engaged on large orders for the Russian and Turkish Governments.

An advert from 1880.

By 1880 Joseph Wright and Company were sole makers and patentees of the Berryman improved coal-saving feed-water heater that saved between 15 to 60% of coal, water and labour.

This resulted in Joseph forming the Patent Heater Condenser Company.

In 1882 the company manufactured anchors, chains, chain cables and the Berryman feed-water heater and interheater.
| | |
| --- | --- |
| Other products included all kinds of forgings in iron and steel, housing pins and boxes, chain cables, crane chain, lashing, sling, and coupling chains, draw bars, hooks, rings, swivels, shackles, smith's work of every kind, boilers, colliery tubs, and tanks. Also Martin's Patent Anchors. | A patent anchor. |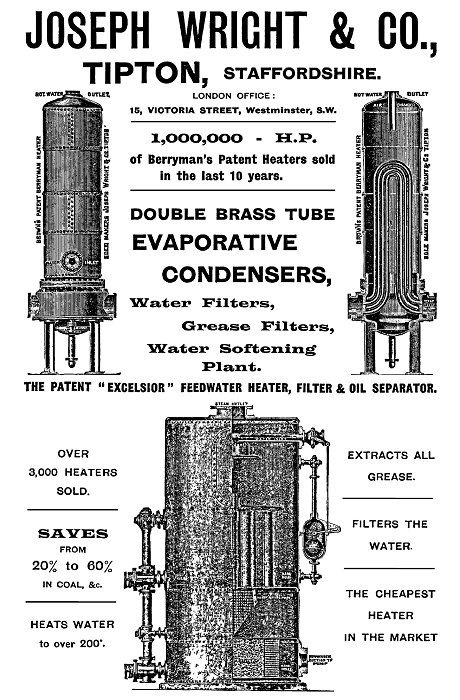 An advert from 1896.

Berryman improved coal-saving feed-water heaters. From 'The Engineer', 1898.

In 1887 he retired from the firm, and practised as a consulting engineer in Westminster, at the same time carrying on the manufacture of heaters, evaporators, condensers, water softeners, and other appliances connected with the purification of water.

His last invention, completed only a few days before his death, was a high-speed engine for electric lighting installations.

During the last eight years of his life, Joseph suffered from terminal throat cancer and died on 20th October 1893, at the age of sixty-seven.

In 1903 the company received an order from the Wath-upon-Dearne Main Colliery Company for a heater detarteriser, to heat and soften about 18,000 gallons of water per hour. The device was the largest of its kind ever made, being around 35ft. high, 8ft. diameter and weighing around 40 tons.

The firm founded Wright's Forge and Engineering Company in 1913 and in 1922 - 1923 the business was acquired by N. Hingley and Sons of Netherton. In the 1960s, N. Hingley and Sons became part of F. H. Lloyd & Company of Wednesbury.
F. H. Lloyd's Tipton Factory
On 4th November, 1963 a team of men from James Bridge works moved into the two empty bays of Wright's Forge in Tipton. Lloyds acquired the site in order to fettle large turbine castings which were occupying valuable space at James Bridge. Heading the team of ten was George Wilkinson who had the task of setting up the operation there. Initially there was no shotblast or heat treatment facilities, just hard work.
Within twelve months, a shotblast plant and a heat treatment furnace had been installed, and by the end of 1964 there were 13 welders, 17 finishers, 3 burners, 3 shotblasters, 2 heat treatment furnace men, 2 crane drivers, and 1 labourer. By the 1970s the building had grown to four bays covering 100,000 square feet. Around 3,000 tons of fabrications were produced annually under the control of George Roberts, Production Superintendent.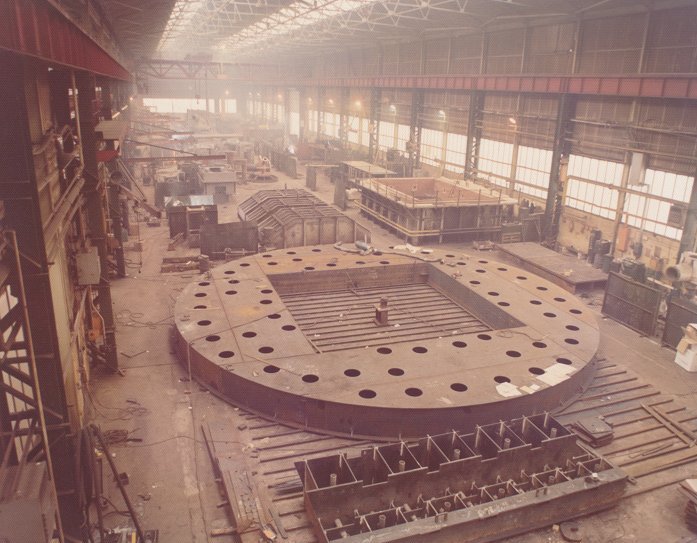 A view inside F. H. Lloyd's Tipton factory. Courtesy of Wendy Marston.
Machinery in the factory included a 700 ton twin 'C' frame hydraulic press, designed and built at the James Bridge factory. It could handle steel plate up to 16 feet wide and ¾ inch thick. There were 4 automatic gas profile cutters and fully automatic welding machines.

The Fabrications Section moved to Tipton in 1966, and became a separate division of F. H. Lloyd and Company Limited in 1967. Lloyds Steel Fabrications became one of the country's leading manufacturers of welded steel fabrications. It was a great success.

Dick Howett was general manager, in charge of sales, estimating and process planning, costing, buying and production. The production superintendent was George Roberts who was responsible for all production and work schedules. He maintained liaison with customers on delivery and ensured that the right materials were in stock for the job.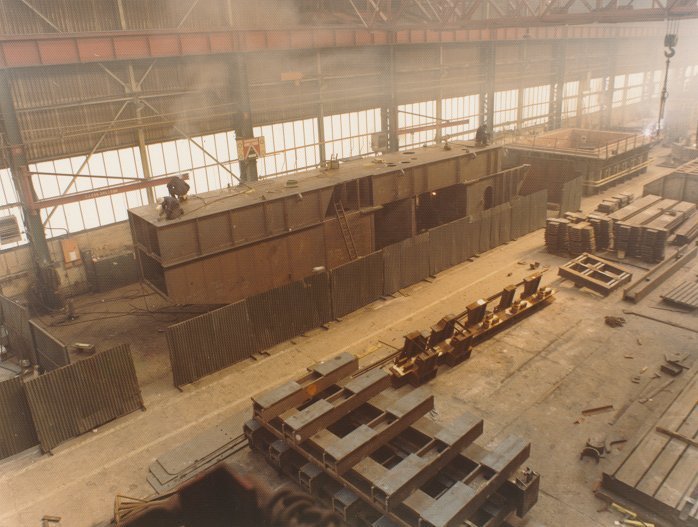 A large fabrication nears completion in the Tipton factory. Courtesy of Wendy Marston.
Colin Hammond was chief planning engineer at Tipton. His department prepared estimates against enquiries, from which quotations were submitted. The department also translated orders and drawings into detailed working instructions for manufacture. George Arnold oversaw quality control, which included checks on raw materials, work in progress, and completed fabrications, using special test equipment.
Muriel Simmons was secretary to Mr. Howett, and the young lady, known as the voice of the division, Barbara Potter, was the telephonist.

In the autumn of 1965 a new canteen opened on the Tipton site. It became known as the 'Wilkeyville' canteen, named after the boss, George Wilkinson. Courtesy of Wendy Marston.
Plate preparation equipment in the factory included four automatic gas profile cutters, a Hancoline HL.3 and HL.4, a Hanco-ordinate c.90 and BOC Bison, which were giant pantographs to exactly reproduce on a sheet of steel a design or profile which was read from a specially prepared drawing by an optical sensor. There were also a number of straight-line cutting machines, and twin C-frame hydraulic presses, designed and built by Lloyds.
Four welding processes were used: manual arc, cored wire CO2, submerged arc and electra-slag, the last two being fully automatic. The electroslag machine is a prototype and the only one of its kind in this country, manufact:ured by ESAB of Sweden. It could butt weld plates up to 15 inches thick.
There was a North Sea gas fired heat treatment furnace with a capacity of 24 ft. x 16 ft. x 11 ft. where fabrications were heated to a temperature of 650°C to relieve any stresses set up by welding. The shot blast plant was in a heavily shielded room measuring 27 ft. x 24 ft. x 18 ft. high with an opening top to permit the craning in and out of fabrications. Steel pellets were 'shot' from a nozzle by compressed air at high speed to scour the surface scale from the fabrication and reveal the pristine grey metal that is steel.
On 12th August 1969 F. H. Lloyds became part of F. H. Lloyd Holdings Limited which was created to oversee the various companies in the Lloyd group. The Tipton factory closed in the late 1980s and the site is now occupied by Neptune Park apartments and Neptune Health Park medical practice.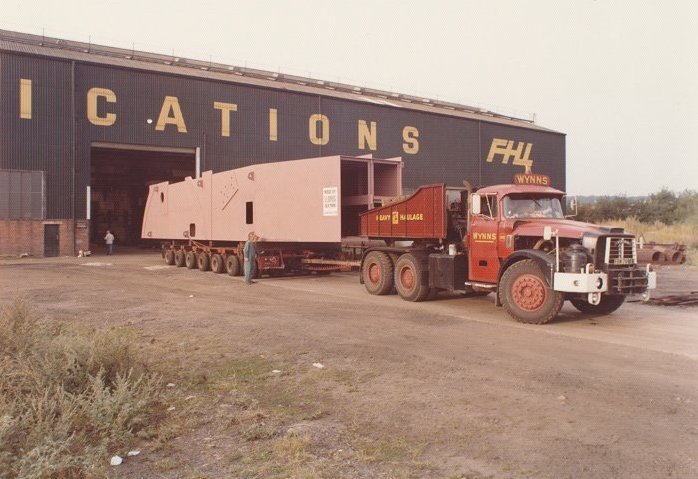 A large fabrication leaves the Tipton factory. Courtesy of Wendy Marston.
---