---
Beginnings
The family business was founded in 1910 by Thomas Partridge and two of his sons, Arthur and Joseph. Thomas, who was born in Brierley Hill in 1858, had moved to Darlaston by the turn of the century, working as a foreman carpenter in an engineering factory, with a wife, four sons, and a daughter. He became a Methodist preacher, and often walked many miles each Sunday to preach at various churches. He held strict religious opinions, had a well-developed sense of humour, but had little patience with slow workers, and contempt for sickness of any kind.

Thomas Partridge.

By 1910 Arthur and Joseph had finished their apprenticeships as carpenters and joiners, and were working in Darlaston, constructing wooden buildings under their father, who was the foreman. They often talked about, and planned to start their own business.

The opportunity came through a new member of the family. In 1910 Thomas's widowed sister Maria Kelly married Richard Delves Evanson, a carpenter and property repairer who had a small business in Walsall. He got on well with Thomas, Arthur and Joseph, and so it seemed to be a good idea to form a partnership.

This led to the formation of Evanson, Partridge & Company which came into existence on 7th March, 1910 with a capital of £200. Unfortunately the venture was not a success. A few months later Richard Evanson retired, and the partnership was dissolved on 31st July, 1910. On that day the partnership of Thomas, Arthur, and Joseph Partridge was born.
| | | |
| --- | --- | --- |
| Arthur Partridge. | Joseph A. Partridge. | Bert Partridge. |
The New Business
They purchased a small factory on the corner of Darlaston Road and Pleck Road, Walsall, and set up a joinery works. To begin with there were two or three woodworking machines, powered by a gas engine. They employed a young boy, A. Clement Kelly (known as Clement), who was Thomas Partridge's nephew, the son of his sister Maria, and stepson of Richard Evanson. He would eventually become a director of the company.
The business grew so rapidly that soon a larger factory with more machinery became a necessity. In 1912 the firm purchased a piece of land in nearby Wallows Lane, off Bescot Road, where a new factory was built. The company built a wide range of timber-framed buildings including bungalows, churches, boat houses, hospital buildings, garages, and sports pavilions. The firm specialised in the making of wide-span Belfast roofs for industrial purposes including factories, aeroplane hangars, warehouses, and dock sheds. All of the joinery was produced in the factory by a team of experienced craftsmen.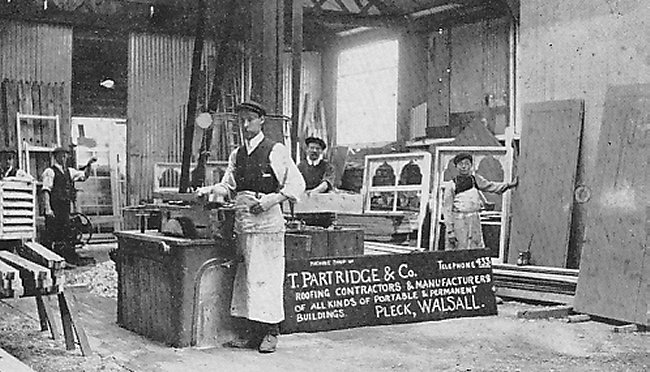 The woodworking machine shop in the original factory on the corner of Darlaston Road and Pleck Road.
Around this time the firm developed, and patented a putty-less roof glazing bar which was sold as 'Elite' leaded roof glazing. It became widely used in factories, warehouses, and aerodromes throughout the country.
By the First World War the industry was changing fast. More buildings were built with a steel frame, and it became obvious that the firm had to move in that direction. With this mind, Bert Partridge, Joseph and Arthur's younger brother, trained as a steel structural engineer, and joined the firm in 1914 at the age of 21.
During the war the firm received many government contracts for the making and fixing of 'Elite' roof glazing. Many millions of feet of glazing were fitted to buildings of all kinds, which proved to be difficult because of the shortage of skilled labour.
In 1917 Thomas, who had reached the age of 59, decided to retire, and leave the business in the capable hands of his three sons.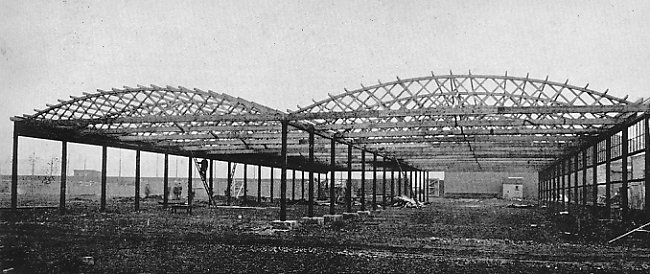 A Partridge two-bay Belfast roof.
Inter-War Years
In January 1919 the company opened a new office at Chamber of Commerce Buildings in New Street, Birmingham, with S. H. Barrett, a 23 year old structural engineer, in charge. In April of that year, Norman Partridge, Thomas's youngest son, joined the firm. He had been trained as an accountant and so took over the commercial side of the business.
The firm continued to be successful, and became a private limited company on 27th January, 1920 with Arthur, Joseph, and Bert Partridge as directors. The three brothers also started a new venture. They founded the Walsall Wholesale Cabinet Company Limited, to manufacture furniture. The new venture was so successful that Joseph needed to devote all of his time to look after it. He resigned from T. Partridge & Company Limited, leaving it in the hands of Arthur and Bert.
In the early 1920s the demand for steel-framed buildings rapidly grew. Up until this time the company had been using steelwork that had been supplied by outside contractors. For some time the directors had considered the possibility of extending the company's operations to include the manufacture of structural steelwork. The opportunity came in 1923 with the closure of the Pleck Foundry Company Limited in Darlaston Road, and the selling-off of the factory.
Arthur and Bert acquired the old factory, and T. Partridge & Company Limited moved to the new site. The much larger premises allowed the business to expand, and with the installation of new plant, produce structural steelwork. By 1927 a new company office had opened at 8 Newall Street, Birmingham, and the business continued to grow, receiving orders from many large and well known British companies including the Austin Motor Company Limited and I.C.I.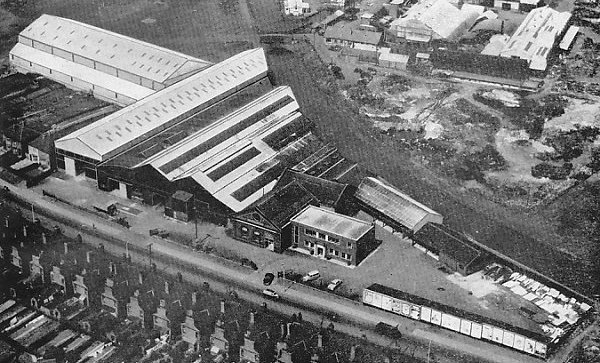 The new factory in about 1960.
In 1927 the firm got its largest order to date, a warehouse building for Austin, which covered two and a half acres. The contract was completed in record time, less than seven weeks after receiving the order. All of the structural steelwork had been fabricated in the new Darlaston Road factory.
In 1930 another generation of the family entered the business in the form of Raymond Partridge, Arthur's seventeen year old son, who started his career in the drawing office at Birmingham. He then spent some time in the Template Shop at Walsall, and later moved to the Walsall drawing office where he gaining experience in detailing. After his training he returned to the Birmingham Office where he worked on detailing and estimating. In 1938 he became a company director.
By 1934 the firm had outgrown its Birmingham office and so new and more spacious premises were found in the newly completed Lombard House in Great Charles Street.
There were several important changes in 1935. Arthur's doctor advised him to retire on medical grounds, which he reluctantly did. This resulted in a reorganisation in which Bert Partridge became both Chairman, and Managing Director. Two new directors were appointed, Norman Partridge and S. H. Barratt. Around the same time Clement Kelly became Site Manager.
In 1936 a new profit-sharing scheme was launched, which was far ahead of its time. Initially it applied to technical and commercial staff only, but would soon be extended to manual workers, so that all members of staff could benefit from the firm's success.
In the late 1930s with war being almost inevitable, the company worked on a large number of contracts for the new factories that would be needed as part of the war effort. While this work was in progress, steel framework was deigned and built for four new Danilo cinemas, at Cannock, Quinton, Stoke, and Stourbridge.
The Second World War

At the beginning of the war the threat of aerial bombardment was paramount in many people's minds. Many local authorities were concerned about the effects of the blast from high explosives on their air raid shelters. This resulted in the introduction of a scheme to strengthen existing underground shelters with structural steelwork.

Orders for suitable steelwork arrived from municipal authorities in thirteen counties, which involved the production and installation of over 1,300 tons of structural steel.

Another form of air raid shelter was introduced, called the Morrison Shelter, named after Herbert Morrison the Home Secretary. It was a heavy steel box with an opening side made of strong wire. Two or three people could crawl inside for protection. It would stand in the living room and double-up as a table. During the early years of the war the company built over 2,000 of them.


The structural steelwork for Slough College.
During the blitz the fire services in London increased in size. A lot of extra garage space was needed for new appliances. The company received orders for the building of a large number of fire service garages in the London area, and also carried out rapid repairs to factories that were damaged during the bombing campaign.

Because of wartime shortages, every construction job required a building license, and any purchase of steel had to be authorised by a government department. The shortage of timber led to the end of production of Belfast trusses, and the patent 'Elite' glazing bar.

Birmingham was seen as a likely target for the German bombers, and so most of the staff in the Birmingham office moved to the Walsall site. The building was sub-let to the Ministry of Works, apart from a small room used by members of the design staff.
Other war work included the manufacture of gun shields, machine gun brackets, gun pedestals, winch casings for ships, davit frames, fulcrum brackets for tanks, flail arms for mine destroying Scorpion tanks, and parts for Bailey bridges. Over 1,000 tons of steelwork for power stations was fabricated and shipped to Russia.
Towards the end of the war the company made parts for the two top secret Mulberry artificial harbours that were taken across the English Channel to offload cargo on the beaches during the Allied invasion of Normandy.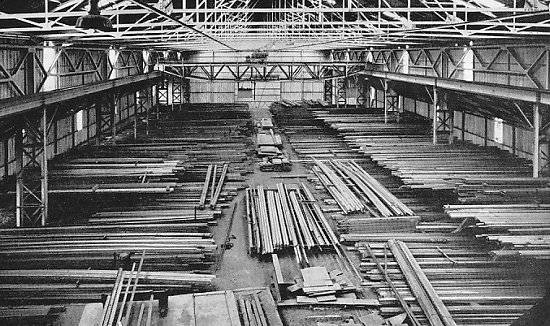 Structural steel in the main stockyard bay at the factory.
After the War
In the late 1940s large numbers of new schools were built. The company supplied and usually erected the structural steelwork for over one hundred and thirty of them. On 16th January, 1947 one of the company's founders, Thomas Partridge died, after a long and enjoyable retirement. He was greatly missed because he had always been on hand to offer advice whenever needed. In the same year, Bert's only son Malcolm, joined the business after spending five years in the army. He trained in the factory and the drawing office, and went-on to become a company director in 1952.
| | |
| --- | --- |
| | One of the company's mobile cranes working on a building site. |
The mid 1950s was a sad time for the family. Arthur died in September 1954 at the age of seventy two, and Joseph died in March 1956 at the age of sixty nine. In 1955 Bert resigned as Managing Director due to ill health, and died in November 1956 at the age of sixty three. After Bert's death the management consisted of:
Norman Partridge – Chairman and Company Secretary
S. H. Barrett – Contracts Director
Clement Kelly – Site Director
Raymond Partridge – Sales Director and Joint Managing Director
Malcolm Partridge – Works Director and Joint Managing Director


Some of the factory staff in the late 1950s.
| | |
| --- | --- |
| Part of the welding shop which covered around 14,000 square feet. | |

A group of employees, all with over 25 years service.
Back Row left to right: J. Bissell, H. Gwinnett, C. A. Troman, J. T. Finney, E. T. Hayward, L. J. Martin,
W. H. Smith, C. Griffiths, H. J. Troman, W. A. Raybould, and A. J. Lovatt.
Middle Row left to right: W. E. Worrallo, J. T. Whitehouse, R. Poynton, E. Maull, W. Booker, A. O. Troman,
C. Stackhouse, G. Dabbs, G. Manning, and G. W. S. Dixon.
Front Row left to right: W. Coyne, G. W. James, D. Salt, S. H. Barrett, N. Partridge, A. C. Kelly,
R. A. Partridge, G. E. Hallam, H. Smart, and F. H. Phillips.
Building techniques were rapidly changing. Structural steelwork had always been held together by rivets, but with improved methods, welding was rapidly taking over. Portal frame construction was also becoming standard, especially for wide span buildings.
In order to keep abreast of the times, new machinery had to be installed in the factory, including a large brake press, large guillotines, plate rolls, and a massive bending machine. Over £100,000 was spent on new machinery and plant.
Some of the company's largest orders included extensive building projects for I.C.I., a new power house for Courtaulds at Grimsby, Equipment for Stewarts & Lloyds Minerals Limited at Wirksworth, and buildings and extensions for the John Thompson (Wolverhampton) Limited group of companies.
T. Partridge & Company Limited closed some years ago. The Pleck site is now occupied by Whittalls Wines Limited.
| | |
| --- | --- |
| | The new fabricating bay built in 1956. |
| | |
| --- | --- |
| A bending and straightening machine. | |
| | |
| --- | --- |
| | A 240 ton brake press for flanging plates up to 10 feet in length. |
| | |
| --- | --- |
| One of the plate rolls. | |
| | |
| --- | --- |
| | A large guillotine, capable of shearing steel plate up to 10 feet long and ½ inch thick. |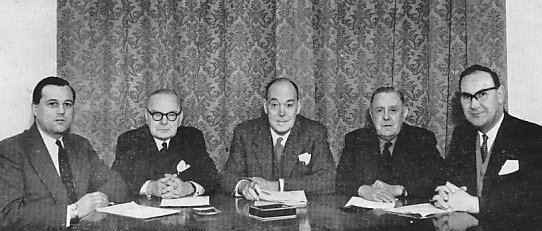 The company directors.
Left to right: Malcolm H. Partridge (Works Director), S. H. Barrett (Contracts Director), Norman Partridge (Chairman and Secretary), A. C. Kelly (Site Director), and A. Partridge (Sales Director).
| | |
| --- | --- |
| Members of the drawing office staff. | |
| | |
| --- | --- |
| | Members of the commercial staff. |
| | |
| --- | --- |
| Members of the works staff. | |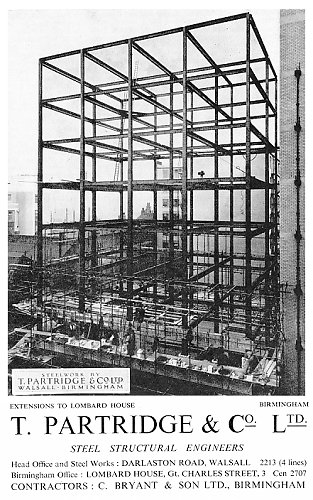 An advert from 1953.
---
The information and factory photographs are taken from 'The Partridge Story 1910 - 1960' which was published by the company.
---