---
The 1920s and early 1930s were a time of industrial recession, resulting in a large number of unemployed people, and much hardship. Although the situation began to improve in the early 1930s, it took the threat of war in the late 1930s, and Ministry orders for essential war work, to allow industry to ramp-up, and work flat out again. In August 1938 there were 7,671 unemployed people in Walsall, which had fallen to just 533 by August 1940.
All kinds of products were manufactured in Walsall as part of the war effort. Shannons produced large numbers of military uniforms, Patterson and Stone made leather flying helmets, Walker Brothers made Anderson shelters, Helliwells repaired military aircraft, and T. Partridge & Company Limited built 2,000 Morrison Shelters, and carried out rapid repairs to factories that were damaged during the bombing campaign. The firm also built fire service garages in the London area, and manufactured gun shields, machine gun brackets, gun pedestals, winch casings for ships, davit frames, fulcrum brackets for tanks, flail arms for mine destroying Scorpion tanks, and parts for Bailey bridges.
Although war seemed inevitable to many people, most would have settled for peace. It took some time for the local population to accept that war would eventually be declared, especially in September 1938 when Prime Minister Neville Chamberlain appeared to appease Hitler, and return with his misleading Munich Agreement, in which Hitler stated that he did not want to go to war.

On 31st March, 1937 Britain and France guaranteed to defend Poland from any attempted invasion by Germany, an agreement which would eventually lead to war. The appeasement of Hitler ended when German troops marched into Czechoslovakia in March 1939. War was eventually declared on 3rd September, 1939, two days after Germany invaded Poland. The delay in going to war had at least allowed Britain's armed forces, and the country as a whole to prepare for the inevitable struggle that lay ahead.

Air raids were seen as an obvious threat, particularly because of the development of bomber aircraft. In March 1935 the Air Raid Precautions Department was formed to oversee civil defence measures throughout the country.


Anderson air raid shelters in a back garden in Ward Street, Walsall. Courtesy of John and Christine Ashmore.
Air Raid Precautions Acts were passed in 1937 and 1938 which required local authorities to make plans to protect the population from the effects of enemy bombing. Air raid wardens would be appointed, preparations would be made for the fire and ambulance services to deal with emergencies, and gas masks, and air raid shelters would be provided. Help was also on hand from the Women's Voluntary Service, and the Civil Defence Reserve.

By June 1938 Walsall had 850 volunteer Air Raid Wardens, known as ARP wardens, who patrolled the streets at night to ensure that no light would be visible to enemy aircraft. They would order people to put a light out, or cover a window, and could report persistent offenders to the police. They also kept a lookout for, and doused incendiary bombs whenever possible, and were trained in first aid.

They were aided by workers from local factories who had to carry out fire watching. By the beginning of the war, 4,200 Anderson shelters were in use in the town. They were free to any family earning less than £250 a year. In February 1939 gas masks were issued to the local population, and in September of that year, 491 children from the Birchills, Bridge, Hatherton and Paddock wards were evacuated to the Staffordshire villages of Brewood, Blymhill, Coven, and Penkridge.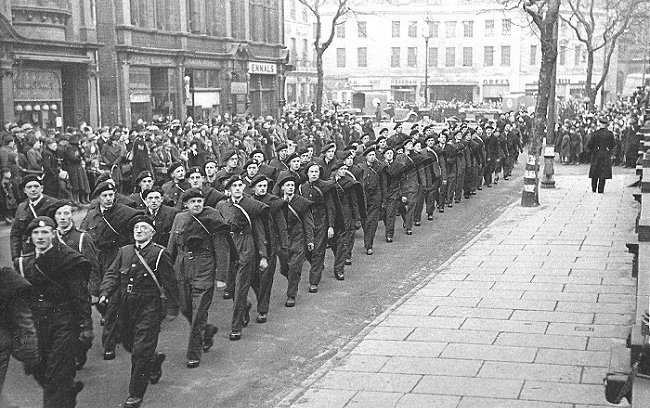 A march of ARP wardens through Walsall. Courtesy of John and Christine Ashmore.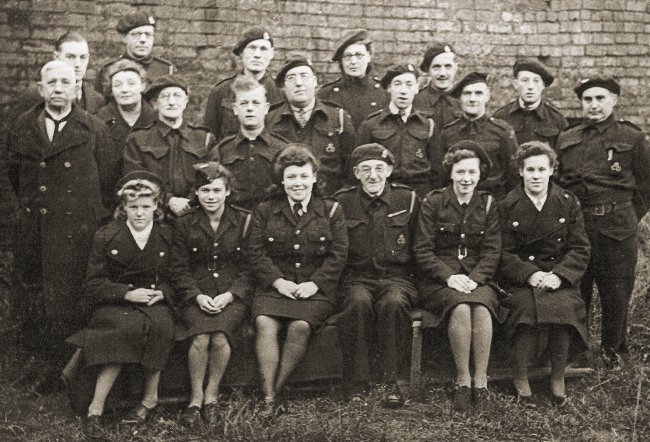 A group of Walsall ARP wardens. Courtesy of John and Christine Ashmore.
In 1944 things swung in the other direction when Walsall became a reception area for around 1,500 evacuees from the V1 and V2 rocket attacks on London.

Other visitors included the United States 10th Replacement Depot, based at Whittington Barracks in Lichfield. Some of the American soldiers were billeted in Pheasey. There were also German prisoners of war, held at a prison camp in Aldridge Road.

At the outbreak of war, male conscription into the armed forces was immediately ordered under the terms of the National Service (Armed Forces) Act.

Initially all men from 18 to 41 years old could be called-up, unless they failed the medical, or worked in a vital occupation, known as a reserved occupation. Many who were not eligible for military service joined the Home Guard to become local defence volunteers, who trained in readiness for an invasion.
Numerous women joined a number of organisations including the Women's Voluntary Service, which ran a hostel for young women in Bradford Street, and the Auxiliary Territorial Service, known as the ATS. This was the women's branch of the British Army, formed on 9th September, 1938 as a women's voluntary service.

From 1943, some of the male conscripts were sent to work in the essential coal mines, and became known as "Bevin Boys".

Food rationing began in January 1940 after vital food supplies were being lost as a result of the continuous sinking of Allied merchant ships by German submarines.

In order to ensure a fair distribution of supplies, Ministry of Food ration books were issued to everyone, and people had to register at a shop. There were shortages of cereals, fruit, meat, and sugar.

People were encouraged to grow their own fruit and vegetables by the Dig For Victory campaign, organised by the Ministry of Food. Chickens, pigs, and even rabbits were reared for meat, and many people applied for allotments.

Wasting food became a criminal offence, and because of the sugar shortage, sweets were rationed from July 1942. Local schools helped with the shortages by growing food, and even rearing chickens and pigs.
Walsall did suffer during the German air raids, but got off lightly considering its industrial importance.

On the night of 25th June, 1940 bombs were dropped at Daw End, and on the night of 25th August, 1940 the Public Works Department in Bloxwich Road was destroyed.

In November of that year, one man was killed in Walsall, twelve people died in Willenhall, and a bomb fell on Pleck gasworks, which luckily did not explode.

The gasworks superintendent, Richard Hateley, successfully managed to avoid an explosion in one of the gas holders, and was awarded the George Medal for his efforts.

The Cenotaph in Bradford Place, Walsall. From an old postcard.

In June 1941 eleven people died during an air raid on Darlaston, and five watchmen were killed by an incendiary bomb whilst sheltering in their hut.

Most damage was caused during an air raid on 31st July, 1942 when Leamore bus depot was destroyed, as was much of Croft Street School. Hawley's factory on Lichfield Road was badly damaged, as were a number of houses in Borneo Street.

Many celebrations were held in the town after the official announcement of the end of the war in Europe, which was made on Tuesday 8th May, 1945. The streets filled with people, and buildings carried flags, and large images of the Allied leaders.

During the evening, a Mayoral procession was held, along with a service of thanksgiving at the Parish Church. A vast crowd gathered on The Bridge, the Council House was flood-lit, and people danced on the forecourt.

Street parties were rapidly planned, bonfires lit, and a large illuminated caricature of Winston Churchill was moored on a raft in the centre of the Arboretum lake.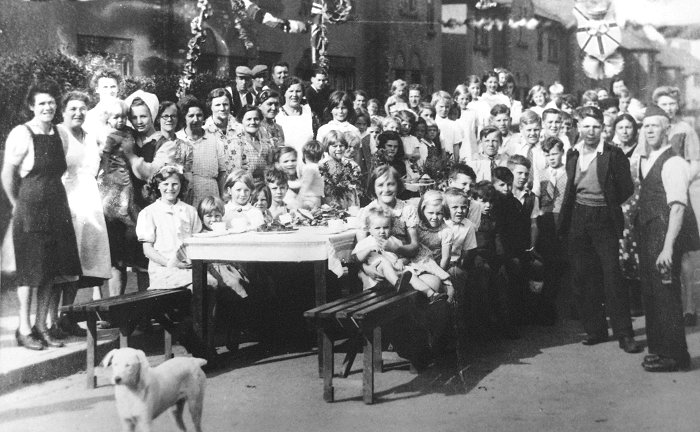 The VE Day street party that was held in Lowe Avenue, Darlaston. Courtesy of Mavis Young.
In April 1948 a War Memorial Committee was formed to decide upon suitable memorials for the town.

They decided that three additional memorial plaques were to be erected in the Town Hall to carry the names of the 741 Walsall people who gave their lives in the defence of their country, and that further inscriptions would be added to the cenotaph in Bradford Place, and to Bloxwich War Memorial.


Bloxwich War Memorial. From an old postcard.
The additions were seen as fitting tributes, and a permanent reminder of those who had selflessly given their lives to their country, during the terrible struggle that had now ended.
---