John Wesley, a Church of England cleric and Christian theologian founded the Methodist movement with his brother Charles. They specialised in open-air preaching as a way of bringing their doctrine to the masses. They often met with much opposition and mob violence, especially from members of the established church.
In 1742 Charles Wesley came to Wednesbury and preached at Holloway Bank. He made several converts who met regularly, and encouraged his brother John to visit the town. His first visit took place on 7th and 8th January, 1743 during which he gave a sermon at Wednesbury Market Cross and preached 3 times at Holloway Bank. He returned to the town in April, 1743 but was met with great hostility, fuelled by the Parish Church vicar, Edward Egginton. He returned the following month and arranged a march to Walsall, where he preached, and was met by a stone-throwing mob.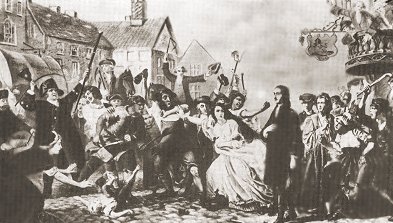 John Wesley greets the Wednesbury mob.
His next visit to Wednesbury on 20th October, 1743 was also quite violent. He preached from the now famous 'horse block' at the High Bullen without incident, and went to Francis Ward's cottage. While he was there the mob arrived and soon moved on, but by 5 o'clock they returned and surrounded the cottage with cries of "Bring out the minister!" The mob's leader entered the cottage to see Wesley, who went out to talk to the assembled crowd. They asked him to go with them to see the magistrate at Bentley Hall. He consented to do so, and along with some of his colleagues and a crowd of 300, they proceeded to see Mr. Lane at Bentley Hall. Mr. Lane told them to go home and be quiet, but this was not good enough, so they escorted Wesley to see another magistrate, Mr. Persehouse at Reynold's Hall in Walsall. Mr. Persehouse had retired for the night and so the crowd decided to go home. At this point they were attacked by a mob from Walsall, into whose hands Wesley fell. His captors were very hostile, and while they were deciding what to do, Wesley began to pray aloud. The leader of the mob was so moved by his words that he had a change of heart and let Wesley and his friends go. That night they returned to Wednesbury having had a lucky escape.
In November of that year violence broke out in West Bromwich, and also in Darlaston after Vicar Egginton's visit. The violence continued in Wednesbury when a mob assembled at Church Hill. Wesley himself came to the town and preached without incident. He left on the morning of 6th February, 1744 and was accompanied on the first part of his journey by James Jones a fellow Methodist preacher. When Jones returned to Wednesbury he found his fellow Methodists in prayer, having heard that a mob would arrive the next day from Darlaston to plunder the house of every Methodist in the town. At 8 o'clock the next morning Jones addressed his fellow Methodists. As he was doing so the mob entered the town and began to break into the houses. Jones went into hiding and left for Birmingham early the next day. The mob entered each of the leading Methodist's houses, breaking windows and window frames, smashing everything inside and generally wrecking the place. Anything of value was taken away. No resistance was offered and most people fled, only some of the children remained, not knowing what to do.
The next day similar outrages were carried out at Aldridge, but this time the returning mob was relieved of their spoils by a group of responsible citizens who took the goods to the Town Hall and invited the owners to come and collect them. Some of the victims unsuccessfully attempted to obtain a warrant against the principal rioters, but none of the local magistrates would comply.
Wesley came to Walsall in 1764 and preached without incident. At the time the Methodists met in a room in New Street. In 1770 a room in Dudley Street was hired for meetings, and in 1790 the loft over the stables at the Castle Inn in George Street was acquired.
Wesleyan Chapels
Central Walsall
In 1801 a Wesleyan chapel opened in Bedlam Court, on the south side of High Street, which from 1807 included a Sunday School. During 1821 a new chapel was built in Ablewell Street as a replacement. It opened in 1829 and included a minister's house and a Sunday school. A vestry was added in 1834, and the school was extended to include a classroom for girls.
The new chapel was well attended, and became the most important Methodist chapel in the area. In 1859 a larger replacement chapel was built on an adjacent piece of land. The building, designed by William and Samuel Horton of Wednesbury, is built of red brick with stone dressings. In 1929 a new frontage was added, and it became known as Central Hall. The old chapel was then converted into a school.
In the 1920s a new organ built by Nicholson & Lord of Walsall was installed in Central Hall. The organ has featured in many organ recitals and concerts, and is one of the best organs in the town. In 1972 and 1973 more building work took place at Central Hall, including a conference centre.
There was a Wesleyan Methodist church on the corner of Butts Road and Lichfield Road. The original church on the site opened in 1883, and was replaced in 1910 by Mellish Road Church. The building was designed by Hickton & Farmer of Walsall, and built in brick and stone, with a nave, transepts, and a tower with a spire. A Sunday school was built next to the church in 1887, and rebuilt in 1935. The church continued in use until 1992 when large cracks appeared in the walls, thought to be the result of subsidence due to old limestone workings. The church's fate was sealed in 2008 when it became the victim of an arson attack. It has since been sold.
Another Wesleyan Methodist Church can be found in Edward Street. It opened in 1903 and is called Reedswood Methodist Church. It contains an organ built by Nicholson and Lord of Walsall.
Bloxwich
By 1781 Methodists were meeting in Bloxwich in an old flax oven on Bullock's Fold in Chapel Field, just off what is now Park Road. It became a chapel in 1795, and continued in use until 1832 when a new Wesleyan chapel was built to the south, in Park Road. It was known as Central Hall, and remained in use as a church until a replacement chapel was built in 1865. It later became a workshop, a cinema, a garage, and a factory. The cinema known as the Central Picture Palace was run by the Bloxwich Picture Company, and could accommodate 500 people. In 1915 and 1916 it was leased to Tom Wood of Bilston and became known as Wood's Palace. In 1921 the cinema was used by Pat Collins, who in 1922 converted it into a store and a repair centre for his fairground rides. The building still survives as a catalogue clearance furniture shop.
In 1865 a new chapel opened in Victoria Avenue, built in Gothic style with a bell tower. It stood on the corner of High Street and Victoria Avenue, where the Total store is today. It was designed by S. and J. Loxton of Wednesbury, and remained in use until 1963, when it was replaced by the modern St. John's Methodist Church in Victoria Avenue.
Brownhills
There was a Wesleyan Methodist chapel on the corner of Brownhills High Street and Pier Street. Its choir was well known in the area. In 1964 the congregation amalgamated with worshippers from Mount Zion Primitive Methodist Church, which was demolished to make way for new shops in High Street. In April 1967 the worshippers moved to a new church known as Brownhills Methodist Church, situated in Silver Street, Brownhills. The church is an Alpine styled building, which contains the old pipe organ from Mount Zion Chapel.
Caldmore
In the 1870s a group of Wesleyan Methodists were meeting in Corporation Street. In 1876 and 1877 they built Trinity Chapel in Corporation Street. It was built of brick with stone dressings and designed by Samuel Loxton. The building consisted of a nave, transepts, and a tower with a spire. A Sunday school was added in 1906. The church continued in use until the 1950s when it was replaced with a modern design by C. C. Gray of Walsall. The new church called Caldmore Methodist Church opened in 1958.
Leamore
In 1862 a Wesleyan chapel was built on the western side of Bloxwich Road to the design of S. and J. Loxton of Wednesbury. It was extended in 1864. By the 1960s the chapel closed, and in 1963 was purchased by the corporation for demolition. A replacement chapel opened two years later on the corner of Bloxwich Road and Carl Street.
Palfrey
In 1863 a chapel opened in Dale Street, near to a private house where services had previously been held for at least six years. By 1868 a Sunday school had opened in the chapel, and in 1887 a Sunday school was built on the site. During 1909 and 1910 the chapel was rebuilt in brick with stone dressings, to the design of Hickton & Farmer of Walsall. It closed in 1974.
Pelsall
In 1830 Methodists were meeting at Heath End, Pelsall, where a chapel was built in 1869. The chapel was refurbished, and a pipe organ installed in 1905 and 1906. Most of the congregation lived locally in an area of old houses, which by the late 1940s were quite run down. The houses were demolished, and the occupants re-housed elsewhere. Because most of the congregation had been re-housed, and left the area, attendances fell, and so in 1959 the decision was taken to close the chapel, which was demolished a short while later.
In the late 1830s a second chapel and a school (Wesleyan Day School) were built in Station Road as a result of a petition from the local community. In 1858 the school came under government control, and in January 1859 a new teacher arrived. The chapel soon became too small for the congregation and so in 1858 a replacement chapel (the Wesleyan Methodist Chapel) was built in Chapel Place, (now Chapel Street) on land given by the Bloomer family who owned Pelsall ironworks.
In 1866 the Wesleyan Day School also moved into Chapel Street, into a new building that was built thanks to the generosity of the Bloomer family. The school was extended in 1895, and continued in use until 1959. Due to the decline in the number of worshippers, the Wesleyan Methodist Chapel closed in 1967, and the congregation amalgamated with worshippers from the old Primitive Methodist Chapel in Paradise Lane (dating from 1853), to form Pelsall's Society of Methodists. Both chapels were closed and replaced with a new Methodist Church in Chapel Street, which opened in 1970.
Pleck
By the late 1820s Methodists were meeting at a road sweeper's cottage in Narrow Lane, Pleck. In 1830 the group moved to a cottage in Wellington Street, and in 1840 opened a chapel in Chapel Street, off Pleck Road. Initially attendances were quite modest (around 40) but within twenty years the chapel was overflowing, and so in August 1861 a new and larger chapel opened on the corner of Regent Street and Oxford Street. Five years later a Sunday school was built opposite the chapel in Regent Street. In 1890 the chapel was extended.