Walsall Congregational Church. From an old postcard.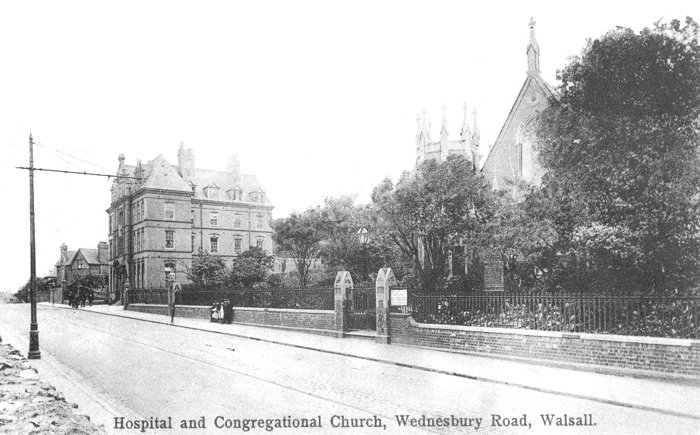 From an old postcard.
By 1970 Walsall Congregational Church was in a bad state of repair. It was demolished in 1973 and replaced by Glebe United Reformed Church, which included a sanctuary, meeting rooms, a reading room, and a gymnasium. In 1993 it joined forces with Broadway Congregational Church which had opened in September 1959, to become Broadway United Reformed Church. Glebe United Reformed Church is now the Glebe Drop-In Centre which offers support services to the local community.
Hatherton United Reformed Church has its roots in Presbyterianism, which became popular in the town in the late 17th century when church members met at various houses. In 1876 services were held in the Exchange Rooms in High Street, and in the following year moved to the Temperance Hall in Freer Street.
In May 1882 the group opened a church on the corner of Hatherton Road and Darwell Street, which now stands next to the modern Civic Centre. It was designed by John Cotton & Henry Hill McConnal in Gothic style, built by W. Trow & Sons in brick with stone dressings, and a plain tile roof with a tower, which originally had a spire. It consists of an aisled nave with cast iron columns, and a northern gallery. An organ was installed in 1891. To the south is a two story Sunday school and parish hall. The spire was removed in 1947, and in 1972 it became the Hatherton United Reformed Church. The building is now Grade II listed.
Other Congregational Churches
In 1819 and 1820 Congregationalists were meeting in houses at Bloxwich. In 1882 the Congregationalists took over the former Methodist Free church on the corner of Blakenall Lane and Booth Street, which had been built in 1871. It continued in use until 1933 when work began on a replacement church, on the corner of Chantry Avenue and Blakenall Lane. It opened in 1936, was built of brick with stone dressings, and faced with stucco. It has since been replaced with the modern Blakenhall United Reformed Church. The original church on the corner of Booth Street was taken over by Harden and District Community Association, and later became a commercial premises. It was demolished in the early 1970s.
In 1860 a church opened on the corner of North Street and Mill Street. It was designed by J. C. Jerome, and is built of brick with stone dressings. The church closed in 1972 and has since become Walsall Seventh Day Adventist Church.
Primitive Methodists
By 1830 a group of Primitive Methodists were meeting in a room in George Street. In 1833 they opened a chapel on corner of Lower Hall Lane and Newport Street, where services were held until 1845 when the building was taken over by a group of Particular Baptists. In 1850 the Primitive Methodists moved into the former Ragged School at Townend Bank, where there was also a Sunday school. By 1876 they had built Mount Zion chapel on the corner of Blue Lane West and Margaret Street. The building continued in use until 1960, and was demolished in the early 1970s.
Pinfold Methodist Church, a Primitive Methodist church and Sunday school was built at the southern end of Bloxwich High Street in1842. It was rebuilt in 1895 and 1896, and a new school was added in 1902. It closed in the 1960s and was demolished in the early 1970s.
Another Primitive Methodist church and a Sunday school was built in North Street in1845. It continued in use until a replacement chapel and Sunday school opened in Stafford Street in 1905. The new church was built of red brick with terracotta dressings, and had a tower with a spire. It closed in the mid 1960s. Other Primitive Methodist churches were built in Caledon Street, Chapel Street, Darlaston Road, and Victor Street.
Methodist Free Church
In 1862 members of the Methodist Free Church opened a chapel in Whittimere Street which continued in use until the 1880s. In 1865 other members of the church opened a chapel in what became Revival Street, Bloxwich. It remained in use until a replacement chapel opened in nearby New Street in the mid 1890s. The chapel closed in the mid 1960s when the congregation moved to the new St. John's Methodist Church in Victoria Avenue.
Unitarians
In the late 18th century a Presbyterian meeting house in Bank Court, High Street became Unitarian. In 1827 the congregation moved to Christ's Chapel in Stafford Street. The small hall was built of brick and had a stuccoed façade. It had a school attached which was funded by the Dissenters School Charity.