West Bromwich College of Commerce and Technology
West Bromwich College of Commerce and Technology had a site in the Tame Valley, off Woden Road South, that was occupied by the Materials Technology Division, and the Department of Automotive Studies.
The Woden Road site offered technical education for students who would mainly be working in the Black Country, which at the time had a vast number of industries requiring skilled personnel. Higher level courses were not considered because of the near proximity of the polytechnics in Wolverhampton and Birmingham, that specialised in such courses.
The site chosen for the new college lay alongside the River Tame, and the boundary between Wednesbury and West Bromwich. It occupied a piece of derelict land that had previously been used for coal mining, lying between the long gone Balls Hill Colliery in West Bromwich, and the Crook Hill Colliery in Wednesbury.
Building work began in the late 1960s, and the college opened for enrolment in the second week of September 1970. The initial buildings on the site had been built at a cost of £270,000. They catered for around 400 students, and consisted of an administrative and teaching block, and a large foundry. The administrative and teaching block had lecture rooms, laboratories, a refectory, and offices. The foundry building consisted of a large foundry surrounded by testing and experimental laboratories. The two buildings were about 100 yards apart.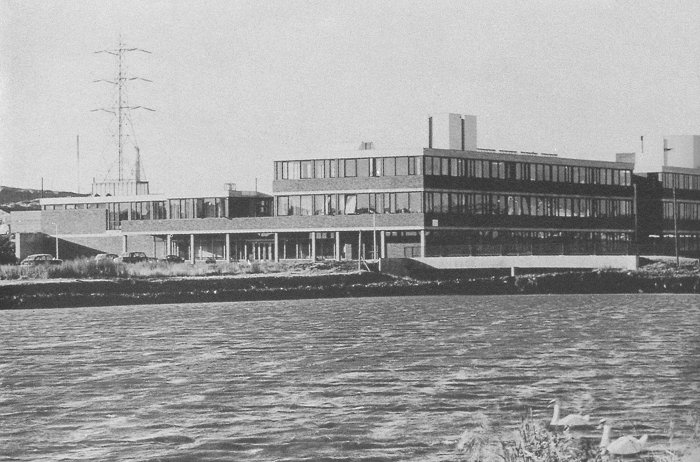 The college in 1970, as seen from Woden Road South.
In 1973 the two buildings were joined by another building linking the two, that could cater for another 1,200 students. By this time the Metallurgy Department had laboratories and workshops designed specifically for metals technology. There were laboratories for metallurgy, science, and non-destructive testing, and workshops for sand and die casting, foundry studies, pattern making, mechanical technology, engineering, and welding. The department had four sections: Metallurgy and Science, Cast Metals Technology, Computing, and Non-Destructive Testing.
The computer suite had a DEC PDP 11/34 computer, and ran courses for students who had already done a little programming and wanted to work in data handling, or graphics. Technical courses were available at craft, technician, and technologist levels. Close contact with industry was maintained through liaison and advisory committees, and by informal meetings and visits.
The refectory, along with three others on different sites, was operated by the Department of Catering, Health and Fashion, one of the ten college departments. The customers, both staff and students, passed their views of the food and service to the Refectory Consultative Committee who ensured that the refectory provided a good service that catered for customer demand.
The library, known as the central library, had a large collection of books, and was very popular with staff and students alike. Books and periodicals could be borrowed from other libraries as required, and a large range of audio-visual material was at hand, including tapes, slides, and teaching programmes. both full time and part time students were encouraged to join the library.
The college's theatre seated 120 people, and was home to the Education Television Centre that had been equipped with the latest colour production and electronic editing facilities. A great deal of technical expertise was on hand, and many students used the facility as part of their course. Mr. Bob Wilkinson was in charge of television productions, and always willing to help other members of staff with his expert technical advice. His department, the Department of Photography, Audio and Television ran courses covering all aspects of photography including darkroom work, studio work, composition, and dealing with the general public. The audio studies course included sound production, recording and presentation for industry, recording music, talking newspaper production, and audio tape production. There was also a course leading to a certificate in television production, and short courses in tape and slide presentation.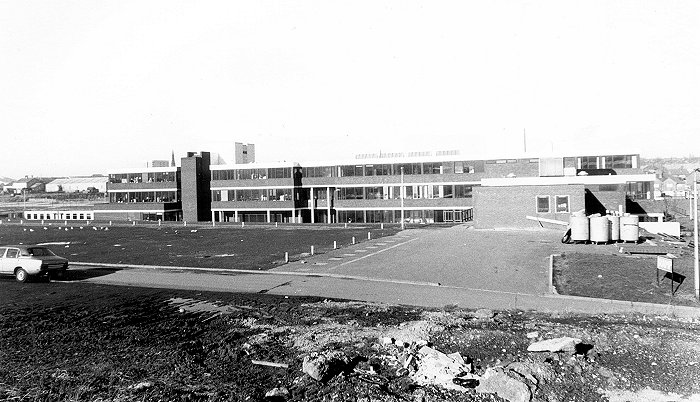 The Tame Valley site in the early 1980s.
The Department of Automotive Studies
In 1983 the college's Department of Automotive Studies opened in new buildings on the site. It was officially opened by Prince Michael of Kent on 3rd November, 1983. The department catered for the needs of the car industry in the West Midlands by offering courses at craft, technician, and professional level covering all aspects of road transport, and garage trades and services. There were off-the-job training courses for vehicle mechanics, body repair apprentices, automotive electricians, and diesel specialists. Students were taught the necessary skills as rapidly as possible, ensuring that they were a great asset to their employer. The courses were approved by the Road Transport Industry Training Board, and the Manpower Services Commission.
There were also part-time day and evening courses in auto electrics, complete engine overhaul, motorcycle maintenance and repair, light vehicle body repairs, and paint finishing. Other specialist courses included training for light and heavy mechanics, plant mechanics, auto electricians, fuel injection specialists, diesel equipment mechanics, motorcycle mechanics, and parts receptionists.
Short courses were offered on block release during the day or evenings, covering specialist areas, including fuel injection equipment, air brakes, engine diagnostics, and electrical and diesel specialities.
The following photographs show the construction of the buildings and some interior views. I must thank Brian Groves and John Hellend for the photographs.