The same Electoral Register also has an entry for Thomas's son Randolph Henry Spencer Churchill Bratt and Louisa Bratt (presumably his wife) living a few doors away at 74 High Street.
Thomas's wife Lucy Maria died in February 1927, as recorded in his poem "In loving memory of my dearly beloved wife". Thomas died two years later on 19th August, 1929 and was buried alongside Lucy in Bentley Cemetery. Two of his last poems were dedicated to his grandsons George Beach and Joseph Horace Abbis. They were called "In memoriam – grandson George Beach" and "In memoriam – my grandson Joseph Horace Abbis - February 1929".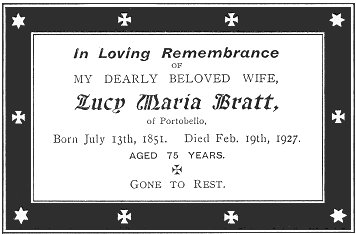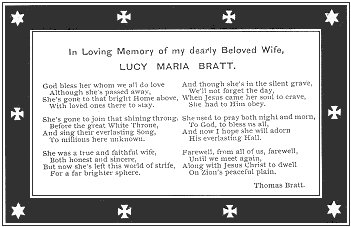 The tribute to Thomas's wife reads as follows:
In Loving Memory of my dearly Beloved Wife,
LUCY MARIA BRATT.
God bless her whom we all do love
Although she's passed away,
She's gone to that bright Home above,
With loved ones there to stay.
And though she's in the silent grave,
We'll not forget the day,
When Jesus came her soul to crave,
She had to him obey.
She's gone to join that shining throng,
Before the great White Throne,
And sing their everlasting Song,
To millions here unknown.
She used to pray both night and morn,
To God, to bless us all,
And now I hope she will adorn
His everlasting Hall.
She was a true and faithful wife,
Both honest and sincere,
But now she's left this world of strife,
For a brighter sphere.
Farewell, from all of us, farewell,
Until we meet again,
Along with Jesus Christ do dwell
On Zion's peaceful plain.

Thomas Bratt.
After Thomas's death his son Horace continued running the family business. He is listed in the 1940 trade directory as a fruiterer, trading at 84 High Street. Horace is also mentioned in "The Memories of Harry Cotterill" and the fruit shop window was featured in an article on Portobello that appeared in the Wolverhampton Chronicle on 23rd August, 1957. A list of Thomas's works can be found in Wolvehampton Archives and Local Studies at Snow Hill. The list includes over 430 poems and 90 sonnets.
The poems
Thomas was certainly writing poetry by 1881 because one of his earliest poems "In memory of Lord Beaconsfield" was dedicated to Benjamin Disraeli who died in that year. He may even have been writing much earlier. His poem "In memory of Prince Leopold" could have been written in 1865 or a little later. We can learn a lot about Thomas and what he thought of life from his poems:
He was very much a royalist and expressed this in the following poems:
"In commemoration of Her Majesty's Jubilee"


"To Victoria"


"The Royal Wedding (The Earl of Fife)"


"H.R.H. Albert Victors Last Farewell"


"H.R.H. The Prince of Wales's Jubilee"


"For the Royal Wedding"
Some of his works feature leading public figures of the day:
"In Memory of Cardinal Newman"


"To the Rt. Hon. W.E. Gladstone (82nd Birthday)"


"To the Rt. Hon. C.P. Villiers (90th Birthday)"


"To Lord Tennyson"


"In Mem. Lord Salisbury"


"In Mem. Sir Ernest Shackleton"
He was also interested in warfare:
"The soldier and his friend"


"The Transvaal War – The Lions awake"


"A soldier's farewell"


"A welcome to our volunteers"


"The Russo – Japanese war"


"The St. Petersburg massacre"
Thomas was an ardent football fan:
"Villa V. West Brom"


"W. Brom V. Villa"


"W. Brom V. Wolves"


"Football"


"The Wanderers Song (English Cup Final 1893)"


"Derby City V. Stoke at Molineux (semi final)"
Poems about local people, places and events include:
"The Portobello Ghost"


"In Memory of Poor Tim the Newsman"


"The Willenhall Park"


"The Willenhall Fire Brigade"


"Lines on the Willenhall Locksmith's strike"


"The Bradley Boiler Explosion"
After many years of searching for the works of "The Portobello Poet", they have now been found. Alice Bratt, Thomas's great grand daughter has copies of the poems that have been handed down within the family. She has over 17 volumes of the handwritten poems, all in red ink, which doesn't fade. Her collection includes the poems, sonnets and an entire book of psalms in verse. She has a complete list of his works and a large number of letters of thanks, that were sent to Thomas by grateful recipients of some of his work. Many of the letters are from famous people including royalty and heads of state.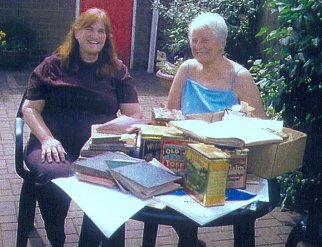 Maureen Hunt and Alice Bratt with some of her collection.
It is hoped that all of Thomas's works will be sorted and eventually published, with perhaps the psalms appearing first.
---
Read some of the poems
If anyone has any of Thomas's poems or sonnets, Maureen Hunt would love to hear from you.
Please contact her at:
3 Slade Road


Fordhouses


Wolverhampton


WV10 6QP


Or telephone / fax 01902 780050
---