---
This section is based on a large single sheet list of all of the departments and their full time and part time day courses, and evening courses, for the 1947 to 1948 session. Because many of the courses were run several times during the week, and sometimes at different levels, I have abbreviated the list to course names only, to make it easily readable. There was an amazing variety of courses on offer at the time.

I have to thank David Parsons for a copy of the list.
Production Engineering Department

Costing and Cost Accounts
Drawing Office Practice
Drawing and the Elements of Jig and Tool Design
Electricity in the Factory
Engineering Materials & Processes
Engineering Metallurgy
Foundry Science and Calculations
Foundry Practice
Foundry Processes and Drawing
Geometry
Industrial Administration
Jig and Tool Design
Machine Sketching and Drawing
Mathematics
Applied Mechanics
Mechanics and Workshop Mathematics
Pattern Shop Procedures and Drawing
Pattern Shop Practical
Sheet Metalwork, Drawing and Calculations
Sheet Metalwork, Practice, Drawing, Calculations
Sheet Metalwork, Practice
Strength of Materials and Theory of Machines
Time and Motion Study
Welding Science
Welding, Electric Arc, Practice
Welding, Gas, Practice
Workshop Organisation and Management
Workshop Procedures and Drawing
Workshop Procedures and Practice

Mechanical and Electrical Engineering Department

Aircraft Structures
Automobile Practice
Applied Heat, with Light and Sound
Applied Mechanics
Boiler House Practice
Boiler House Science
Calculations and Drawing
Electrical Engineering
Electrical Engineering, Elective
Electrical Laboratory
Electrical Technology
Electrical Science
Engineering Chemistry
Engineering Drawing
Engineering Mathematics
Engineering Metallurgy
Engineering Physics
Heat Engines & Hydraulics
Industrial Administration
Installations, Theory & Practice
Internal Combustion Engines
Materials and Structures
Mechanical and Electrical Science
Mechanics of Fluids Mechanical Science
Mechanical Science
Motor Vehicle Science
Motor Vehicle Electrical Technology
Motor Vehicle Technology
Radio Principles
Radio Servicing
Strength of Materials
Telecommunications Mathematics
Telecommunications Practical
Telecommunications Principles
Steam Utilisation Theory of Machines
Workshop Organisation and Management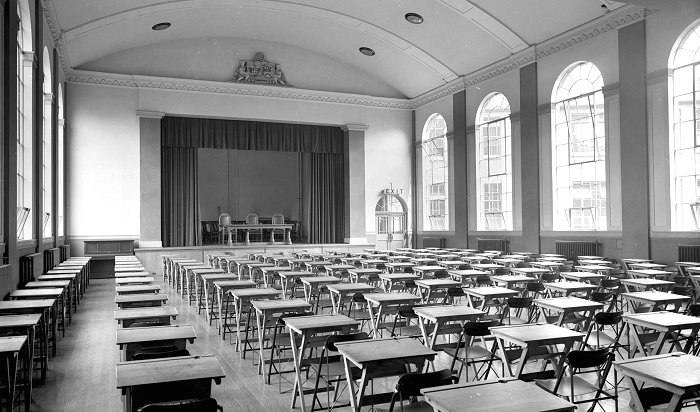 The Main Hall, in readiness for an examination.
Building Department

Architectural Drawing
Bricklayers' Theory
Bricklayers' Workshop
Building Calculations and Geometry
Building Geometry
Building Construction
Building Drawing
Builders' Quantities
Building Science
Carpentry and Joinery Theory
Carpentry and Joinery Workshop
Gas Fitters' Theory
Gas Fitters' Workshop
Geometry & Craft Science
Materials & Structural Laboratory
Plumbing Theory
Plumbing Workshop
Sanitary Inspection Surveying

Chemical and Metallurgical Department

Advanced Hairdressing Science
Applied Mathematics
Applied Physics for Engineers
Biology
Botany
Botany Laboratory
Chemistry
Applied Chemistry for Engineers
Inorganic Chemistry
Inorganic and Physical Chemistry
Chemistry Laboratory
Organic Chemistry
Physical Chemistry
Physical Chemistry Refresher
Chemistry Tutorial
Engineering Chemistry
Engineering Drawing

Engineering Metallurgy
English
French
French Science
Fuel Technology
German Science
Mathematics
Pharmacy
Pure Mathematics
Mathematics Tutorial
Mechanics
Physics
Physics Tutorial
Treatment of Ferrous Metals and Alloys
Zoology
Zoology Laboratory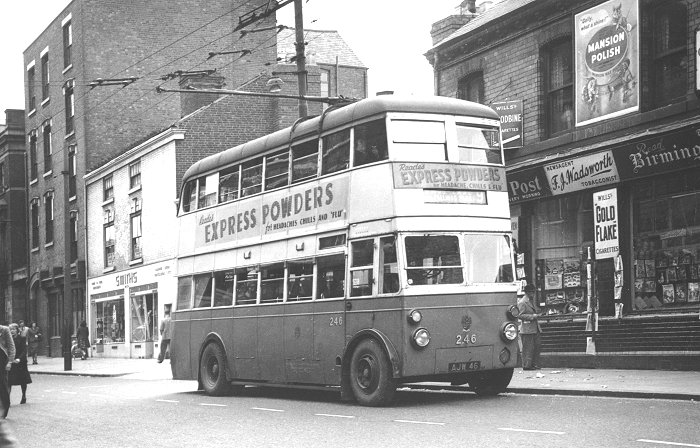 Stafford Street in the late 1940s, before the building of the Stafford Street extension. Courtesy of Roger Taft.
Commerce Department

Auditing
Accountancy Arithmetic
Arithmetic for Grocers
Arithmetic for Hairdressers
Arithmetic and Accounts
Arithmetic & Accounts for Butchers
Art for Hairdressers
Bankers Refresher Course
Book keeping
Book keeping for Hairdressers
Business Routine
Commerce
Commercial Maths
Commodities for Butchers
Company Law
Costing and Cost Accounts
Economics
English Economic History
English for Hairdressers
English for Butchers
English Literature
English Law for Bankers
French
German
Geography
General Commercial Knowledge
Grocery Commodities
Grocery Shop Practice
Income Tax Law and Accounts
Law of Meetings
Law of Negotiable Instruments for Bankers
Mercantile Law
Methods of Business for Butchers
Public Administration Course
Central and Local Government
Social and Political Theory
Retail Distribution
Russian
Salesmanship
Saloon Work for Hairdressers
Science for Hairdressers
Science of Meat for Butchers
Secretarial Practice
Shorthand
Shorthand Speed
Spanish
Statistics
Textile Merchandise
Typewriting

Women's Department

Classical and National Dancing
Cookery
Cookery for Housewives
Cookery Theory and Dietetics
Dressmaking
Dressmaking for Housewives
Elocution
First Aid and Nursing Infant Care
Health Education

Homemaking
Keep Fit
Millinery and Accessories
Needlework and Lingerie
Operatic Training
Personal Health Education
Soft Furnishings
Soft Furnishings for Housewives
Tailoring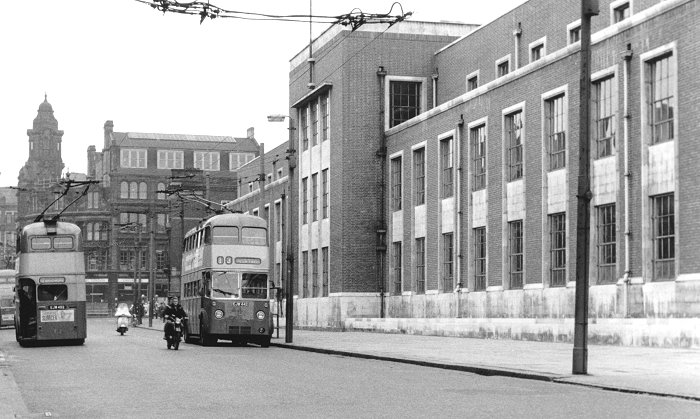 The Stafford Street extension in the late 1950s. Courtesy of Roger Taft.
Music Department

Advanced Keyboard Techniques
Aural Training
Choir
Counterpoint and Orchestration
Harmony and Composition
Harmony
History and Aural Training
History of Vocal and Choral Music
Chamber Music
Orchestral Music
Madrigal Group
Musical Analysis
Operatic Training
Rudiments of Musicianship
Solo Singing
String Orchestra
Violin Tuition


Open Recitals

Adult Studies

Drama
Economic History
Elocution
English Literature

Problems of the Modern World
British Archaeology
English Art

Keep Fit and Physical Training

Classical and National Dancing
Keep Fit for Women
Physical Training for Men
Recreational Gymnastics for Men
Science
Biology
Chemistry
Intermediate Botany
Intermediate Physics
Languages
French
German
Russian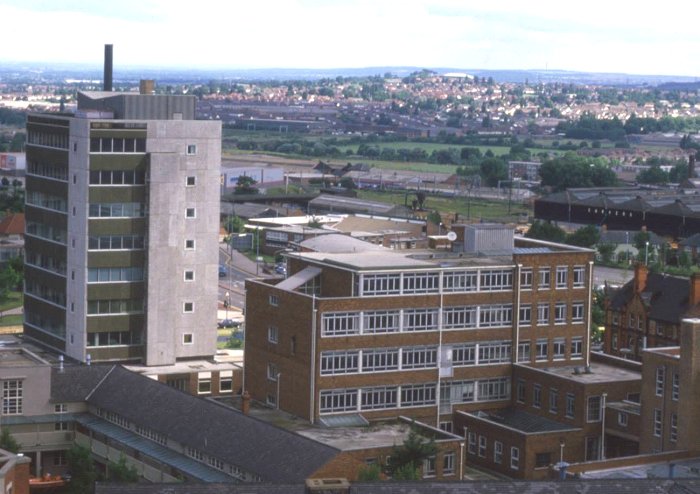 'C' Block and 'B' Block in the late 1980s.
---