---
The British Electric Traction Company
Beginnings

The company began in a small way with the formation of the British Electric Traction (Pioneer) Company Limited, founded on 7th November, 1895 to arrange finances for any organisation wanting to use electrically-powered tramways. The idea for setting-up such a company came from Mr. Emile Garcke, a naturalised Englishman who had been born in Germany in 1856.

He became Company Secretary at the Anglo-American Brush Electric Light Corporation in 1883, which was based at Lambeth in London. Four years later he became Manager, then in 1891 became Managing Director of its successor company, Brush Electrical Engineering Company, Limited. He also became Managing Director of the newly formed Electric Construction Company in 1893, a post he held for three years. During his lifetime he became involved in at least 80 companies that were associated with electricity supply or electric traction.

In 1891 he established the Electric and General Investment Trust for the promotion and financing of electrical undertakings, and as already mentioned, set up the British Electric Traction (Pioneer) Company Limited in 1895. He also published many electrical books and pamphlets, and remained at B.E.T. until 1929, when he retired. He died in November 1930.
Another director of the British Electric Traction (Pioneer) Company was Mr. John S. Raworth who worked for Siemens before becoming Superintending Engineer at the Brush Electrical Company in 1896.

The Engineer at the BET (Pioneer) Company was Mr. Stephen Sellon who had previously worked for the Thomson-Houston Company of America, and had been associated with Mr. Garcke in the setting-up of the Traction Department at the Electric Construction Company. He was also a member of the Board of Trade Committee on Light Railways, and produced a report that resulted in the Passing of the Light Railways Act of 1896.

On 26th October, 1896 the British Electric Traction Company was formed to take over the interests of the B.E.T. (Pioneer) Company, and to develop electric tramways throughout the country by promoting and constructing new lines, reconstructing existing lines, and taking over existing companies.

The company already had proposals for tramways in Hartlepool, Kidderminster, Oldham, and Stoke-on-Trent.

Mr. Emile Garcke became the new company's Managing Director, and the Chairman was Sir Charles Rivers Wilson.
The company planned to purchase and operate all of the existing tramways in South Staffordshire, other than the ones run by Walsall Council, which had already stated its intention to purchase and operate its own lines. The track would be standardised, with a gauge of three feet six inches, and power would be supplied by an overhead wire.

In 1897 the company moved into new offices at Donington House, Norfolk Street, Strand, London, and early in the same year proposed a Bill to incorporate the Birmingham, Wolverhampton & District Tramways Company, and to acquire part of the South Staffordshire Company's system, the whole of the Dudley & Stourbridge network, the Dudley & Wolverhampton Company's network, and Wolverhampton Tramways. Also to construct several new lines, and seek running powers over others. The Bill was eventually withdrawn because an agreement could not be reached with Wolverhampton Corporation over the cost of the electricity to be supplied to the company.

Negotiations continued with other local authorities, and the company soon began to run a number of tram networks in South Staffordshire, and went on to become the largest private owner of tramways in the country, gaining control of many local networks including South Staffs, Wolverhampton District, Birmingham and Midland, Dudley and Stourbridge, Kidderminster and Stourport.

The company's other networks included Airdrie and Coatbridge Tramways Barnsley, Barrow-in-Furness, Brighton and Shoreham, Cambridge, Cavehill and Whitewell Tramway, Devonport and District, Dewsbury Ossett and Soothill Nether, Gateshead, Gravesend, Great Yarmouth, Greenock and Port Glasgow, Hartlepool, Jarrow, Leamington and Warwick, London (Metropolitan Electric and South Metropolitan systems), Merthyr Tydfil Electric Tramways, Mexborough and Swinton, Middleton, Oldham Ashton and Hyde, Peterborough, Poole, the Potteries, Rossendale Valley, Rothesay and Ettrick Bay Light Railway, Sheerness, Southport, South Shields, Swansea, Swansea and Mumbles Railway, Taunton, Tynemouth, Weston-Super-Mare, Worcester, Yorkshire (Woollen District), and Wrexham and District Electric Tramways. B.E.T. also operated trams in Australia and New Zealand.
In 1898 B.E.T. and the Brush Electrical Engineering Company established the Electrical Power Distribution Company to provide electricity to municipal areas, and in 1903 B.E.T. became a tram manufacturer when it acquired a controlling interest in the Brush Electrical Engineering Company.

By 1904 B.E.T. controlled 66 companies, mostly involved with tramways or electricity supply, and in 1905 a subsidiary, the British Automobile Traction Company was formed to run motor buses. By 1906 the company operated fifteen percent of all British tramways.

Unfortunately B.E.T. began to struggle financially because of poor returns from its tramways due to falling fares. Some tramways had to be subsidised by local authorities in order to survive, and others were being compulsorily purchased by local authorities, so the motor buses run by the British Automobile Traction Company became more important.

In 1912, one of the tramways that was under B.E.T. control, the City of Birmingham Tramways Company Limited, was put into voluntary liquidation after Birmingham Corporation took over the company's lines on 1st of January of that year. Four years later B.E.T. had a reduction in share capital because of its falling assets.


The B.E.T. logo.
By 1920 the company started to diversify, and began to acquire other businesses of a totally different nature. One of the first was Stoll Picture Productions Limited, a film production company. Another was Advance Laundries Limited, and Laundry Services Limited, which became a public company in 1936. B.E.T. sold its shareholdings in a number of companies including the British Automobile Traction Company, the London and Suburban Traction Company, and the Shropshire, Worcestershire and Staffordshire Power Company, and in 1930 purchased shares in several gas companies, and acquired the National Electric Construction Company.
B.E.T's bus fleet rapidly grew. By 1944 the company owned 8,500 buses which operated throughout the country. In 1947 the country's power station and electricity distribution network was nationalised, and so B.E.T. lost the once important electricity generation and distribution part of the business. The company continued to diversify, and acquired a large number of businesses involved in a wide range of activities from construction and plant hire, leisure and entertainment, printing and publishing, textile maintenance and waste management, to a trust company in South Africa. One of its acquisitions was a significant portion of Broadcast Relay Service Limited, otherwise known as Rediffusion. In 1967 B.E.T. acquired a controlling interest in the company, and in 1983 acquired the remaining equity.
The company's last tram, which ran on the Gateshead and District Tramways Company, made its last journey on 4th August, 1951, and in 1954 B.E.T. acquired 22 percent of the shares in Initial Services Limited, the hygiene and towel company. When commercial television started in the UK in 1955, B.E.T. and Associated Newspapers funded the formation of Associated-Rediffusion which began broadcasting in London.
In 1967 B.E.T. sold its bus business to the Transport Holding Company, and continued with its acquisitions. In 1968 B.E.T. acquired Boulton and Paul Limited, Grayston Limited, J. D. White Limited, Biffa Limited, Re-Chem International Limited, and became involved in the search for oil in the North Sea.
In 1985 B.E.T. completely took over Initial Services Limited, and in 1996 was itself taken over by Rentokil, which then became Rentokil Initial.
In just over one hundred years B.E.T. had risen from small beginnings to become a vast industrial organisation, controlling many businesses, in many different fields. The company changed beyond recognition from its early days when it operated trams, to diverse activities including leisure industries, film and TV, waste management, and oil exploration. It was one of the country's great business success stories.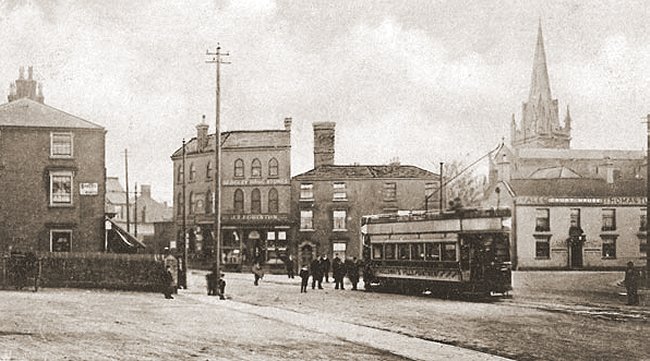 A tram in Sedgley Bull Ring, on its way to Dudley. From an old postcard.
---