---
The Weldless Steel Tube Company Limited, Waddens Brook Lane, Wednesfield was founded as a private company in 1872 by three members of the Lloyd family; William Ellis Lloyd, William Henry Lloyd and Francis Henry Lloyd. The factory was in Ladywood, Birmingham, alongside Icknield Port Road and Freeth Street. The original process began by producing a steel billet on one of the firm's two Swedish barrel type rolling mills. The seamless tubes were produced by boring a single hole down the middle of a steel billet and expanding it. Initially tubes were produced from 1¾ inches to 5½ inches in diameter. The firm was originally called the Wellman Steel Tube Company and made tubes for bicycle frames, boilers, hydraulic presses, and shafting.
By 1894 there was a great demand for bicycles, and much of the available tubing for cycle frames was rapidly being acquired by American companies. This led to shortages and so the company acquired a site in Rotton Park Street, opposite the existing works and alongside the canal, for the building of a second factory. Production began there in about 1897.

An advert from 1899.
In 1899, on the death of William Ellis Lloyd, and the retirement of William Henry Lloyd, Weldless became a public limited company, with Francis Henry Lloyd as Chairman. The company was valued at £100,000 and at the time produced around 50,000 feet of tube per month, up to 6 inches in diameter.
The Directors were Francis Henry Lloyd J.P. of Stowe Hill, Lichfield, Chairman; George Herbert Lloyd of Sutton Coldfield; John Wilson of 49 Lime Street, London; William Uprichard Jackson and Francis Zachary Lloyd.
In 1901 the firm leased Reliance Works in Wednesfield and purchased the factory in 1907, followed in 1911 by the acquisition a steel mill at Hope Works, nearby in Wednesfield. The mills at Reliance Works were improved, so that by 1909 it was possible to roll tubes with an outside diameter of 3½ inches. Hope Works produced 2½ to 3 cwt. Ingots in all types of carbon steel. During the First World War there was a huge demand for tubes as part of the war effort.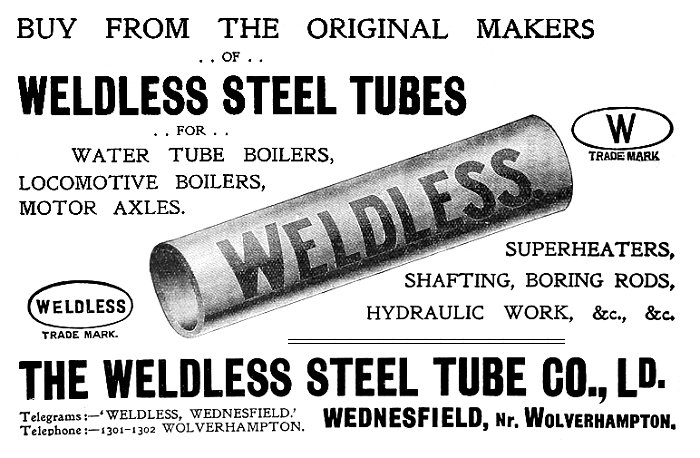 An advert from 1926.
Francis Henry Lloyd had a terrible shock in June 1915 when his youngest son, Major John Francis Selby Lloyd of the North Staffordshire Regiment, was killed in action. Francis never got over the shock.
Francis Henry Lloyd (born in 1844) also founded Europe's largest steel foundry, F. H. Lloyd & Company Limited, in Wednesbury. He lived at Wood Green, Wednesbury until 1890 when he and his family moved to Stowe Hill Mansion at Lichfield. Francis sadly died in January 1916 after being hit by a train whilst taking a short cut to the railway station at Darlaston, before catching his train home. He was succeeded as Chairman by Francis Zachary Lloyd, who in 1920 decided to close the Birmingham factory in order to concentrate production at Wednesfield.
Francis Zachary Lloyd (born in 1869 in Wednesbury) died at his home, Areley Hall near Stourport, in 1920. He was awarded a C.B.E. for his work on the organisation of supplies during the First World War, and became a member of the Iron and Steel Institute in 1920. After Francis Zachary Lloyd's death, W. V. Jackson became Chairman and R. E. Moynihan became General Manager. The other Directors were Daniel Charles Lloyd (son of Francis Henry Lloyd) and Mr. J. Wilson.

Cold drawing in Hope Works.

Hydraulic drawing in Reliance Works.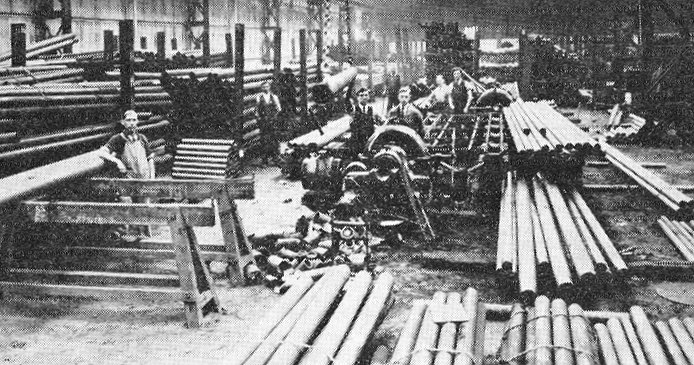 Tube cutting equipment.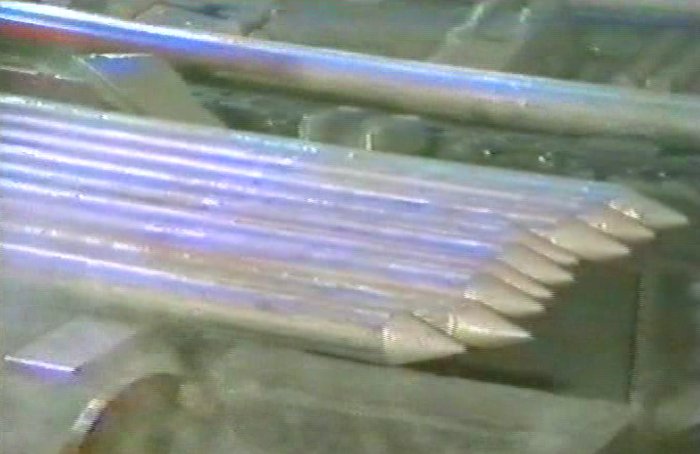 Mandrel Bars.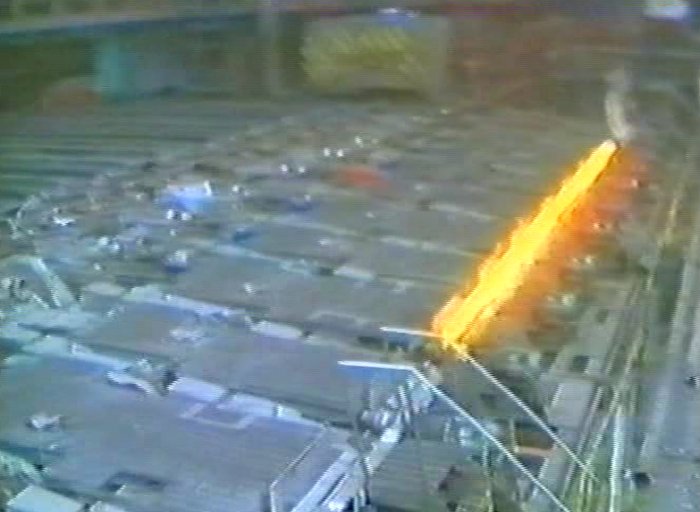 A corner of the rolling mill.

Operating part of the complex computer control system.

One of the computer displays.
The firm began to suffer from the effects of the global depression in the early 1920s which resulted in the closure of the factory from around 1922 until 1924. It became part of Tube Investments Limited in 1929, but closed again in the early 1930s because of the great depression. The factory opened again in 1934 and in the Second World War concentrated on the production of aircraft gas cylinders and barrage balloons.
By the 1950s, orders were in plentiful supply and in the late 1950s the company claimed to have produced the world's longest rolled stainless tube, which was over 55 feet long, with an outside diameter of 6 inches. New machinery installed in 1954 included two Pilger mills of the latest design, with ancillary plant, including gas producers.
A big development took place in 1969 when a £10 million continuous tube mill was installed, consisting of a three roll piercer, a mandrel mill to elongate the pierced billet, and a stretch reducing mill to produce the final size of tube required. The new plant could produce more than 100,000 tons of seamless tubes each year in the continuous mill. There was also a specialised finishing plant at Corby. Products included boiler tubes, and tubes for process plant, power generation, pipelines, vehicles, construction equipment, oil wells, mineral exploration, and sporting goods such as golf clubs and bicycles.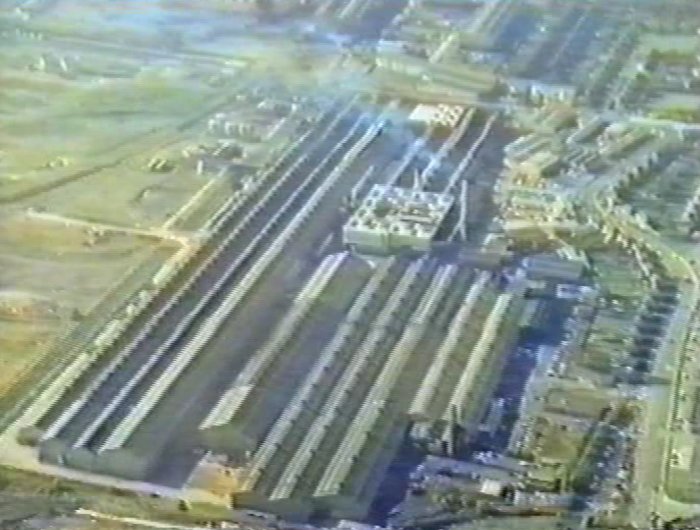 An aerial view of the factory.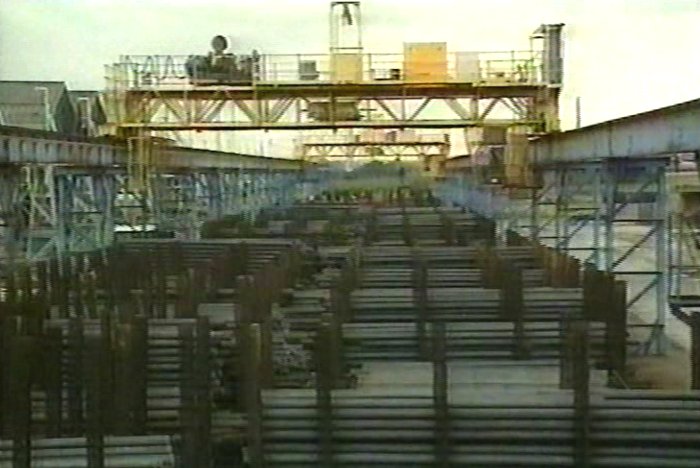 The outside storage area.
Tubes were produced in three stages. Initially a solid billet was pierced on the unique three roll rotary piercer, followed by elongation over a mandrel bar to achieve a controlled wall thickness, before rolling to a finished diameter on a stretch reducing mill. The continuous process was accurately monitored and controlled by a sophisticated computer system, with quality control forming an integral part of production. Many of the firm's products went abroad, to countries including Burma, Cuba, Jamaica, New Zealand and Norway.
In the 1970s the firm became T I Weldless Limited, by which time around 1,500 people worked in the factory. On the 22nd December, 1983, the company became Seamless Tubes Limited. By the early 1990s the firm was finding it difficult to compete with cheaper foreign competition and began to make a loss, which by the mid 1990s had increased to around £2 million annually. By this time it was part of British Steel Seamless Tubes and mainly produced oil and gas pipes, and axles for lorries.
Because of the annual loss, British Steel decided to close the factory in 1995 and commissioned Connell Brothers Limited, of Salford, Manchester to demolish the buildings and make the 37 acre site safe. The closure resulted in the loss of 520 jobs.

The site then became part of Wednesfield Steelpark, which was opened by the deputy Prime Minister, John Prescott in 1999.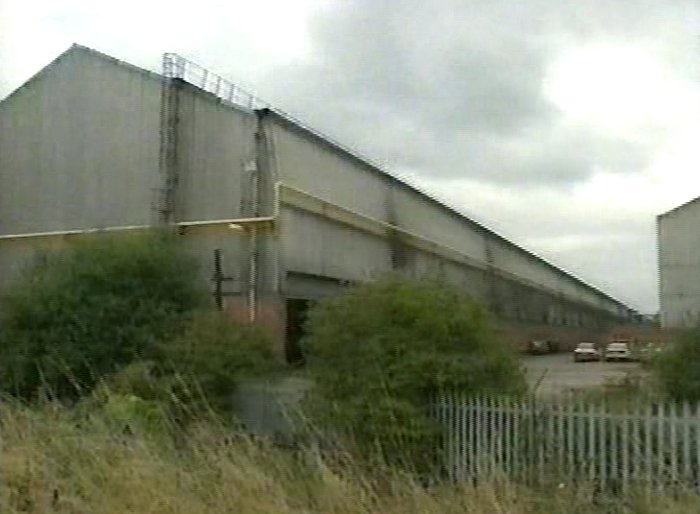 Part of the factory.

A final view of the factory.
---