---
Motorcycles
After a little time on the police cars, Joe became a police motorcyclist.
"Motorbikes were a step up from the cars. I started on the cars but I had my own motorbike, along with a few others who used them to travel to and from work. I was given a test on an old Velocette, a big un. We had a Triumph, an old Velocette, and two Nortons, DUK 23 and DUK 24, both 500s. Riding them was like sitting on a park bench. I had been riding a 500c.c. Ariel, I'd been doing it in the army, and had had a motorbike before. After my test I was told that they wanted me to be a permanent traffic man, they wouldn't let you do this until you were a motorcyclist as well as a driver. Once you were a motorcyclist you could flit from cars to motorbikes.

Joe on his 500cc Ariel. Riding in a trial for the Wolverhampton Motor Cycle Club. Courtesy of Joe Davies.

There was a vacancy on the bikes, and George Llewellyn went to see Superintendent Pendrid. He said "I've got this vacancy, and I'd like to have Davies permanently." Pendrid responded with "He wants to get his number dry first." He clearly didn't want me to have the job"

Superintendent Pendrid was referring to two incidents that happened much earlier in Joe's career, both of which he totally misunderstood. Joe described them as follows:

"When I was a young bobby, I was showing a younger man around. We were going up York Avenue in the middle of the night. I remember this distinctly. I saw a hedgehog run across the road in front of us, and I said to my colleague, Tom I said, look at that bloody thing there. We went on and I never thought another thing about it.

I came off nights at 6 a.m. At half past nine there was a knock on our door, a policeman, who said "Pendrid wants to see you straight away", so off I go. I got out of bed after only two hours sleep, this was discipline, they would do the same if a place had been broken into on your beat, and have you out the next morning. You had to check the clubs, everywhere were there were cigarettes and spirits, and put it down in your book. You didn't just glance at it, you had to try every door and window, and check the clubs two or three times a night.
When I got there and was marched-in by the sergeant, he said "First thing, where were you at 3.30 this morning?" I said I'll have to look in my pocket book sir. He replied "I know where you was, I've had a serious complaint about your conduct. I've had a lady telephone me. She was looking out of her bedroom window in the night and there was two policemen riding bikes up the road, and one was heard to say "look at that bloody thing there". Oh I said, a hedgehog crossed the road. He hit the table hard as though he was going to smash it and said "how did you think that up so quick?" He didn't believe me. I said it's true, ask PC Handley. He dressed me down and said "When you want to have a cussing session get in a field where they can't hear you.

Another example which he wouldn't believe, happened at Red Lion Street Police Station. We always kept a police van in the yard in case of trouble. There was a big hostel full of Polish people where the East Park estate now stands. There was some trouble there one Saturday night while I was on duty, so I dashed in, got the van and dashed out. Pendrid was just coming out of the canteen when he saw me fly out. On Monday morning I was on the carpet again.


The entrance into Red Lion Street Police Station yard.
He said "You're going to kill somebody you are." I said "What's wrong sir?" and he replied "I saw you coming out of that gate like a mad man in the van." I said "I was off the hostel, there was some trouble", and he said "You're going to kill somebody."

Joe as a police motorcyclist in 1953. The machine is a 500cc BSA A7. The first of its kind used in the borough. Courtesy of Joe Davies.
I explained that there was a policeman standing in Red Lion Street who waved me out. He said "There wor." I don't think he ever believed me. What can you do?"

Unfortunately this had repercussions when George Llewellyn went to see Pendrid to recommend Joe as his chosen candidate to fill the vacancy for a motorcycle patrol rider. Pendrid wanted another man called Baker, who had no motorcycle experience. When Baker went out for a trial run on one of the motorbikes he was quite scared, and rang George Llewellyn stating that it was not for him. George was delighted, and returned to Pendrid who now let him have his way. Joe was now officially a police motorcycle rider.

They were badly off for equipment, with just one helmet per motorbike. They had been ridden for years by people wearing flat caps, but when the courtesy patrol was introduced, they obtained two or three 'Corker' helmets. Each time a rider returned from his patrol and handed the bike over to the next man, he would also hand over his helmet. Joe went onto the courtesy patrol and continued to work with the bikes and cars until he was in line for promotion in 1954.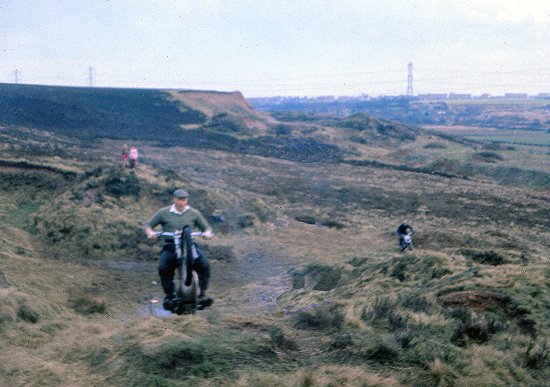 Joe in action on his DMW machine.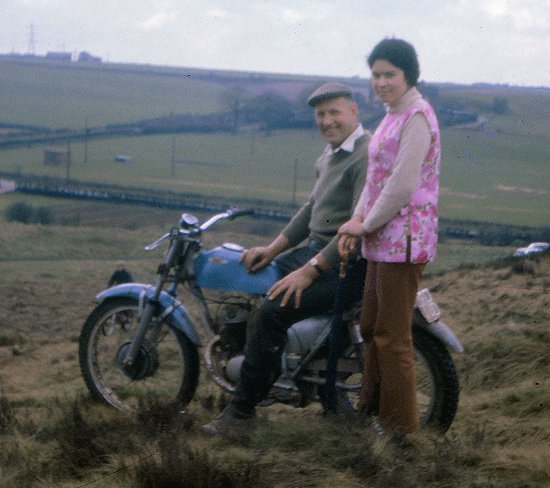 Another view of Joe on his DMW.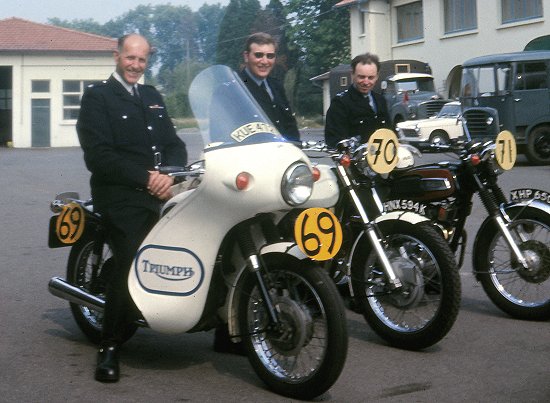 Joe and some of his police colleagues.

A final view of Joe on his police machine.
---