---
Into Retirement
Since he left the police in 1976 Joe has had an interesting and busy retirement. He is passionate about steam engines, fairground organs, and street organs, and has become a well-known and much respected figure, who is seen at many events throughout the country with his street organ "Lady Wulfrun".
"I didn't know what to do for a while, but I had a class 1 heavy goods licence, a PSV licence, and a driving instructor certificate. I decided I would have a driving school and taught many people to drive, I thoroughly enjoyed it. I only did it for 10 years as a stop gap. I met such nice people, they were so genuine, and wanted to get on. In the force you were sometimes dealing with the opposite, so it was a welcome change from the force.
I required an old Lister barn engine with a friend, and we built it up. I got it driving a corn grinding mill, a water pump, and a generator. I took it to Bromyard Gala in the late 1970s just after I retired, and a gentleman from the Bath and West Show asked me to take it there the following year. I took it down and got involved with a preservationist, an old chap who had restored an old showman's living van. My wife thought that was a marvellous arrangement. I love woodwork, I thought I could do that, so she told him that we would like one, if he saw another about. Within a month we had got one from 1929, which came out of a field in Somerset. I spent a couple of years doing it up.
I bought an old Scammell showman's tractor to pull it, which had been with the famous gondola ride that's in the museum at Thursford."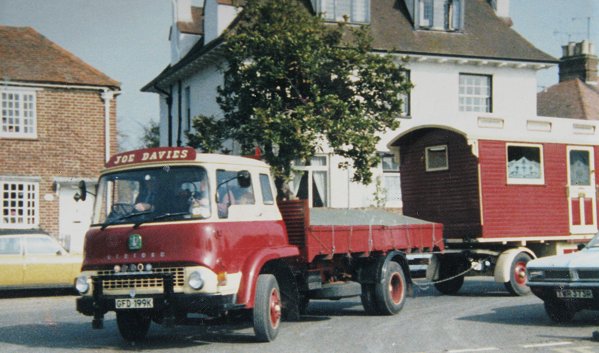 Collecting the showman's living van from Cookham, Berkshire, after repainting. Courtesy of Joe Davies.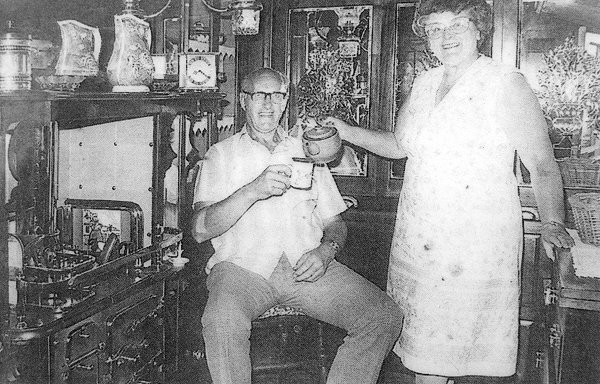 Joe and Margaret inside the showman's van. Courtesy of Joe Davies.
Joe and his Scammell tractor unit, with the showman's van.

Courtesy of Joe Davies.

Joe inside the showman's van. Courtesy of Joe Davies.
| | |
| --- | --- |
| | Another view of the Scammell tractor unit. Courtesy of Joe Davies. |
A final view of Joe inside the showman's van.

Courtesy of Joe Davies.
Soon Joe's Scammell tractor unit and his showman's van became a familiar sight on Black Country roads, making their way to hundreds of events. Joe became the first volunteer policeman at the Black Country Living Museum in 1983 and was a familiar figure on the site. In 1987 Joe's wife Margaret presented him with a wonderful 65th birthday present, a Paul McCarthy 20 keyless street organ built in Basingstoke. It is mounted on a three-wheel carriage that was built at the Ironbridge George Museum, and is called "Verlex" after Joe & Margaret's grandchildren, Verity & Alexa. It has appeared at many events, and steam rallies both in the United Kingdom and on the continent.
Three years later Joe acquired a 49 keyless McCarthy organ, built into a trailer. Joe is now closely associated with the organ, which has been seen at events throughout Britain and Europe.
"I'd got a street organ built by Paul McCarthy who lives in Basingstoke, and spotted the 49 keyless one in a field in Dorset.

I said to Paul, who I knew very well "What's the position with this organ?"

He said that it had been built from various bits and pieces, some new, some old, to go to Tasmania on a set of steam gallopers, but there was a little bit of doubt about the finances.


Joe and "Verlex". Courtesy of Joe Davies.
I told him that if things didn't work out I would like to have it. About a month or so later Paul rang me and said the organ is in a shed here at Basingstoke, and that I could have it. We agreed a price, and I couldn't wait to get it to Wolverhampton because the Chief Constable had asked me to provide entertainment at the opening of Bilston Street police headquarters in Wolverhampton, in July 1992. I moved heaven and earth to get this out of the shed before the mice and rats got at the pipe work. I got it up here, put it on a trailer, and finished it the day before I went to entertain the invited guests at the opening of the police headquarters, including the Princess of Wales."
| | |
| --- | --- |
| | Joe's Paul McCarthy 49 keyless street organ which he named 'Lady Wulfrun'. |
Joe shakes hands with Princess Diana at the opening of Bilston Street police headquarters in 1992.

Courtesy of Joe Davies.
"At the opening I wore my old 1946 police uniform, I was PC 39. Princess Diana was there, and the Chief Constable, and Lord Aylesford. He came to me and said "Davies, how nice to see you." I hadn't seen him for 16 years."

Joe's new ERF tractor unit. Courtesy of Joe Davies.

The new and larger organ required a larger tractor unit to pull it, so Joe replaced the Scammell unit with an ERF.

In 1995 the licence duty for cars and motorcycles over 25 years old was abolished. At the same time the road tax for steam rollers increased to over one hundred pounds, which resulted in an interesting visit to London for Joe, and his friend Fred Dibnah.

"I was a friend of Fred Dibnah who became a TV personality. I had a very interesting session with him down in London. They put the tax on steam rollers up to one hundred and something pounds, so the National Traction Engine Trust got thousands of signatures on a petition to be presented to the Minister and the Minister of Transport.

The chairman of the trust asked Fred if he would go and present the petition, and Fred asked if he should take his steam roller. This was a good idea, but they had to see the police in London about it first. They were told that they needed an escort for the roller from the Houses of Parliament to the Ministry.
The police did not escort people presenting petitions, but they would provide parking for a low loader at the back of the Tate Gallery. So I provided an escort wearing my old 1946 uniform, riding my old police bike."
Fred Dibnah, Richard Sandercock, Joe Davies and Len Crane outside the main entrance to the Department of Transport's Marsham Street Offices in London with Fred's 1912 Aveling road roller.

Courtesy of Joe Davies.
| | |
| --- | --- |
| | The late Bill Barton admiring 'Lady Wulfrun' outside Bantock House in July 2007. |
Len Crane and Joe standing beside Len's 1929 Fowler B6 Super Lion Crane.

Courtesy of Joe Davies.
"I go all over the country and on the continent to agricultural shows, and steam rallies including the Burwarton Show on the first Thursday in August, and Tenbury Wells. I've done a spate of shows around Wales, and Aberystwyth. I love doing it and meeting people. I use my old uniform on odd occasions, particularly on the parade of steam engines out in Shropshire and when I'm on the continent. I've also done it near Amsterdam, and in Germany."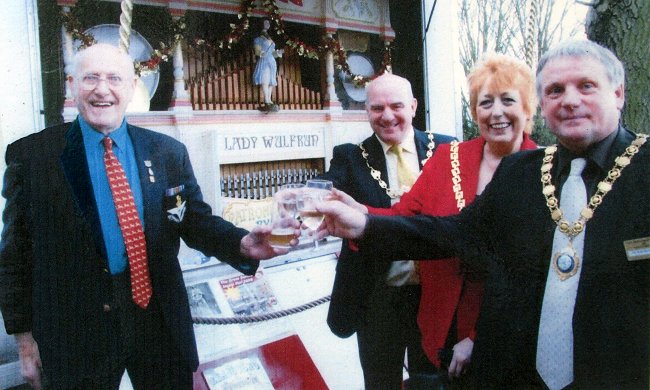 Joe toasting the Showmen's Guild with the guild's national president Jimmy Williams, Wolverhampton's Mayor, Trudy Bowen, and John Humphries, chairman of the Midland section of the guild. Courtesy of Joe Davies.
Joe was made an honorary life member of the Showmen's Guild. In 2008 the Midland section of the guild held its annual lunch at the Park Hall Hotel in Wolverhampton. The 260 guests, which included 40 mayors from the region, were entertained by Joe and "Lady Wulfrun".
Joe leading the showmen's engines at Onslow Park, Shropshire in 2007.

Courtesy of Joe Davies.
Joe meeting members of the Royal Artillery Parachute Display Team after their landing at Wolverhampton Show in July 2008.

Courtesy of Joe Davies.
Joe greatly enjoyed his days out with "Lady Wulfrun", and has given a lot of pleasure to thousands of people, and raised large sums of money for charity.

Joe's wife Margaret has worked at a number of places including George Masons in Worcester Street, Wolverhampton, and the Himley Sanatorium, where she was a children's nurse.

They have two granddaughters, Alexa and Verity, and a great grandson Chanan.


Joe in his blazer and beret in 2008. Courtesy of Joe Davies.
Joe has produced a number of CDs of music from "Lady Wulfrun" and now has a website where you can hear the organ in action. The address is: http://www.ladywulfrun.co.uk/
On the left are two Arnhem veterans, both ex-prisoners of war. At the back is Tom Brewin. On the right is Normandy veteran Joe Davies.

They were at West Park, Wolverhampton at the steam rally, and were in readiness to parade around the city centre.

Joe was a member of the Wolverhampton and District Parachute Regiment Association. In 2012 he was made a life vice president of the group.

Courtesy of Joe Davies.
In June 2014 Joe travelled to France with his wife Margaret to take part in the 70th anniversary celebration of the D-Day landings. He received the French Legion d'Honneur medal for his part in the landings, and the subsequent liberation of France.

Margaret died in October 2015, and Joe, greatly aided by his family, settled down to life on his own. Sadly five months later, on 14th March, 2016, Joe also died. He had been eagerly awaiting the formal presentation of his Legion d'Honneur, which was due to take place in April. He will be sadly missed.
---