Chapel Ash Wolverhampton
When James' business expanded he needed larger premises so he moved the business to Chapel Ash in Wolverhampton. Immediately below is a drawing of how the premises must have looked in the early 1920's.
The 1920's was also a good year for Land Speed Record (LSR) attempts. In 1927, the 200 mph land speed record barrier was broken at Daytona beach USA, by a LSR car produced by the Sunbeam Motor Company affectionately known as the "Sunbeam Slug". The "Slug" was powered by two aircraft engines and between them they generated 1,000 horse power. This success at Daytona put Wolverhampton and the Sunbeam Motor Company on the map.
As the Staffordshire Motor Tyre Co Ltd supplied tyres to Sunbeam for their buses and Lorries, I understand in recognition of the close trading relationship between the two companies, a limited addition model of the Sunbeam "Slug" LSR car (one of eleven) was presented to James Treen Fullwood. Below is a photograph of the actual record breaking LSR car although the Sunbeam model version is still owned within the family.
By the 1950's the original Chapel Ash premises had been outgrown and they expanded into the next door building. The initial offices of the company can be seen on the extreme left hand side of the photograph below where the Staffordshire knot sign is located high on the wall.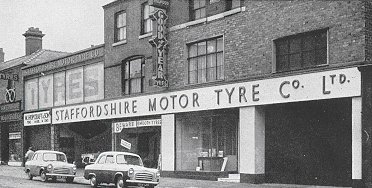 According to Jim Boulton's book "Black Country Road Transport" my great grandfather's business "Staffordshire Motor Tyre Company" became one of the largest tyre distributors in the British Isles. They ultimately had 16 retail outlets dotted around the Midlands.


Two photographs of the interior workshop space and tyre storage area at Chapel Ash Wolverhampton
In 1958 Goodyear's, one of the main suppliers to the family business, produced a company advertising brochure called "the Goodyear News" detailing the history of the Staffordshire Motor Tyre Company. In addition, the Goodyear Tyre Co organised a dinner for the Fullwood family to celebrate the company's fiftieth year of trading.

Staffordshire Motor Tyre Company Advertisements
Above left a 1927 company advertisement and another on the right published in 1939.

From the 1925 Wolverhampton Red Book.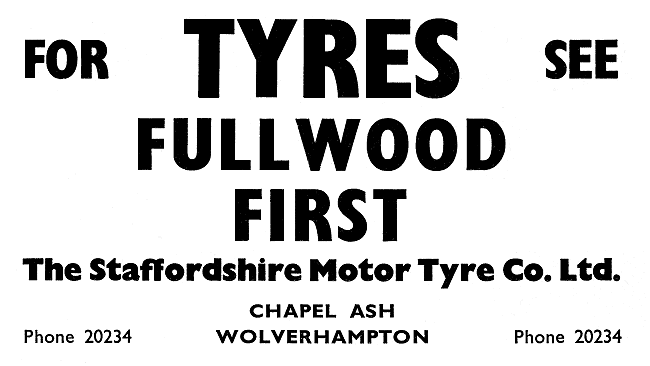 An advert from 1953.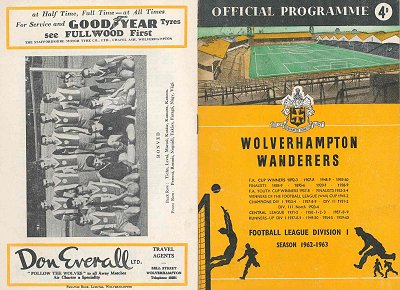 A Staffordshire Motor Tyre Company advert from the back page of a Wolves football program, 1962/3 season, sporting the company strap line "See Fullwood First". Another strap line used was "When retiring see Fullwood first".

A more contemporary company advertisement again taken from the back page of a Wolves football program of the 1970's.

This advert I believe illustrates the first signs of the competitive nature of the retail tyre business, as the advert details specific vehicle prices for maintenance work such as exhaust replacement and brake relining work.
Sadly by 1978 the business and all the retail outlets had been sold to Goodyear's and they turned them into "Tyreservices" retail outlets.