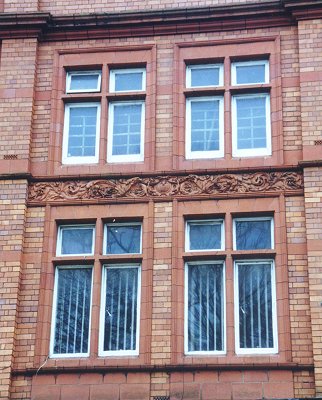 Part of the Broad Street facade, showing terra cotta string courses, window dressings and aprons.
Julie Gillam Wood, who is researching Burmantofts architectural ceramics, has found that Burmantofts supplied ceramics to "Shaw's premises Wolverhampton" in about 1890.
She says that the tiles here appear to be by Burmantofts and that the column treatment is very similar to that produced by Burmantofts for the Refuge Assurance Company's headquarters in Whitworth Street, Manchester, in 1895. The architect there was Sir Alfred Waterhouse.
The architect of this building is unknown but, whilst stylistically it is not out of the question, it seems that this building is too small, too plain and too provincial for him.