---
TILED STREET NAME PLATES
There seem to be a very large number of these still in situ (that's yer actual Latin) in various parts of Wolverhampton. Here are some of them:

Does anyone know what date these things are? How long were they used for? When were they first used and when were they last used?

It did occur to me that they might be a dating aid. But then I came across one that had been re-used on a new wall.
This one has survived the whole wall being thickly rendered. Was it really worth their effort?

Did you buy these in a box full of the maker's selection? Or did you order them by name or by your own calculation of how many of each you needed? On this one you can just about see that you got a half tile to use as a space and it seems that single tiles saying "St" and "Rd" were also available.

Was there only one manufacturer of these things or did several people make them? And what different styles of lettering were available?

Good grief. This one is in a dreadful mess - but at least it survived.

Oh look! This one has got little red tiles all round it. It looks quite neat.

So has this one but it's in the shade and you can't see it quite so well.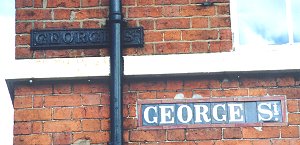 Here's another tile edged one but above it you can see an older cast iron name plate. I suppose that when it rained the ceramic ones would get cleaner but the iron one's just got rustier. On the other hand the ceramic ones must have been more likely to fall off altogether.

This is another cast iron plate and looks, by the style of lettering, to be more modern.
Here's another cast iron name plate. I rather like this photo - it is a nice assemblage of architectural bits.
---