---
Queen Street, Bilston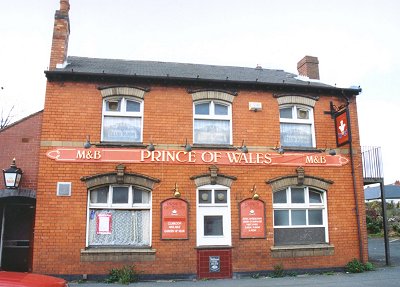 Since this page was produced, the Prince of Wales has sadly been demolished and replaced with modern housing. I have left the image and text here because it is a good example of this style of decoration.
The maroon tiles used to block up the lower part of the central door are modern. But note the segmental labels with keystone above the doorway and the windows. This seems to be a very common motif in the remaining examples of terra cotta in Bilston. Queen Street has another: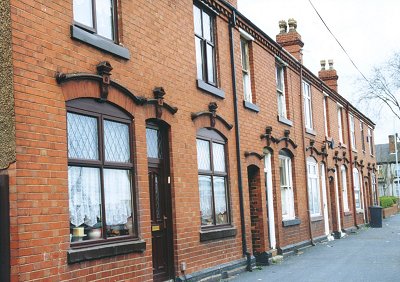 I do not remember seeing this sort of thing elsewhere. It seems to be an unusual, and probably rather expensive way, of adding a little style to what is otherwise a rather basic terrace. Of course this is not the lowest form of terrace life by any means - a lot of workers in Bilston were not badly off at all, and would expect a bit of style.
Not far away in Becket Road are "Berold Cottages", which have the same decoration - and a date stone for 1909.
---