---
William Highfield Jones Memorial School, Tempest Street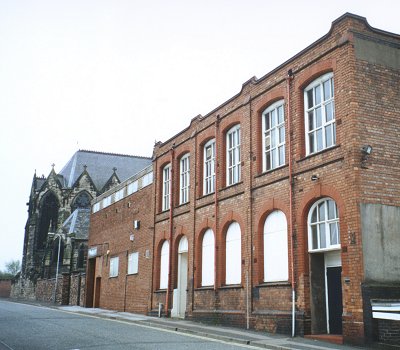 Originally this building appeared here as "Factory and Offices". Well, that's what it looked like and it was in a street which used to be full of factories. But when it recently opened as a martial arts school I went inside and asked the present owner about the building's history. He said it started off as a school and suggested I look at the other side of the building and the inscription on it. So I did. And this is as much as you can see:
The inscription stone - as much of it as I have been able to read - says this is the William Highfield Jones Memorial School.

So the facade on Tempest Street must originally have been the back, neatly finished in flat red terracotta window and door dressings and hard red brick.

The front must once have been visible from Snow Hill or perhaps from an access road parallel to Snow Hill and Tempest Street.
Now the view from the adjoining car park is the best (and very limited) view of it. The white bricks appear to be glazed and the windows are clearly in buff terracotta. I cannot think of anything else in Wolverhampton that looked like this. It's appearance when new must have been rather startling.
I have not, so far, found any record of this school but William Highfield Jones died in 1902. He was an alderman of the borough and wrote two books on aspects of the town's history. He and his two brothers operated the metalware and holloware company, Jones Brothers. It is likely that this school was paid for by his two sons, William Jones and Highfield Jones, who took over the firm on heir father's demise.
---