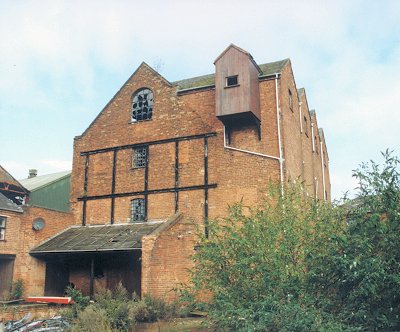 Listing: Corn Mill. Mid 1830s with later alterations. Lower extensions flush with the wall of the original mill building contribute to an important group of industrial and canal structures. ... Although altered, this building is a good example of an early C19 corn mill integrated with the West Midlands canal system.
Comment: An important example of a meeting point of Wolverhampton's agricultural and industrial past. In October 2001 an application for planning permission was approved for restoring the mill, converting it into flats and building more flats, with a canal side walk, around it. The architects are Bolton, Lomas, Bradshaw of Bridgnorth and Halesowen. The developers are Redrow. So that the scheme can be carried out in an economically viable way some associated, but non-listed buildings will have to be demolished. It is important that it be successful as it will demonstrate the viability of such schemes in this area which is in dire need of revitalising.
Now (2005) the scheme is well under way with phase one of the apartments being completed and mostly sold and phase two is nearing completion. The restoration of the mill building itself seems to be nearly complete and it and its setting look as well as can be expected.
---