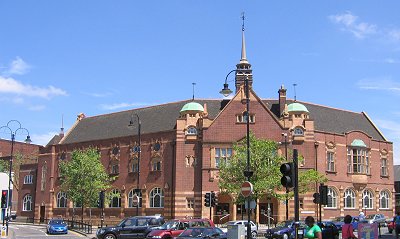 Listing: 1900-1902. By H. T. Hare. Free Renaissance style. A particularly good example of this style.
Literature: Richard Fellows, Edwardian Architecture: Style and Technology, Lund Humphries, 1995, pp. 128 - 134. A detailed analysis of the building and its historical context.
The Architectural Review, March 1906, Vol.XIX, No.112, pp. 129-134.
The historical background to Wolverhampton public libraries can be found in: Joseph Jones, Historical Sketch of the Art and Literary Institutions of Wolverhampton, Alexander and Shepherd (London), 1897.
Comment: The listing says this is a good example of this style. Readers are invited to give other examples of this architectural style. Maybe its very individuality makes it such a well known contribution to Wolverhampton's townscape. It certainly adds interest to what is now otherwise a rather bleak junction.
The building seems to have been designed down to a cost but Hare did very well indeed within his financial limitations. The interior also has some nice features, including a good staircase and a balconied reading room. (Photos of the interior at the building's opening are to be found in the Architectural Review article cited above.)
The Architectural Review gives details of those concerned with the building: "The general contractors were Messrs. Willcock & Co., of Wolverhampton. Mr. W. Aumonier, of London, executed the carving; Messrs Doulton, London, supplied the terra cotta; Messrs. W. H. Lindsay & Co, London, executed the ferro-concrete, steel work and fire resisting construction; Messrs Hope & Sons, Birmingham, supplied the casements and fittings; and Messrs. Starkie Gardner & Co., London, the gates, railings, etc. The Gahtryx [sic] Engineering Co. carried out the heating and ventilating; and the District Electric Co., Wolverhampton, executed the electrical wiring. The general furnishing is by Messrs. Hewetson, London. Mr. Henry T. Hare, of 13 Hart Street, Bloomsbury, is the architect." The lack of Wolverhampton names amongst the suppliers is notable.
The plaques above the first floor windows carry the names of the usual literary luminaries beloved of the Victorian age. Above the entrance is the royal coat of arms and an inscription: "Built to commemorate the sixtieth year of Queen Victoria's reign". That may be a case of being loyal after the event.
This building has accommodated the library since its opening and continues to do so, rather successfully, despite being too small; and it is too small despite several attempts at improving matters within the existing building - and removing the archives across the road. There is now a £2 million project in the pipeline to upgrade the whole set up and plans for the upgrading of the whole Old Hall Street site which includes this building. Part of the scheme is for a large extension at the back of this building, which will not affect its frontage but which will considerably improve the rather dull and altered back.
---