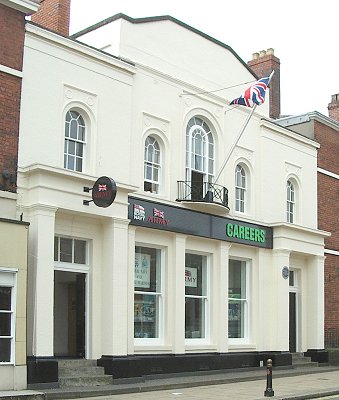 Listing: Mechanic's Institute, Free Library from 1869, Athenaeum from 1877. The building was important as a forum for discussion for townspeople who were responsible for the C19 development of Wolverhampton.
Literature: John S. Roper, Historic Buildings of Wolverhampton, Wolverhampton, 1957, pp. 61-63
For a detailed account of the development of library and adult education services in 19th century Wolverhampton, see Patrick Quirke's article on this website.
Comment: This building is of considerable significance in Wolverhampton's social history. The Mechanics' Institute started in King Street about 1827 and in early 1835 a committee was formed to build new premises. They bought this site. The plans were prepared by one of the trustees, William Walford. In the conveyance he is described as "architect" but Roper knew of no other building by him and points out that he operated as a timber merchant, with saw mills in Commercial Road. He was thus an amateur architect. The building was completed in 1836 and contained a library, a lecture room, a reading room and a house for the caretaker and librarian.
Roper suggests that Walford's design was influenced by Lewis Vulliamy's design for the Assembly Rooms, just along the road. He rates it a success but "it is unfortunate that the ironwork of the balconette had disappeared and the lower part of the main front altered so that the pilasters and architrave now scarcely appear as the chief feature of the original design. The pediment has also been hideously rebuilt". The pediment once bore the legend "Mechanics Institution".
At some time after 1872 the building was taken over by the Workmen's Conservative Club and, according to Roper, was little altered at the end of the 19th century. Roper, who wrote in 1957, attributed the changes to "the last forty or fifty years". As it was a recruiting office in his time it is very likely that, if it had been the Army who altered the building, he would have said so. As it is the building now presents a very satisfactory degree of spit and polish.
---